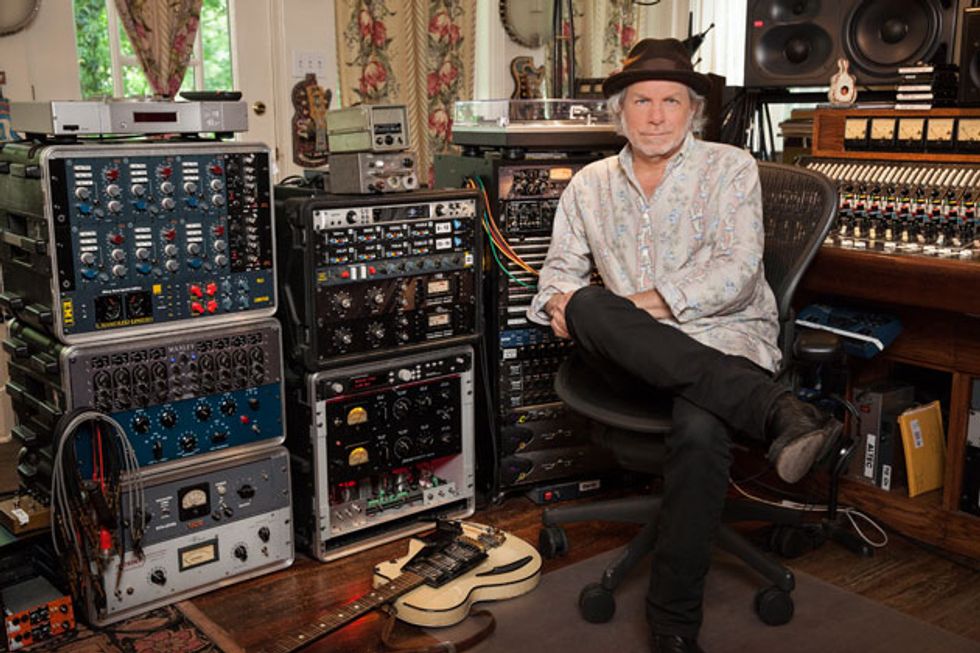 Although Buddy Miller's been working outside of his house in recent years, on the TV show Nashville, his formidable home studio has been the site of acclaimed recordings by Richard Thompson, Solomon Burke, and many others.
Photo by CJ Hicks
Buddy Miller: Audio Vérité
"Give me two amps in the morning with a stereo pedal, and I need less psychedelics in my life, because I can get it all right there," says Buddy Miller. Add in some tremolo—Miller's favorite effect—and he's even deeper into the sonic headspace that's made him one of the most respected instrumentalists and producers in Americana.
Miller's own signature slash-and-smolder playing can be heard on recordings by Robert Plant, Elvis Costello, Richard Thompson, Lucinda Williams, Emmylou Harris, Solomon Burke, Shawn Colvin, Ralph Stanley, his trio with Marc Ribot and Bill Frisell, Levon Helm, Patty Griffin, Steve Earle, Willie Nelson, his solo albums, and his duet recordings with his wife, Julie. He's also produced many of those albums, in addition to touring as lead guitarist in Plant's Band of Joy and with Plant and Alison Krauss, as well as Harris and Williams.
Until recently, Miller's house—his longtime recording space—was wired for sound, with contact mics and Shure SM57s attached to walls and peeking from ceilings. "That way we could record at any time, so we'd never lose the moment," he explains. But in recent year's he's been spending a lot of days in formal studios, serving as executive music producer for the TV series Nashville.
"In general, I love bleed," he says. "It's a big part of getting real band dynamics onto an album. When you listen to a live performance, everything doesn't sound pristine and isolated. But for television, I had to adapt. We record three to five songs per episode, with up to three iterations of each song—so that's roughly 15 full-song recordings per episode, with 22 episodes a season. That's an enormous amount of music and we need to have absolute separation, because we have no idea how the song is going to be used. It could turn out that, 'Oh, we're not gonna have drums in this scene after all.' So I had to learn to be prepared. I've tried to find my own way to make it all sound realistic and live. I really want things to sound 3-D. Always."
When it comes to guitars, that means no DI recording—even for acoustics—and, ideally, tracking guitars in stereo with microphones placed at least a few feet from the amps in order to capture how those amps move air. For his own sound, that requires mating his dual-amp setup with his collection of aluminum-necked Wandre hollowbodies—an Italian brand made in the late '50s and 1960s that he's nearly single-handedly turned into collector's items, thanks to his high-profile onstage performances, including the annual Americana Music Association Honors & Awards show. Miller's longstanding tenure as bandleader for the Honors & Awards has shortened the amount of steps he's needed to take to collect over a dozen of those trophies himself. He has won the Instrumentalist of the Year title eight times.
"Give me two amps in the morning with a stereo pedal, and I need less psychedelics in my life, because I can get it all right there." —Buddy Miller

"Years ago, I realized the room plays a big part in the sound," says Miller. "We don't listen to music with our heads against the speaker. When I first started playing in studios, I wondered why my guitar never sounded right, and it was because the engineer was putting an SM57 right on the speaker. For a time, I went for distance miking, and now I realize I was longing for a stereophonic sound. Today, I always try to get some room sound with a mic placed in a good-sounding spot, and then I have two mics on the amps, off-axis. With smaller combos, I find it's easier to capture that stereo spread."
Miller's own studio amps are a pair of Swarts: Atomic Space Tones and Atomic Space Tone Pros. (Onstage, it's the Atomic Space Tones.) Each has a pair of 6V6 tubes. From there, he sculpts their sonic profile with reverb and tremolo. "I really like the sound of two reverbs, because each reverb tank will react differently if you split the signal, so they sound bigger," he notes.
One of his signatures is the distinctive way he employs tremolo when recording his own guitars or playing live. "I haven't turned tremolo off in years," he relates. "One of my favorite sounds is when you have two tremolos working against each other. Onstage, it's easier to have a dual tremolo pedal, instead of trying to do the math with the dials on the backs of the amps to get a cool sound. When I was touring with Robert Plant, I had two of those amps set up for the stereo spread, and then the tremolos working against each other. And when they spread the amps apart through the big PAs, it made the guitar sound huge. Fulltone makes a great stereo tremolo [the Supa-Trem2] that I default to a lot live. With that, you can get lost in the music forever."
Miller's collection of gizmos also includes a Line 6 Helix multi-effector and the company's DL4 delay modeler, a Strymon El Capistan, a Boss VB-2 Vibrato, an Analog Man King of Tone, and an Xotic RC Booster, all of which help him quickly conjure the variety of tones needed for TV and stage. "I print effects as I go and regret it later," he jokes. "I commit. If it sounds good, it sounds good—but I don't pour on the effects. I've screwed up enough times to learn that less is more.


"With acoustic guitars, I put on a pair of reference headphones and use a couple of mics and hope for the best," he continues, chuckling. "I'll typically put a large-diaphragm mic or a ribbon mic at a short distance from the soundhole, and a small-diaphragm at the 12th or 14th fret."
YouTube It
Buddy Miller's signature use of tremolo, panned in stereo at conflicting settings, blasts through in this performance of "Gone Gone Gone" from The Today Show in 2007, when Miller was touring with Alison Krauss and Robert Plant behind the duo's Grammy-winning Raising Sand. Of course, he's playing one of his distinctive Wandre guitars. Marc Ribot and the album's producer T-Bone Burnett complete the 6-string line-up.
Miller's microphone selection for amplified tones depends on the sound he's going for. "I used to favor ribbon mics—Royer to Cascade—and I have a collection of old RCA mics, but if we're doing something as a small group, and I need it quick and dirty, I put up Sennheiser MD409s or the reissue e609s. I put the 409 close to the cabinet and use a diaphragm or a condenser, like a Telefunken U47, further off to pick up everything. Lately, I've also been using Miktek Audio's stuff. It's affordable, great sounding, and it's made right here in Nashville." Miller explains that he fell for using high-end condenser mics on amps after listening to the results engineer Ed Thacker got on Lucinda Williams' 1998 classic, Car Wheels on a Gravel Road, where he, Steve Earle, Ray Kennedy, Greg Leisz, Gurf Morlix, Bo Ramsey, Johnny Lee Schell, and Charlie Sexton all contributed guitar. The key microphone was the Neumann U 87, a classic that Miktek has emulated with its CV4.

"Honestly, I prefer the new iterations of these mics," he says. "I have an array of old microphones, but you often run into the problem with cool old mics that, when you put them up, they start crackling or spitting, and it takes the wind out of your sails as you take time to try to figure out the problem. I'd rather put up stuff that works and keep moving."

The urge to cover ground likely explains his preference for having a band set up and play live in the studio, if possible—a gambit he used when recording Richard Thompson's 2013 album, Electric, which he cut with the British guitar legend's trio. "I set up the drums in the control room at my home studio, which is the biggest room, and everybody could see each other through the glass. Richard also sang while he played. He is a bird watcher, and I loved watching him in the middle of an insane guitar solo while he was looking at a bird out the window. I knew that was doing something to his solo and his mind—taking him somewhere else.

"On the other hand, if I'm working on something small, like a new song of mine, I tend to start by myself to get the essentials down and build it up later."
Although he mostly records on Pro Tools, Miller still owns an MCI 16-track, 2"-tape machine. "It just sounds a little bit more smoothed out and creamier, and there's something I love about the smell of tape," he says. But, as Miller found out when cutting tracks for The Majestic Silver Strings, his 2011 collaboration with Marc Ribot and Bill Frisell, there can sometimes be ghosts in analog machines. "We were having a problem with the servo motor card, and it added what sounded like the tiniest bit of vibraphone to the entire record. In retrospect, it was really cool. Now, I wish I could get that servo card unfixed!"