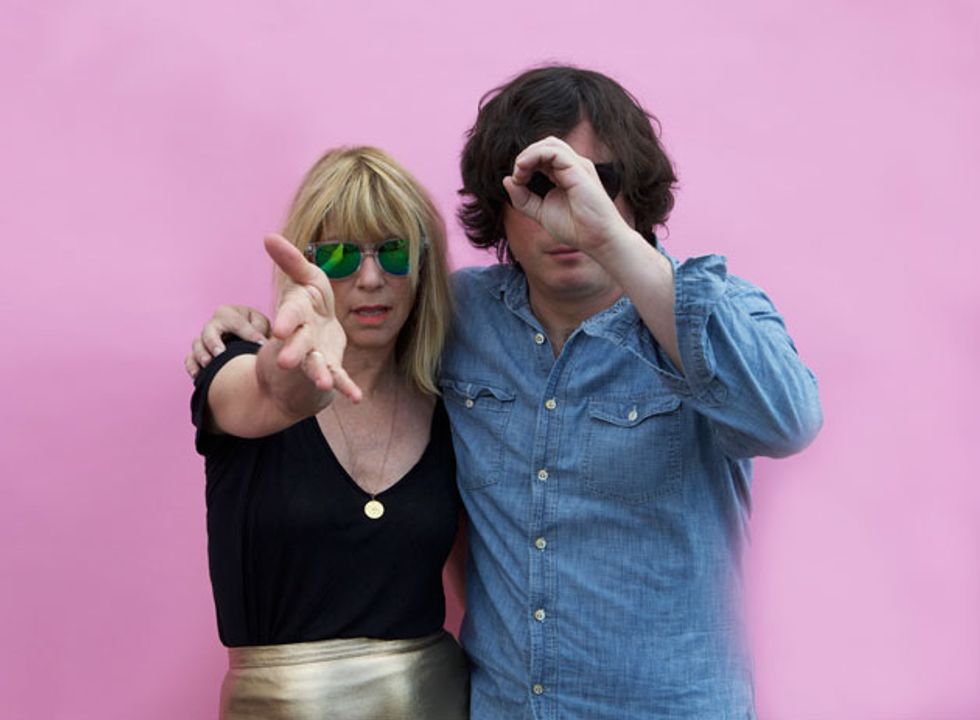 Body/Head is the experimental duo of guitarists Kim Gordon and Bill Nace. The band doesn't make conventional albums or songs, but rather, improvises on a live stage to make three-dimensional, unrehearsed music.
As a founding member of Sonic Youth, Kim Gordon was part of a group that challenged and ultimately changed the very way a generation heard rock music, all while morphing the perception of what the guitar's role could be within the form. Breaking out of the vibrant experimentalist, anti-establishment New York no wave scene, Sonic Youth's penchant for alternate tunings, prepared guitars, and signature use of noise as a textural and artistic device has since become de rigueur for many. In fact, the blasts of noise and feedback the immensely influential band incorporated into its musical vocabulary has since found its way into many disparate musical worlds, including that of contemporary hip hop.

While Sonic Youth is no more, Gordon has remained a prolific creative force, delving deeper into her physical art practice and making music as one half of the improvisational duo Body/Head, which finds the alt-rock icon singing and weaving droning guitar incantations alongside her musical partner, guitarist Bill Nace. Gordon has also recently made her first statement as a bona fide solo artist with the release of the downright danceable (and nonetheless dark) "Murdered Out." The new single—an unexpected collaboration with producer Justin Raisen—is arguably the most approachable piece of music the bassist-turned-guitarist has ever released under any name.
Bill Nace is a dedicated and respected member of the improv guitar underground in which spontaneity and noise are cherished elements in crafting fleeting, raw musical moments. Within the context of Body/Head, Nace and Gordon share a special musical bond that relies upon an intuition of one another's musical inclinations and a shared sense of dynamic counterpoint.
To truly understand what Body/Head does and is, it's been said that one must experience it in the moment in which the pair crafts its tapestries of sound. No two performances are alike by design, and there are no songs to speak of in the traditional sense. Luckily for those unable to catch Body/Head in the flesh, the pair's latest release, No Waves, captures an immense performance from the Big Ears Festival in Knoxville, Tennessee, in March 2014. The performance captures the expert feedback charmers deep in the thrall of their craft and at what they themselves have described as "peak chemistry."
We spoke with the pair about the visceral energy that makes Body/Head work so well, their respective philosophies for improvisation, why neither of them take gear too seriously (Bill Nace's main guitar was rescued from a pond), and how they stay passionate and inspired.

What brought about the release of No Waves?
Kim Gordon: It made sense for us to put out a live record because we are so improv-engineered in our approach, so each gig is different and this particular show sounded cohesive in a way that other shows of ours maybe aren't. But the reality is someone sent us a tape of it and it sounded really good, so we went with it.
Were there any factors in particular that made the performance captured for No Waves so special and cohesive?
Gordon: Well, the theater was really beautiful for starters, and the Big Ears Festival has a really interesting program usually—anyone from Television to Faust has played it—so it's kind of an interesting festival and the energy was great there to begin with. The sound was great, the setting was great, so all of the little things made for a really incredible show.
Bill Nace: I've been combing through a lot of our live stuff, because we've had a few very limited live releases come out recently, and a lot of them shared elements. There are some that I really liked as much as what became No Waves, but Kim really liked this show in particular because it had a lot of starts and stops, which made for a bunch of different pieces instead of one long whole piece, so we went with that concept. The pauses give it more of a song feel, which affects the way people listen to it a bit, as opposed to one of our sets, which is just one long song that isn't as easily digested. Though I personally like to see where a single idea goes in that long-song format sometimes.
"I mostly just play guitar now because it's so much better for the kind of music I make." —Kim Gordon

How does Body/Head start working on an idea?
Nace: I was asked recently if we talk about what we're going to do beforehand much, and normally the answer is no, not at all. Once in a while, with Kim, we'll figure out how we'll start, but we want that to melt away pretty soon in the set either way. Just spending time with someone and talking about music and going through and editing your own music and, most importantly, understanding how the other person hears that, is just as important in teaching you what you should and shouldn't bring into the situation. But it's a pretty clean slate that we start with each time.

How do you define a good gig for Body/Head? Is there something you're seeking during the performance?
Gordon: Not really. Sometimes it's really dependent just on our amps sounding good—which isn't always a given because we use backline a lot of the time—but if they're working well, there's a good chance it'll be a good gig. Sometimes when you think it's going to be really horrible, you can make it good and find interesting things in awkward moments. You really never know, which is sort of the point I suppose.

We always ask for Fender DeVilles, but often we end up with Fender Twins, which I just don't get why people like them. They're obviously good for certain kinds of guitar playing, but tend to have too much treble and not quite as full a range of sound as I've found I get from the DeVille. Not that I'm much of a gearhead, but that's one thing I've found.

Nace: I hate using Twins too, even though Rowland S. Howard used one and made it sound incredible! I guess it's a meditative state in a way, but I think every performance can be a little different. What can put you in that place one week doesn't always work or do it the next week, so you have to be open to whatever's happening and allow space to happen and follow it. What worked at the last two gigs doesn't usually work at the next.
YouTube It
Like this performance at Boston's Hassle Fest in 2014, Body/Head's live show isn't conventionally separated by songs or a prepared setlist—the concert is a continuous wall of sound.