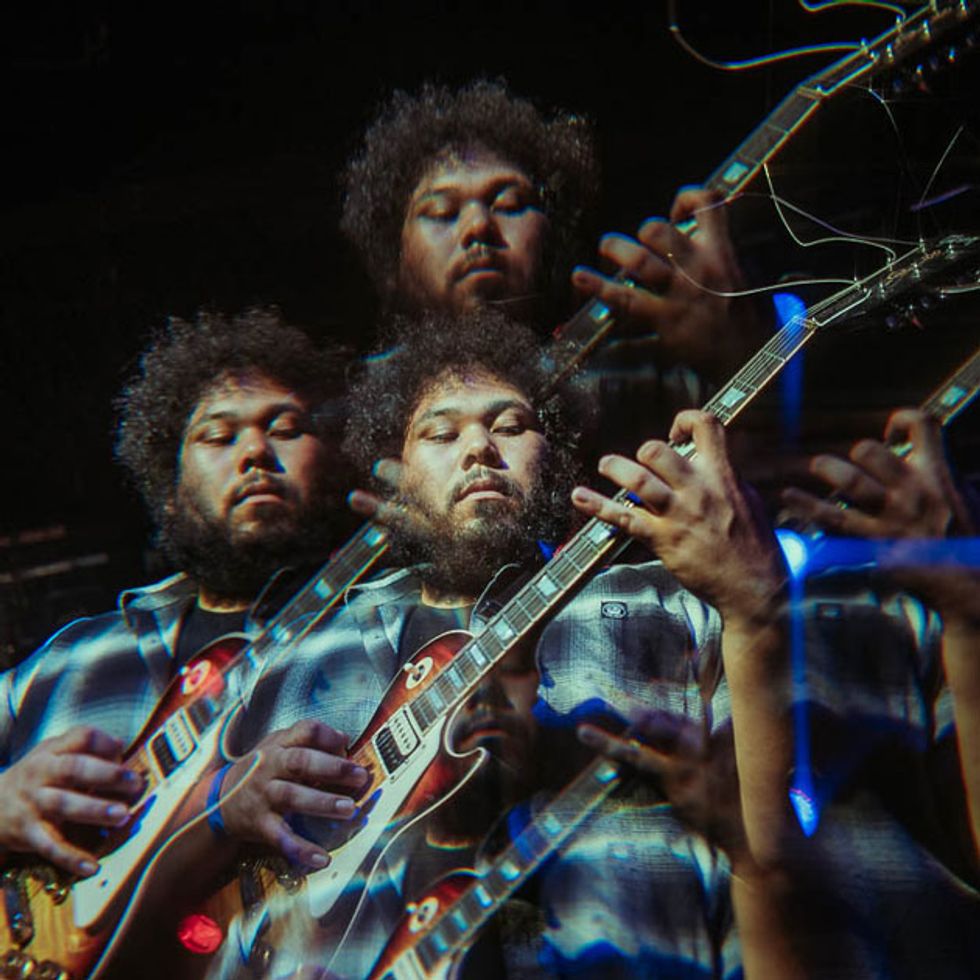 Renaissance musician Will Swan is the founder and co-guitarist in Sianvar, as well as the leader of a second chart-climbing band, Dance Gavin Dance, and operates the Blue Swan record label. Photo by Michael-Rex Carbonell
In the world of post-hardcore music, there are few musicians as busy or as prolific as Will Swan. At any time he can be found recording or touring with one of the many bands he's founded, or running his label, Blue Swan Records. But right now, while continuing to pursue his highly original guitar style, he's wrapped up in Stay Lost, the latest release from his post-hardcore supergroup Sianvar.
Spastic yet melodic, and ambient yet aggressive, Swan's songwriting and guitar approach is an amalgam of his extensive influences. He recalls his first musical loves being "funk and weird shit like my dad listens to, like George Clinton." That quickly gave way to the radio rock of his formative years, and continued on to the intense-yet-melodic post-hardcore sound that he entrenches himself in today. Swan has been successfully employing those influences since the formation of his band Dance Gavin Dance in 2005. While DGD continues to be Swan's main focus—the band's latest album, Mothership, debuted at No. 13 on Billboard's top albums chart in October—it's Sianvar's Stay Lost that's currently creating waves throughout the scene and landed on six of Billboard's charts.
Swan founded Sianvar in 2013 when he was looking for yet another creative outlet. He launched the band with like-minded vocalist Donovan Melero of Hail the Sun, guitarist Sergio Medina of Stolas, drummer Joe Arrington of A Lot Like Birds, and that same band's bassist, Michael Littlefield. Another A Lot Like Birds alum, Michael Franzino, who played guitar in that group, plays bass in Sianvar today. Sianvar's 2014 debut EP and subsequent tour was a surprising success, inspiring Swan and the rest of the quintet to write and release their first full album, Stay Lost.
"That's my mentality going into any record:
top what you did last time."
And while it continues in much the same vein as the Sianvar EP, the album pushes every aspect of the band's sound, from advanced musicianship to a melodic backbone, much further. To casual listeners, songs such as the first single "Omniphobia" and the title track might seem to be on the edge of falling apart, but they're actually masterfully composed, with each varied element locked tightly to the others. It's clear that Swan and his band are in full control of their sound.
Swan took some time out of his overachiever's schedule to speak with Premier Guitar about Stay Lost, why he always puts artistry first, and how he juggles what seems to be one of the most demanding schedules in post-hardcore.
You're very busy with one successful band, Dance Gavin Dance, and your record label. How did Sianvar come together?
I wanted another creative outlet, so Sianvar was my brainchild, I guess. I just wanted to find different people from different bands that were all real standouts, and also friends. We wrote and recorded the first EP in two-and-a-half weeks. We put it out and it did way better than any of us thought it would. So we wrote Stay Lost in about a month and recorded it in about a month-and-a-half. Finding the time to do it and getting it done just seems unreal now, looking back. But I love the finished product. Sianvar is a collaboration and everybody is putting in their two cents. It instantly started coming out like it was its own thing.
How would you describe the band's musical growth from the EP to Stay Lost?
For the EP, I think, we were just trying to go insane. We got together real quick and it was just like bam—guitar insanity. But for Stay Lost we were like, "Let's sit down and write an album. Not just a bunch of songs." We wanted the songs to have something that makes them unique—to write a full record of stuff that's not going to get boring and that's hard to classify.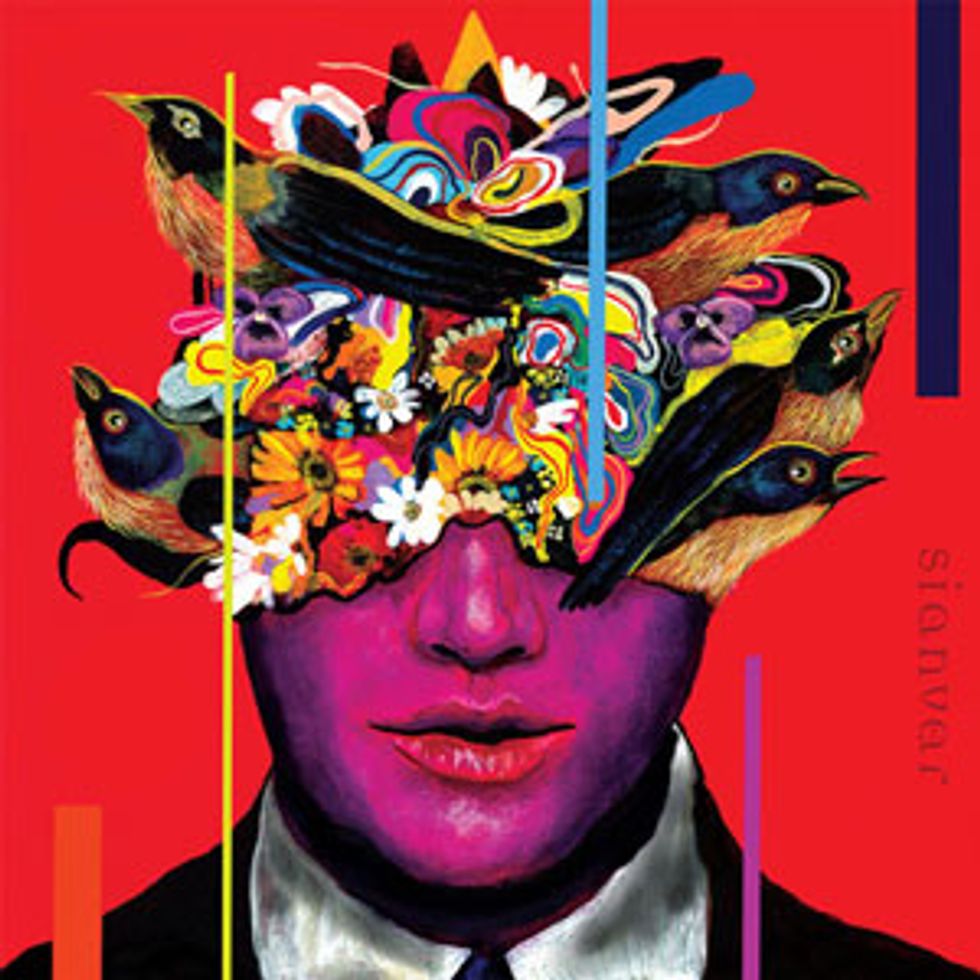 The cover of Sianvar's new album, Stay Lost, more than hints at the psychedelic sounds inside, but the set's pop sensibilities and abundant melodies make it remarkably accessible. Stream the album here.
While remaining extremely listenable, Stay Lost blends a lot of really challenging time signatures, dissonance, heavy passages, and both clean and grinding guitars. Was this mix something you specifically worked at, or was that just the outcome of your styles?
Underneath all of our wanting to get into some psychedelic and crazy territories, we still want to do something that has some pop sensibility. I think Donny is who to thank for the listenability, because his melodies are so catchy. They make some of those time signatures feel not so crazy.
Were you able to stretch out as a guitar player in any new ways on the album?
Yeah. I feel like every time I write, I'm learning stuff, I'm getting better, and I'm doing things I don't normally do. It's always fun and exploratory for me. That's pretty much my mentality going into any record: top what you did last time. I'm writing music
I would want to listen to, and when we're done with the product I'm usually pretty proud of it.
How would you describe the difference between your playing style and Sergio's?
It's very different. Sergio's been classically trained. He has insane technical ability. We have different influences and we're going for different things. His vision and my vision aren't the same, but we are both willing to compromise and make something that is cohesive.
There are a ton of textures and tones on Stay Lost. Did you guys do a lot of experimenting with gear while recording?
I used my live rig. For all my stuff, I swear by my Orange Rockerverb 100. There's something special about my head, too. I've used it for every DGD record and every Sianvar thing I've done. It constantly just kills every other amp. Other than that, I use a '74 Marshall cab with original Celestion blackbacks in it. And I'm rocking a Les Paul Standard, and it's sounding great.
YouTube It
Beauty and intensity blend seamlessly in Sianvar's music, as evidenced by the sonically blissful first single from Stay Lost, "Omniphobia." For guitarist and leader Will Swan and his 6-string counterpart Sergio Medina, the song's a nonstop but subtle shredfest, ripe with two-handed tapping and fierce riffery. Swan plays chiming tones on his Fender Stratocaster in the bridge position, while Medina lets loose on his Fender Special Edition Custom Telecaster.