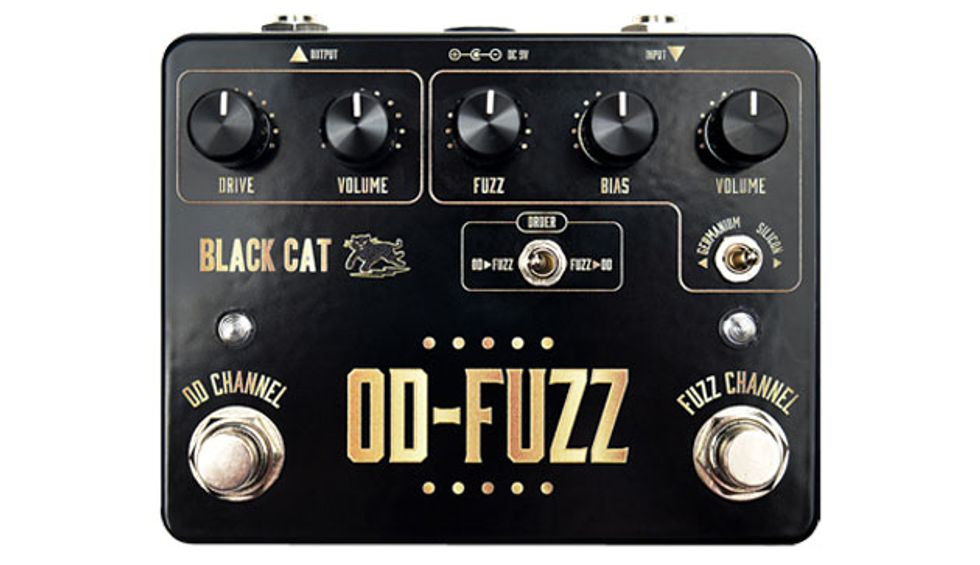 Foxon, CT (December 12, 2016) -- Black Cat Pedals is pleased to announce the Deluxe Edition OD-Fuzz, the latest evolution of this well-known classic from the Black Cat line.
The Black Cat OD-Fuzz is a versatile, two-channel distortion/fuzz box that combines the Black Cat OD-1 with a modified Fuzz Face-style circuit in one pedal. Each channel of the OD-Fuzz has its own set of controls with separate LEDs for each side. The two channels can be used separately or together in combination.
Each channel has its own distinct sound, but the blend of both channels together will yield an incredibly wide range of tonal possibilities, from slightly overdriven to full-blown fuzz. The controls become highly interactive when both effects are engaged.
The new Black Cat OD-Fuzz Deluxe adds the following controls:
Bias: specially tapered wide-range Bias control for the Fuzz channel
Order: select the order of the channels (OD>Fuzz or Fuzz>OD)
Germanium/Silicon: select between silicon and germanium Fuzz modes
The new Black Cat OD-Fuzz Deluxe retails for $210. Check out www.blackcatpedals.com for further information about the company and their products.
Watch the company's video demo:

For more information:
Black Cat Pedals