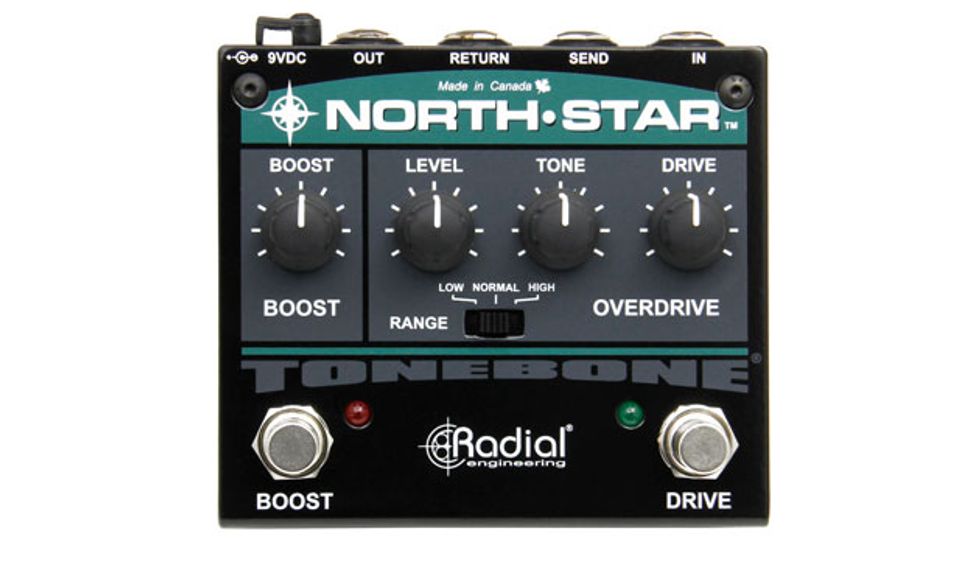 Vancouver, BC (January 19, 2017) -- Radial Engineering Ltd. is pleased to announce the North-Star, a combination overdrive and power booster.
The North-Star has been purpose-built for today's rock-oriented country guitarists. Its versatile overdrive circuit can be suited to a number of genres with tone-shaping features that allow players to adjust the sonic characteristics to their style.
The overdrive circuit is both rich and musical, with drive and level controls to set the amount of distortion and the output level to your amp. A tone knob lets you tailor the frequency response of the overdrive, while a 3-position range switch allows you to compensate for overly bright or dark amplifiers. A separate boost circuit can provide up to +24 dB of clean gain to your signal, for high-output solos or to push the front end of your amp harder. Engaging the boost footswitch will also bring an effects loop into the signal path, so you can add a delay or chorus pedal and have it activate simultaneously with the booster. This allows for easy transitions onstage from rhythm to lead tones. All of these features are packed into a compact pedalboard-friendly 14-gauge steel chassis, and the North-Star is easily powered via a standard 9V power supply or pedalboard power brick. When not in use, true-bypass switching is utilized to ensure that you retain the pure tone of your guitar as if it were plugged directly into your amplifier.
Shipping starts January 2017.
MAP: $169.99
For more information:
Radial Engineering