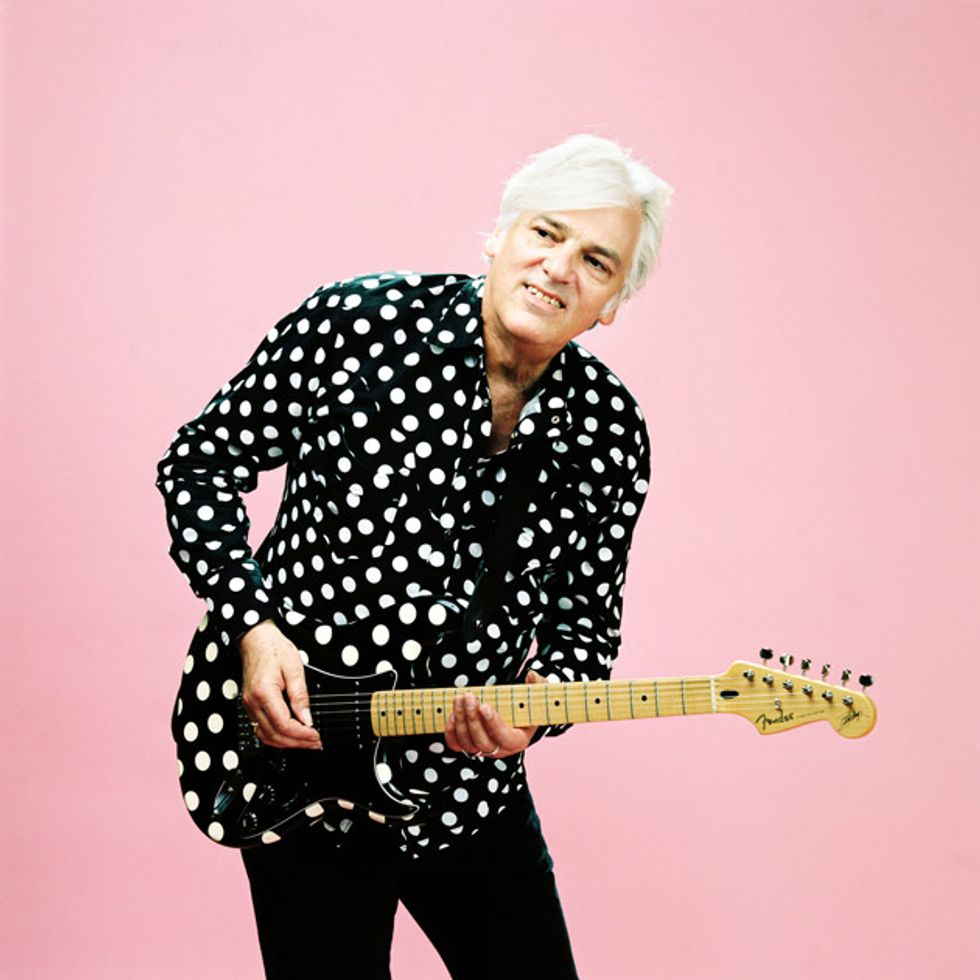 Robyn Hitchcock prefers Teles, but he can't resist the mojo of his Buddy Guy polka dot Strat. Photo by Laura E. Partain
Musically speaking, things have come full circle for Robyn Hitchcock. The unmistakably British singer-songwriter's career has gone through numerous permutations, beginning with the seminal late-'70s art rock band the Soft Boys, and including incarnations with the Egyptians and the Venus 3, not to mention various solo albums and projects, among them the critically acclaimed 2004 collaboration with Gillian Welch and Dave Rawlings, Spooked.
Though the sonic backdrops for Hitchcock's musings have been widely varied during his prolific 40-plus-year career, his distinctive voice, droll wit, and gift for at times haunting verbal imagery have been constants throughout. And now, at age 64, he's gone back to his roots with an eponymous new album that harks back to his Soft Boys days.
Hitchcock has described Robyn Hitchcock as "an ecstatic work of negativity," and while that might seem to be just an example of the artist's dry humor, it's also a sharp assessment. It's an album (and perhaps an entire career) that explores, in a nutshell, how the world is screwed, humankind is woefully misguided, and yet life is still somehow beautiful and there's joy to be had.
For example, "Virginia Woolf" considers the legacies (and suicides) of Woolf and Sylvia Plath. It recalls the work of legendary Pink Floyd founding member Syd Barrett, one of Hitchcock's musical heroes, with a wall of trippy, interlocking guitar tracks that pulsate and percolate.
"I Pray When I'm Drunk" is a rollicking number that sounds almost like a mash-up of British psych rock and outlaw country. "Detective Mindhorn"—a nod to the 2016 film
Mindhorn
, written by and starring Hitchcock's friend Julian Barratt of British comedy troupe the Mighty Boosh—may be the most '60s-leaning track on the record, with echoes of the Beatles and the Kinks, and maybe even a slight twinge of Herman's Hermits. Other album highlights include a couple of more introspective numbers: On "Time Coast," Hitchcock ruminates on the passage of time over a backdrop of chunky Stones-y rhythm guitar, while "Raymond and the Wires" is an ode to his father, with whom he had a somewhat distant relationship, but whose presence in his life looms large.
Robyn Hitchcock is a compelling collection of songs, and the guitars are glorious throughout—a credit to Hitchcock, guitarist Anne McCue, and producer Brendan Benson, who has a keen ear and made his collection of guitars and vintage amps available to them. (See "Studio Spangle" for a short interview with Benson about making the album.) From dreamy reverb and tremolo tracks to in-your-face overdriven guitar explosions, the album is a shining example of employing guitars to serve the songs, as opposed to the other way around.
The rhythm section features drummer Jon Radford and bassist Jon Estes from Nashville instrumental band Steelism, and Nashville pedal steel legend Russ Pahl also played on the record. Background vocals were provided by Grant-Lee Phillips, Gillian Welch, Wilco's Pat Sansone, and Hitchcock's partner, Australian-born singer-songwriter Emma Swift.
At a coffee shop in the East Nashville neighborhood where he now lives with Swift, Premier Guitar recently sat down with Hitchcock to discuss the making of Robyn Hitchcock. He candidly quipped on further ranging subjects from seeing Jimi Hendrix at the Isle of Wight Festival, to taking songwriting advice from Johnny Marr, and the need for human evolution.
"You can't just say, 'Oh, fuck it, man. I've got the scones, I've got the chardonnay, they can just sit outside the city walls
and get the plague.'"

What inspired your move to Nashville?
Emma was living here when we met four years ago. She's from Sydney. I've been coming here for a long time. I made Spooked here [with Gillian Welch and Dave Rawlings] in 2004 at Woodland Studios. They're my songs, but it's as if I managed to sneak into one of their records … so it's just a bit of a dream.
And Grant-Lee Phillips moved here. He's an old friend of mine from L.A. Meanwhile Brendan Benson, quite coincidentally, contacted me when I was living on the Isle of Wight, and said, "Would you be interested in collaborating in some way?"
You were in the Isle of Wight before you moved?
Yeah. The last big thing that happened there was the festivals, which I went to in '69 and '70. Dylan and Jim Morrison and the last Hendrix show. The island was thronged with a quarter of a million hairy groovers who turned up in a place that was full of essentially conservative people.
I read that your dad hipped you to the fact that Dylan, who you liked, was playing there.
He did, bless him. He wasn't a Dylan fan—he liked Joan Baez. I think he had the hots for her. Dylan was too abrasive for him. Dylan was a badge of our generation, not his, though he liked the Weavers.
He could see things that might work for me that wouldn't necessarily work for him. He also famously took this transistor radio in to my sister and I while we were watching a scientific puppet show on television, and said, "You might like this." And it was the Beatles. We said, "Well, we're watching telly." And he said, "You can always watch the telly and turn the sound down."
The following week we didn't even bother to turn the television on at all. We just listened to the Top 20. This was where you could hear the Beatles.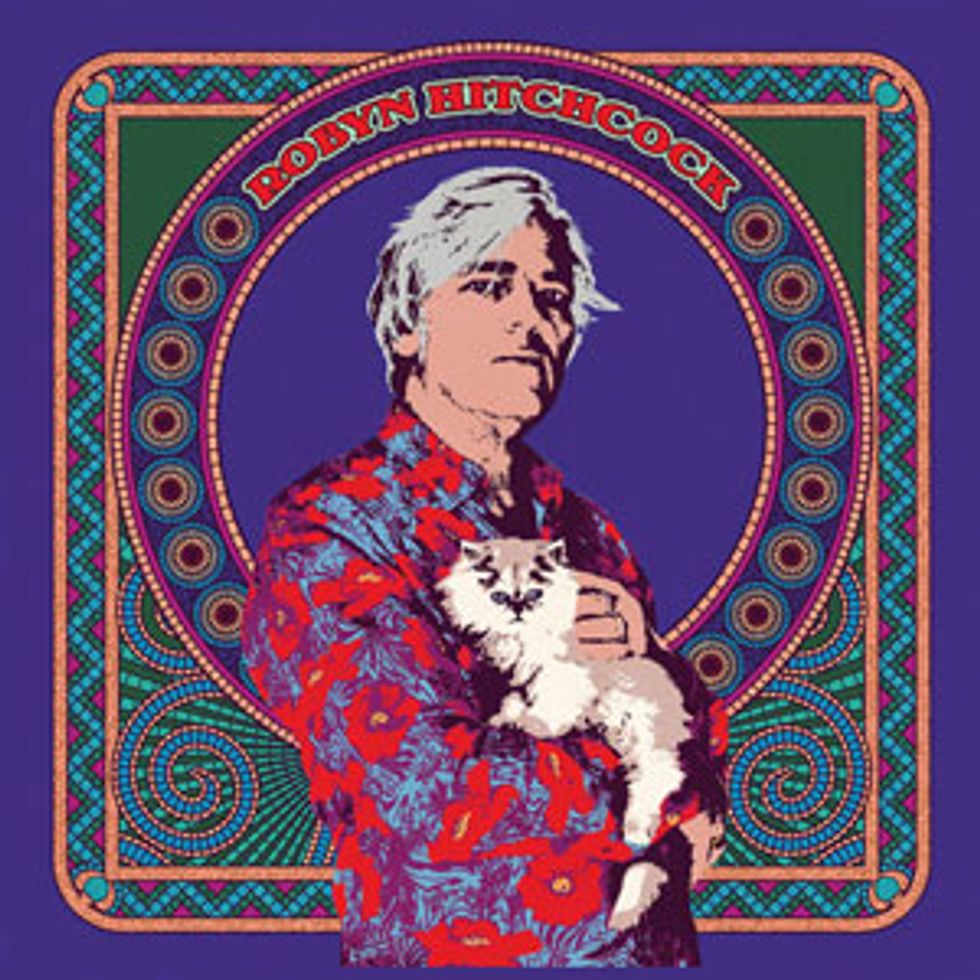 On his self-titled new album, Robyn Hitchcock took gear cues from producer Brendan Benson, choosing a Charles Whitfill "T" Style, a '72 Fender Tele, and a '60s Supro amp, all owned by Benson.
And you saw Jimi Hendrix?
Yeah, I did. I really enjoyed Hendrix. The Doors was a bit perfunctory. Jim Morrison had lost heart—it was just an hour of their greatest hits. I think it was one of the last shows they did.
And Hendrix died two weeks later, but Hendrix seemed much more vital. I don't think he found it a very satisfactory gig, but he was obviously trying. He just seemed like somebody who was sick to death of playing 12-bar [blues] but couldn't quite get away from it. So, he was trying to deconstruct it. How do I play a 12-bar in a way that I haven't done it before? And Eric Clapton and Jeff Beck and hundreds of other hairy men in flared trousers and grandpa vests haven't done?
Because everybody was doing that by the summer of 1970. It was the easiest thing in the world to fake. Me and my friends at school did it … it was the great bullshit years of the guitar.
You're in your 60s, but this sounds like a young rock album. I read somewhere that you said you made more autumnal records when you were young, and now you're playing like someone who's younger.
In a way things are more urgent now, because time is limited. I think turning 30 is the first big portal of age. Oh god, I'm not young, I'm not where it's at anymore. What am I doing with my life? Lots of reasons to feel that 30 is a mournful age to reach. I think I probably did quite a lot of that back then. I've made a lot of reflective records.
Also, Brendan Benson said, "Could we make a record like you did with the Soft Boys? Two guitars, bass and drums." I said, "Well I'm not fueled by quite the same rage." I don't know what he said, but it was something like, "Go and find some other rage to be fueled by."
I sat in with Johnny Marr when I was on the Isle of Wight and he was playing in Portsmouth, which is the nearest big city to the island. We went over and I joined him for a couple of songs on the encores, which was fun. He said, "Write some fast songs!" You know, Johnny's very intense. So, I think that's when I wrote "Virginia Woolf," which is semi-up-tempo.