Mahal, at left, playing a Gibson 00 series acoustic, and Mo', on his Republic Highway 61 resonator, are careful to vary the musical menu, despite their deep roots in traditional blues. Photo by Bob Minkin
Though born a decade apart, Taj Mahal and Keb' Mo' share a strikingly similar musical history. Both learned multiple instruments before the guitar: piano, clarinet, trombone, and harmonica for Mahal; French horn, steel drums, and upright bass for Mo'. Both began their recording careers in California: Mahal with Ry Cooder in the Rising Sons, and Mo' with Jefferson Airplane violinist Papa John Creach. Each has worked as an actor. Mahal appeared in the movie Sounder and wrote its score. He also acted in Songcatcher and Divine Secrets of the Ya-Ya Sisterhood. Mo' has appeared onstage in the Zora Neale Hurston musical Spunk, along with a number of large- and small-screen roles. Both are multiple Grammy winners and, although narrowly categorized as blues artists, are comfortable pushing the boundaries of the blues into new territories.
The proof is in their discographies. By his second album, 1968's The Natch'l Blues, Mahal was adding Stax soul tunes to his repertoire. By the third, 1969's Giant Step/De Ole Folks at Home, he was including a country classic, Dave Dudley's "Six Days on the Road," and "Take a Giant Step," a tune Carole King and Gerry Goffin had written for the Monkees. Mahal's later recordings would incorporate Hawaiian, Caribbean, and African elements, not to mention a four-piece horn section on his first live album, 1971's The Real Thing.
On his self-titled, largely acoustic 1994 debut as Keb' Mo', the former Kevin Moore was happy interspersing the pop sound of his tunes "Victims of Comfort" and "Anybody Seen My Girl" with the Taj-like blues lope of "Tell Everybody I Know" and the modern soul of "Don't Try to Explain." By 2001, his eclecticism was in full swing. On that year's Big Wide Grin, Mo' covered the O'Jays' "Love Train," Joni Mitchell's "Big Yellow Taxi," Slim Gaillard's "Flat Foot Floogie," and, in a nod to another genre-jumping artist, Ray Charles' rewrite of "America the Beautiful."
So it comes as no surprise that the album these two cross-pollinators recently joined to make, TajMo, draws from a wide range of musical inspirations. It kicks off with the soulful strut of "Don't Leave Me Here," quickly downshifting to the sparser resonator- and acoustic-guitar-driven funk of "She Knows How to Rock Me." And "All Around the World" gets a full-on pop production with a dash of roots, courtesy of Canadian blues legend Colin Linden on mandolin.
"Eric Clapton said that if you call something a blues record, half the people are out. It's like everybody runs for the hills."—Keb' Mo'
Joe Walsh (yes, that Joe Walsh) makes his first appearance on "Om Sweet Om," which also features vocalist Lizz Wright and harmonica great Lee Oskar. But it is on "Shake Me in Your Arms" that Walsh's unmistakable Tele attack trades fills with Mo's Strat funk, and the "Rocky Mountain Way" man turns in a torrid solo. On the opposite pole, "Diving Duck Blues" conjures images of two veteran bluesmen sitting on a back porch—the intertwining of Mahal on acoustic and Mo' on resonator slide creating enough texture and rhythm to make a band superfluous.
And Mahal and Mo' continue to find material in places the typical blues musician might fail to look, covering the Who's "Squeezebox" and John Mayer's "Waiting on the World to Change." For these two musicians, such a musical smorgasbord is as natural as breathing. That quality, along with their longtime admiration for each other and their deep roots, helps give this joint project an air of inevitability.
How did you each get started on guitar?
Taj Mahal: My stepdad had a guitar, which I discovered, but the guy that actually got me started on the instrument was Lynwood Perry from Louisburg, North Carolina, outside of Durham. He knew how to play and I followed him all over the place.
Keb' Mo': My Uncle Herman taught me how to play guitar. He lived up in Northern California. I would listen to guys like Phil Upchurch and the Beatles. I would listen to all the guitar parts all the way through any record. I didn't listen too much to particular guitarists because then you have the danger of sounding like that person. I was trying to gather information about how to make music—how to analyze the chords, scales, and modes, and how I could use those tools to make music, rather than just learn licks.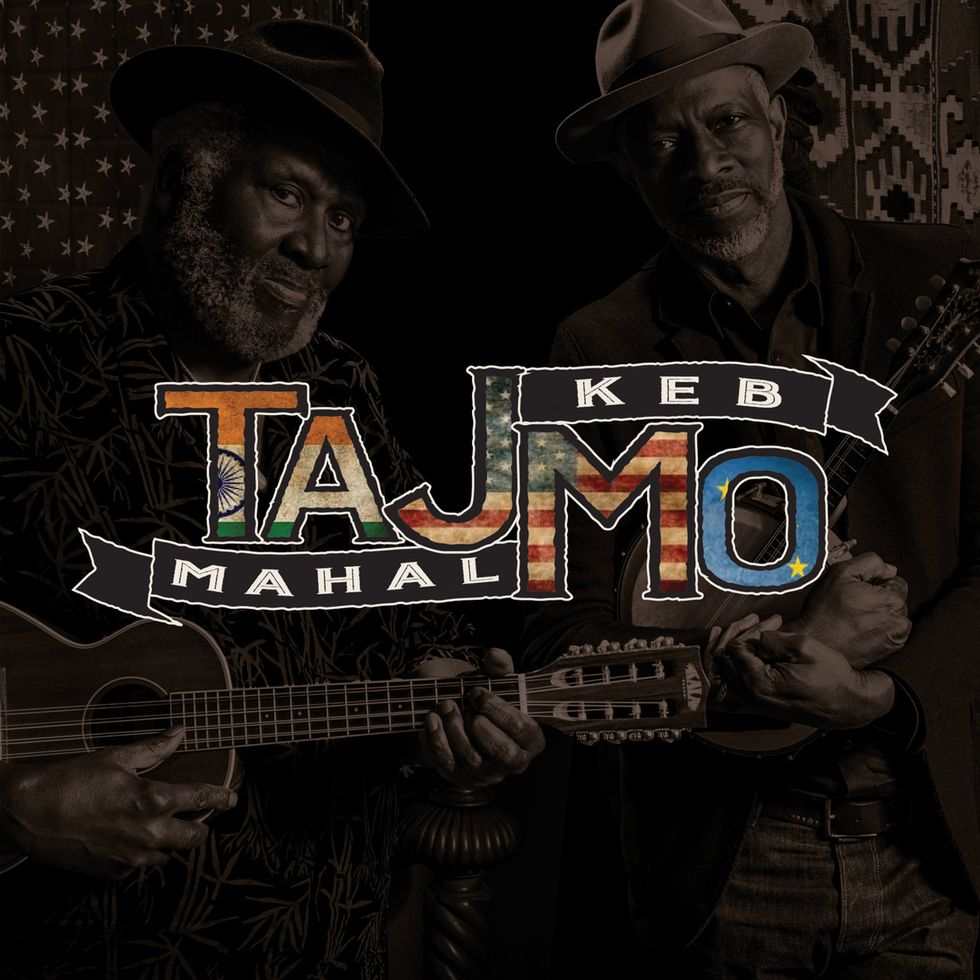 The 11-song album includes old-school acoustic music, electric blues, pop and rock covers, and two cameos from Joe Walsh, playing in classic form.
Who were your early guitar influences?
Mahal: I think Jimmy Reed was big in there and, of course, people like Muddy Waters and Howlin' Wolf, John Lee Hooker. I liked a lot of players, but I didn't really try to play their music.
Mo': I really love how David T. Walker plays. He played on my record called Reflection. If I was in my 20s, the influence list would probably be two or three names, but as time goes on, the list gets longer and longer.
Was Taj an influence on you growing up?
Mo': I got around to Taj later on.
Keb, on "Ain't Nobody Talking," your solo has a jazz feel. Did you ever study jazz?
Mo': There is a little bit of jazz, but it's pretty inside—no Locrian modes. When I play solos, I do follow the changes. Some guys might play pentatonic scales over everything, but I tend to change with the chords.
How did you two originally meet?
Mo': A mutual connection brought me to the studio where Taj was recording in 1993.
Mahal: I was in Los Angeles recording. It was a chance to meet this young man up close. He was somebody I admired and thought a lot of.
What made you eventually decide to do a record together?
Mahal: Over the years, we got to know each other at shows. Every now and then, I would say, "Hey man, we need to start puttin' something together."
Mo': We blocked it out way ahead and started recording in Nashville around 2014. We would record in between our touring schedules.
Mahal: This was not connected to a record company loaning us the money and giving us a producer. We put up our own money to create the record so we would have a 100-percent say in what the product became.
Mo': We got three tracks laid down at that first session. Then, Taj went out on the road. We would talk and send each other songs. If we both liked a song, I would record the basic guitar, bass, and drum tracks, and send it to him. Once I had enough of those going, we put Taj's vocals and guitar parts on the whole record. Then, I went back home, overdubbed some more stuff, and continued to confer with Taj. He would give me his input, and that was the process. A guy named Ross Hogarth mixed it in Los Angeles. As I got some mixes closer to where they were shaping up, we sent them back and forth. There were a lot of phone conversations, Dropboxes, MP3s, and plane tickets. [Both laugh.]
---
---