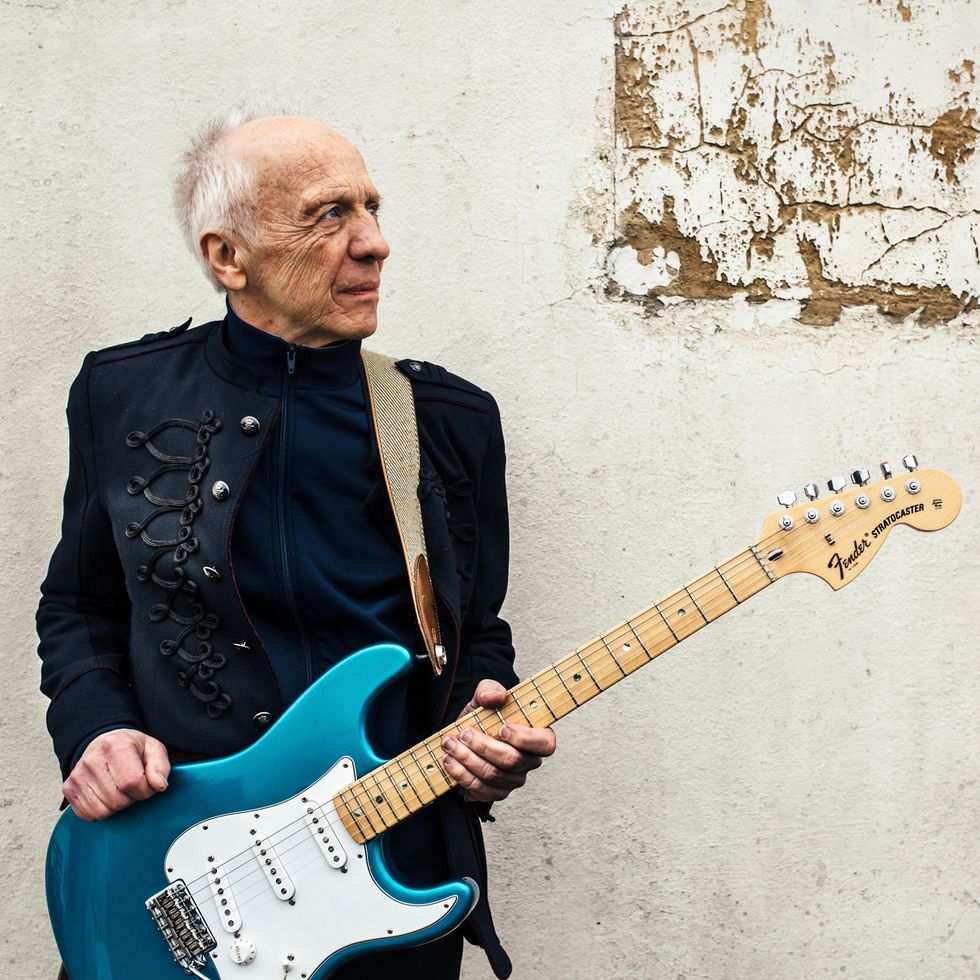 Trower cut most of the tracks on Time and Emotion with this signature Fender Custom Shop Strat.
Photo by Rob Blackham
With his latest album, Time and Emotion, Robin Trower reaffirms the promise he made when he first went solo more than 40 years ago: keep searching, keep pushing, and above all keep rocking, wherever the journey takes you.
Guitar heroes aren't made—sometimes, as the saying goes, they're cornered. Trower ought to know. In the early 1970s, when he left the British rock outfit Procol Harum to launch his solo career, he was immediately hemmed in by comparisons to Jimi Hendrix. Rock critics dismissed him as an "imitator" of Jimi's sound and playing style, and to a superficial extent, they had a point. Trower was an avowed fan—he'd seen Hendrix up close for one of his last gigs, a September 4, 1970 festival date that Procol Harum shared with the Jimi Hendrix Experience in Berlin, and it wasn't long before Trower ditched his Les Paul for a Fender Stratocaster, a Marshall stack, and various Hendrixian effects (Uni-Vibe, Fuzz Face, and wah). But beyond the gear, there was a deeper dimension to Trower's musical path that just couldn't be chalked up to mere idol worship.

"There's no doubt that Jimi Hendrix was a huge influence," he concedes today. "You've got to remember, when he came along, it was a bit like when James Brown came along. There had never been anyone like that before, so what he was doing couldn't be ignored—that was the thing about it. And obviously, from that influence, I parlayed it into what I had to say myself. But it was never a matter of learning Jimi's licks or anything like that. I knew that was a non-starter. I think it was more his funky, soulful, and very atmospheric vibe, like what he was doing on Electric Ladyland. That's what got me, definitely."
"It's impossible not to be influenced by people when you really love their playing or their music, but my advice would be not to copy
what they're doing."
It's not hyperbole to assert that Time and Emotion, Trower's 25th studio album, is one of the best records he's made since his '70s heyday. As usual, the trio is his preferred format (with bassist, keyboardist, and co-producer Livingstone Brown and drummer Chris Taggart), but Trower takes on the lead vocals and a lot of the bass duties himself, and makes heavy use of overdubs to lend even more movement, fluidity, and volume to the guitars. From the sidewinding opener "The Land of Plenty" to the bluesy, Albert King-influenced "Returned in Kind," this is Trower at his most introspective and spiritual, his solos and riffs economical yet rippling with emotion, all with the intent of forging an atmosphere, of crafting an experience, that lingers long after the music ends. And at 72, Trower still feels like he has plenty more to explore.
"I think I'm always looking for something," he says, a hint of amusement in his voice. "Sometimes I'm not quite sure what, but you just have to keep pushing. When I started working on this album, I had it in my mind that it would be a bit more complex—not necessarily with the sound, but with the songwriting. Atmosphere and mood are very important ingredients in that. Not for every song, but it's a big part of what I'm looking for—to create that feeling coming off the music so a listener can get lost in it. If something soulful comes across in the music, that's exactly what I'm hoping to achieve."

Of course, there are connotations to the title Time and Emotion. What does that mean for you?
Well, I felt that song in particular stood out for me as far as the story I was trying to tell. In general, I'm definitely drawing on my experiences with my lyrics on the last few albums, and as they've become more personal, that's why I've felt I had to sing the songs myself.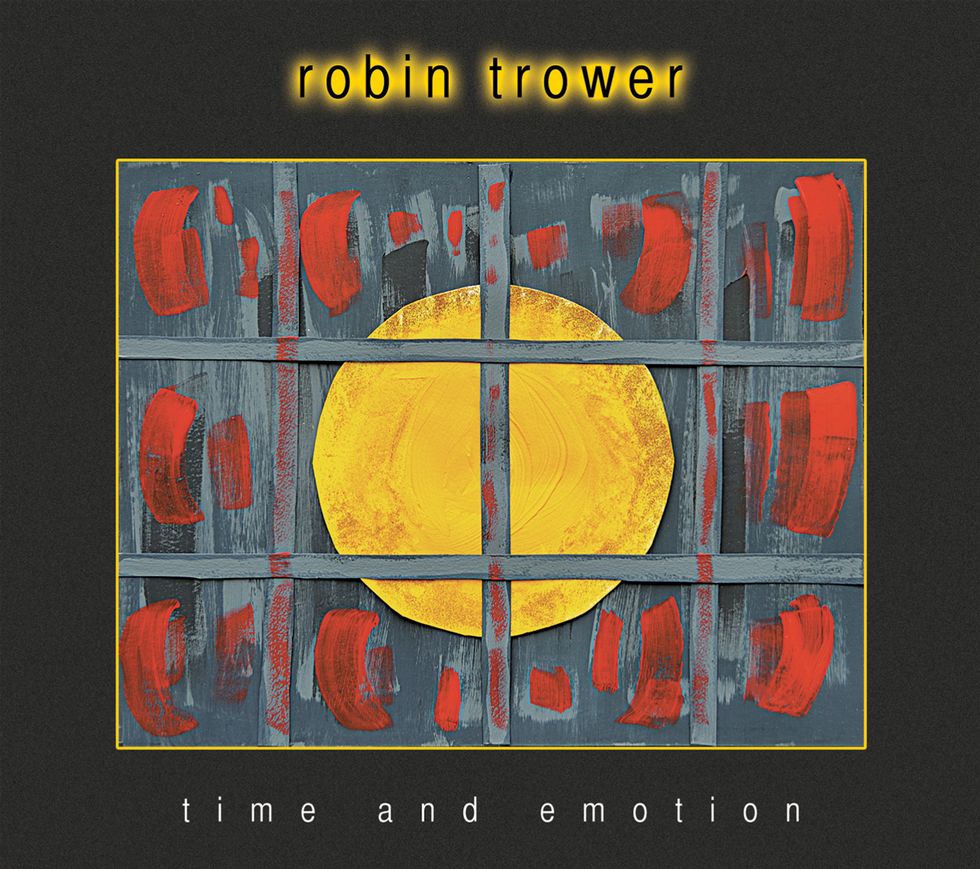 Trower co-produced his 25th studio album with bassist and keyboardist Livingstone Brown. "When I started working on this album," Trower says, "I had it in my mind that it would be a bit more complex—not necessarily with the sound, but with the songwriting."
I really started to get serious about it maybe three albums ago. I was writing a lot of lyrics that were very personal, so I thought that I ought to be singing them to bring over the correct viewpoint and emotion. And I liked that the tracks were starting to sound like one voice. Even though I've worked with much better singers than me, I like the character being "all of one" with the whole thing, if you know what I mean. That's really why I got into singing more.
There's always been a real lyricism to your solos, too. Very often they sound like their own composed pieces of music. Do you have any set method to how you approach a solo?
Before I go in the studio, I'm trying to get a handle on where I would like the lead work to be, but I don't really plan much further than that. I get a flavor in my mind about what I could play, but more than anything, the main thing is to have a blast doing it and let it rip. I'm not sure I really have concrete ideas going in. I just sort of go for it, but I do feel like, in the end, it has to work as a composition, too. Basically, it's like you're trying to compose a great melody, you know? And for me, it's about being as soulful as I can make it.
---
---