Some say the action on a roundneck guitar should be raised for slide, but that makes it harder to switch between slide and conventional fingering. Plus, with a little amp overdrive, most neck noise gets lost in the dirt. What's most important is making solid, relaxed, and accurate contact with the strings. Photo by Andy Ellis
Glen or Glenda?
And then, we have the outliers. Although a fair number of traditional players use bottlenecks, I don't recommend them for beginners. Wine bottles frequently have seams that can run afoul of smooth slide tones—purposefully or not—and their curves and bulbous upper lips make them hard for unskilled sliders to bring to bear on the strings with accuracy. Ditto for knives. Blades lack the density and smooth edging that'll get a beginning slider off to an easy start.
There are also unconventional slides available, like ring slides, which can be spun into position or used by turning the back of your hand toward the strings, but any unnecessary hand movements interfere with the flow of making music, and it's far harder to play slide with the back of your hand facing the fretboard than the front. Some slides also have cutaways on one end—supposedly to help them fit better on players' fingers. Sometimes I find these comfortable, sometimes not. It depends on the slide and the shape of your hand.
The best way to zero in on which slide might be ideal for you is to locate a store with a generous slide display, bring in your favorite axe, and work your way through as many slides as possible until you find the ones that allow you to play comfortably. If you're not lucky enough to have a good music shop nearby, investigate what your favorite slide players are using and order a couple of examples. Chances are you'll hit at least one bull's-eye.
Start Slidin'
Okay. You've got your guitar and you've got your slide, so let's get started. And remember, the goal is to get you up and walking—not running—so don't expect to play like Ry Cooder a half hour from now. But do expect to be playing blues slide at a rudimentary level.
To cleanly sound a note with a slide, you need to place the slide directly above that note's fret.
First, tune your guitar to open E. That's, from low to high, E–B–E–G#–B–E. We're choosing open tuning because it's easier than playing slide in standard tuning, yet there is some consistency between standard tuning and open E. In both tunings, the pitch of the lowest string and the two highest strings are the same, so chords will sound familiar and the high strings can also serve as a gateway to playing slide in standard tuning as your skills develop. Hey, open E is Derek Trucks' go-to tuning, so if it's good enough for Derek, it's good enough for us!
Now, strum all the open strings. That's an E chord, and E will be our I chord in the I-IV-V blues progression we'll play. And let's refer back to Elmore James' "Dust My Broom" as a model for our first endeavor.
But before we start, there's one more important thing you need to know. To cleanly sound a note with a slide, you need to place the slide directly above that note's fret, not behind the fret, where you'd plant your finger when playing conventionally. Just remember, your slide rides on the string without pressing down against the frets—you'll simply be gliding from note to note as you play.
So, on to "Dust My Broom." Place your slide over the four high strings at the 12th fret and rake those strings with your picking-hand fingers or a flatpick while shaking the slide gently back and forth. That's the I chord.
When you shake the slide, use your wrist and your elbow together. Shaking the slide from side to side over the chord or note you're producing is what gives the technique its shimmer and voice-like magic. Eventually, when you're comfortable playing subtler, single-note slide lines, you'll depend more on your wrist for vibrato, akin to B.B. King's classic "hummingbird" approach. Fun fact: King couldn't get the knack for slide, so he developed his vibrato to approximate the sound of his slide-playing cousin, Bukka White.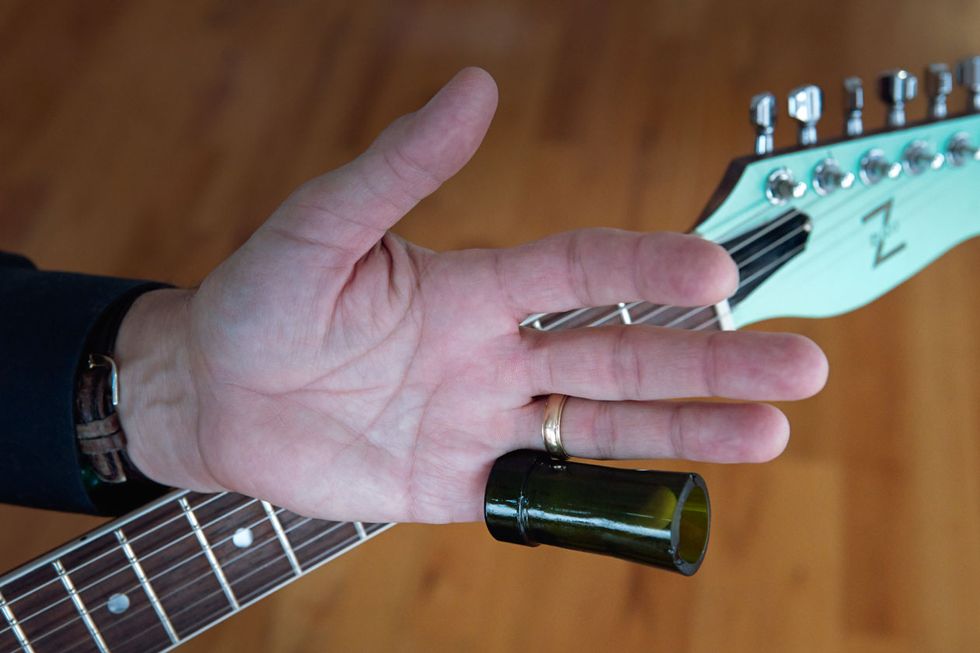 While bottlenecks have a cool old-time vibe, they're not the most practical slides. The round, protruding lips can catch on a guitar's neck, extruded glass sometimes has seams that can scrape against the strings, and the curved shape takes a practiced hand to produce tones accurately. Photo by Andy Ellis
Keep playing the song's chords along with James' recording and you'll find yourself alternating between sliding on the I at the 12th fret and playing simple, four-on-the-floor chording on the two low-tuned strings for the second half of the I, and all of the IV and V chords. That pattern will get you comfortable alternating between slide and basic open-E barre chords.
To add some rolling movement to the I chord, play the open 6th and 5th strings while alternately pressing on and off on the 5th string at the 2nd fret with your first finger. For the IV and V chords, we'll simply transfer this motion up the fretboard: Move up to the A (IV chord, 5th fret) and B (V chord, 7th fret) note positions on the 6th string, and pin down the 6th and 5th strings with your first finger while you strum. And as you did on the I chord, press on and off on the 5th string, two frets higher than your A and B root notes on the 6th string, only this time use your third finger. Got it?
Feel free to experiment. Try playing the entire progression just with the slide, or try isolating some single strings with the slide, for fills or decoration. Then move along to other easily interpretable slide classics, like Muddy Waters' "Can't Be Satisfied," and take your best shot. When you're comfortable, pull out a delay pedal and shoot for something more stratospheric, like U2's "Bullet the Blue Sky" or Pink Floyd's "Breathe." Always remember to bring the slide firmly in contact with the strings, and never give a rat's tail if you make a mistake or something doesn't sound quite right. All troubles pass with practice.
I'll leave you with two more nuggets. When you're improvising around a chord with a slide—at least in this style of open tuning, which the blues elders called "Vestapol"— anything you play within the two frets below your anchor fret or three frets above it is going to produce cool-sounding notes. Get inside this five-fret box and play around. You'll see.
And since the two high strings in open E are tuned identically to standard tuning, when you're comfortable with the slide, you can play melodies or leads by following the notes on those strings the same way you would if you were playing pentatonic licks in standard tuning. Now, go start slidin'!
Get an earful of Elmore James at work on his 1951 classic recording of "Dust My Broom," which was originally cut by Robert Johnson as "I Believe I'll Dust My Broom" in 1936. James' slide-powered version has become definitive, and it's an easy-to-follow route to building your own basic slide guitar skills.