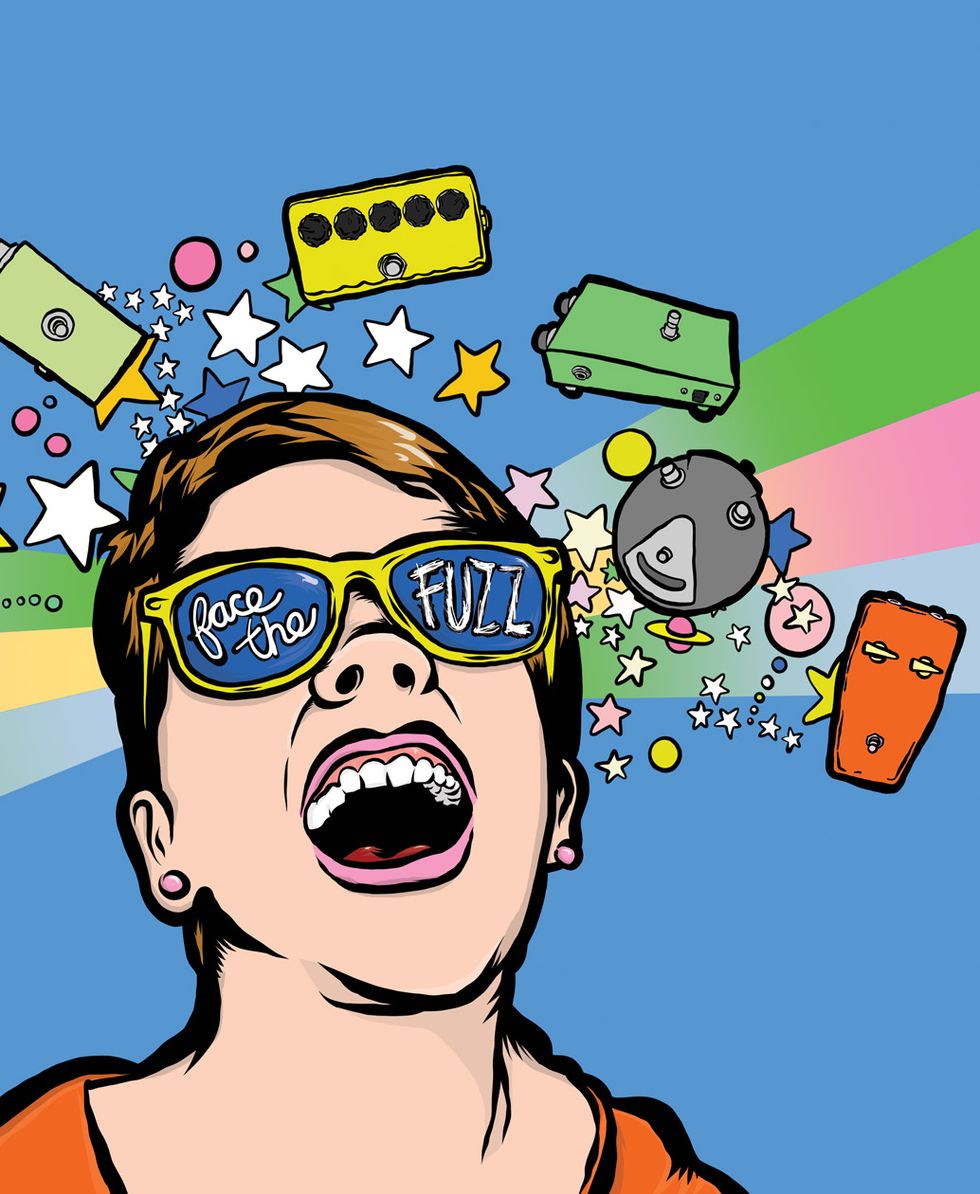 Illustration by Blair Gauntt
It's one of the earliest effects pedals and one of the most enduring, but for many players the fuzz box is still ghettoized as either the domain of "old-school" genres like psych, garage, or Hendrix-esque classic rock, or the torture device of noisemakers and experimentalists.
The truth is, this ridiculously expressive effect can do much more than just freak-out leads: Fuzz has been used by great artists in virtually every genre—and from Newark to Nigeria—to produce groundbreaking music. A good fuzz box can add character to just about any conceivable style, taking you from subtle grainy textures to woolly thickness, sputtering fizz, or myriad flavors of utter mayhem, all with superb touch sensitivity. And yeah, it's still great for acid-rock freakiness. But as everyone from Jimi Hendrix to Jimmy Page, J Mascis, Jack White, Billy Corgan, and Dan Auerbach has proved, there's truly a massive variety of tones available within these relatively simple bundles of transistors. Let's explore the origins of this versatile pedal, its varied incarnations, and what it might do for your music.
Fuzz might have proved a means of imitating a cranked tube amp early on, but has long since established its own thing—something that even cranked tubes can't match.
It All Started with a Broken Mixer
The history of the fuzz pedal really is rooted in guitarists' quest for an enticing, dynamic distorted sound, and creative artists pursued this through several other means before transistorized boxes showed an easier way forward. Backtrack to the inspiration for the first commercial fuzz box, the Maestro Fuzz-Tone, and we land at one of those happy accidents that inspires a clever engineer and launches a sonic revolution.
Late in 1960, while recording Marty Robbins' early 1961 hit "Don't Worry," Nashville engineer Glenn Snoddy noticed an odd—and yet quite divine—fuzzy sound coming from the channel of the tube mixer through which Grady Martin was recording his bass solo. The busted take stayed, becoming Nashville's first recorded fuzz solo. Funky, farty and wild, the brief solo lends an air of "what the…?!" to an otherwise straight-up country crooner ballad, and the success of this out-there sound sent Snoddy in search of an easy way of recreating it on a regular basis. It's worth noting that in the same year, California session musician and electronics wiz Orville "Red" Rhodes also developed a fuzz circuit for use in the studio. Although it was never produced commercially, he did build renditions for other guitarists on the scene, including Nokie Edwards of the Ventures, who used it on the band's 1962 single "The 2,000 Pound Bee."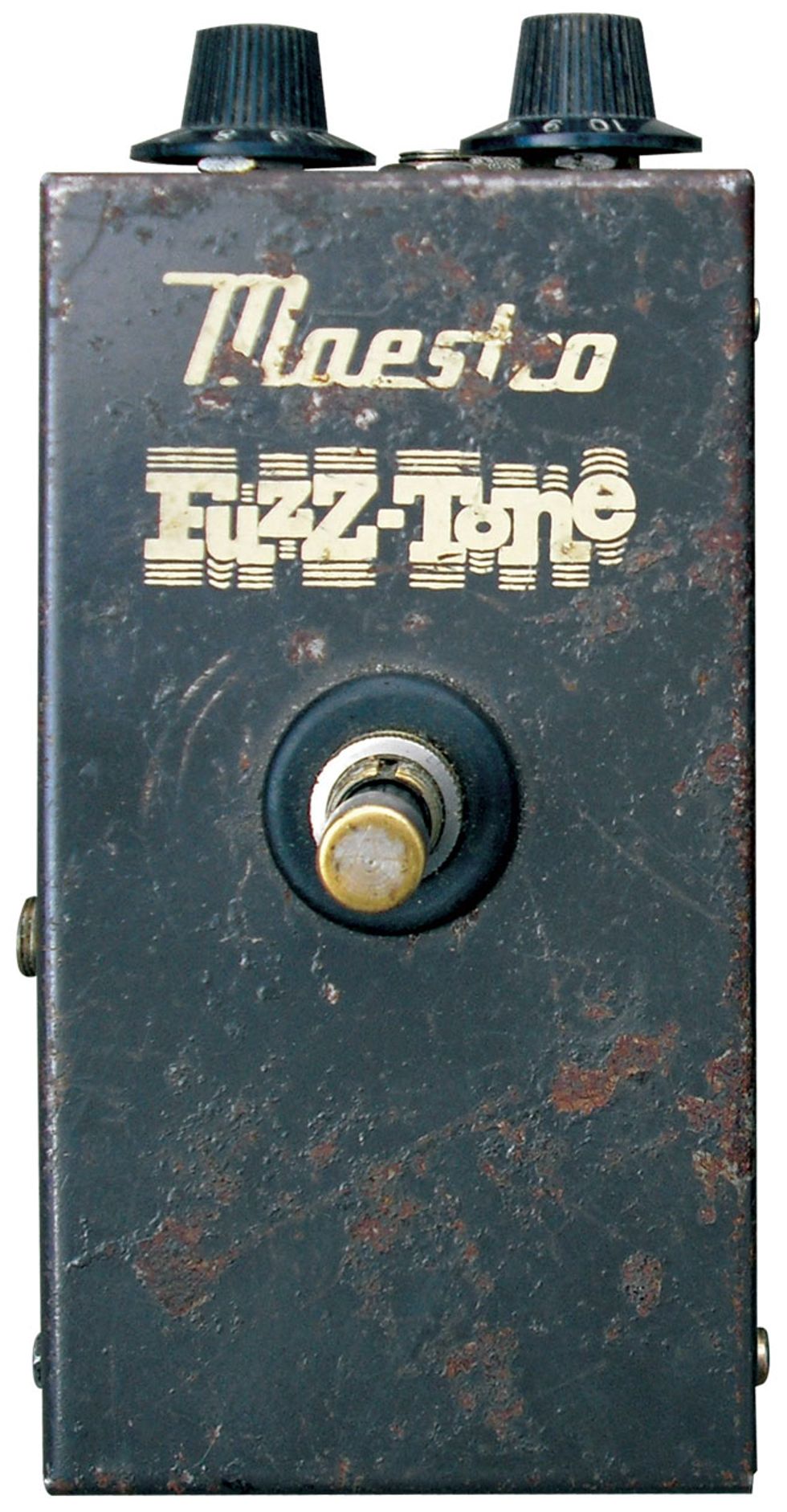 Some early fuzzes were designed to emulate the rasp of a horn. In fact, Keith Richards' famed fuzz riff on "(I Can't Get No) Satisfaction" was supposed to be a placeholder for a sax line that, thankfully, never got recorded.
Compacting that tube preamp down to a much simpler design using solid-state germanium transistors, Rhodes found success in the circuit that he would sell to Gibson affiliate Maestro, in 1962, to be manufactured as the Fuzz-Tone. The first British fuzz, the Sola Sound Tone Bender MkI, wouldn't be released until the following year, and Maestro Fuzz-Tones were hard to come by in the U.K. that early on. Not that that stopped all British guitarists from acquiring the infectious sound. In 1964, the same year Dave Davies of the Kinks was abusing his amps to get there, guitarist Big Jim Sullivan—using a pedal custom-made for him by Roger Mayer—recorded a notable fuzz part on P.J. Proby's hit single "Hold Me." It's largely a cheesy pop tune conceived to make teenage girls swoon, but the guitar solo that comes in at 1:30 exhibits a surprisingly thick and creamy lead tone and is really stand-out stuff for the era. Its no surprise British guitarists were chasing the sound the minute it hit the airwaves.
Soon after, artists were logging iconic fuzz-guitar tracks thick and fast. Keith Richards recorded the first genuine commercial fuzz-laced smash in May 1965 with the #1 hit "(I Can't Get No) Satisfaction," using a Maestro Fuzz-Tone acquired while the Rolling Stones were on tour in the U.S. That same year, a slew of guitarists used the British equivalent—the Tone Bender—to declare their allegiance to the new sound. Jeff Beck used a Sola Sound Tone Bender MkI to record the Yardbirds' single "Heart Full of Soul," which was actually released just before the Stones' "Satisfaction," but wasn't quite as big a hit. And Paul McCartney, Mick Ronson, Pete Townshend, Jimmy Page, and several others plugged into Tone Benders the same year. The fuzz was out of the box, and there was no turning back.
Author Dave Hunter demos six different fuzzboxes to show you the flavors of filth.