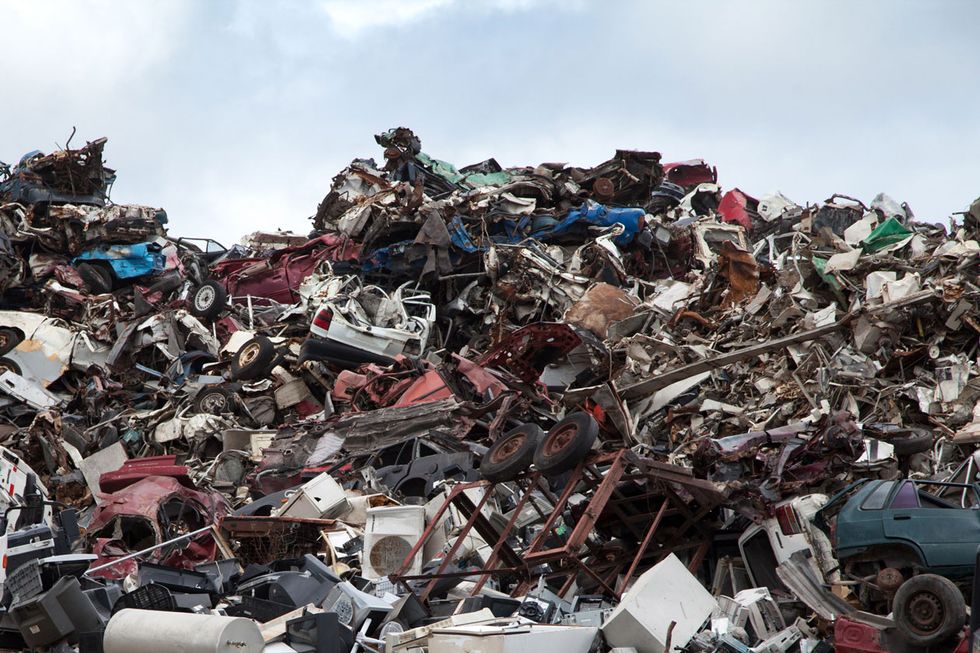 A good rule of thumb, according to public policy professor Christopher Bosso, is to never put metal in your trash. Scrapyards will buy your metal scraps and repurpose them.
Guitar players love making messes. Slathering on too much fuzz at inopportune times, peaking VU meters, and rendering separation useless in the studio. It goes with the territory. True, sometimes you need complete isolation or the pristine precision of a Steely Dan record, but more often than not, there's something special about getting gross with your guitar.
But that's just aesthetics.
Unfortunately, guitarists also generate a lot of physical waste. Old strings, picks, batteries, and tubes need to be disposed of. Blown speakers, frayed wires, trashed amps, unwanted enclosures, and fried electronics need to be discarded as well. For better or worse, modern music making generates a small mountain of unwanted junk.
But don't fret—pun intended—these are solvable problems. Options and innovations abound.
In this modest dissertation, we focus on three areas: recycling waste, innovative repurposing of discarded materials, and—at what first glance might seem like a side point—sustainable harvesting of wood.
Part I talks about garbage. Some things, like guitar strings and metal amp chassis, are easy to recycle and might even have marketable value. But others, like old tubes and single-use batteries, raise difficult questions and could be too much trouble—or just too expensive—to recycle.
Part II profiles two innovative businesses—Wallace Detroit Guitars and Analog Outfitters—that do incredible things while repurposing old materials. Each company, in its own manner, has found a way to turn trash into treasure.
Part III is about wood. Most guitars are made of wood and many of those woods are rare and expensive. But two of those woods, rosewood and ebony, are becoming scarce. That scarcity has raised enough alarm that CITES—the international body that deals with such matters—has imposed new, strict regulations. But it isn't as bleak as it sounds. We focus our attention on the important initiatives being made to develop a more sustainable model for both the growing and harvesting of these precious tonewoods.
"Above all, don't put metal in your trash." —Christopher Bosso, professor of public policy at Northeastern University
In this story, we speak with entrepreneurs, captains of industry, tenured professors, and other experts to give you an overview of these complex and sometimes complicated issues. There's a lot more to say, but consider this a thorough introduction. Ultimately, guitar players make messes, but for the most part, those messes—at least the non-musical ones—can be cleaned up.
---
Part I: Responsible Junk Disposal
---
Broken strings, worn out picks, dead batteries, fried circuits, non-functioning gear, stripped cables, and blown tubes—what should you do with all that junk?
Strings
Electric guitar strings are made from different types of metal and that's true for most acoustic guitar strings, too (with the obvious exception of nylon). Those metals include steel, nickel, cobalt, bronze, and various other alloys.
But guitar strings don't last forever. They wear out, break, or get crusty and gross, and at some point, you must change them. Most players change their strings on a regular basis. Many pros change them every gig.
What should you do with your old strings? Should you throw them in the trash?
"Anything with metal in it should be recycled," Christopher Bosso, a professor of public policy at Northeastern University says. "It has material value and local recycling programs actually give money for that."
D'Addario recently made string recycling easier for guitar players, with their Playback program, which allows players to drop off unwanted strings at more than 400 music retail spots around the U.S., including all Guitar Center locations. As an incentive, those who join the program earn points for recycling that can be used toward new strings or gear.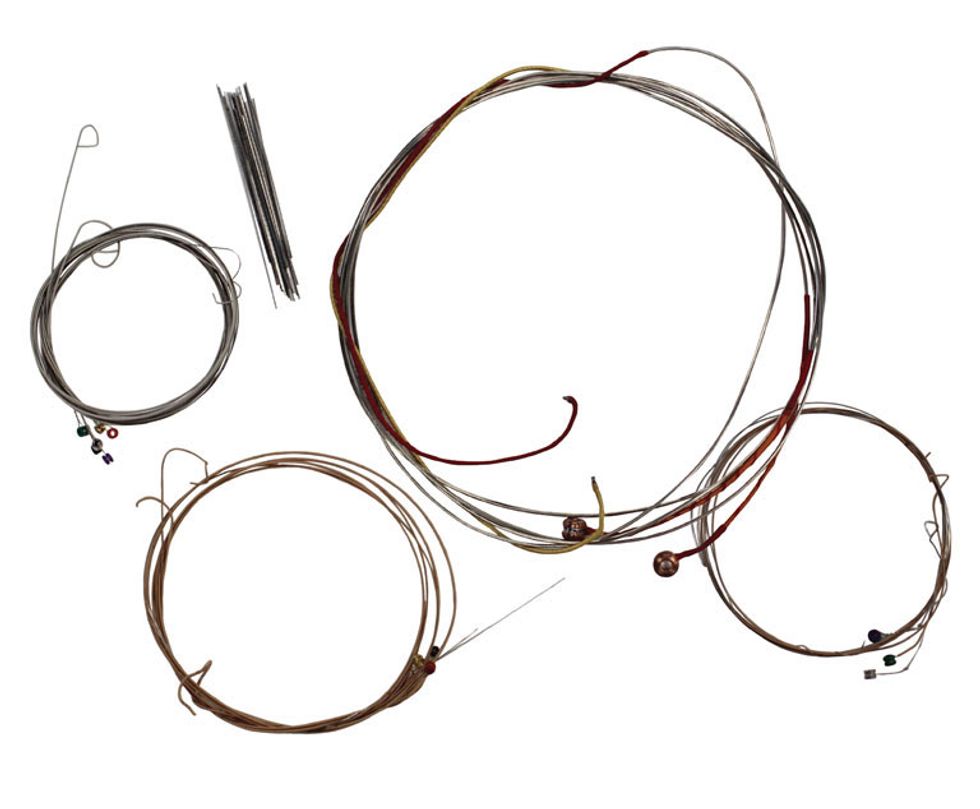 Through the Playback string recycling program, D'Addario and partner TerraCycle have recycled over 1.2 million strings in 2017. A reported 1.5 million pounds of strings are accumulated in landfills each year.
You can also take matters into your own hands. Ben Juday, the founder of Analog Outfitters, a company that builds amplifiers from repurposed Hammond organs, recommends having special bins for metal waste. "I have a couple of 5-gallon pails in my garage," he says. "Any scrap or bit of wire, brass or copper, or any little bit—anything from guitar strings to cans to little pieces of steel—I put in there and either put it out for the scrappers or take it to the scrapyard."
Scrapyards pay for junk metal, melt it down, and resell it. But don't expect to get rich recycling strings. "You would have to have a heck of a lot," Bosso says. "Scrapyards deal with significant amounts. Obviously, there's an aggregator. Cities and towns that do that place big magnets over their recyclables and anything that's metal gets pulled to a separate place. It's then sold by the ton or gets separated into the different types of metals, depending on where it is in the waste stream. More recyclables than we care to admit don't actually end up being recycled. But anything that has metal in it is of value in the marketplace. The real trick is, how do you get that into the right stream? If you put your strings into a recycling container or where the collection bin is, that's better than tossing it into the trash. Above all, don't put metal in your trash."
Batteries
Most effects pedals used to run on batteries, though the industry trend seems to be moving away from that. "I've probably sold close to 1,000 pedals and I've only had two people ask about batteries," Eric Junge, the owner of Hungry Robot Pedals, told us in an earlier interview ("Stompbox Savants," September 2016"). "I think the general consensus is, most people aren't using batteries anymore," he added. "A lot of my designs are very tight internally—I couldn't even fit a battery into a couple of them. So my take is, 'Am I going to make this pedal bigger for the 0.1 percent of the public that's going to use a battery?'"
That said, some players still rely on batteries and they are recyclable, although most communities are not set up to handle them. "In an ideal world, you would take these single-use batteries and figure out a way to recycle them," Bosso says. "But hardly any states have recycling programs for single-use batteries. Car batteries do have a very high recycle rate. That's because they contain a valuable metal, lead, and they're big, and most times they are replaced by professionals at repair shops. You have a collection process, market value, and there is actually a process to extract the metal and other stuff from the batteries. There is a very high rate of recycling for car batteries as contrasted to consumer batteries."
In 1996, legislation was passed to phase out the use of mercury in batteries, making it legal in most states to dispose of single-use alkaline batteries via the regular trash. But single-use batteries can still be recycled at local recycling centers, along with rechargeable batteries and other electronic waste, which are restricted from being tossed in with regular trash.