Tone Tips: Is Rock Guitar Eating Itself?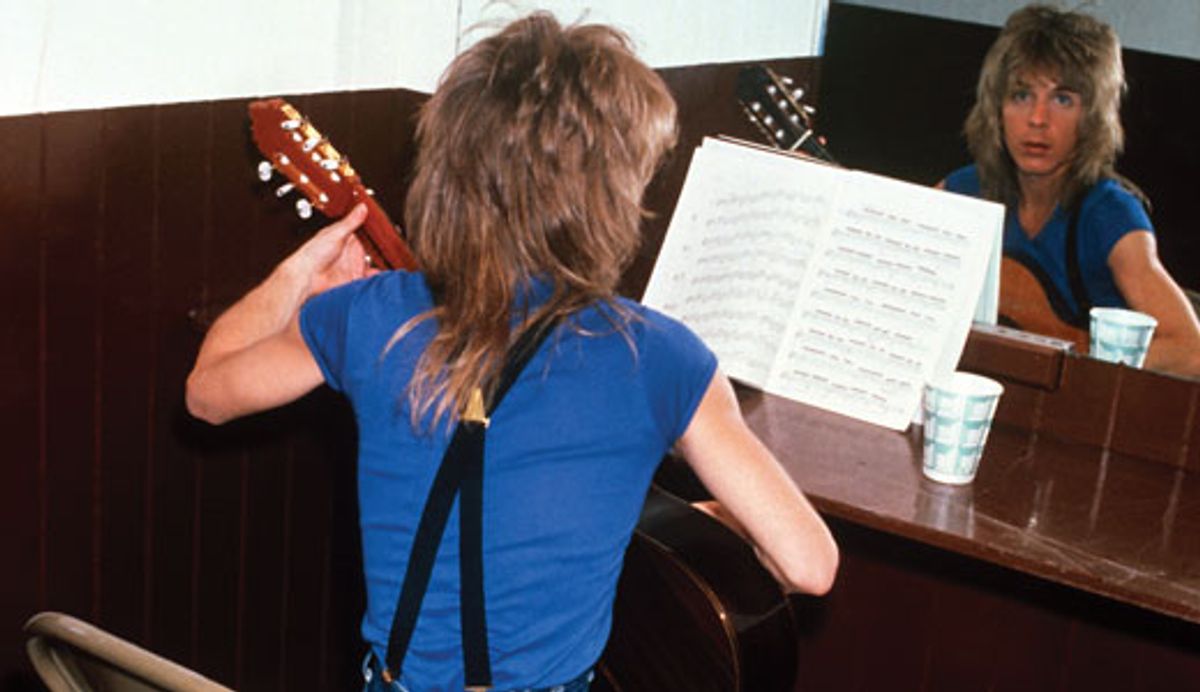 Rock 'n' roll will never die, but it does take extended naps from time to time.
I grew up listening to all kinds of music, but rock 'n' roll was (and always will be) my number-one musical love. So it naturally concerns me that rock music seems to be in a bit of a crisis recently. Not too long ago, while on a Facebook guitar forum, I came across a recently posted link to an interesting, thought-provoking piece on TeamRock's website. "Has rock music run out of ideas?" is the title. It explores the theory that rock has become somewhat stagnant and is therefore losing popularity. According to the author Scott Rowley, "Rock music isn't dead; it's just going 'round in circles and eating its own tail…

"Ask any of the first generation of hard-rock stars and you'll get a similar story," Rowley continues. "You'll get Tony Iommi raving about Hank Marvin, Jimmy Page talking about Scotty Moore and James Burton, Glenn Hughes banging on about Otis Redding, Rod Stewart about Sam Cooke. Even the second generation: Angus Young would rave about Chuck Berry more than he would about Eric Clapton or Jimmy Page. Joe Strummer would rave about Beefheart, King Tubby, and Johnny Cash."

Rowley goes on to note that asking today's young bands about their influences will result in a predictable role call: Zeppelin, Free, Sabbath, Gun N' Roses, Thin Lizzy, AC/DC. "And who do their bands sound like? Zeppelin, Free, Sabbath, Gun N' Roses, Thin Lizzy, AC/DC," he contends. "Rock is eating itself, moving in ever decreasing circles, recycling its greatest hits."

I do think there is a lot of truth to what Rowley says, and a 2017 mid-year report from Nielsen Music seems to support his thinking. Taking into account CD purchases and streaming in the U.S., rock sits in second place after hip-hop/R&B (23 percent to 25.1 percent, respectively). So, what's a budding young rock guitarist to do? I believe and maintain that it's simply a matter of thinking outside of the box and breaking the mold.
Expand your horizons. I always liked reading magazine interviews with my guitar heroes—especially when I discovered some of their unexpected influences. Randy Rhoads is a prime example of a guitarist who took a wide range of influences and stretched the parameters of hard rock. Sure, he liked Ritchie Blackmore and Michael Schenker, but he was also an avid classical-guitar student and appreciated players like Allan Holdsworth and Earl Klugh. "Diary Of A Madman," the epic title track from Ozzy Osbourne's second solo album, is a Randy tour de force where his wide-ranging influences are all on display. It didn't hurt that Ozzy himself was a Beatles fanatic and had shown a desire to experiment musically, but keep in mind, folks: This was 1981! Hard rock and metal were relatively new genres and these guys were already pushing boundaries.


We have the tools, we have the music to influence, and we have the means to distribute and promote at our fingertips.
Fast-forward to the early '90s, when 10 years of hair metal had certainly taken its toll. It wasn't all bad, for certain, but need I say more than Cherry Pie? (Rowley's comment about rock going around in circles and eating its own tail could definitely be applied to this era.) But then, lo and behold, grunge came along to save the day and Nirvana took over the airwaves and MTV with equal parts pop, punk, and hard rock. It was incredibly fresh, and most importantly it was authentic.

Soundgarden pushed boundaries even further than Nirvana. Always changing and experimenting, they mixed post-punk with Sabbath and Zeppelin. But Chris Cornell loved everything from classic soul to Elvis Costello. And it all made its way into his writing, playing, and singing in a very natural, unforced manner. He was never one to adhere to rules, boundaries, or clichés of any sort, and it's that fearlessness (and that of his bandmates) that allowed Soundgarden to stretch and expand the hard-rock genre so exponentially. Acoustic instruments mixed with heavily fuzzed-out guitars and bass, Middle Eastern-tinged melodies, and extreme alternate tunings. It was all fair game to Soundgarden.

What's my point? There's never been a time when access to music to draw influence from was easier. We also have more instruments, amplifiers, software, and sound-altering effects at our disposal than ever before. The computer I'm typing on now can easily be used to create and release an album. The only thing holding us back, is, well…us. We have the tools, we have the music to influence, and we have the means to distribute and promote at our fingertips. But we just have to dare to be different. AC/DC is one of my absolute all-time favorite bands, but one thing's for sure: The rock 'n' roll world does not need another AC/DC! The rock world needs a band that can set it on its ear in the same way AC/DC did—or Led Zeppelin, the Who, Nirvana, or Soundgarden, for that matter.

I hope this inspires some young guitarist out there to get together with some cool musician friends with wide-ranging musical tastes. Who knows what could happen? No rules, think outside boundaries, combine your influences, and do not be afraid to be different. Actually, insist on being different. The sky's the limit, so what have you got to lose? Now, go!