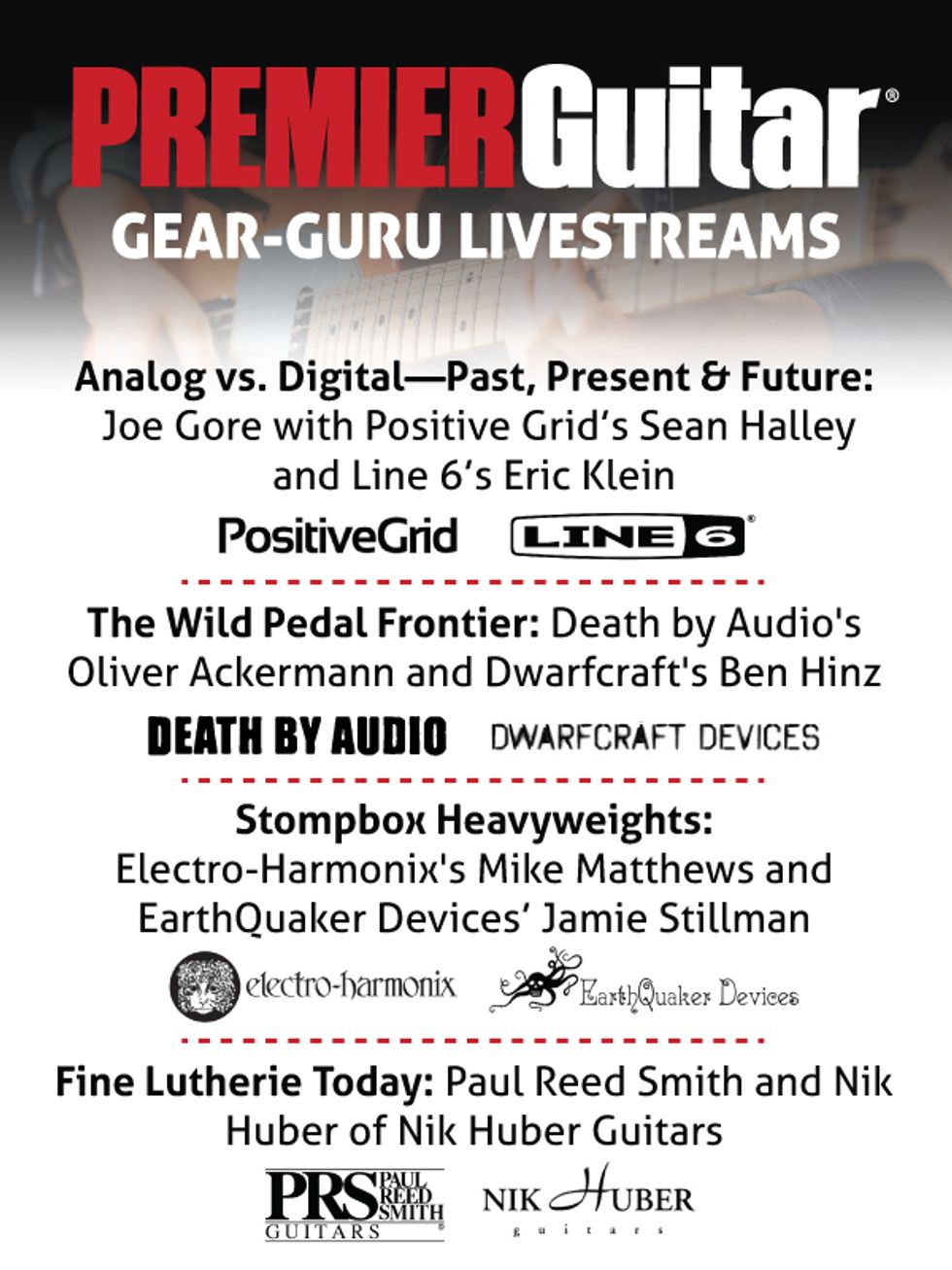 Premier Guitar Announces Daily Winter NAMM 2018 Livestreams with Electro-Harmonix's Mike Matthews, Paul Reed Smith, EarthQuaker Devices' Jamie Stillman, and More!
Winter NAMM 2018, Booth 6210
Anaheim, CA –– Premier Guitar presents an amazing livestream schedule with the best and brightest in the guitar, pedal and amp world coming together to deliver some serious guitar knowledge.  Builders and luthiers join forces for four days of guitar discussion panels, diving deep into the art and science of their inspiration. Stop by booth 6210 to get a full dose of the experiences, stories and designs that turn builders into legends.
Schedule:
Thursday, January 25 at 1pm PST
Analog vs. Digital—Past, Present & Future: Premier Guitar's "The Recording Guitarist" columnist Joe Gore with Positive Grid's Sean Halley and Line 6's Eric Klein
Friday, January 26 at 11am PST
The Wild Pedal Frontier: Death by Audio's Oliver Ackermann and Dwarfcraft's Ben Hinz
Saturday, January 27 at 11am PST
Stompbox Heavyweights: Electro-Harmonix's Mike Matthews and EarthQuaker Devices' Jamie Stillman
Sunday, January 28 at 11am PST
Fine Lutherie Today: Paul Reed Smith and Nik Huber of Nik Huber Guitars
PG will be livestreaming these events on YouTube, so subscribe and tune in and watch some of the brightest minds in the industry talking about the guitar's past, present and future.