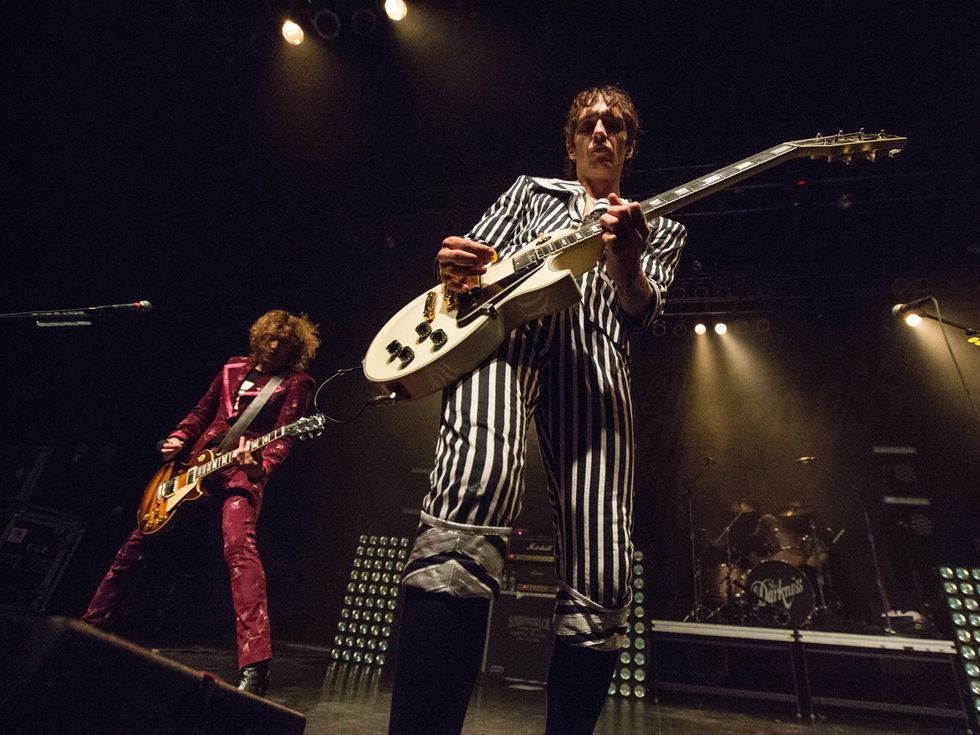 Dan Hawkins, left, exclusively plays Gibson Les Paul Standards, while Justin only uses Les Paul Customs. "If you look at the EQ, I am on happy face and he is … happy face," Dan says, laughing. "We are the same on many levels."
Photo by Tim Bugbee/Tinnitus Photography
Taylor Swift never thrashed around her living room or lip-sync'd to one of your songs. But you're not the Darkness.
"I didn't think we could get any sexier," guitarist and lead vocalist Justin Hawkins told Billboard in response to Swift's 2016 ad for Apple in which she rocks out to the band's "I Believe in a Thing Called Love." "But somehow," Hawkins continued, "Taylor raised the bar."
The Darkness—the lamé-suit-wearing, falsetto-singing, glam rockers from Lowestoft, England—embody rock 'n' roll's glorious, flamboyant id. They preen, cavort, and swan (if that's even a word) with the best. "I would like to play less because I do enjoy the swanning," Hawkins says, justifying his role as the band's solos-only guitarist. "I enjoy a good swan."
Justin Hawkins, along with Dan, his brother, are the Darkness' guitarists. Justin takes solos and Dan does most of the heavy lifting. Together they pump out hook-driven, anthemic, head-banging music. Their songs, like their outfits, are attention grabbing, infectious, and fun. They are everything hard rock—especially their type of hard rock, which sits at the intersection of mid-'70s glam and late-'80s hair metal—is supposed to be.
Of course Taylor Swift gyrates around her house to their music. Who wouldn't?
But spectacle and bravado aside, the Hawkins brothers are also serious craftsmen. Sure, they're funny, but humor's just their functional MO. Talk tone, songwriting, or gear—or any aspect intrinsic to music making—and they're informed, experienced, and opinionated. Those qualities, in addition to being world-class showmen, go a long way in explaining their consistency and success.
Dan is the band's tonal authority. He plays Les Paul Standards and his pickups are hot. "I just want it to be loud," he says. "That's the thing: It needs to bark and sound a bit shit for it to sound like me." He has similar taste in amps. "I am running an absolutely stock, factory spec, 1959 Super Lead," he says. "At any time, I have one Super Lead running two cabs loaded with Greenbacks."
Justin also plays a Les Paul, although his is a Custom. "When I put on a Les Paul Custom, it feels like I am slipping into a warm bath full of my own saliva," he says. "It couldn't be more familiar."
"When I put on a Les Paul Custom, it feels like I am slipping into a warm bath full of my own saliva." —Justin Hawkins
Pinewood Smile, the band's fifth release and their third since reforming in 2011, came out in October. It's what you'd expect: great hooks, shout-along choruses, tight playing, and ripping guitar solos. It's also accompanied by the usual, over-the-top videos, although nothing as outrageous or disturbing as the space-aliens-meet-A-Clockwork-Orange imagery of their official video for "I Believe in a Thing Called Love."
We caught up with Justin and Dan while they were in Europe on tour in support of Pinewood Smile. We talked about songwriting, acoustics, pedals, and how they distinguish their guitar tones. We also discussed the art of choosing the best key when crafting ass-kicking choruses. Plus, Justin explained his various picking techniques and Dan told us how he makes his Les Pauls even heavier.
When did you first start playing?
Justin: I was inspired to play, initially, by Brian May. I really loved his tone and vibrato and everything. I thought his playing sounded like a singing voice. I wanted to be able to do that. Whenever I went to guitar lessons, I was always asking to learn Queen stuff. I was encouraged, because my brother was playing drums, as well. I felt like we could possibly be in a band together. My parents were really supportive of that, because they wanted us to be like the Jackson ... 2 [laughs]. My father is a hard-working builder. I think he wanted us to have the opportunity to do whatever we wanted. When we expressed a little bit of interest in music, he was really behind it and made it an easy decision.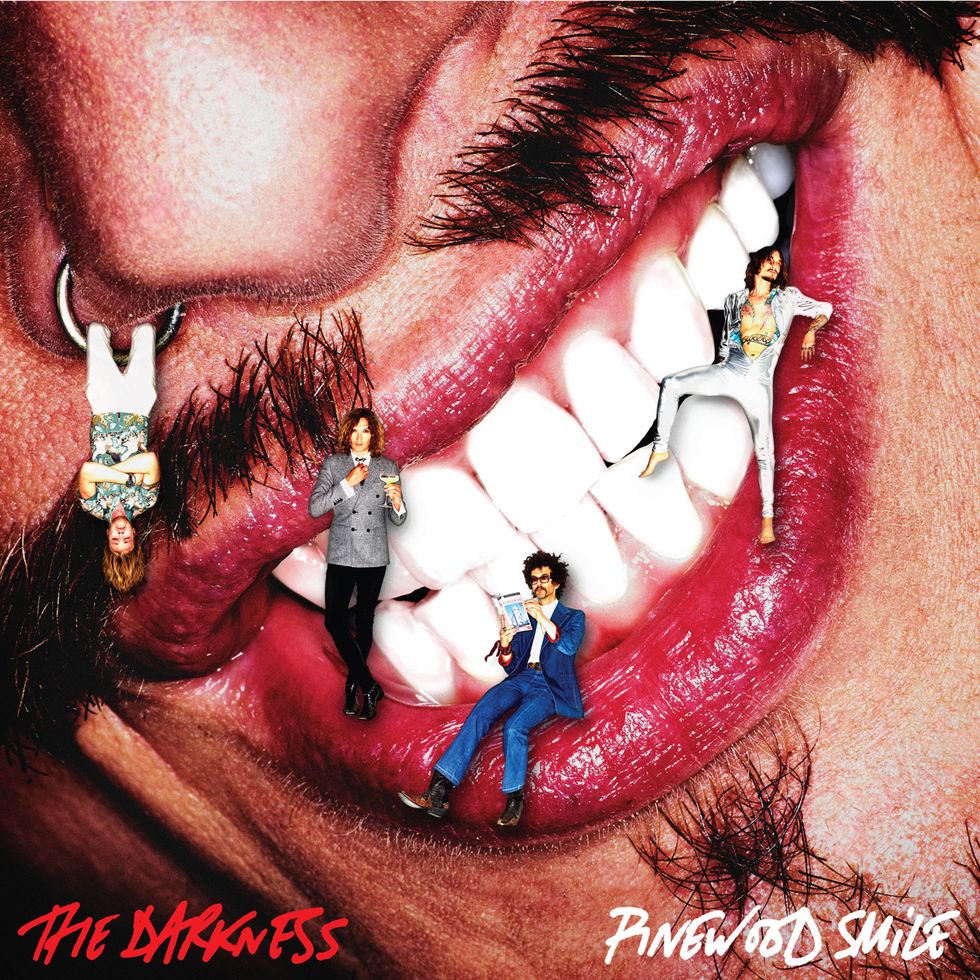 TIDBIT: Justin Hawkins cut all his guitar tracks for Pinewood Smile while perched in the control room. The rest of the band recorded its tracks together, on the floor.
Dan: I started on drums when I was 8 and I played straight up until I was about 14. At around age 12 or 13, Justin was in a band and they needed a bass player. I said I'd help them out, having not played much bass at all. We did a lot of Marillion covers, Bruce Springsteen, Genesis—a bit prog-y. I moved to London when I was 17 as a bass player for a couple of bands. When I was 24, I think, I was in a band and the singer realized I was a better guitarist than the guitarists. He sacked the guitarists—both of them—and I got moved onto guitar. I never really thought about being a guitarist, which is why I've got such terrible technique.
When did you start taking guitar seriously?
Dan: Sad to say, that hasn't actually happened yet [laughs]. I learned enough guitar to work out how songs were written. I learned everything on acoustic—and a pretty shit one, really. My strings are a slightly lighter gauge now, but when I started playing [electric] guitar I was playing on .011–.056 gauge strings—sometimes it was .012—and with wound G strings, because I'd only ever played on acoustic. I went straight onto electric and it just felt like it was going to fall apart. I was breaking strings left, right, and center, so I put the closest thing to my acoustic strings on and that's how I started.
Did drumming inform your guitar playing?
Dan: One hundred percent. I think the best rhythm guitar players must have been drummers or are able to play drums. I know I am not much of a lead guitarist. I don't have the technique and I have no idea what I am doing. If I ever play a solo, I've worked it out. I am trying to play a tune; I am not ad-libbing. I focus very hard on getting the rhythm right.
---
---