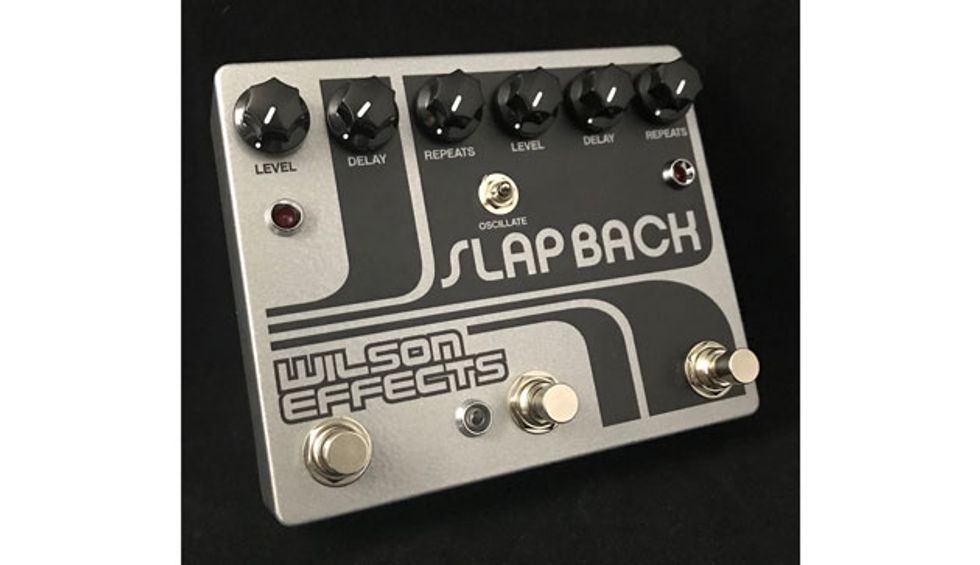 Guilford, IN (April 24, 2018) -- Adding to the company's line of cutting-edge effects & wah pedals, Wilson Effects has unleashed the new dual PT2399-based delay "The Slapbach Delay".
Two separate delay pedals in one box. Internally cascaded together to create lush chorus and reverb-like effects when run in mono and the option to run the two separate sides in stereo or simply split them up into different areas of your signal path via the routing jacks on the rear of the pedal, each side offering 700ms of gorgeous delay.
Each pedal offers the following features:
Two separate delays with three separate control knobs.
An oscillation toggle switch to select which side will runaway repeat with the middle stomp switch.
Latching runaway repeat foot switch with LED indication for state.
Routing jacks on the back of the pedal to run the two separate pedals in stereo.
9-volt operation and industry standard DC input only.
A one year warranty on parts and labor.
The Slapback Delay carries a street price of $200.00. They're available at select retailers and can also be purchased directly from the Wilson Effects online store at www.wilsoneffects.com.
For more information:
Wilson Effects