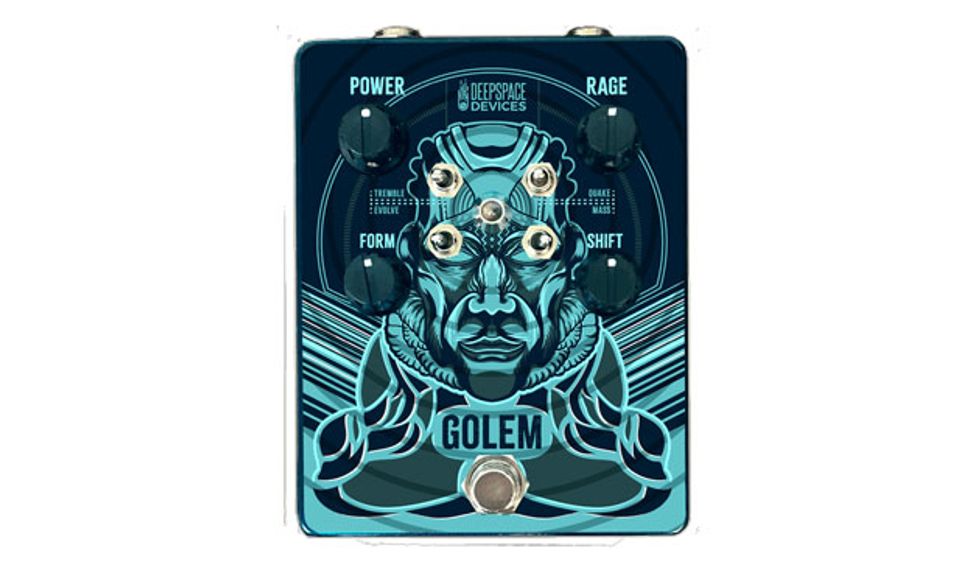 Gadsden, AL (May 11, 2018) -- Deep Space Devices has a knack for massive tones and they made sure that we felt the Earth shake with this monolith of an overdrive, the Golem, that brings stone-crushing tones with tectonic plate-scraping sounds.
At first, it may seem to appeal to doom players and the like, but the Golem is designed to give you versatility in shaping your sound while having the ability to bring ground shaking tones. The Golem is forged with four knobs, "Power" (Volume), "Rage" (Gain), "Form" (Tone), and "Shape" (Mid) as well as four toggle switches, "Tremble" and "Quake" both being diode switchers giving you options of silicon, germanium, or overall boost effect, "Mass" giving you bass/mid boost, and "Evolve" which changes the entire overdrive into a tone shaping drive or into a earth quaking monument.
The Golem offers the following features:
Four knobs giving control of volume ("Power"), gain ("Rage"), tone ("Form"), and high mid ("Shape") as well as four toggle switches giving options of boost, silicon diodes, and germanium diodes – "Tremble" and "Quake" – bass/mid boost – "Mass" – and style of overdrive effect – "Evolve".
Die-cast titanium cases offer exceptional durability for all players
True bypass on/off switch
9-volt operation and standard DC input
The Golem pedal carry street prices of $169.00 and can be purchased directly from the Deep Space Devices online store at www.deepspacedevices.com.
Watch the company's video demo:

For more information:
Deep Space Devices