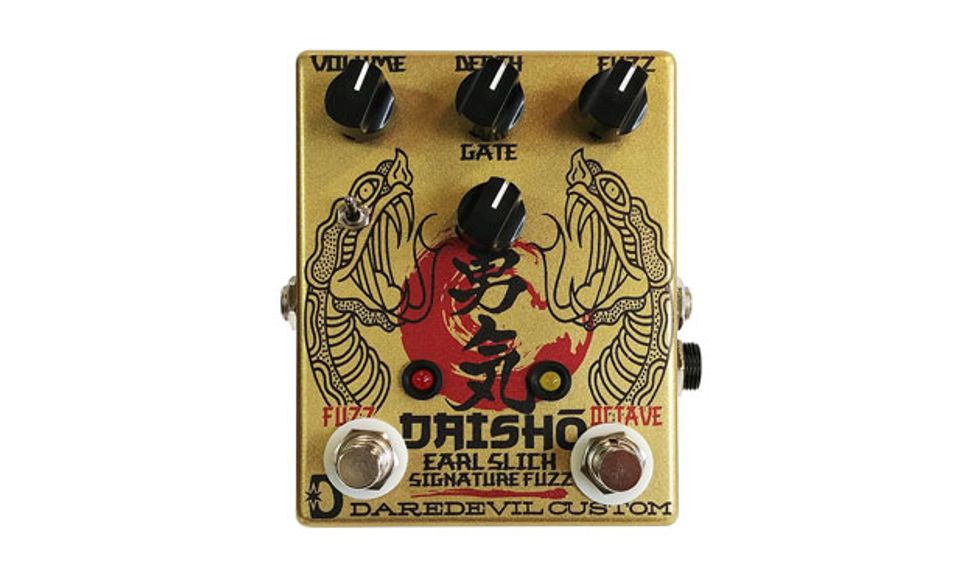 Chicago, IL (June 28, 2018) -- Chicago-based boutique builder Daredevil Pedals has teamed up with legendary musician Earl Slick (David Bowie, John Lennon, etc) to release a signature fuzz/octave pedal named the Daisho, which is the Japanese word for "dual swords." It's a fitting name for this pedal which boasts an original fuzz circuit, independent octave up, and an optional noise gate. All hand wired in Chicago by owner Johnny Wator.
Volume - master level of pedal
Depth - controls amount of low end
Fuzz - controls fuzz level
Gate - rotating clockwise increases gate attack
Toggle - bypasses noise gate when in down position
Features:
Articulate and tight vintage style fuzz with wide tonal options
True octave up circuit acts independently from fuzz
Optional noise gate cuts out any background hiss from high gain use
2-year warranty
The Daisho Fuzz carries a street price of $199. All Daredevil pedals are available for purchase direct online at www.Daredevilpedals.com along with video and audio demos.
For more information:
Daredevil Pedals