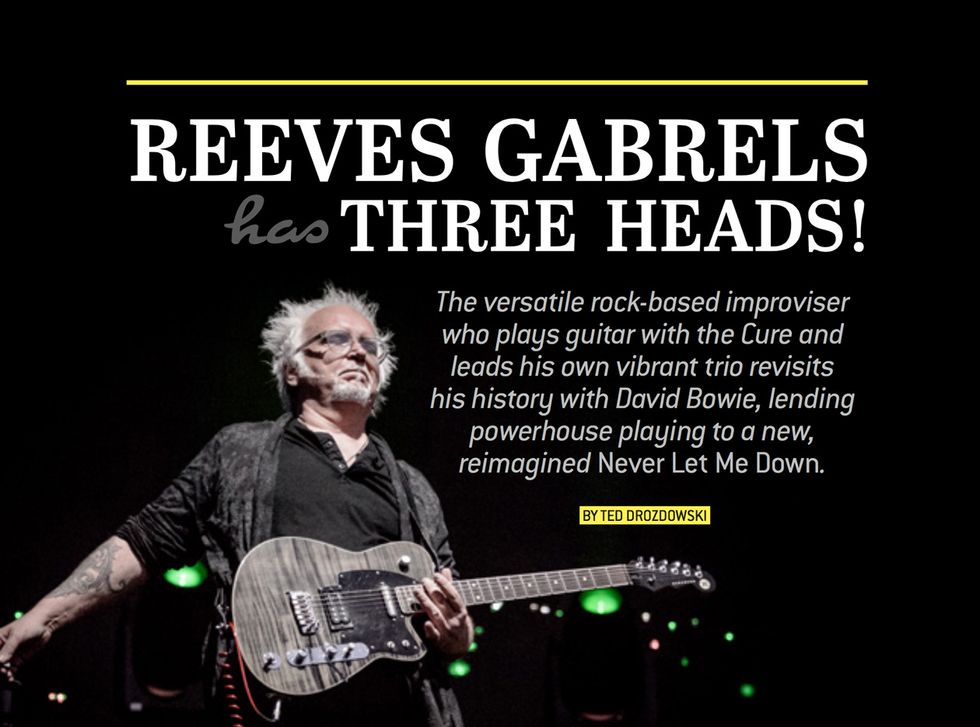 The sonic mad scientist in his element: onstage in Europe with the Cure and one of his signature model guitars. In addition to the RG1, here, and the Spacehawk, his third Reverend is the one-pickup Dirtbike. Photo by Mauro Melis
Reeves Gabrels is the Ricky Jay of guitar: smart, fast, funny, and supremely good at his game—really, at all the games requiring 6-string sleight of hand. Gabrels might begin a song—like "Yesterday's Gone," on his 2017 Imaginary Friends Live—with cascading, cumulus, whammy-tugged chords that set an air of mystery, but as the music unfolds there are no boundaries. When that ballad concludes 14 minutes later, it's been refracted through a prism of metal, fusion, Hendrixian wailing, and pure textural improvisation to dissolve in diffuse tailings of dissonance.
That's no secret to those who've watched Gabrels' career since 1988, when he was elevated onto the international stage in Tin Machine and began a 13-year creative partnership with David Bowie. During that spell, Bowie and Gabrels cowrote more than 70 songs and made eight albums, including their coproduction Earthling, which stood as Bowie's most creative recording since his so-called Berlin trilogy—at least until his finale, Black Star. That's also no secret to those who caught Gabrels in Life on Earth, the Dark, the Atom Said, Modern Farmer, or the other bands he played in on Boston's club scene during the '80s and '90s—although even many of his earliest fans would be surprised to learn that one of his best-paying gigs in the pre-Bowie years was playing country music in suburban honky tonks with Jackie Lee Williams. (And yes, they have honky tonks in Massachusetts.)
After parting with Bowie, Gabrels settled in Los Angeles for a spell. He played some high-profile sessions for albums by the Stones and others, but what Gabrels was really doing was developing his muscles as a solo artist. Starting in 1995 with The Sacred Squall of Now, he's made six albums that showcase his singing and songcraft, as well as his guitar. His current band is a feral power trio, based in his adopted American home of Nashville, called Reeves Gabrels & His Imaginary Friends.
His other current band is the Cure, so Gabrels spends much of his time in London. He's done that since 2012, when his actual friend Robert Smith invited him as a guest for a string of summer festival gigs with the Cure. Gabrels had played on the Cure's 1997 single "Wrong Number" and a cut the band contributed to The X Files movie the next year. Turns out those gigs six years ago were actually an audition, and Gabrels has been a member of the band since. When the Cure's not on tour playing fests like Coachella and Reading, they're working on a new album.
Recently, Gabrels also worked on a new old album. Per Bowie's posthumous request, Gabrels and a cast that included guitarist David Torn, bassist Tim Lefebvre, drummer Sterling Campbell, and producer/engineer Mario McNulty convened in New York City's Hendrix-built Electric Lady Studios to re-record and reimagine an album Bowie felt had missed its mark: his 1987 Never Let Me Down. The project was part of a master plan Bowie left for managing his legacy, and the result is a much more organic and toothy take on that album's 11 songs.
Speaking about the original version in Interview magazine in 1995, Bowie observed, "I felt dissatisfied with everything I was doing, and eventually it started showing in my work. Let's Dance was an excellent album in a certain genre, but the next two albums after that showed that my lack of interest in my own work was really becoming transparent. My nadir was Never Let Me Down. It was such an awful album."
Now, it is not. The drum machines, keyboard-fat mix, and era-dominating studio signatures like heavily gated reverb have been stripped away to reveal the heart of numbers like "Day-In Day-Out" and "Time Will Crawl," baring the album's balance of romance and apocalyptic dread. "New York's in Love" now carries all the frenetic impact of the city, with Gabrels spray-painting the walls of the song. "Zeroes," which has been released as a single, recalls the balladic strength of Bowie's Ziggy era, and "Glass Spider" is chilling ambient poetry. All of this can be heard right alongside the original version of Never Let Me Down in David Bowie: Loving the Alien (1983–1988), the fourth in a series of box sets released so far that will altogether span Bowie's career from 1969 until the end.
When we spoke to Gabrels, by phone and at Roger Alan Nichols' Bell Tone studio in Nashville, he was in a creative hotspot: fresh from the Bowie sessions, cutting more tracks with the Imaginary Friends, and preparing to return to London for more work with the Cure. To begin, we talked about his three musical heads.
You have your own trio, the Cure, and, now, this Bowie project. What concentrations in your playing come to the fore in each?
With my trio, because I'm singing as well, I try to be responsible to the singer and provide the appropriate chords so he can sing the melody. And then when there's an open space, I'm kind of wishing I was Coltrane. I like that we'll do group improvisations where we don't know how long it's gonna be or we don't know where we're going, or there are ambient interludes, and you can hear that on the live album that came out last year.
"It was nice for me just to be the guitar player, because I spent a lot of years where I was worrying about way more things than just playing guitar—writing those pesky songs with David."
—Reeves Gabrels
Next is the Cure. I've known Robert since '97, and he's been on one of my records, so he knew what I play like. I seemed like a logical choice to join the Cure in 2012 to some people, and to others I seemed like a strange choice. That's another case where I'm there to support the singer, so it's not about putting your foot on the monitor and pushing it out. I had a lot of songs to learn with the Cure. They are incredibly durable, really good, well-structured songs, so you could actually take the approach of treating them like jazz standards. [Chuckles.]
And we're owning our age—the stature of the band. Before the Cure happened, and therefore before the whole Goth bag happened, you were just a Lou Reed fan if you wore black, and before that, you were a beatnik, you know? So it's really a band that has created a whole genre. I've become a more responsible guitar player for being in the band. I know the song, I play the song, but there are subtle variations that I can do that are reactive to Robert's things, or to the audience, or to the rest of the band. And then a quarter of the night, I'm off the leash.
Well, you know what Hunter Thompson said: "When the going gets weird, the weird turn pro."
With David, at the end of the set, my job was to be the guy that went for the extra points. We're already winning the game, but here, let's give Reeves the ball and see what happens. And really, even with David, I figured out that in a two-hour set, the average fan could only take maybe two or three doses of the full me before I overstayed my welcome.
The only thing David ever asked me to do was turn up and not play the solos so much like the record. A couple of gigs in, on the first Tin Machine tour, he said, "I hear you kinda sticking to the solos from the record." I was trying to keep the band glued together, because Tin Machine could blow apart at any point. And he was like, "Well, don't do that." [Laughs.]
The Cure is a different beast than anything I've ever been a part of, and playing those songs is a nice musical experience. If you're a guitarist, you think about guitar playing, but if you're a musician, you're thinking about the music. I hate to think it, but maybe I've matured.
---
---