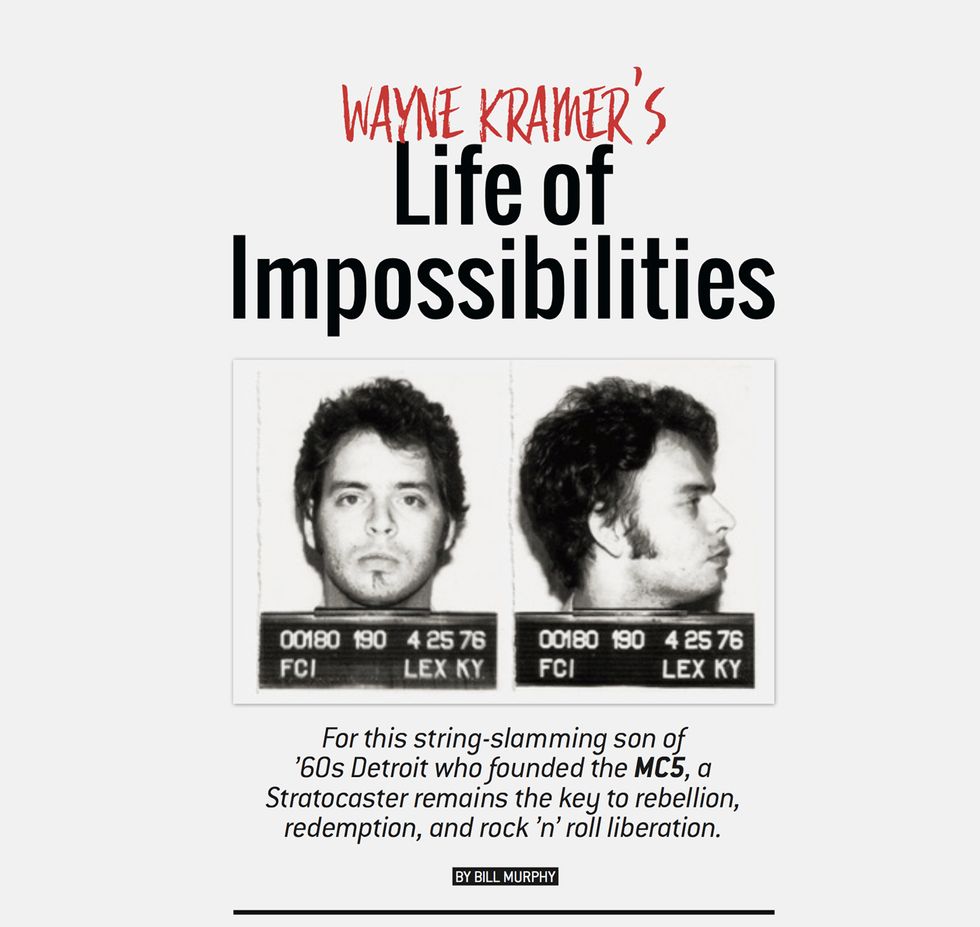 New York City's Irving Plaza is packed to the rafters—a sweaty mass of fans hollering their approval as the five-piece band onstage knuckles down to the closing power chords of "Call Me Animal." The song is a two-minute blast of protopunk from the 1970 album Back in the USA, the second of just three official LPs released by Detroit's legendary MC5. Back then, cofounder and lead guitarist Wayne Kramer was a cocksure 21-year-old with a militant vision of how music could empower a youth uprising. Now, amid the cheers, a much older but no less energized Kramer grabs the microphone and exhorts the crowd, his voice hoarse and his activist hackles on high alert.
"Before we go, I want to thank you all for coming," he begins, the stage lights shimmering off his custom Fender Strat, emblazoned with the stars and stripes of the American flag. "But listen, I know our country is in a messed-up position right now. We have a third-generation white nationalist organized crime figure in the White House, and we just can't allow this to continue. We have to get that bum out of there, and the way we do that is by exercising our democratic rights and responsibilities. Vote! Vote! And tell everybody you know to vote!"
Whether or not you agree with his political views, the passion behind them is genuine. Kramer is now 70, but he still brings an idealistic exuberance to his music and his message. And for him, the message first came into clear focus more than 50 years ago, during the long, hot summer of 1967, when his native Detroit became a national flashpoint of civil unrest and rebellion. But, as he recounts in his compelling new autobiography The Hard Stuff: Dope, Crime, the MC5 & My Life of Impossibilities, his connection to the music started as innocently as it did for any other American teenager who grew up listening to Elvis Presley and Chuck Berry: with a guitar and a dream.
"We learned how to play that Chuck Berry rhythm guitar figure for five or 10 minutes without stopping, using all downstrokes, grinding it out with the cramps that you get in your forearm."
Describing his first Kay acoustic guitar as "the key to the locked room with all the answers," Kramer was incurably swayed by the hypnotic power of rock 'n' roll. "I needed to be in a real band," he writes, and one by one, he found his kindred spirits. "A schoolmate told me he knew a kid named Fred Smith who played bongos. I figured a band could use a bongo player. I hunted him down, we had a chat about it, and he seemed interested."
Under Kramer's tutelage, Fred "Sonic" Smith picked up the guitar and became an accomplished rhythm player, and eventually a natural co-lead with Kramer. By 1967, after a few changes in personnel, the Motor City Five—MC5 for short—had coalesced into the now-classic lineup with Michael Davis on bass, Dennis "Machine Gun" Thompson on drums, and the imposing Robert Tyner on lead vocals. Their muscular, acid-fueled sound drew from the Yardbirds, the Rolling Stones, the Who, Jimi Hendrix, and even Motown and the avant-garde improvisation of Albert Ayler, but with a distinctly raw-and-dirty edge that reflected the knockabout blue-collar vibes of Detroit (a stance that Iggy Pop and the Stooges, brothers-in-arms to the MC5, embraced with equal fervor). And as if to drive the point home with a left hook to the jaw, the band's Elektra Records debut Kick Out the Jams was recorded live and unhinged at Detroit's famed Grande Ballroom over two nights in October 1968—the second one, aptly enough, being Halloween.
Kramer recalls the gigs today with mixed emotions. He's especially hard on his own performance, as well as Elektra's handling of the final album package. Even so, Kick Out the Jams hit No. 30 on the Billboard charts. Close to home, diehard fans saw it as a successful opening salvo in a grassroots narrative that the band had honed with the guidance of a local poet and firebrand named John Sinclair.
TIDBIT: Kramer's account of his prison years in his new autobiography isn't the usual harrowing tale. There, he met jazz-horn great Red Rodney, who became a mentor, and continued to master the guitar.
As a cofounder of the White Panther Party, which emulated the leftist militancy of the Black Panthers and pursued a similar "people's agenda" of social justice, Sinclair was an important mentor, and manager, to the MC5. The band certainly enjoyed some of the trappings of rock stars—their first "three-point program," as Kramer recalls, was "Dope, Rock 'n' Roll, and Fucking in the Streets"—but in the early days, they also saw themselves as part of an insurrectionary youth movement that desperately wanted a change.
"You know, everything that we did, and everything that I tried to make happen in the '60s, was out of a fundamental sense of patriotism," Kramer insists. "I painted my guitar in the stars-and-bars motif, partially because I admired Pete Townshend's Union Jack sportscoat, but also because I felt like the symbol of the flag was only being used to promote one side of the argument. If you follow the Framers' intent, democracy is participatory, and if you don't like the way the government is doing something, it's your duty to say something about it. And one way I could do that was to co-opt the flag for my point of view. I could put an American flag on my amplifier to say, 'I, too, believe in America, and I think the way you guys are running it is wrong.' It's my right and responsibility to do that."
Kramer also took it as his right—or maybe more as his calling—to deconstruct the guitar by any means necessary. He started with Chuck Berry's "Johnny B. Goode" rhythms as grist, while Beck, Townshend, and Hendrix exposed him to sheer volume and multi-colored sheets of sound. In a cascade of buzz saw licks, Kramer seemed to flay the guitar to pieces over hyped-up anthems like "Ramblin' Rose" and "Kick Out the Jams," and yet he could ease straight into a loping, Albert King-style blues on "Motor City Is Burning," or a psychedelic, feedback-laden freak-out on the freestyle jam "Starship," which often clocked in at over 10 minutes if the band was properly, shall we say, lubricated.
---
---