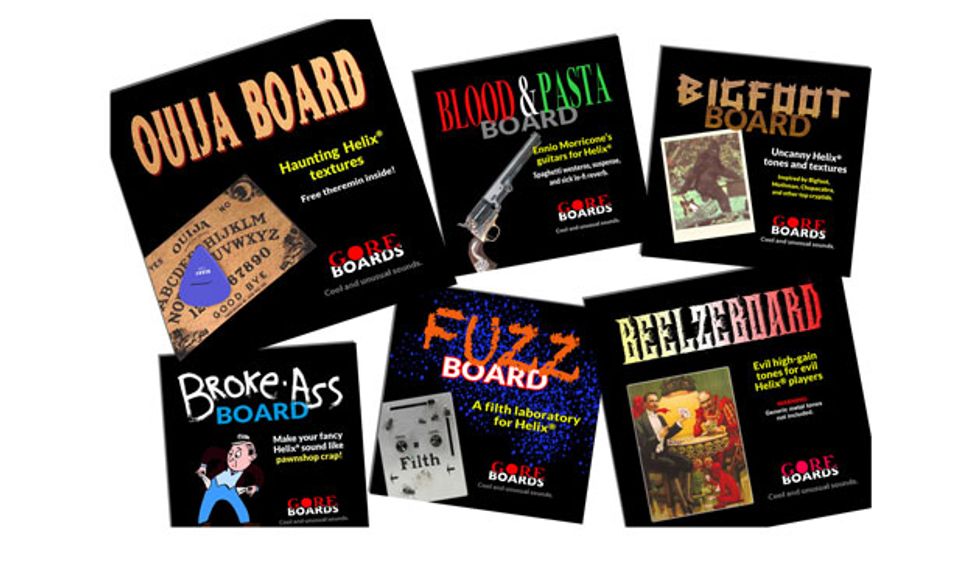 San Francisco, CA (September 12, 2019) -- Gore Boards has just released a 13 aftermarket sound sets for Helix, Line 6's flagship guitar amp and effect modeling platform. They're available via the Marketplace at the Line 6 website.
Gore Boards are created by musician, sound designer, pedal maker, and music journalist Joe Gore. "Helix excels at mimicking analog guitar gear," notes Gore. "That's great, but it's not my focus. Instead, I've approached Helix as the unique and complex instrument it is. These sounds will appeal most to players who dig unconventional timbres and eerie, expressive textures." The 13 Gore Boards sell for $13 each. They're also available as a $99 compilation, Gore Boards Volume 1.
These are the individual titles.
Back-Assward Board. (What happens when you break all the signal chain rules?)
Beelzeboard (Evil high-gain tones.)
Bigfoot Board (Tones inspired by Chupacabra, Mothman, and other eminent cryptids.)
Bliss Board (Transcendent textures and pads.)
Blood & Pasta Board (The guitar tones of Ennio Morricone.)
Board of the Rings (Eerily beautiful ring modulator tones.)
Bop & Swing Board (Tones a traditional jazz player might use without barfing.)
Bogus Bass Board (Get huge bass guitar and bass synth tones from a regular guitar.)
Broke-Ass Board (Make your fancy Helix sound like pawnshop crap.)
Fuzz Board (A virtual filth factory.)
Glitch Board (Broken tones and textures.)
Ouija Board (Haunted sounds from far away.)
Psych Board (21st-century psychedelia.)
For more information:
Gore Boards