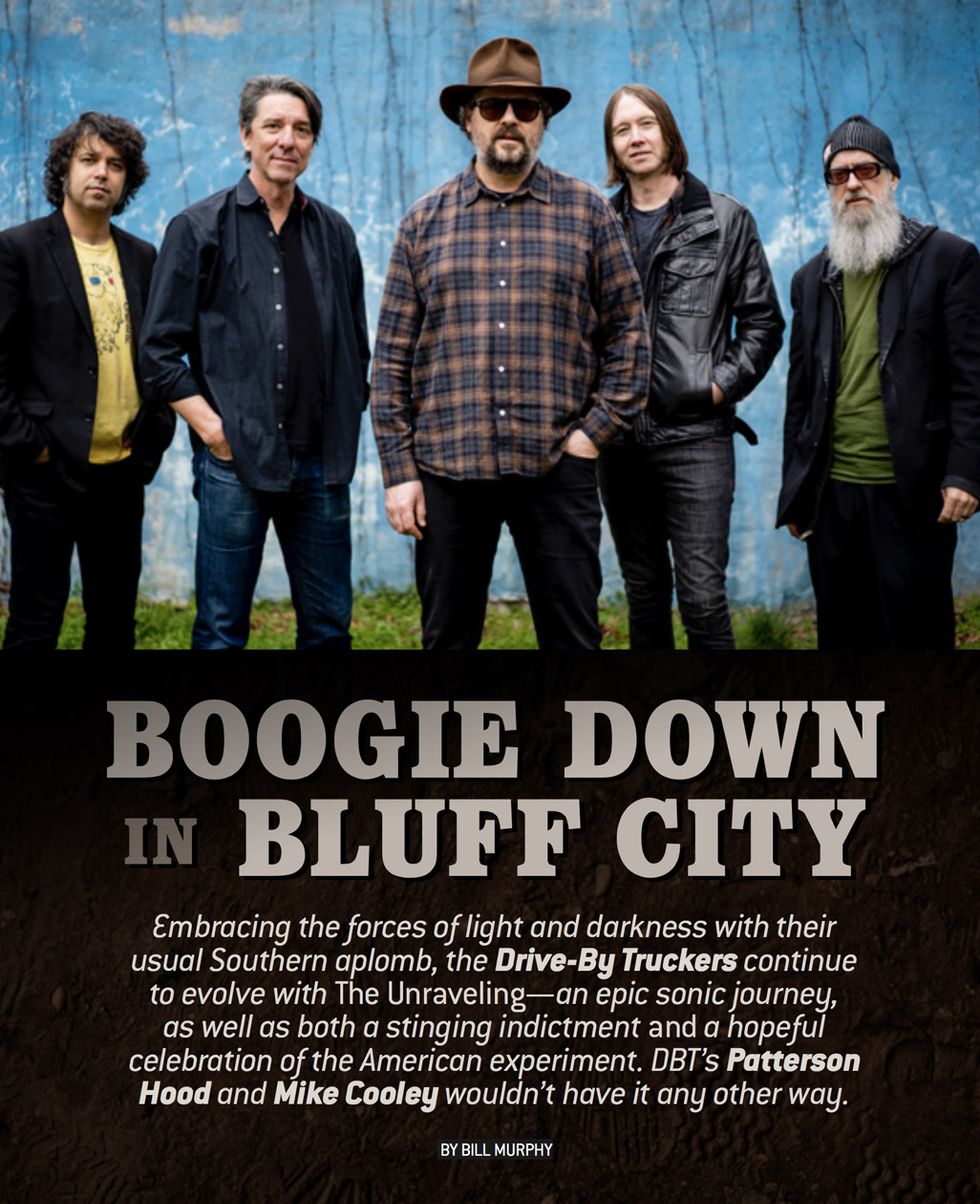 On their 12th album, The Unraveling, the Drive-By Truckers use rootsy rock and incisive lyrics to describe life in modern America as they see and feel it. With songs like "Babies in Cages," "Heroin Again," and "Grievance Merchants," it's not for the faint of heart. Left to right: Jay Gonzalez, Mike Cooley, Patterson Hood, Matt Patton, and Brad Morgan. Photo by Jason Thrasher
On the rough-and-tumble streets of Memphis, it's said good omens are hard to come by. But a funny thing happened to the Drive-By Truckers just as they were gearing up to record their latest album, The Unraveling, at the hallowed Sam Phillips Recording studio. With no warning and little fanfare, they found themselves eyeball-to-eyeball in the parking lot with the street-fighting man himself, Mick Jagger.
Okay, so the Rolling Stones frontman wasn't exactly there to see the Truckers. He'd been scouting locations, with author Peter Guralnick, for a film based on Guralnick's monumental biography Sam Phillips: The Man Who Invented Rock 'n' Roll, which chronicles the wild life and times of the irascible Sun Records founder and producer. But to DBT's Patterson Hood, whose radar for potentially cool situations always seems to be on high alert, it might have felt for just a fleeting moment like ol' Mick had dropped in to pay his respects and sit in with the band.
Listen to "Thoughts and Prayers" from The Unraveling, DBT's 12th album.
"Mick was there with Peter, the film's production designer, the screenwriter—and three bodyguards," says Hood, barely suppressing a laugh. "And yeah, it was awesome. They had spent the day at Sun with Jerry Lee Lewis, and then they parted ways with him and came over to Sam Phillips, where we were. It was incredible."
The wonderful irony of the encounter isn't lost on Hood. He and the ever-stalwart Mike Cooley, who together founded the Truckers back in 1996 in a quest to reshape Southern rock and alt-country on their own terms, both hail originally from the Muscle Shoals region of Alabama, just a few hours southeast of Memphis. (Hood's father is bassist David Hood, from the monumentally groove-gifted Muscle Shoals Rhythm Section, which defined the sound of producer Rick Hall's historic FAME Studios.)
The Stones, of course, have a special affinity for the Memphis blues and soul canon defined by the likes of Furry Lewis, Sleepy John Estes, Sun, Stax, and Hi Records. In the late '60s and early '70s, they channeled it into a few collaborations, including the Sticky Fingers staple "Wild Horses" with the late Jim Dickinson—whose sons Luther and Cody, co-founders of the North Mississippi Allstars, are dear friends with Hood and Cooley. And let's not forget the opening verse of "Honky Tonk Women," where Jagger so coyly name-checks the city now long known as the Birthplace of Rock 'n' Roll. Could the stars have been more perfectly aligned?
"We've been doing this a long time, you know? There's a balance to bringing in new things, but always remember what it is you're good at." —Mike Cooley
Whether or not Hood lends anything other than a passing credence to such notions, he certainly had Memphis on his mind when he and Cooley began writing songs for their 12th studio album. "Looking back, we'd even planned on recording American Band there," he says, referring to DBT's compact, politically charged 2016 release, "but at the last minute, we ended up moving it to Nashville because that's where our tour was ending." Tracked at Cowboy Jack Clement's Sound Emporium, American Band found the Truckers—Hood, Cooley, keyboardist/guitarist Jay Gonzalez, bassist Matt Patton, and drummer Brad Morgan—in rare form, delivering punk-influenced slabs of wisdom and soul-flavored workouts with pointed urgency.
When the band's Memphis-based engineer Matt Ross-Spang suggested Sam Phillips Recording for The Unraveling sessions, the implication was that the next album would be a radical departure from the sharp immediacy of American Band. Hood heard an expansive, flowing, cinematic sound in his head, and he knew the studio's custom echo chambers could help the band achieve it.
"It's almost like Sam Phillips should have a personnel credit on the record," Hood says, "because his presence so inhabits everything in that room. And whether you're superstitious enough to believe in ghosts or not—and I tend to not be that way—there is an undeniable presence there. I mean, he designed the echo chambers, so it's more than just his name on the building. It was absolutely his lair and his dream studio. Plus, back in '62 or so, it's state-of-the-art, which worked perfect for our thing because recording analog is important to us, and there'd been just enough '70s upgrades along the way to make it the best of both worlds."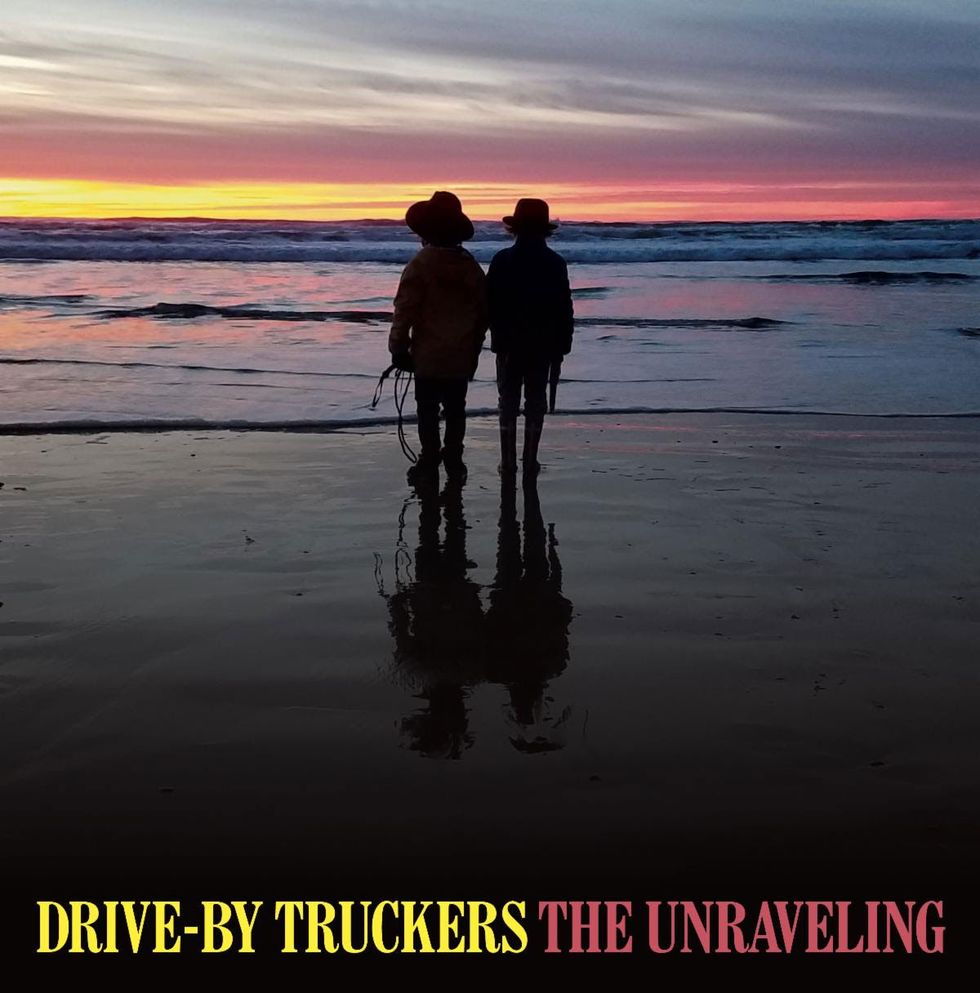 TIDBIT: The Truckers trekked to Memphis to track their 12th studio album at Sam Phillips Recording. "It's almost like Sam Phillips should have a personnel credit on the record," says Patterson Hood. "His presence so inhabits everything in that room."
Working again with longtime producer David Barbe, the band played most of the basic tracks together from the studio floor, with very few overdubs afterwards. Two songs by Hood—the eerie opener "Rosemary with a Bible and a Gun" and the lilting alt-country anthem "21st Century USA"—were augmented with strings, which add another rich layer to an already wide-angle mix. On Cooley's riff-heavy "Slow Ride Argument," which takes its snarky title from the classic-rock radio hit by Foghat, the interlocking guitar parts are panned hard left and right, with Cooley's lead vocal awash in slapback echo. "Thoughts and Prayers," the album's riled-up first single, finds Hood leaning into his 1948 Melody Ranch Gene Autry acoustic, restored by luthier Scott Baxendale.
For Hood and Cooley, Baxendale is practically a member of the band. He makes an art out of restoring old acoustic guitars from his shop in Athens, Georgia, where he also custom designs and builds beautiful electric guitars. He's just a stone's throw from the Truckers' warehouse headquarters and a block from Barbe's Chase Park Transduction Studios, where the band has mixed or recorded numerous albums, starting with their double-disc magnum opus Southern Rock Opera, released in 2001.
Hood and Cooley both have several Baxendales, acoustic and electric, and they all figured prominently in the making of The Unraveling. For Cooley in particular, his two Tele-style Baxendales have helped him develop a wider sonic palette, which comes through in the single-coil sizzle he brings to "21st Century USA," and the humbucker growl he dials in on the Tom Petty-style rave-up "Armageddon's Back in Town."
"I've kind of brought that second sound into the mix," Cooley explains, "so now I use both about equally. The Baxendale guitar I've had for years has a really loud humbucker in the bridge, and it drives the amp really hard. And then I've always loved standard Teles, and some of the songs we're doing now seem to call for that sound a little more, so that's where the newer Baxendale comes in. It's about 50-50, with a classic single-coil Tele and a big fat loud humbucker going back and forth. 'Armageddon's Back in Town' is probably a favorite of mine for the fat sound. That song was mostly brand new when we went in to record it. In fact, I think Patterson was still trying to learn it—that's how new it was."
---
---