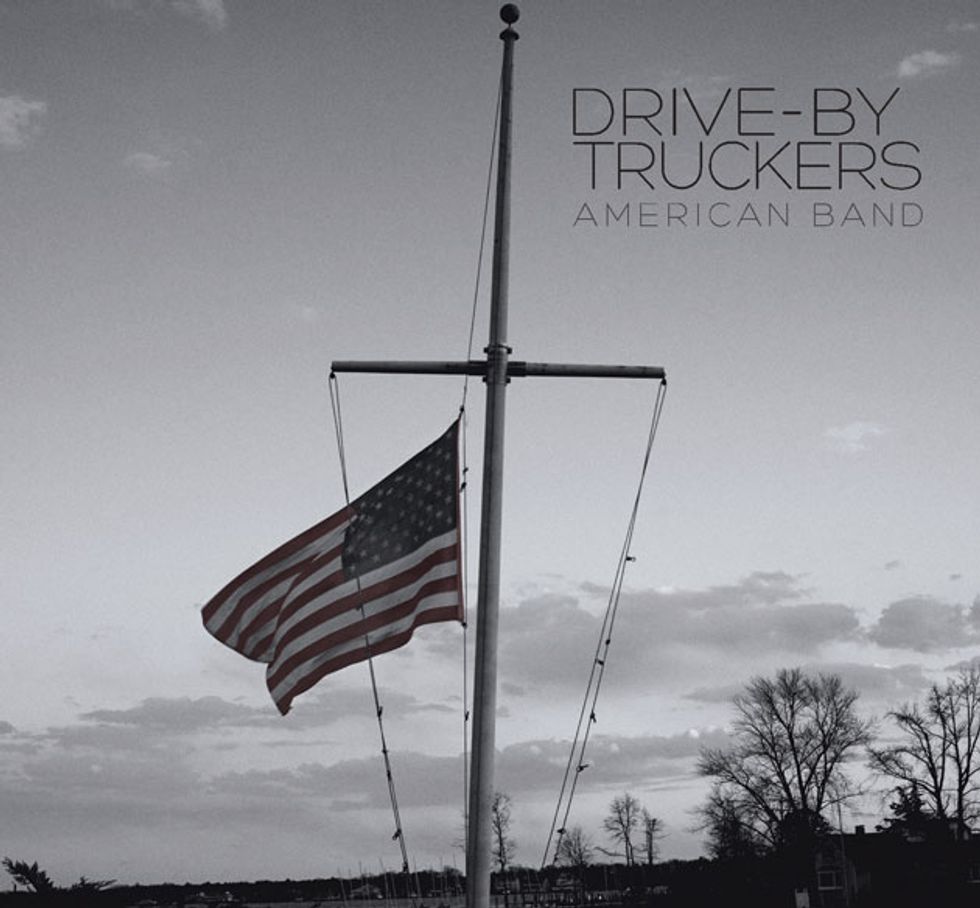 A Truckload of Toys
Ace guitar tech DeWitt Burton breaks down the gear used to record DBT's new album,
American Band.
You may not know the name DeWitt Burton, but there's a good chance he's had a hand in creating some of the music you've heard, both on record and onstage. Whether serving as a guitar tech, consulting on backline, or managing equipment and production, the Athens, Georgia, resident has worked with some of the biggest acts of the last three decades—including Son Volt, Elliott Smith, Bruce Springsteen, Sheryl Crow, Big Star, Lucinda Williams, the Police, Wilco, Widespread Panic, the Black Keys, and, most notably, R.E.M., for whom he's been a full-time employee since 1999, caring for a warehouse full of the iconic quartet's instruments and recording gear, and also assisting on the bandmembers' various solo projects.

For the last couple of years, he has also been working with Drive-By Truckers, and he was tending to all of the guitars and amps—and with three guitarists, that's a handful—during the recording of American Band. (Somehow, he also manages to find time to work with renowned Athens guitar maker Scott Baxendale, who has built or restored several of the Truckers' main axes.)
Burton is a fastidious record-keeper in the studio, and he shared his copious notes regarding the guitars, basses, amps, picks, effects, and strings used to record the basic tracks for American Band. Burton says he can't be 100 percent sure what was played on every song, and some overdubs are not included. Still, for guitar players and gear geeks of all stripes, it provides a fascinating chronicle of six days in the studio with the Truckers making one of the best albums of 2016. And it demonstrates the passion, knowledge, and attention to detail required to be a world-class guitar-tech. (On a related note, Patterson Hood informs us that for the most part, the Truckers' guitars and basses are tuned down a whole-step from standard tuning to D–G–C–F–A–D.)
Now, in Burton's own words, here's the lowdown on American Band gear.
"Ever South"
Matt Patton played his Fender Precision bass. He strings all his basses with flatwound D'Addario Chromes, gauged .045-.100. When not plucking strings with his fingers, Matt uses a Dunlop 1.14 mm Tortex standard pick. All his bass parts went through a vintage Demeter Tube Direct DI into his trusty Ampeg V-6B solid-state amplifier. That thing is so versatile. He used the head to dial up some grind—which it does so well. The Ampeg drives an old Kustom ported 2x15 cabinet. I can't remember what speakers that was loaded with.
Patterson is pretty much dialed into what he wants. You have to remember these guys have been at it a while. He knows what works for his attack, and when it comes to tone, he believes in "If it ain't broke, don't fix it." He played his "baby" on this track—a 1930s Gene Autry Melody Ranch acoustic guitar sold by Sears and Roebuck as part of their Supertone line. The original inside label read: "This instrument is guaranteed to be free from defects and flaws and to comprise the best materials and workmanship and tone that is possible for the price." It has a solid spruce top and mahogany back and sides. It was made at the Chicago Harmony factory.

The guitar underwent Scott Baxendale's Harmony conversion process that includes resetting the neck, replacing all the bracing with proprietary internal bracing (loosely based on a 1938 Martin), replacing the bridge and bridge plate, refretting, and replacing the tuners. Full disclosure: I work in Scott's shop doing repairs when I am not on tour or preparing for one. This guitar was one of the finest examples of the conversion process to come out of the shop, in my opinion. It was strung with D'Addario's new Nickel Bronze acoustic guitar strings, gauged .011–.052. Those strings are the shit! The guitar has a Fishman Matrix under-saddle transducer pickup. It ran through a reissue stand-alone Fender '63 Reverb unit into "Fred"—Patterson's longtime silverface Fender Deluxe Reverb. Patterson uses .65 mm gold Herco Nylon Flex 50 HE210P guitar picks. No pedals, just natural tube distortion. This setup is testament to good ol' Yank ingenuity and craftsmanship, and is as American as a Chevrolet Impala.
For the overdub, Patterson used "Snakes," his custom Baxendale 16" archtop electric. It has maple sides and back with a spruce top, maple neck, and ebony fretboard. Inspired by the Silvertone 1446 (commonly known as the Chris Isaak model), it's not exactly hollow or semi-hollow, but has a sound post block that couples the back and top. This gives it its magic when playing with feedback. It has a 24.75" scale and has Seymour Duncan Antiquity pickups. He ran it through the identical Fender Reverb /Deluxe Reverb chain as above, but with different settings, of course. It was strung with D'Addario EXL115 Nickel Wound Mediums (.011–.049).
Mike Cooley also picked acoustic guitar on this basic track. He used his custom Baxendale Superlative model with an Engelmann spruce top, mahogany sides and back, mahogany neck, and ebony fretboard. The body shape resembles a Martin dreadnought with a single cutaway. However, it's only 2.25" thick at the heel. According to Baxendale, "The thin body gives a more even response, especially across the low end, without sacrificing volume or headroom. As in all my acoustics, it has my proprietary scalloped and tuned bracing."

The Superlative has a 25.5" scale, a Fishman Matrix pickup, and was strung with those D'Addario Nickel Bronze strings (.011–.052). We ran it through a Silvertone 1483 bass amp into an A Brown Soun 2x12 open-back cabinet loaded with alnico Tone Tubby Hempcone speakers to warm up the signal. No pedals, just natural tube distortion.

For the overdub, Mike used his mid-'80s Gibson Corvus—the model with one P-90 pickup in the bridge position. It had D'Addario EXL115 strings and ran through the same amp and cabinet setup with different settings. Mike uses gray .88 mm Dunlop 449R Nylon Standard picks.

"Darkened Flags on the Cusp of Dawn"
Patterson played his SG into his '63 Fender Reverb unit and silverface Fender Deluxe Reverb rig. He also used a Boss SD-1 Super OverDrive pedal.
Mike played his custom Baxendale Cooleycaster, which is Scott's take on a vintage Tele. As Scott explains, "I wanted to make a guitar that looked like a traditional design, but was uniquely different, too. The Cooleycaster has a basswood body with a curly maple top. Its curly maple neck has a 1.75" nut width and a deep V shape, and the fretboard markers are mother-of-pearl inlaid into ebony, which is then inlaid into the maple. The guitar has a Seymour Duncan Seth Lover in the neck position and Duncan Hot Rails at the bridge. I built it in 2006, I believe." Mike ran straight into a Richard Goodsell Black Dog 50 connected to a '80s Marshall 4x10 1965A cabinet.
When it comes to tone sleuthing, Jay Gonzalez is his own man. He played his 1968 Gibson SG Special outfitted with a Baxendale Vibrola mod that basically applies the Paul Bigsby design of a rocking bridge to a Gibson ABR-1 Tune-o-matic. It makes the Gibson Vibrola usable and requires no modification to the body. Jay's signal ran through a Lumpy's Tone Shop 7 Series Lemon Drop Overdrive into a Strymon El Capistan dTape Echo pedal, then out to an ancient National Valco 1212 Chicago 51 tube combo amp. His guitars also sport D'Addario EXL115 strings, and, like Patton, he uses a Dunlop 1.14 mm Tortex standard pick.
"Baggage"
Matt used the same bass rig on everything. However, on this song he swapped his P bass for a late-'50s or early-'60s Spiegel-era Kay single-cutaway semi-hollowbody bass with a single DeArmond Speed Bump pickup. Patterson played his early-21st century Gibson SG through his Reverb/Reverb rig. Mike played the Cooleycaster through an 18-watt Marshall 1974X Handwired 1x12 combo. No effects for anyone; only tube-amp generated harmonic distortion.
"What It Means"
Patterson played his Melody Ranch through his Reverb/Reverb setup, and again Matt tackled this song with his Kay. Mike played his Thinline Telecaster through a Jack Brossart Prescription Electronics Vibe-Unit on the chorus setting. The amp was a 20-watt Marshall 2061X Handwired Lead/Bass head driving a '80s Marshall 4x10 1965A cabinet.
"Where the Sun Don't Shine"
Matt on his Kay bass again with Patterson playing his SG through his Reverb/Reverb rig. Mike played a late-'90s Gibson SG Special into that Marshall 2061X Handwired 4x10 half-stack.
"Surrender Under Protest"
Matt on P bass with Patterson on the Baxendale "Snakes" hollowbody electric through his standard setup. Mike played a late-'90s Japanese-made Fender Jazzmaster Classic Player. I really like those guitars. They have a deeper neck pocket than the American Vintage '65 Jazzmaster Reissue. The pickups are totally different—darker and harsher than the American ones. It also has a Nashville Tune-o-matic-style bridge with the Baxendale Gibson Vibrola mod. (Though designed to improve the Gibson Vibrola, the mod also works for the Jazzmaster trem, but not as well as the Mastery Bridge.) He plugged this into his wall-shaking Sound City 50 Plus (with both channels bridged and cranked) and drove that '80s Marshall 4x10 1965A cabinet nearly to extinction. It sounded heavenly.
"Ramon Casiano"
Matt used the P bass, Patterson played "Snakes" through his beloved Reverb/Reverb setup, and Mike plugged the Jazzmaster straight into the Marshall 1974X Handwired combo.
"Guns of Umpqua"
Matt played the Kay bass with Patterson on the Melody Ranch acoustic through his Reverb/Reverb rig. Mike ran the Cooleycaster into a Danelectro Reel Echo pedal (his Echoplex was too noisy for this track) and out to the Sound City 4x10 half-stack mentioned earlier.
"Filthy and Fried"
The basic track was cut live during soundcheck at the 40 Watt Club in Athens during the band's 2016 Homecoming Weekend shows. Matt was on his P bass; Patterson played a goldtop 1969 Gibson Les Paul Deluxe (in standard tuning) through his pedalboard and into his bread-and-butter Reverb/Reverb setup. Mike played either the Jazzmaster or the Cooleycaster through his Sommatone Roaring 40 head and matching 2x12 open-back cabinet. I know he was using the Prescription Electronics RX Overdriver because I put it on his board that day. He used it all weekend.
"Kinky Hypocrite"
This was recorded in just a handful of takes late at night. Mike played his Cooleycaster through the Marshall 1974X combo. The band had finished tracking a different song several times and had retired to the control room to listen back. They were pleased with what they heard and I mistakenly thought it was the end of a long day of recording.

While I was out in a workshop off of the main room restoring a Univox Super-Fuzz pedal, I think a few adult beverages were consumed and some stories were told in the control room. All of a sudden, the band came roaring back into the studio, picked up whatever was sitting in front of the amps, and just went for it. The song was finished, complete with overdubs, in about two hours.
"Once They Banned Imagine"
Mike played his Baxendale Cooley Custom Acoustic, which is affectionately known as the CooleyBird due to the Wes Freed artwork on the top. [Editor's note: Since painting the cover for 2001's Southern Rock Opera, Freed has done virtually all the artwork for Drive-By Truckers.] I think Patterson was running his SG through the Reverb/Reverb rig with a Seymour Duncan Pickup Booster in the signal chain to add a little more sparkle to the parts he was playing lightly.