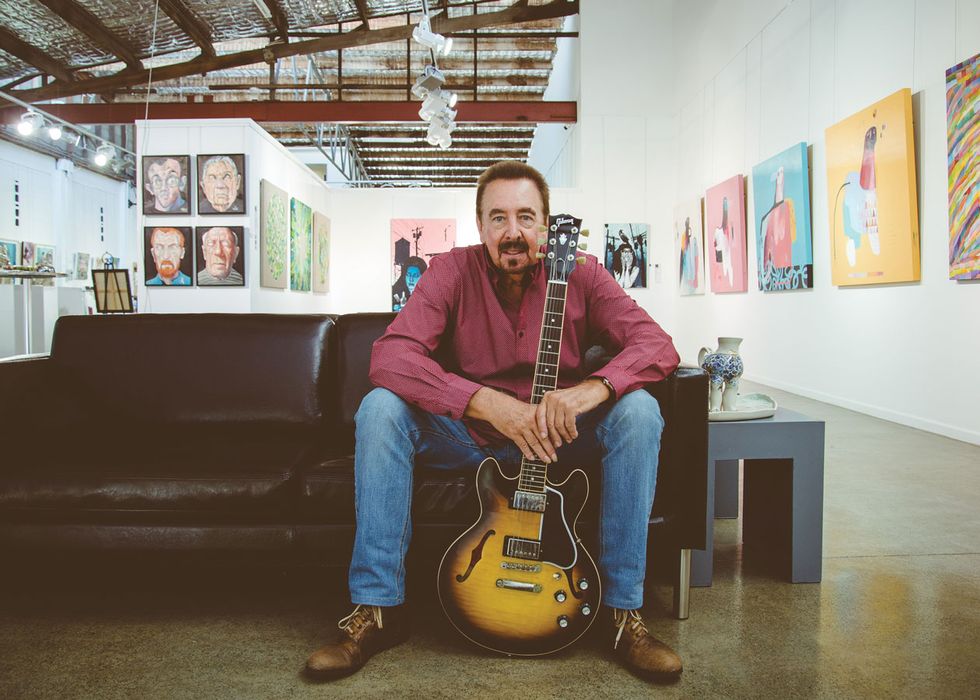 As a first-call session guitarist in Los Angeles during the '60s, '70s, and '80s, Louie Shelton played on hit records by virtually all the top artists of the day. His bluesy lines and slinky octaves earned him the nickname "Sweet Louie Shelton" and the enduring respect of his contemporaries. Photo courtesy of Louie Shelton
If you have ever listened to classic pop, you've certainly heard Louie Shelton's guitar work. That's Shelton purveying the signature guitar part and solo on "Last Train to Clarksville" by the Monkees, the soaring instrumental hook and solo on Boz Scaggs' "Lowdown," the solo on Lionel Ritchie's megahit "Hello," and the silky licks on "Diamond Girl" by Seals and Crofts. You might also have come across his playing on records by John Lennon, Whitney Houston, Barbra Streisand, Marvin Gaye, Diana Ross, the Carpenters, Joe Cocker, Kenny Rogers, the Mamas & the Papas, James Brown, Ella Fitzgerald, and many others.
Yet, despite a decade rife with movies about the musicians who labor behind the scenes to create the recordings and live shows we love—The Wrecking Crew, Sidemen, Hired Gun, Muscle Shoals, 20 Feet from Stardom—you could be forgiven for not knowing his name as he is largely absent from these historical films.
"I had a good sense of time and didn't miss a lot of notes. When I got the opportunity to do sessions, it always went well for me."

Why the limited visibility? Perhaps because Shelton's tenure as an A-team session man came on a cusp, as the old guard, jazz-based guitarists handed off the mantle to younger, rock-influenced players. Shelton arrived in Los Angeles just as some Wrecking Crew guitarists like Vinnie Bell, Al Casey, Howard Roberts, and Tommy Tedesco were retiring, while others—James Burton, Glen Campbell, Barney Kessel—were switching career paths. He appeared right at the onset of the new wave of players, which included Larry Carlton, Jay Graydon, and eventually Steve Lukather and Michael Landau. Shelton quickly became a first-call player, and almost as quickly left day to day session work to be a producer of megahits. It also doesn't help his profile that he has spent much of the last four decades in Australia.
Name recognition aside, Shelton played an essential part in the transition of the Los Angeles guitar sound from the "rock 'n' roll" twang of the '50s and early '60s to the fatter "rock" tones of the late '60s and '70s. His incredible story is one of immense talent and extraordinary luck combining to create a career that is legendary among those fortunate enough to be aware of it.
Shelton was born in 1941, in Little Rock, Arkansas. Neither of his parents played an instrument, but they and his sisters were avid music fans, always listening to the radio or playing records. From age 3, Shelton was imitating a guitar with a broom or stick. This caught the eye of one sister, who bought him a $13 Stella guitar for his 9th birthday, later buying him a Harmony f-hole acoustic, and ultimately a Supro electric. "It had a neck like a baseball bat," he recalls.
Winning second place at a talent contest earned him a spot on a radio show where he met Shelby Cooper and the Dixie Mountaineers. Cooper recognized his prodigious talent and soon asked him to join the old-timey country band.
"By the time I was 12, I was playing five days a week," says Shelton. "I lived with Shelby and his wife, Sarah Jane, for two years, through the sixth and seventh grade. It formed my direction. By the end I was a working musician."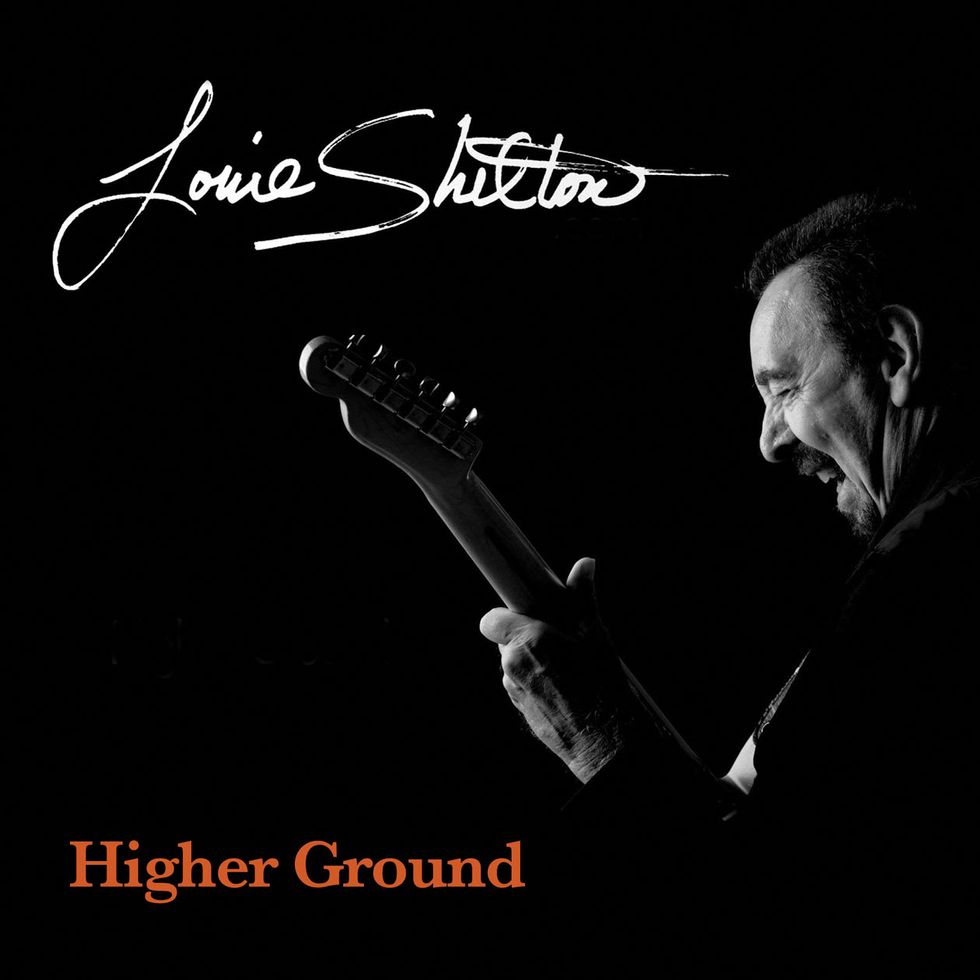 TIDBIT: Shelton's latest solo album, Higher Ground, contains nine instrumental arrangements of Stevie Wonder tunes. "I've been playing Stevie's stuff for years," says Shelton, "ever since he put out 'Uptight.' You realize how good 'Too High' is when you try to do a chord chart for it—it's all over the place."
The Cooper family home had a room with a tape recorder, where, during the school semester, Shelton would help prerecord their radio show after classes. He also played on Little Rock's Saturday night Barnyard Frolic radio broadcast, where he backed up many of the solo artists. With the advent of television, the band was given a live TV show every Wednesday night. There, the tween now known as Little Junior Shelton was featured playing Chet Atkins and Jimmy Bryant songs he learned from records given to him by Cooper.
"I only play by ear," says Shelton. "I never had any formal training. I had a friend down the street who showed me basic E and D chords. I was also picking some stuff up off the radio. Everything came easy for me on the guitar."
When the Supro could no longer cut it for the newly minted professional, Cooper bought him a new 1952 Fender Telecaster and Fender amp.
The guitarist returned to Little Rock for holidays and summers. "The summer I went back in '55, I started playing in some clubs in Little Rock," says Shelton. "I was always the youngest guy in the country bands. I also started playing in a club where we played rock and roll." Shelton was still playing the Telecaster in the Little Rock clubs, but after seeing Chuck Berry play a blonde Gibson ES-350, he traded the Tele for a 350.
When Cooper and his wife divorced, Shelton stayed in Little Rock playing clubs. It was there, at age 16, that he met future session legend Reggie Young. "Reggie asked me, 'Have you ever heard of Barney Kessel or Johnny Smith?' I hadn't, so I got their records and wore them out. I was keen to learn those unbelievable chords and phrases. It rounded me as a player so that by the time I got to L.A. it didn't matter what they threw at me."
In Little Rock, Shelton and a steel player would play music inspired by Speedy West and Jimmy Bryant. "We took a six-night-a-week gig in Santa Fe," he says, "and we both bought the new tweed Fender 4x10 Bassmans." While working around nearby Albuquerque, he met a young guitarist named Glen Campbell. "We played together for a couple of years before he went out to L.A.," says Shelton. Back in Santa Fe, the guitarist formed a band that would back up artists like Bobby Vee and Johnny Burnett when they came through the area. "Everybody said, 'You guys need to go to California. You'd do great out there.'"
Shelton ultimately moved to Los Angeles in 1963, and Campbell was the only person he knew there. "Glen put us up for a few days until we got a place," he recalls. "He took me to a Ricky Nelson session, where I met James Burton and Joe Osborne. He would call me to sub for him if he booked a late session and needed someone to fill in for him the next day on an early morning one."
In those days, Shelton's lack of reading ability was rarely an issue. "I was afraid someone would put notes in front of me, but it never happened," he says. "I could read a chord chart, and most of the stuff was simple. If you can play 'Moonlight in Vermont' you have no trouble playing the three-chord stuff. If it was my first call from someone, I'd tell them if they needed a reader they should call Barney Kessel or somebody like that. They'd say, 'Oh no, we just want to hear your licks'."
With players like Shelton, James Burton, and Glen Campbell, producers didn't write out detailed charts. Instead, they preferred to hear the parts the guitarists invented. "I had a good sense of time and didn't miss a lot of notes," says Shelton. "When I got the opportunity to do sessions, it always went well for me."
One reason for this was Shelton's familiarity with, and love of, a wide range of music. "I could figure out what kind of song it was and zero in on what would work. I would think, 'What would George Harrison or Stephen Stills from Buffalo Springfield play on this?' If it was Barbra Streisand, I knew I had to play some classy stuff, so I would be thinking of Johnny Smith or someone like that. I'm still that way. I'm on YouTube every night checking out great new guitar players."
Though studio work was going well, Shelton was not yet high enough up the pecking order to do it full time. While getting established, Shelton toured and played the local clubs for two years with various bands. "I got this gig with the folk duo Joe and Eddie. They had a record deal and were doing all the big universities and major TV shows. When that gig fell apart, I played in a band in Hollywood."