Book Excerpt: Eddie Van Halen
Veteran photographer Neil Zlozower and Chronicle Books take us back in time with this exclusive excerpt of the new book about the man who changed guitar forever.
When it comes to iconic images of Edward Van Halen—the man who revolutionized our concept of hard-rock tone and technique from the first notes of 1978's "Eruption"—no one has snapped more arresting shots than veteran rock photographer Neil Zlozower. In his latest Chronicle Books offering, Eddie Van Halen, Zlozower serves up a smorgasbord of shots—some that devoted fans will recognize if they looked closely at, say, the Diver Down liner notes or LP sleeves, and others that will be revelations to even hardcore fans. In this exclusive Premier Guitar excerpt, we bring you five of the most compelling images out of the 200+ in the book, and we've paired them with five of the book's many quotes from Eddie's musical contemporaries. Where appropriate, we've also added information about gear in the photos. Ladies and gentlemen, Mr. Eddie Van Halen.

In this studio pic from the late '70s, bassist Michael Anthony lays down his indelible vocal harmonies and plunks a Fender P bass through five Ampeg SVT heads while Edward defiantly picks his Frankenstein guitar in its black-and-white, pre-Floyd Rose incarnation. Ed is surrounded by six Marshall 4x12 cabinets and a World War II bombshell housing two Univox EC-100 Echo Chamber units. An Echoplex tape delay, an MXR Phase 90, and a 100-watt Marshall Super Lead head lie at his feet, while a single-cutaway Danelectro leans against the head and a Strat-style with a Danelectro neck stands neglected behind him.

In this early-to-mid-'80s shot, Frankenstein no longer has a pickguard and has been outfitted with two single-coils and a lot of electrical tape in the wiring cavity. The black paint on the headstock and near the treble cutaway seem to indicate that the neck was stripped of some of its original finish.
"Eddie's fingertapping and vibrato work were innovative. It's something he developed that made him different than all other guitar players. Extremely different. He mastered it very well. Eddie proves a fellow can create his own thing, something that's recognizable. It's very intriguing, and it's a great road to go down. It's good to see someone out there that plays his way. That is what makes the man stand out from the boy.
Eddie Van Halen came up with his own thing. Okay, as far as I know, he may have copied it from some hillbilly, I don't know. But it seems like he had his own thing going. And that alone, by itself, makes it very interesting. And the fact that he does it very well means he's expressing a lot of things he had inside him that others don't have. They just don't play that way." —Les Paul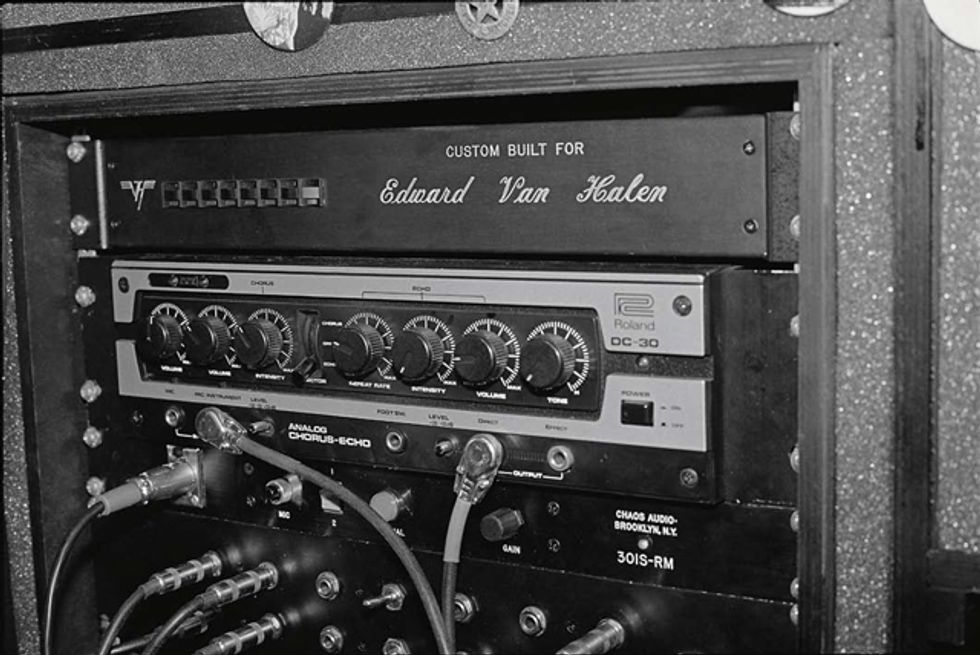 This shot of Edward's early rack setup reveals what amp-guru Dave Friedman of Rack Systems Ltd. believes is a Flag Systems-built switching system (top) and a Roland DC-30 Analog Chorus-Echo.
"Eddie's reinvention of the guitar in the late 1970s had the same impact on the rock guitar world as Jimi Hendrix did 10 years before. He's not just a guitarist. He also puts a lot of thought into his sound and his production. He always writes great compositions.
So beside being a brilliant guitar player, he's an all-rounder when it comes to production sound and presentation, as well as being a hell of a nice guy." —Ritchie Blackmore
"In the beginning, there were the big four: Clapton, Page, Beck, and Hendrix. In the interim, there has been no force more important and influential than the iconoclastic Edward Van Halen. He reinvented the landscape of guitar playing for his generation and succeeding generations and set the bar at a new level. There have been many great guitar players in the history of modern music, but Ed is in a class by himself, and all of us who love the guitar owe him a tremendous debt." —Grover Jackson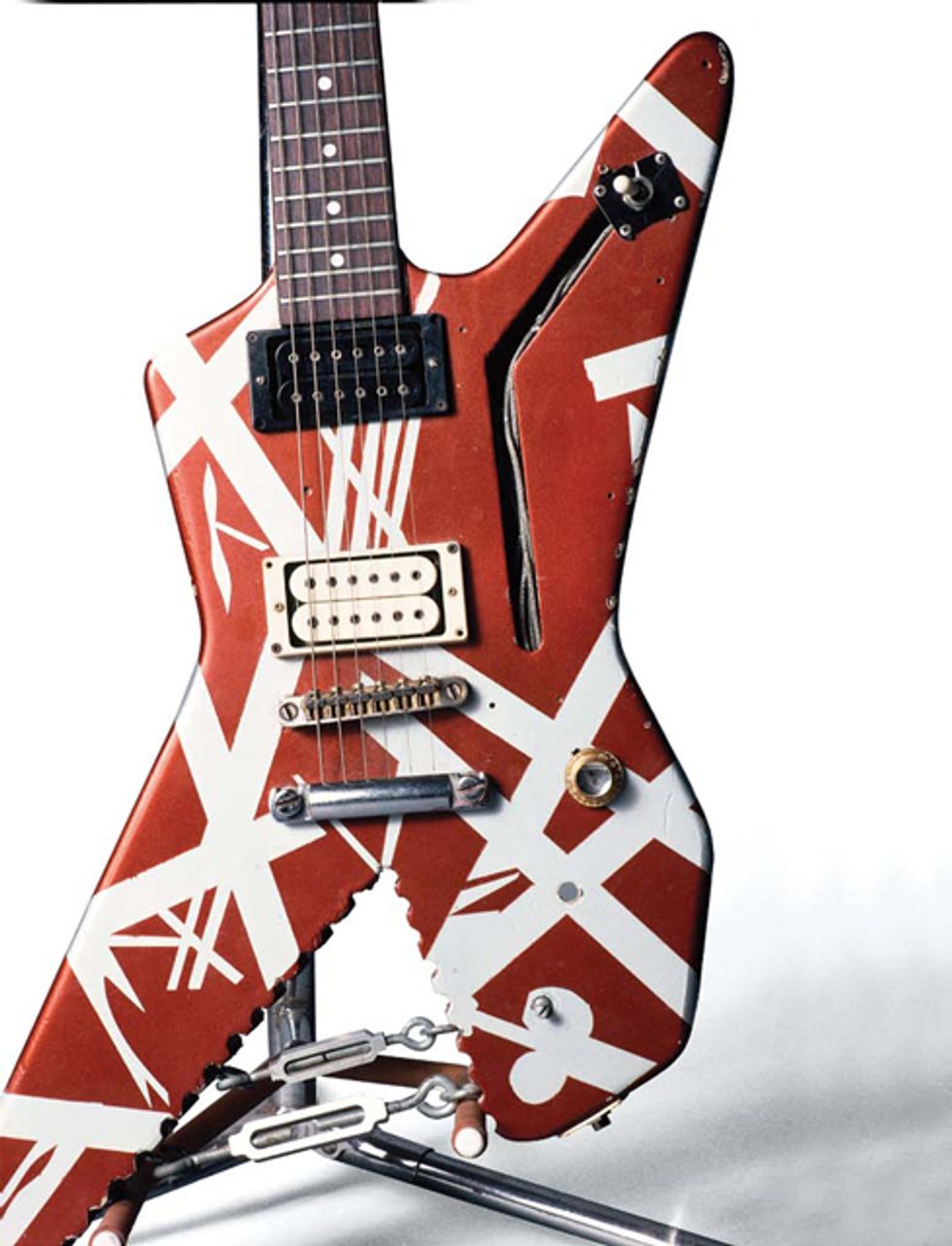 Most Van Halen fans first saw a black-and-white image of this Ibanez Destroyer on the cover of 1980's Women and Children First. Its pickguard was removed and it was heavily modified with a Les Paul-style volume knob, a filled-in hole for the middle knob, and most notably, a rear cutaway that Eddie carved himself with a chain saw.
"Edward's contribution to rock guitar is immeasurable. It is only the most elite of musicians whose unconventional approach becomes convention. Some people are so utterly original that they can only do what comes naturally to them. Although Edward's technique shattered prevailing standards, in was his choice of notes and the way he phrased them that were the auditory expression of his personality."
—Steve Vai

Eddie got extra creative with tape adornments on this ax outfitted with a rosewood-topped Danelectro neck and an early version of the Floyd Rose locking tremolo.
Lita Ford and I went to see Ed play with Van Halen one night at the Starwood in 1977, and I was blown away and brought Gene with me the next night. Their charisma, stage presence, and take-no-prisoners attitude coupled with great songs, killer arrangements, and airtight playing made them undeniable. Everything about Edward, from his groundbreaking technique to his hacked-up Frankenstein guitar, made him the heart of the band, and certainly clearly someone who was playing on all levels, by his own rules. So many have tried to copy his style, but it's always just made it more obvious that although imitation is the sincerest form of flattery, it pales next to the real deal. —Paul Stanley