Forgotten Heroes: Reggie Young
Photo courtesy of the Country Music Hall of Fame and Museum
On working with Elvis, opening for the Beatles, and playing with the cream of the crop as a session ace in Memphis and Nashville.
Booker T. and the M.G.'s, the Wrecking Crew, the Swampers, and the Funk Brothers are legendary rhythm sections, known, loved, and studied by musicians through the decades. Less familiar are the Memphis Boys—keyboardists Bobby Emmons and Bobby Wood, bassists Tommy Cogbill and Mike Leech, drummer Gene Chrisman, and guitarist Reggie Young—the musicians who formed the foundation of American Sound Studio in Memphis between 1967 and 1972. This group cut more than 100 Top 40 hits in that five-year period. Elvis Presley, Aretha Franklin, Neil Diamond, Dusty Springfield, B. J. Thomas, Petula Clark, Joe Tex, and the Box Tops all benefited from their ability to create on-the-spot head arrangements that resulted in top sellers.
Reggie Young was at the heart of this team and continued contributing his creativity to hit after hit long after the Memphis Boys went their separate ways and he moved to Nashville. Although the average guitarist may be more familiar with names like Steve Cropper or Tommy Tedesco, ask any Nashville session player about Reggie Young and then try to get them to stop raving (see sidebar: "Reggie Raves"). The first to admit he hasn't made his career on shredding solos, Young's heroic status is based instead on decades of indelible licks, like the intros to Dusty Springfield's "Son of a Preacher Man" and Billy Swan's "I Can Help," and the classic chicken pickin' in Joe Tex's "Show Me." King Curtis' Live at the Fillmore West may lead you to believe Cornell Dupree coined the guitar lick in the band introduction of "Memphis Soul Stew," but Dupree is merely aping Young's work on Curtis' studio version. Heck, if Young had never come up with anything but the intro to Dobie Gray's "Drift Away," his status as a legendary session guitarist would be safe.
Fortunately, Young is still alive and well in Nashville, where he was kind enough to sit down with one of his biggest fans to tell some amazing stories about his life at American Studios, and in American music.
Country Soul
Born in 1936, Reggie Young Jr. lived in Osceola, Arkansas, until age 13, when his father got a job in Memphis and moved the family there. Like many players, his first guitar was a Christmas present. "It was a National flattop," he recalls. "The strings were an inch off of the frets. I wanted to be electrified, so I went down to the pawnshop on Beale Street and bought a DeArmond pickup that would fit in the hole. I got an old metal Rickenbacker amp and I was electrified."
His father played Hawaiian guitar and showed him some chords. Young further honed his craft learning licks off of records and the radio. "I listened to Chet Atkins a lot," says the guitarist. "He used to have a radio show with [lap steel guitarist] Jerry Byrd on WSM in Nashville called 'Two Guitars.' Weather permitting, I could pick it up in Memphis most afternoons." Another influence was local guitarist B.B. King, cementing Young's style as a mixture of blues and country.
The guitarist met someone in junior high who could sing and play rhythm, and within a year they had a band. "I was playing more melodies than chord changes," he says. "I would pick hot, as they called it back then. When Elvis came out, a lot of little bands who could play three chords would have hit records." While still a teenager in 1956, his band Eddie Bond & the Stompers went into a radio station and recorded a song called "Rockin' Daddy." It was released on Mercury Records, became a regional hit, and launched Young's career in the music business. Though he denies being into rockabilly, Young's work on the Eddie Bond sides show a familiarity with the idiom.
In 1955, local disc jockey Bob Neal was promoting package tours and hired Eddie Bond & the Stompers to join a lineup that included Carl Perkins and Johnny Cash. "Whoever had the biggest record where we played would be the star that night," says Young. After the tour, Johnny Horton's manager asked if the teenage guitarist would play in Horton's band. This led to a weekly gig with the singer on the famed Louisiana Hayride television show.
"George [Harrison] asked what I was playing through," recalls Young. "I told him it was an old Standel. He complimented me and asked, 'How are you bending those strings like that?'"

But it was Young's time on those package tours that led to his shift from travelling musician to session player. "Elvis was on a few of the tours," Young recalls. "I already knew Scotty Moore and Bill Black, the bass player." Black recorded artist demos at Hi Records' Royal Studios in Memphis, and would then get someone from London Records to listen to them. Only if the acts were signed would a session fee be paid. It was into this world that he invited the eager Young.
First Hit
After a day of uninspiring sessions, unlikely to result in a deal or payment, Young tuned his guitar down two whole steps and started tapping it with a pencil that was lying on the music stand. "It was like the old club trick, where the drummer would play on the upright bass player's strings," he reveals. Black's house band cut an instrumental shuffle fueled by Young's tinkering that the London rep liked. Released as a single, "Smokie Part 2" became a number one R&B hit and rose to No. 17 on the pop charts, launching Bill Black's Combo. The band members were all equal partners but named the group after Black, who was the best known for his work with the now-famous Elvis.
"We got booked on Dick Clark's show, but I got drafted," says Young. "When I went to take the oath, I told the company commander there was something I'd like to do before basic training. He let me have a 30-day leave, so before I went into the service we went to New York for the Dick Clark Christmas show."
Young was in the Army a little over two years, serving much of his time in Ethiopia. There, he went to the enlisted men's club where the guitarist in the band asked him to sit in. "I did, and he sold me his guitar—a Fender Duo-Sonic," he says. Young played with the band through his service. For much of his time overseas, "Smokie Part 2" was on the charts. Fortunately, this member of Bill Black's Combo had made a wise decision when the tune was recorded. "The guy that owned the studio offered to pay us scale or let us have a piece of the record," says Young. "We all took a piece except for the saxophone player. He got scale, $41.25, and we made a lot of money."
Hi Records became known for R&B music and Young expanded his repertoire there, intermingling with future Al Green producer Willie Mitchell's band. "We did an instrumental named '2075' that was a mediocre hit, with Al Jackson on drums," Young recalls. "This was before Booker T. and the M.G.'s." Like the M.G.'s and much of the Memphis music scene, Mitchell's studio band was integrated, though there were still racial issues at the time. "There was a place across the river, in West Memphis, called the Plantation Inn," says Young. "When B.B. King was in town, his band played here. A white guy couldn't sit in with that band; the crowd wouldn't go for it. I'd do it, but I'd be behind the curtain."
The Other Fab Four
In 1962, Bill Black's Combo was recording largely instrumentals, but took time out to cut "Haunted House" (later recorded by Roy Buchanan) with singer "Jumpin" Gene Simmons, who then became a frontman for the band. Though Reggie and the original members were cutting the records, they didn't tour. "We didn't do road work," he explains. "There was a band on the West Coast, one in the Midwest, and one on the East Coast, all using the Bill Black's Combo name, but we just stayed in the studio."
Young made an exception to the no-road-work rule once. When the Beatles did their first U.S. tour in 1964, they contacted Bill Black to be their opening act. "We went by Trailways bus to San Francisco to join the tour," he says. "I didn't have a clue who they were until we got to San Francisco. The first night we played the Cow Palace. I'd never heard that much screaming and carrying on. They had barricades so the kids wouldn't jump up on the stage. We went on first, and then backed up some of the other acts: Jackie DeShannon, the Righteous Brothers, and a guy named Clarence 'Frogman' Henry from New Orleans. We played about an hour of music." In each city, the local DJ would work the crowd into a frenzy about seeing the Beatles and then announce, "First, here's Bill Black's Combo."
"They would boo and start throwing stuff," recalls Young. "Later, the DJs learned to wait to build them up after we were through."
Soon after the first concert, George Harrison came on the plane and asked who the guitar player with Bill Black was. Young admitted it was he. "George asked what I was playing through," recalls Young. "I told him it was an old Standel. He complimented me and asked, 'How are you bending those strings like that?' He was using a wound 3rd string. I told him to get an unwrapped 3rd string. I probably stole that from Chet Atkins, who used an unwrapped 3rd string."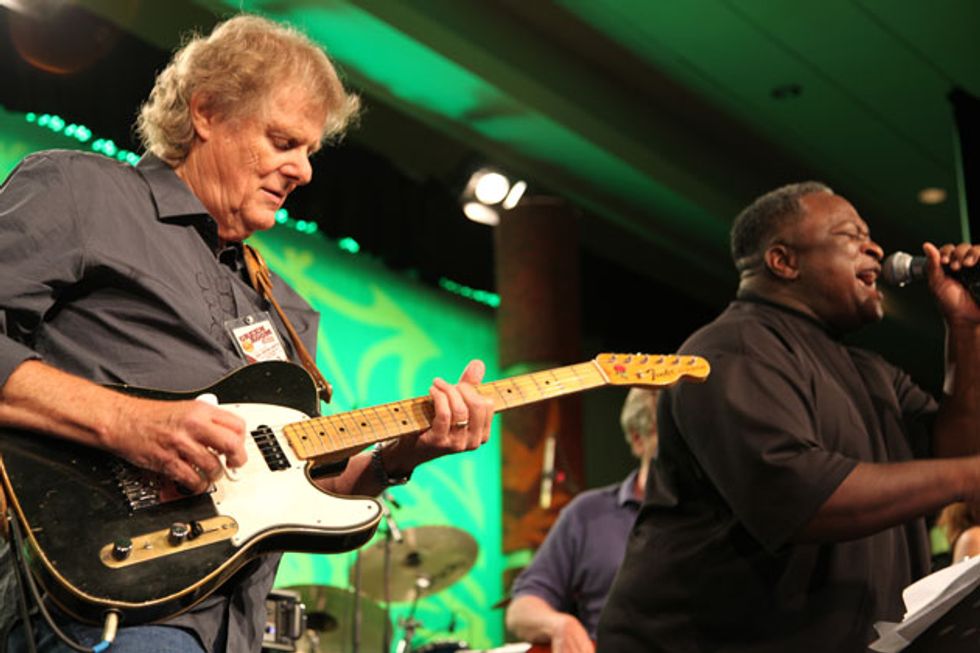 Legendary session guitarist Reggie Young plays his black '69 Fender Telecaster in Nashville at Summer NAMM circa 2009.
On the way to Jacksonville, Florida, a hurricane caused the two bands to be rerouted to Key West, where they took over a motel, played music, and waited out the storm. While there, Young got called to Memphis to record his first instrumental feature, a version of "Ebb Tide." "They thought it could sell because I was on tour with the Beatles," says Young. "I flew back, recorded it, and flew back to Key West."
A Bill Black tour was set for Europe, where the headliner was to be Billy J. Kramer. In order for the unions to allow Bill Black's Combo to play in Europe, a British band had to play in the United States. "We were the trade band for the Beatles," says Young. On the European tour, Young met Eric Clapton, who was playing with the Yardbirds. "Eric and I hit it off, because we were both blues players," Young says. "We spent many nights sitting around playing backstage."
The Sound of American
Back in the States, Young returned to Royal Studios. Unfortunately, it was difficult for musicians to get properly paid in Memphis, where producers would brag about getting a band for $15 a side, with no time limit. Young's agreement with Hi Records' owner Ray Harris was $60 for a 3-hour session, but the guitarist was usually paid $15 a side—no matter how long it took. Even when Young was actually paid the full $60, he would often have to kick back $30 to the producer. When Harris called one night and tried to cut the fee back to $10 a side, Young quit.
Fortunately, former Stax producer Chips Moman asked him to start doing sessions at Moman's studio, across town in a funky area of Memphis. The two talked about putting a studio band together and soon recruited Tommy Cogbill, Gene Chrisman, and Young's friend Bobby Emmons. The four-piece band began recording at Moman's place at 827 Thomas Street, which became known as American Sound Studio. They recorded a spate of hit records in surroundings that were far from fancy. "When Elvis walked in, he looked around and just said, 'Man'," recalls Young. "But we cut some of the biggest records he ever had: 'Suspicious Minds' and 'In the Ghetto.'"
Other hits cut there include Neil Diamond's, "Sweet Caroline," Merrilee Rush's "Angel of the Morning," and the classic Dusty Springfield album, Dusty in Memphis, to name just a few. Young remembers coming up with the riff for the intro to Springfield's hit "Son of a Preacher Man."
"I was just sitting there goofing off," he says. "It's sort of a Chet Atkins lick, because it uses an open string. They call them 'identifying licks.' That's what you used to do to make records sound different. It seems like nowadays there's none of that."
"I was playing more melodies than chord changes. I would pick hot, as they called it back then. When Elvis came out, a lot of little bands who could play three chords would have hit records."

Young and the Memphis Boys were literally instrumental in the sound of the Box Tops hits, "The Letter" and "Cry Like a Baby." Writer/ producer Dan Penn liked Alex Chilton's voice, but used Young & Co. to replace the rest of the band in the interest of expediency in the studio.
While working at American, Young met a guitarist who would greatly influence his style: Clarence Nelson. "We all stole him silly," says Young. "I know I did, and I think [Steve] Cropper did, too. He was James Carr's guitarist and they worked at American."
Young, who's cradling a guitar while we speak, demonstrates a low-string Clarence Nelson lick heard dozens of times on recordings by him and Cropper. You can hear Young employ versions of the lick on the verses of "Son of a Preacher Man" as well as the fade solo on "Drift Away." Cropper hits it for the opening of Otis Redding's recording of "Ol' Man River" and turned it into the signature riff of Rufus Thomas' "Walking the Dog" by moving it up an octave.
Another guitarist working at American was Bobby Womack. "He influenced me more than anybody," says Young. "We sat across from each other and each tried to see what the other one was doing. He would show me something, or get me to show him something. Just about everything I play today has some Bobby Womack in it. Not exactly like him though; you try to make it your own."
Young worked at American a little over five years, until Chips Moman felt that Memphis had dried up musically and moved his operation to Atlanta, Georgia. Moman built a new studio there but failed to reignite the Memphis magic. "One of the hardest things I ever had to do was tell Moman and the rest of the guys I was going back to Memphis," says Young.
As fate would have it, the guitarist traveled through Nashville on his way home, where he ran into David Briggs and Norbert Putnam. He'd met them doing sessions in Muscle Shoals back in1963, where Putnam was a bassist and Briggs a keyboard player. "They moved to Nashville and had a studio called Quadrafonic that was pretty hot back then," relates Young. "David said, 'How long are you going to be here? You want to work some?' I said, 'Yeah,' and have been working in Nashville ever since."
Nashville Cat
Young went back and forth between Memphis and Nashville for a while, but by 1972 was firmly established in Music City, living and working there full time. Putnam and Briggs used him on sessions for Joan Baez and Dobie Gray. When Gray's "Drift Away" became a hit, country acts began to ask for the guitar player who played the unforgettable parts on that record. Another classic Reggie Young "identifying lick" was the harmonized whole tone intro to Billy Swann's 1975 hit "I Can Help."
Throughout his career, Reggie Young has been known for his guitar introductions to hit songs, or, as he calls them, identifying licks. "That's what you used to do to make records sound different," he says. "It seems like nowadays there's none of that." Photo courtesy of the Country Music Hall of Fame and Museum
"I was just noodling around and [producer] Chip Young said it would make a good intro," he recalls. "I thought he was kidding. I said, 'Let me put a part with it to see what that sounds like.'"
Young found the working conditions in Nashville a vast improvement over Memphis. "They would set everything up for me. I would just walk in, sit down, and start playing," he says. "Three hours later I would get paid whatever the scale was." Soon after moving to Nashville in the '70s, the Memphis expat was earning double-scale and working three sessions a day. He was called to play with country legends like Waylon Jennings, Merle Haggard, George Jones, and Willie Nelson. Young also cut records with artists who are now considered Americana, like J.J. Cale, Tony Joe White, and Gary Stewart. In the '80s he added a new generation of country legends to the list of artists who needed the Reggie Young touch: George Strait, Reba McEntire, John Anderson, Travis Tritt, Clint Black, and Hank Williams Jr.
The '80s also saw the guitarist return to the road, backing Johnny Cash, Willie Nelson, Waylon Jennings, and Kris Kristofferson, known collectively as the Highwaymen. He helped them cut their self-titled record and they wanted him for a 30-day tour. "I lost money the first tour we did, although they were paying really well," says Young, who was still working a heavy session schedule. "We did the Highwaymen for about five years," he says. "When that ended, I was still doing studio stuff, but not as much because the business was changing. Then Waylon called me and said, 'Would you be interested in going out maybe two or three times a month.' We did his band, the Waymore Blues Band, for a couple of years, until he passed away."
Young worked sessions steadily through the '90s, but with the apocalyptic shift in the music business through downloading, streaming, and competition from other media, studio work has since slowed down. Still, as recently as last year, he was adding his 6-string magic to records by Martina McBride, Boz Scaggs, and others.
Young has a home studio but, as of yet, doesn't want to do remote sessions. However, the studio has seen action in creating his new solo record, Forever Young. "The basic tracks were done in Muscle Shoals with Chad Cromwell on drums, David Hood on bass, and Clayton Ivey on keys," he says. "I got it home and hated the guitar sound, so it stayed in the closet for a couple of years. Then, I got an engineer and we sat right in here while I redid the guitar parts. I had my Deluxe Reverb in the other room. I replaced everything I had on there. I talked to [saxaphonist] Jim Horn; he wrote the horn parts and we recorded them in the bedroom."
Young had some health issues early this year, which held up the release of Forever Young, but he is on the mend and hopes to have the album out soon. Forever Young lifts the guitarist's playing out of the background and sets his gorgeous tone, perfect time, and classic licks front and center. Listening to the opener, "Coming Home to Leiper's Fork," you won't hear anything that requires digit-twisting dexterity or shred-like speed, but each note sounds pure and soulful and lays perfectly in the groove. That said, you may find the hybrid-picked head to the aptly named "Memphis Grease" does take some fancy finger work. Throughout, as you hear licks you've heard through decades of American popular music, remember that this is the man who originally played more than his share of them. Here's hoping he will continue to enhance the musical endeavors of another generation of artists.
Reggie Young's Gear
Guitars
With Bill Black's Combo, Reggie Young played a Gibson ES-335. Since moving to Nashville, Young's main guitar has been a black '69 Fender Telecaster with body binding and a maple neck. At one time, the pickup in the neck was changed to a mini-humbucker but is now a Bill Lawrence single-coil Strat-style. The bridge pickup is a Ron Ellis. It has a Seymour Duncan rail-type Strat pickup in the middle that can be switched on with a mini-toggle or blended in with a knob. "I mainly blend it with the bridge, because the bridge pickup alone will cut your head off," Young explains. He uses a Fender Relic Tele with a similar setup as a backup guitar for touring overseas.
Young's other go-to guitar is a '57 Fender Stratocaster. Once equipped with EMGs for quiet performance in the studio, it's now fitted with Bill Lawrence pickups. Young was one of the first to record a Coral electric sitar. It appeared on "Cry Like a Baby" and B.J. Thomas' "Hooked on a Feeling." The 1967 Garcia nylon acoustic he played on tunes like "In the Ghetto" resides in the Musicians Hall of Fame in Nashville. Young's guitars are strung with D'Addario strings (.0095–.044) and picked with a Fender medium pick using the round side for a fatter sound.
Amps
Young used a Standel amp in the early days, primarily because it only had one input. "If somebody sitting in wanted to plug in the amp along with you—that stopped that," he says. "That was a killer amp." At American Sound Studio he began using the '65 Fender Deluxe Reverb he still employs. He now has two, and a Little Walter 50-watt head and cabinet. Live, he uses Fender Twins or 4x10 Fender Bassmans.
Effects
In the '50s and early '60s, Young might pull one power tube out to create distortion. Later he used a Garnet Herzog unit from Canada designed for Randy Bachman. The Herzog was a small tube amp that could distort the main amp. It can be heard on the fade of "Drift Away." In the psychedelic era, he used an early Bosstone fuzz. For pedal steel-style swells, Young uses an Ernie Ball volume pedal. "When I moved to Nashville no one was using volume pedals, so that got me a lot of work," he recalls.
He has a Whirlwind compressor on his current pedalboard, though he doesn't use compression anymore, and a Boss GE-7 EQ. "I get my amp sounding as good as I can and then use the equalizer to tweak it a little more and add a little boost," he says. The board also contains a Boss TU-2 tuner, Boss DD-6 Digital Delay, a Voodoo Lab Sparkle Drive, a TC Electronic chorus, and a Voodoo Lab Tremolo. "The board sounded so good on the road that I started bringing it into the studio. It sounded better than my rack," he says.
Reggie Raves
Some of the top session players in Nashville today give props to the man who influenced them.
Brent Mason
I've always been in awe of Reggie Young. His unique style and sound set the bar not just for country, but popular music in general. I constantly find myself playing Reggie's guitar licks or hear someone I'm working with say, "Give me a Reggie Young solo and fills in this song." I know exactly what they mean. His style will always remain hip and cool. There's no other guitar player on earth that has his taste, soul, and expertise at making a song shine just by adding his parts to it. Simply the best!
---
Photo by Ckuhl
Richard Bennett
I was a fan of Reggie's long before I knew his name, going back to his '50s work with Eddie Bond, Bill Black's Combo, and Johnny Horton. They caught my attention as a kid, and you try to emulate things you like. Reggie's playing in the '60s and beyond is so creative and enjoyable—no other guitar part would or could be any better for those records. He elevates the quality of every recording he's been part of. I played on loads of records with Reggie and always considered it an honor and pleasure to share a studio floor with him. Reggie Young is all that, much more, and a hell of a good guy as well.
---
Kenny Greenberg
When it comes to session guitarists, Reggie Young is about the baddest mofo ever. I had the incredible fortune to work with him in my 20s, when I was just breaking into the Nashville session scene. The first thing I noticed was how incredibly gracious and accommodating he was. He went out of his way to make me feel at home. He acted like we were equals, showing me his gear, and how he approached certain parts. I felt like a kid in school, which is exactly what I was. Reggie's intonation is unbelievable: His string bending was totally on the money, but still really soulful. I could not believe how great his parts were. Reggie is one of those unique players that finds a way to fit into any situation because he is a great listener. In between takes, he was either working on his gear or his parts. He is very committed, in a down-home, relaxed way; intent on making everything he plays count. He never overplays. He is the tastiest guitar player I've ever been in the room with. I only worked with Reggie over a short span of time, but in that time, his playing and studio expertise had a huge and lasting influence on me, and I'm grateful for having been around him.
---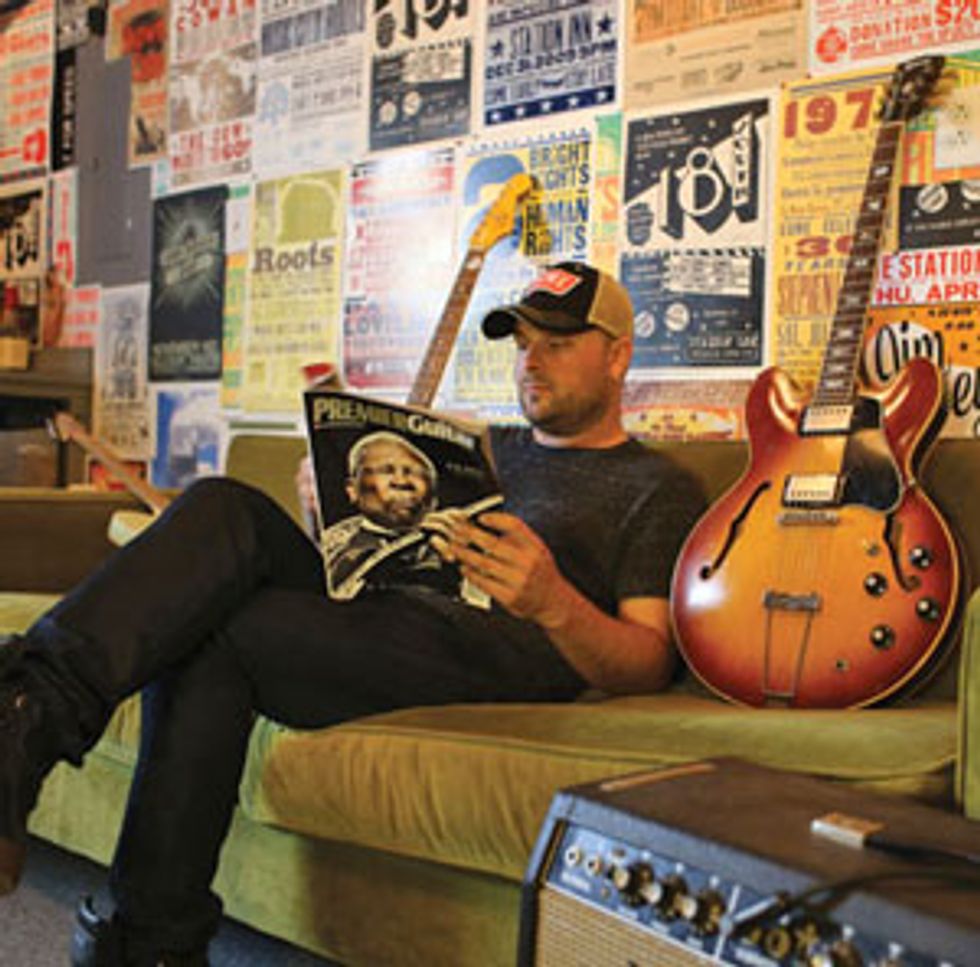 Guthrie Trapp
I first met Reggie Young when I was playing with Jerry Douglas. It was such a pleasure to meet him and receive a compliment from him. Some of the most memorable, creative, and perfect guitar parts of all time came from him. He's a legend, and for good reason. Reggie has influenced so many players that may not even know it. The signature slides and bends that are part of his style are in our playing all the time. Rock on Reggie Young! It's a true pleasure listening to you.
Reggie Young Essential Listening
Watch Reggie Young play and talk about his classic riffs, including Coral sitar on "Cry Like a Baby," Billy Swan's "I Can Help," and his acoustic work on "In the Ghetto."
---
Hear the song that launched Reggie Young's music career. "Rockin' Daddy" was recorded in 1956 with Young's high school band, Eddie Bond & the Stompers.
---
This instrumental version of "Ebb Tide" showcases Reggie Young's cascading licks in the forefront. It was recorded in 1964 when he was on tour with Bill Black's Combo, who were opening for the Beatles.
---
This Jumpin' Gene Simmons tune from 1969 showcases one of Reggie Young's countless signature intro licks.
---
Perhaps Reggie Young's most notable guitar work, this Dobie Gray classic showcases Young's ability to cross over into R&B and soul.