From the Beatles to Beck and Bond, he changed the record producer's role and set lofty benchmarks for sound and scope. Listen to PG editors' favorite George Martin productions.
George Martin's productions for the Beatles—13 albums and 22 singles—earned him a place in modern musical history, garnered him a knighthood in the U.K., and changed the role of the record producer from hired-hand to auteur. Martin, who died Tuesday evening, March 8, in his home at the age of 90, rose from his straight-from-college job with the BBC's music department to helming sessions for not only the Fab Four but also Elton John, Jeff Beck, Stan Getz, the Mahavishnu Orchestra, America, UFO, the Little River Band, Ultravox, James Bond films, and, seemingly, countless more, including solo albums by Paul McCartney and Ringo Starr.
Trained as a classical pianist and oboist at London's Guildhall School of Music and Drama, Martin brought his training and taste to bear on popular music. He became a house producer at EMI in 1950, making a series of comedy records and running classical sessions until, in the early '60s, he was moved by the changing tides in musical taste to hunt for a winning rock group. He found the Beatles.
As John Lennon explained in 1971, "George Martin made us what we were in the studio. He helped us develop a language to talk to other musicians." And through that language—and with the assistance of Martin's complementary skills as an arranger—the Beatles were able to build new layers over the bare-boned rock-song architecture that was their foundation, eventually creating such towering pinnacles of musical accomplishment and sonic grandeur as Revolver, Sgt. Pepper's Lonely Hearts Club Band, "The White Album," and Abbey Road.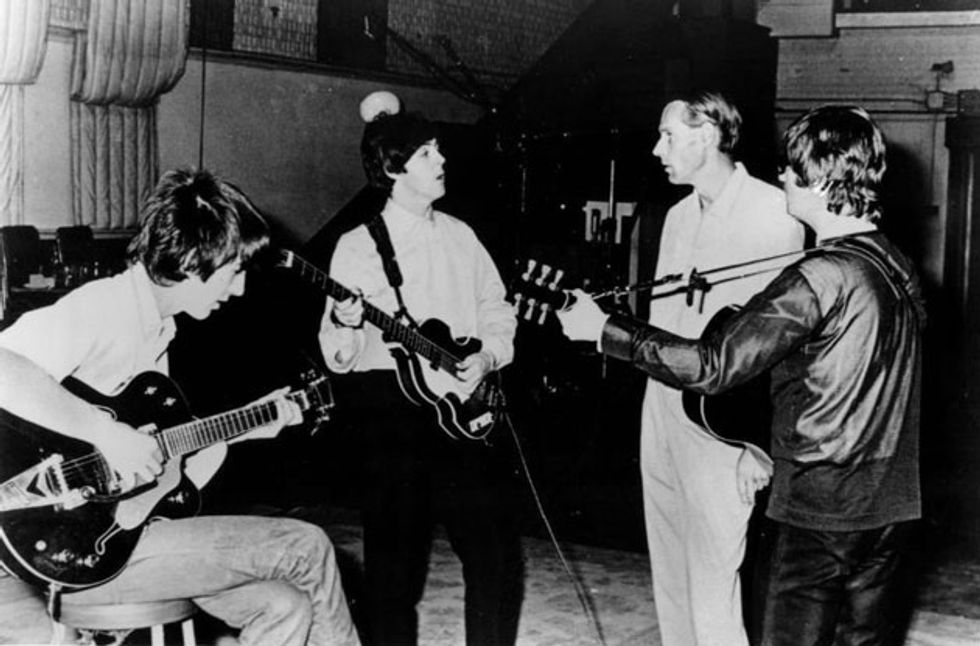 Martin with George Harrison, Paul McCartney, and John Lennon. The latter said, "George Martin made us what we were in the studio. He helped us develop a language to talk to other musicians."
Through those recordings and many that followed with other artists—including his hit title songs for the James Bond films Goldfinger and Live and Let Die, which boasted his richly orchestrated arrangements for Shirley Bassey and Paul McCartney and Wings, respectively—Martin helped form an elite class of record producer. Along with Phil Spector, Quincy Jones, and Brian Eno, he left a unique sonic thumbprint on his work, and, in conjunction with his engineers, developed a wheelhouse of techniques that included ultra-close miking of acoustic instruments, flanging, artificial track doubling, hand-cut tape loops, and backward tracks.
Late in life, Martin revealed many of his techniques in public appearances and in a pair of documentaries: the three-part BBC television series The Rhythm of Life, screened in 1997 and '98, and 2011's 90-minute Produced by George Martin, which features a wealth of archival footage and interviews with McCartney, Starr, Beck, and others.
In the following months, expect a wealth of tributes to Martin and the music he helped create. Meanwhile, our editors chose to pay homage to the great producer by picking some of their favorite tracks from his catalog to share.
Ted Drozdowski — Senior Editor
"Hymn to Him," Mahavishnu Orchestra (1974)
"Freeway Jam," Jeff Beck (1975)
"Stop This Game," Cheap Trick (1980)
---
Shawn Hammond — Chief Content Officer
"Paperback Writer," the Beatles (1966)
"Helter Skelter," the Beatles (1968)
Start at 59:50
---
Tessa Jeffers — Managing Editor
"Oh! Darling," the Beatles (1969)
---
Rich Osweiler — Associate Editor
Sgt. Pepper's Lonely Hearts Club Band, the Beatles (1967)
Start at 3:33
"Live and Let Die," Paul McCartney and Wings (1973)
---
Jason Shadrick — Associate Editor
"A Hard Day's Night," the Beatles (1964)
"'Cause We've Ended As Lovers," Jeff Beck (1975)
---
Charles Saufley — Gear Editor
"Tomorrow Never Knows," the Beatles (1966)
---
Joe Gore — Senior Contributing Editor
"Good Morning Good Morning," the Beatles (1967)
Start at 19:56