Joy Oladokun: We're All Gonna Die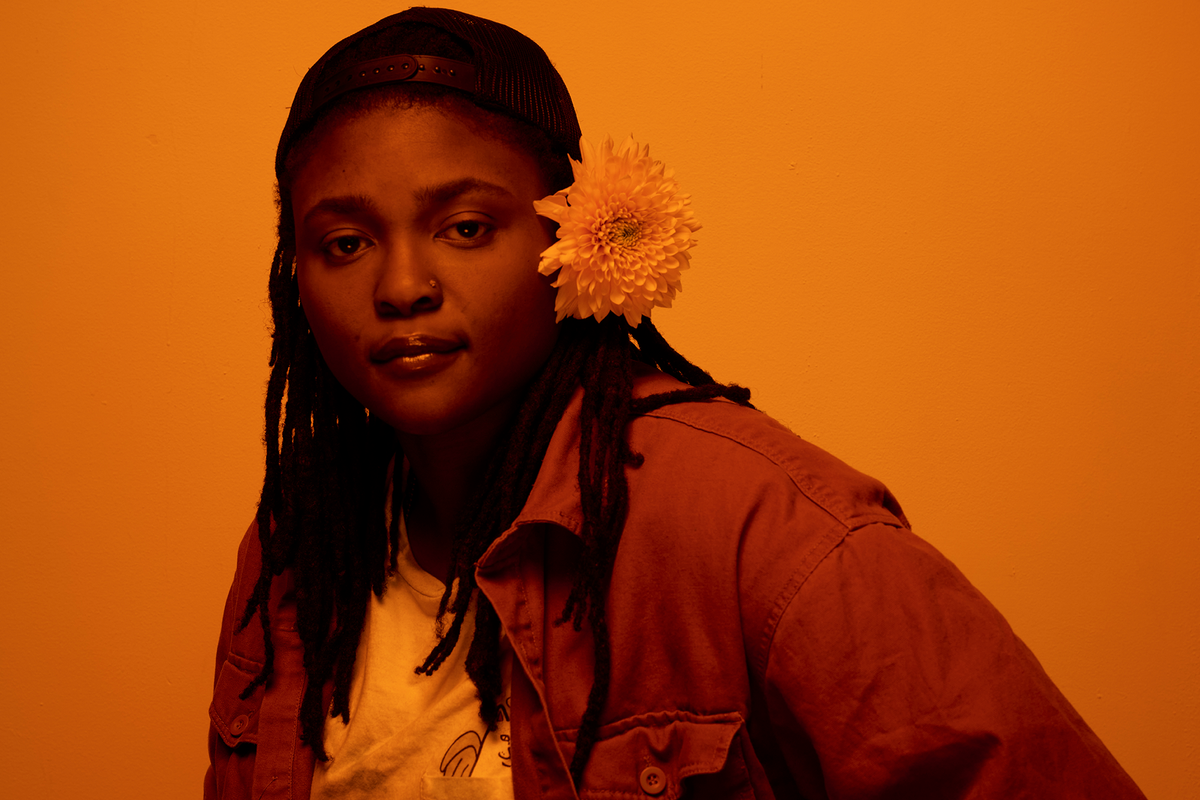 Photo by Brian Higbee
With her new record Proof of Life, the alt-folk guitarist and singer-songwriter wrestles with mortality and change, and emerges triumphant and hopeful.
"It's nice here," Joy Oladokun says through the phone. "The mountains are beautiful." The 31-year-old Nashville-based guitarist and singer-songwriter is taking a moment to breathe and clear her head in Asheville, North Carolina, while on tour with her friend Noah Kahan. Touring is fun, especially with pals, but it's also tiring and stressful. Oladokun is doing her best to stay balanced since the release of her fourth LP, the lush, hopeful Proof of Life. The record indulges the best bits of pop, R&B, indie rock, and folk, all sewn together with Oladokun's defiant optimism and vulnerable, late-night-diary-entry songwriting.
Proof of Life, too, is a balancing act, swaying expertly between subdued acoustic ballads, plush, swooning electronics, and heady electric guitar churns. It's clear about the state of the world: "Newspaper says the world's on fire / People yelling and the water's rising," Oladokun sings in cool harmony over calming acoustics on track two, "Changes," before submitting at the chorus' end, "I'm trying to keep up with the changes." But opener "Keeping The Light On" is a breezy, textured mission statement to always make one's way back out of the darkness. The third track, "Taking Things For Granted," is a humming, light-footed indie-rock jam that recounts Oladokun's lonely 8th birthday, when no one from school came to her party. It's a real-life, heartbreaking memory, relayed over a beachy-road-trip arrangement. These are the huge, existential places Oladokun takes us with her voice and her guitar just in that trio of opening songs.
"This record is as autobiographical as anything I've ever made," says Oladokun. "It's actually me this time, it's not a bunch of songs about ideas. Are people gonna like me?"
Joy Oladokun - "We're All Gonna Die"
Oladokun admits it's frightening to be this vulnerable, especially when, at this stage in her career, she has voices around her telling her how she ought to create her art. But the specificity is paying off. On tour, people are expressing how meaningfully her songs capture and validate even their own experiences. "That's the ultimate goal for me," Oladokun says.
Oladokun's artistic path has taken her across North America, on stages with John Mayer and My Morning Jacket, but the road can be traced back to one turning point when she was growing up in Casa Grande, Arizona. She was only allowed to watch TV on weekends, when her father would go to Blockbuster to rent a video. When Oladokun was 10, he screened a DVD of Nelson Mandela's 70th birthday celebration at Wembley Stadium, and at a point during the festivities, Tracy Chapman walked onstage and performed "Fast Car," with just her and her guitar in front of tens of thousands of people.
"It's actually me this time, it's not a bunch of songs about ideas. Are people gonna like me?"
To this day, the performance is arresting and gut-turning in the best ways, crackling with tension and desperation. It was the first time Oladokun remembers seeing a Black queer woman on television, and not only that, but Chapman was alone, vulnerable, and changing entire worlds with her song. "I had a feeling that I belonged / I had a feeling I could be someone," Chapman belts in the chorus. For many listeners, it was simply a great pop song. For Oladokun, it was liberating.
That clip was "the gateway drug" for Oladokun, who begged her parents for a guitar that Christmas. They bought her an acoustic, and she went from a socially anxious kid who didn't show interest in much to a committed guitar student. In small-town Arizona, guitar was one of the few things that lit Oladokun's candle. "They couldn't get me to do my homework to save their lives," she says. "But I would sit in my room and play guitar for four or five hours every night."
Joy Oladokun's Gear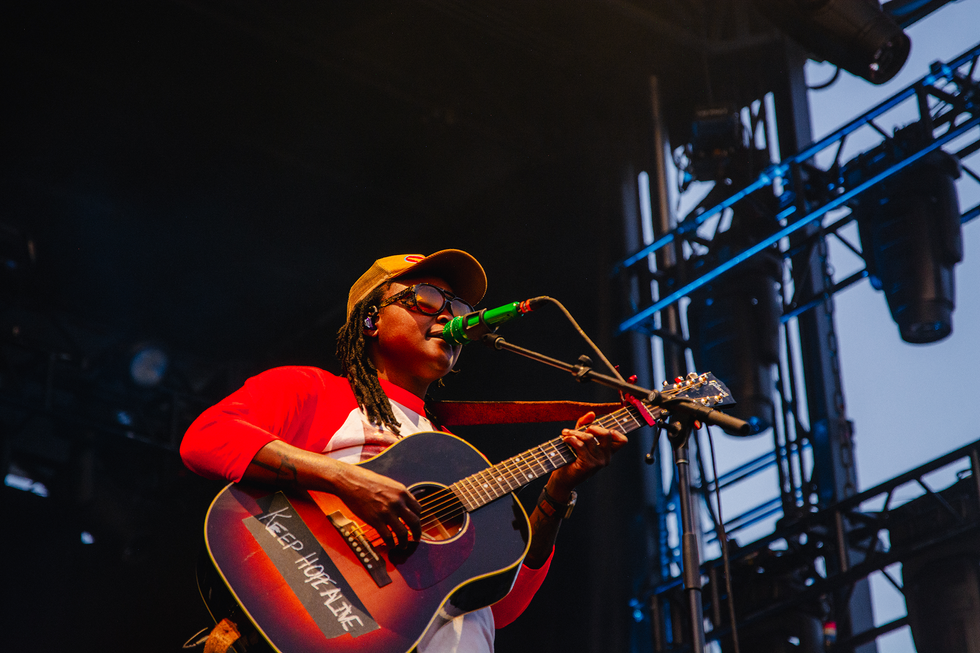 For her new record, Joy Oladokun took a more autobiographical approach to lyricism, crafting songs that share different intimate, personal portraits of her life.
Photo by Lauren Schorr
Guitars
Nash T72TL
Gibson J-45
'60s Gibson B-25
Amps
Kemper Profiler Stage
Swart Stereo Master 20
Effects

Jam Pedals Wahcko
Mesa/Boogie Grid Slammer
JAM Pedals RetroVibe
Chase Bliss Audio Automatone CXM 1978
Gamechanger Audio Third Man Records Plasma Coil
Strings

D'Addario NYXL (.009–.046)
First up, she learned the riff to Bob Marley's "Redemption Song," and stretched her fingers so she could play power chords more clearly. Her parents' great music tastes nudged her toward Nigerian guitarists like King Sunny Adé, whose music imparted deep appreciations for rhythm and syncopation alongside technical skill. Simon and Garfunkel, Willie Nelson, Johnny Cash, Nina Simone, and even Genesis were played around the house, but perhaps the most significant influence came from the church, and the gospel music Oladokun heard and sang there.
"I grew up listening to a lot of music that was purpose-driven," she says. "Everything that I listened to and my parents listened to, they were talking about the world and revolutions and stuff."
"They couldn't get me to do my homework to save their lives. But I would sit in my room and play guitar for four or five hours every night."
Oladokun self-released her first EP in 2015, followed the next year by a full-length. Her 2020 followup, in defense of my own happiness (the beginnings), yielded syncs on This Is Us, Grey's Anatomy, and The L Word: Generation Q, all of which laid the groundwork for her to sign with Amigo Records and Verve Forecast Records for her 2021 breakout in defense of my own happiness. The record, which featured a co-write and appearance by pop country titan Maren Morris, expressed itself in broad, universal terms, dissecting anti-Black violence, religion, and being queer in America. She's said that she wrote the album's closer, "jordan," the day she decided to come out herself. In December 2022, she performed the song on the lawn of the White House as part of a celebration of the signing of the Respect for Marriage Act, which requires that all states recognize same-sex marriages.
Before the performance, she had a moment where she booted everyone from her dressing room, and just looked at herself in the mirror—a practice her therapist encouraged. "When I was a young Black queer kid in Arizona, I don't know that I could've imagined a world where I would be invited to perform on the White House lawn to celebrate same-sex marriage. It was really emotional and powerful. I tried to embrace as much of the significance of the day as I could because I also know that things like that are a lifeline for queer people around the world."
Joy Oladokun's music weaves between alt-folk, indie-rock, and pop, and on her fourth full-length, she invited friends like Chris Stapleton and Manchester Orchestra's Andy Hull to fill out the sound.
Oladokun came up with the title for Proof of Life one day when she was sitting in her studio, looking at all the instruments and knickknacks lining the room. "I started morbidly thinking about what would happen to them after I die," she chuckles lightly.
"For me, 'proof of life' was like a way of saying, 'What is singular about my existence right now, and what connects me to the rest of this planet?'" Oladokun continues. The songs on Proof of Life became vehicles to explore those threads, "and doing it in a way that 100 years from now, if someone found my album, they would have a pretty good understanding of who I was, what I had been through, and what I believed about life."
Oladokun says she conceptualized the bulk of the record's 13 songs in her attic studio at home, then enlisted Mike Elizondo and Ian Fitchuk to produce some of them. But Oladokun produced a good chunk herself, renting Electric Lady Studios and inviting her friends to contribute. Across the record, guest spots from Chris Stapleton, Manchester Orchestra's Andy Hull, and Mt. Joy add extra color and dimensions. Oladokun says it was an exercise in learning to contribute and how musicians can lift one another up.
"When I was a young Black queer kid in Arizona, I don't know that I could've imagined a world where I would be invited to perform on the White House lawn to celebrate same-sex marriage."
Right through to its close, Proof of Life ripples with big-picture tension and energy, but they're perhaps the most pronounced and direct on "We're All Gonna Die," which opens with howling violins before switching gears to a macabre, anthemic indie pop rock banger. "We're over our heads so I'll say it out loud / We're all gonna die trying to figure it out," Oladokun calls on the chorus. Her pal Kahan takes the mic on the second verse: "I'm pissin' in the dark and hopin' I hit the bowl / I'm afraid of what I can't control," he groans.
Making the record and performing the tracks live has pulled Oladokun into a more open dynamic conversation with her guitars. Sure, she can do the tender, Chapman-style singer-songwriter routine as well as any of them. But on tour recently, she and her band have been ripping "Smells Like Teen Spirit" right after the heavy racial reckoning of "I See America." By the time the solo in "Teen Spirit" comes, it feels like an explosion of emotion. "It's like this expression of all the sadness and frustration that those songs represent to me," says Oladokun. "I'm gonna get on the acoustic guitar and give you a clean version of 'Keeping The Light On,' but I'm also gonna take the solos at the end of 'We're All Gonna Die.' To me, [performing both styles] gets the message across in a different way than if I delegated [those parts] to someone else."
On
Proof of Life
, Oladokun isn't a pessimist, but she
is
a realist. The record tells us that we can and must find joy and peace and community, but the trouble is that we have to do so knowing that not a single one of us is here forever. It's hard work to keep your footing knowing that everything changes, and everything goes away. But if you can find something to help steady yourself, hold onto it. "One thing that I feel really proud of that hasn't changed," says Oladokun, "is that I love playing guitar more than any single thing in the entire world."
YouTube It
Joy Oladokun and her band groove through a perfectly restrained, airtight rendition of "Somebody Like Me" on The Late Show with Stephen Colbert.