Julian Lage: Surrender to the Twang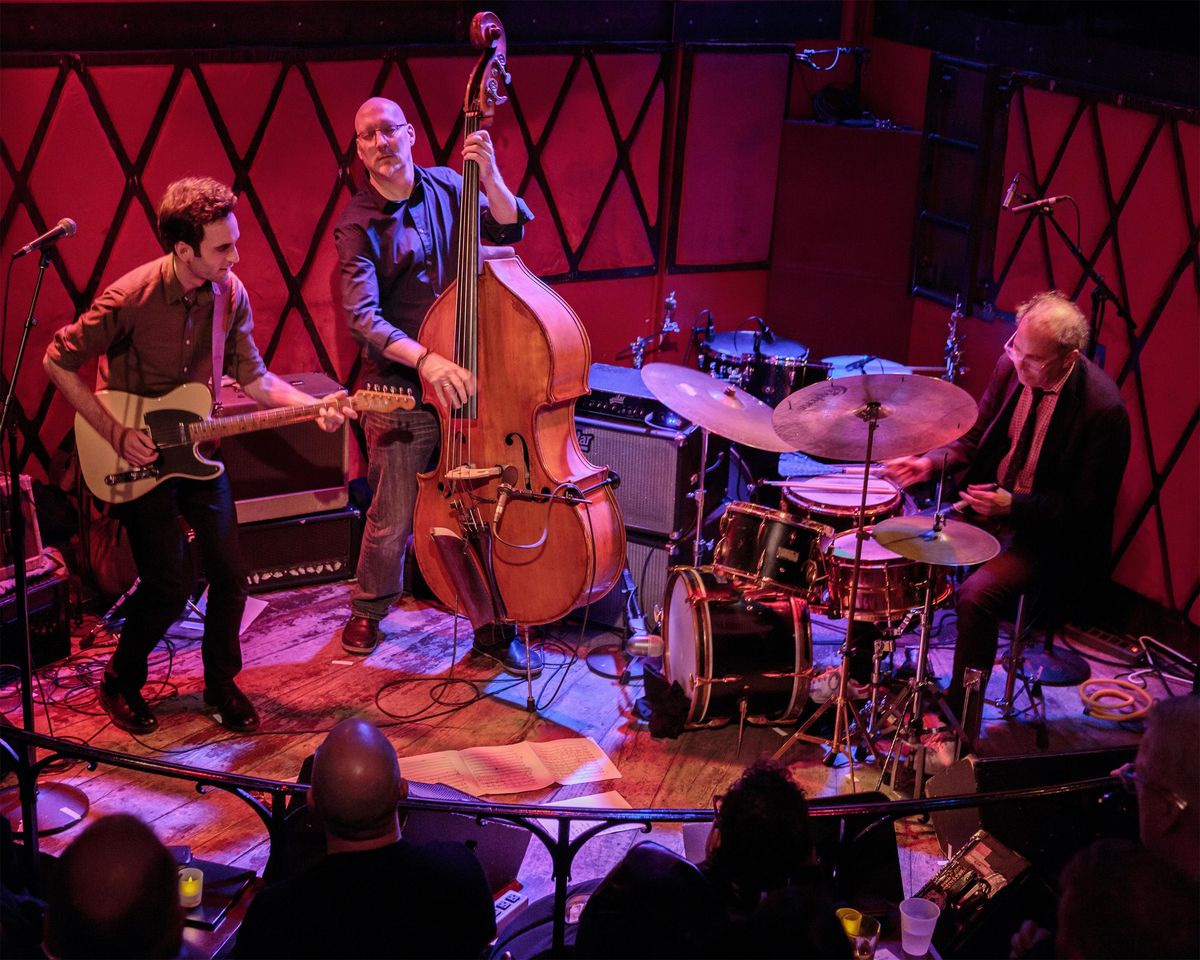 Photo by Scott Friedlander
After outgrowing the "child prodigy" label, the virtuoso guitarist returns to his first love, the Telecaster.
More than two decades ago, guitarist Julian Lage became enamored with the simple curves of the late, great Leo Fender's Telecaster. "When I was about 4 I asked my dad for a guitar," says Lage, now 28. Even as uniquely talented as Lage was at a young age, it was understandably difficult to take a preschooler's request too seriously. Lage's father, who was working as a waiter at the time, was given a full-size poster of Bruce Springsteen with his iconic Esquire. "My dad was a visual artist, so he traced the poster onto a piece of plywood and made two copies. One for me and one for my brother." Each night Lage would sleep with the faux-caster until an unfortunate spill from his bunk bed damaged it. "I still have it. Aesthetically, the Tele was always my kind of guitar."
After dabbling in duo projects with Wilco's Nels Cline and the Punch Brothers' Chris "Critter" Eldridge, Lage looked inward for 2015's World's Fair, his first solo guitar album. "That was probably the most comprehensive look at what I liked at the time," says Lage. Arclight, his latest release, has led Lage to re-embrace the ideals and concepts he first grew to love while holding that plywood Tele from his childhood. Joining Lage is bassist Scott Colley and drummer Kenny Wollesen, both well-established veterans of the jazz and improv scene in New York.
"The first time I saw Jim Hall, his band was Kenny and Scott," recalls Lage. "That was imprinted on my memory of what a band could be." Hall was one of Lage's biggest fans and his spirit is felt throughout Arclight, especially on the classic jazz standard "I'll Be Seeing You." Even though it could be easy to place Lage's vernacular squarely in the jazz realm, his age and influences combine to put a new spin on some old vocabulary. "I definitely felt like I let my guard down. To that extent, it's the most honest representation of how I behave as a guitar player."
That honesty shines through when Lage interprets such pre-bebop tunes as W.C. Handy's "Harlem Blues," which lopes along at a jaunty pace, thanks to Wollesen's perfectly placed pulse and Colley's bouncy lines. And it's apparent in Lage's own compositions: In "Ryland" (which also appears on World's Fair in a different form), he pays tribute to one of his heroes with beautifully woven counterpoint that evokes some of Ry Cooder's most melodic and dynamic work.
As Lage was preparing to take Arclight on the road, he took time to discuss his disciplined approach to composition, surrendering to the Tele, and Jim Hall's everlasting influence.
Admittedly, it's a bit weird to call Arclight your first electric guitar album.
Totally. It's funny when you play an archtop and people think it's not electric. This is my first trio record and it's the most traditional because for [2009's] Sounding Point and [2011's] Gladwell I didn't want any ride cymbal, snare, or bass drum. A lot of that came from wanting to do something different, but this time I just said fuck it—I want to try my hand at a very traditional model. So, it's like a debut album in that way. The jazz community probably thinks of this as my "twang" record, yet this is me trying to do jazz. It's great that you can appropriate improvisation to so many styles.
"I'm tired of feeling like I have to apologize for the fact that what's coming through the amp isn't what I meant."

When did you first get your hands on a Tele?
When I was about 6 or 7, my dad bought a Tele and put a humbucker in it. Since he was a very visually minded person he was relic-ing the guitar way before it became popular. I used to do these projects with my dad where he would take nail polish remover and put it on some of the frets where he wanted it to look worn, or he'd bang the guitar on the sidewalk. So the Tele was like a cool Jeep or Land Rover and was always in the conversation.
What prompted you to move back to the Tele at this stage of your career?
Musically speaking, I got to the point where I was playing a lot of archtop electric and always being disappointed. Five or six years ago I was thinking, "Man, I hear myself on records and that's not what my guitar sounds like." Mainly because I'd practice at home without an amp and always looked at the amp as a burden. It's taking a small part of the frequency spectrum and making it louder. You just aren't hearing everything.
Then about four years ago I bought a Nash T-style guitar. Every so often I'd play it on a gig but I felt like a klutz—like I didn't know what I was doing. Sometimes I'd feel like I'd be playing too hard or my intonation was bad because I was bending strings when I didn't mean to. I decided that within the next five years I'd find a way to commit to this. It all really shifted a few years ago when I bought a Danocaster. It was like the convergence of my childhood. It looked like my dad's guitar, it was worn out, and it felt great. I thought it was a very honest instrument. I'm tired of feeling like I have to apologize for the fact that what's coming through the amp isn't what I meant. I wanted to find a guitar and an amp, treat them as one integrated instrument, and learn how to play it.

In the documentary Jules at Eight, you can see Lage's first encounter with a "Tele." Here he's shown holding a plywood outline that his father created based on a life-size poster of Bruce Springsteen wielding his iconic Esquire. Courtesy of Mark Becker / Meteor Films
In a way you had to surrender.
Exactly. I'm done shoving my thing into the guitar. I had to give up. It coincided with this wave of, I don't know, excitement or humility, and I thought now's the time. So I started playing gigs on it and sometimes they went well and on others I felt it was so bright and tinny with no warmth. If I spend time playing a Telecaster and then go play an acoustic project or something with another instrument I feel like I've just been to the gym. It's like playing basketball with a shooter ring. Right now, my touring rig is a 1954 Fender blackguard Tele and a '58 tweed Champ—no reverb and only five watts. When it sounds good and everything clicks in, you don't feel like you're a pretender.
Do you feel that particular setup has changed or improved your technique?
It has helped my touch. It's luring me into this world of sensuality on the guitar, which is maybe different from some of the traditions I grew up with that were a bit more didactic, as far as playing lines. I'm exploring the more gestural things that come out of a Tele. And again, full circle, it comes back around to my first encounter with the guitar. In a weird way I'm thinking, "What took me so long?" It's so typical of me to look everywhere but right in front of me.
Did your compositional process change at all knowing this would be an electric trio album?
It did change, but one thing that stayed consistent was the use of timers. I'm obsessed with them. I'll preface it this way: The goal for writing wasn't so much to conceive of this one thing. I had to do some digging. What if I wrote for a trio? What would it sound like? I didn't know. Maybe I would write something that was really a solo guitar piece and just stick bass and drums on it, and then looking back I'd realize it should have been a solo guitar piece after all. I had to survey the land for a while. For about six months to a year I'd have these marathon writing sessions where I'd say, "Okay, I'm going to write 20 songs in two days." My girlfriend was out of town and I'd do 16 the first day and four the next, and most of them sucked. But I used a timer—sometimes it was set to 13 or 11 minutes. Rarely was it 10 or 15.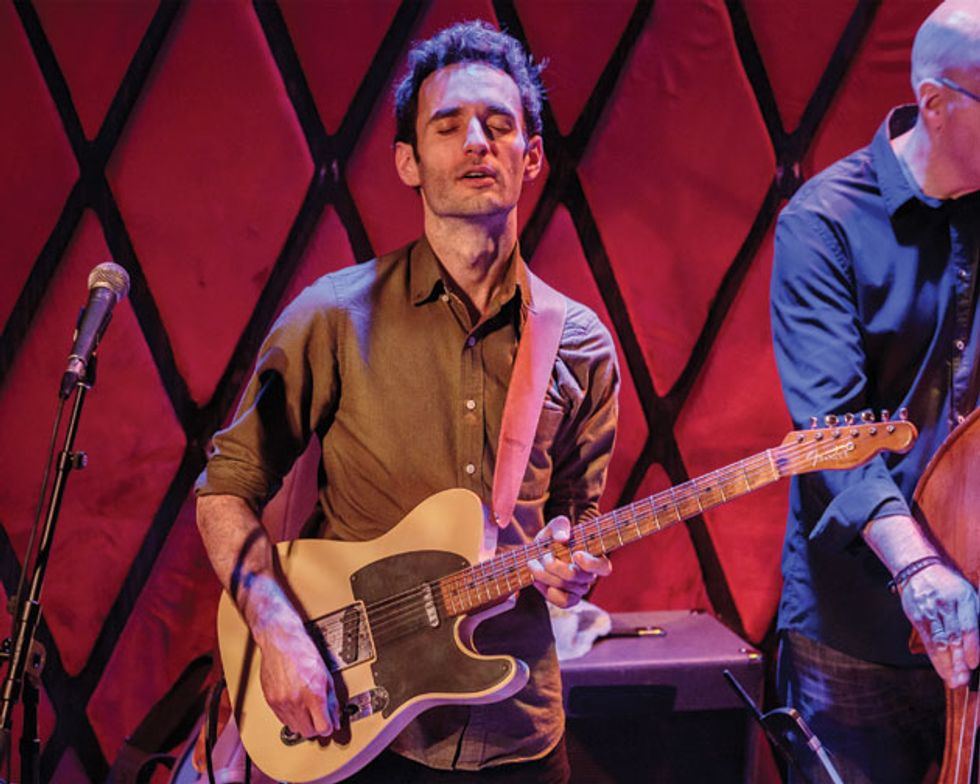 After being somewhat dissatisfied with playing archtop guitars, Lage immersed himself in all things Tele and picked up this '54 model. "It's luring me into this world of sensuality on the guitar, which is maybe different from some of the traditions I grew up with," he says. Photo by Scott Friedlander
Once the timer went off the song was done.
Yeah, it's done. Of course, the thinking is that you do it in stages. [Pianist] Fred Hersch used to say that writing a song is just the first step. I would write it understanding that if the bones are good, then I could edit it into a good piece. Out of 20 songs, maybe three stuck. That was fine for me. Two days of work for three songs. I think "Supera," "Prospero," and "Fortune Teller" came from that particular writing session. But I would do these every so often. Three tunes is the start of something. I really went for quantity over quality. Once you know what you're writing, then you can slow it down.
Did you have certain sonic or aesthetic models in mind while you were writing?
I would see a theme like the Keith Jarrett Quartet, but rocking and more melodic—power structures with these batches of improvisation. Then that became the directive. And maybe I'm not even skilled enough to do that, so who else has written songs with that vibe? And that's what led me to the older songs. I try not to have too much ego around songs I record—they don't all need to be my songs anymore.
Julian Lage's Gear

Guitars
• Danocaster Single Cut with Ron Ellis Broadcaster-style pickups
• 1954 Fender "blackguard" Telecaster
Amps
• 1953 Fender Super
• 1958 Fender Champ
Effects
• Strymon Flint
• Boss TU-3 Tuner
Strings and Picks
• D'Addario EJ21 Nickel Wound, Jazz Light (.012–.052)
• Blue Chip TP50 Pick
• Divine Noise Cables

Once the timer goes off, what's the next step to help you decide if the song is worth keeping?
I'd make a demo and see if it sounded like anything. Also, it's very much a process where I don't expect to have perspective at the moment I write it. I don't write it and then say, "Is this any good?" I'll write it and listen to it a few days later and go, "It's kinda average. Why is that? Oh, I made it sweet and it needs some edge." I'd listen to Coltrane's Ascension and then look at my piece and it would seem like a prison. "Who put all these traps in here?" And I'd take them away. It's like that until I have a deadline. If I was meeting with [producer] Jesse Harris to go over all the music for the album, then I'd head to that meeting with 36 songs and the hope that we'd find 11 that were usable.
For the covers, you went to the pre-bebop era. Why was that?
It was totally intentional and as simple as writing to Matt Munisteri, the guitarist. Simply put, I've always had a thing where I struggle to find jazz tunes that start on a minor chord. When you look at the Great American Songbook, it's rare. There are things like "Body and Soul," "Alone Together," and "Secret Love"—a handful. But they all have this intangible thing in common that I love. I found that those were the songs I was seeking out.
When I was looking at older music I discovered I like the way that music feels. It's like dance music, but dance music usually is happy. It's not as moody. So I told Matt that I was working on this record and asked him to send me some dark 78s. I asked him, "Did Sidney Bechet or Bix Beiderbecke do anything that I should hear?" He said he knew exactly what I was talking about and sent me back 20 songs in a Dropbox folder. Out of that came "Nocturne," "Harlem Blues," and "Persian Rug," although the latter doesn't start on a minor chord, but it's weird enough. It starts on a major chord but it's got this modulation where it goes from E to F# and then to A. It's active in a way that almost seems unnecessary, but that's what makes it charming.
After choosing the older tunes, how did you go about internalizing them so they were able to sit next to the more modern compositions?
You're gonna laugh, but I do something very simple. I used to study with this teacher, Sophia Rosoff, who's now 93. She lives on the Upper East Side and has been teaching since 1940. She's one of the classical piano gurus in New York. I came to her through Fred Hersch. He's been studying with her since he was a kid. Her teacher was this woman named Abby Whiteside. Abby wrote a famous book about practicing Frédéric Chopin's Études. She had this revolutionary thing at a time when a lot of pedagogy revolved around finger independence and strength. She said that's crazy—you should play piano with your whole body. You use your weight and through these techniques you learn how to play very effortlessly. It's not this machismo thing, but very radical, very influential.
"I try not to have too much ego around songs I record—they don't all need to be my songs anymore."

I went to Sophia for several lessons when I had a hand injury, and one of the things she and Abby taught was movement—tapping and singing. Basically, if I was struggling with hand tension while learning a piece like a Bach prelude, she'd have me stand up and tap my left foot on the downbeats and my right on the offbeats. And then you sing the rhythm of the melody while tapping on your body. You feel like a total awkward goofball at first, but as you do this, you start to get in contact with what Abby called "emotional rhythm." It's the underlying principle you feel in music that has nothing to do with the details.
In other words, if a car drove by us right now and was blasting "Thriller" with some low subs, you wouldn't need to hear the exact lyrics to know it's "Thriller." You wouldn't even need to know the exact drum part. You could just tell.
All music has that, so for "Persian Rug" or "Harlem Blues," I'd put the guitar down and tap the melodies and find tempos that were comfortable to walk to. I would do that for 20 minutes until it felt like I was just walking down the street. Then I would do it with one of my tunes, then maybe "Nocturne." I basically found the most caveman, blunt relationship with the music. The guitar would be the cherry on top. I could speed up, I could add flourishes. Whatever. But it wasn't a practicing thing. It's something I also did a bit on World's Fair, but for this record especially, I was in the role of bandleader, whatever that means. I thought of myself more as a conductor—someone who stands there and embodies the music without playing a note. I needed to be that song. I would do that every day leading up to the session, and then when I'd play the song, it would feel so good. It felt like folk music.
When and how did you decide to bring in Jesse Harris as a producer?
I was in L.A. having lunch with Jesse and Blake Mills, and I had this session coming up in a few months and I didn't really have a plan. It dawned on me that I didn't have anyone in the booth really, just the engineer. Jesse, just being a dear friend, said, "If you just want someone with a pad of paper, I'll come down."
I thought about it and initially said no because Jesse is a musician and I didn't want him to just put stars next to things—I didn't want him to feel like an assistant. But the more I thought about how much of a genius Jesse is in regards to production, song forms, and very specifically instrumental music. He knows more about instrumental music than most people I know. This guy knows his taste.
So I brought him the 36 songs and we went through them. He just looked at it all and put the pieces together. One of the overarching things was the sonic aesthetic. Jazz guitar records, by and large, don't sound as compelling to me as other formats. A lot of it has to do with concepts like how you mike a drum set and what you do with a guitar amp. We went into rehearsal the night before and everything I played was on the neck pickup. Jesse would ask to hear things on the bridge pickup or both pickups, and instantly the track had an identity. A lot of that came from listening to Hendrix as a guitar-trio model. Down to everything, Jesse was the producer.
I can really hear Jim Hall on your shoulder in "I'll Be Seeing You." Can you share some memories of being in a band with Jim?
It's crazy. I can't even imagine. It's very surreal. Jim, for me, was and is the all-encompassing dream musician. What I mean by that is, it wasn't just his playing, but his demeanor and sense of humor. It was like he was Picasso. He was such a modernist but so approachable. There was nothing too clever or no BS. And he was so generous, too.
He didn't even hear me play guitar for many years, and I'd known him since I was 11. He'd call me every few months and when I'd answer the phone, he'd say, "What's the first chord of 'All the Things You Are?'" And I'd say, "F minor." Then he'd say, "Ah, cool. Hey, it's Jim Hall." He had this thing where he was able to come into your life and awaken you for a second and make you slow down, make you listen. That's Jim's impact and the music is the most perfect stage for it. As we got to know each other more and more, I'd send him my records and he'd get so excited.
He was always looking ahead.
Exactly. Jim was someone who was so not into the past. If you'd ask him what it was like to play with Ella [Fitzgerald] or Sonny [Rollins], for him, though musically it was great, there was also a lot of trauma. To be on the road with African-American musicians who were discriminated against ... racism was so rampant.
What were your sessions like with him?
I'd go over to his house and he would ask me to detune his guitar and then hand it to him just to see what it would sound like. He wanted to turn everything on its ear. He used a Whammy pedal! It was the best. I remember these times where I'd be playing "Sophisticated Lady" with him and he'd be taking the greatest guitar solo you've ever heard. You've got to be a hoss to really play soulful on that. I'd have my eyes closed and then hear "click" as he'd turn on the Whammy and play part of the solo in fifths. It was hilarious because nothing was precious. Jim always reminded me how much I wanted to be a jazz musician.
YouTube It
Last summer, Lage road tested some of the Arclight material during an opening slot for Blake Mills in Brooklyn. Written in tribute to Ry Cooder, "Ryland" demonstrates Lage's impeccable touch and ability to keep several parts going at once. Dig the behind-the-fret trick at 4:03.