Imagine Dragons' Wayne Sermon: Life in the Fast Lane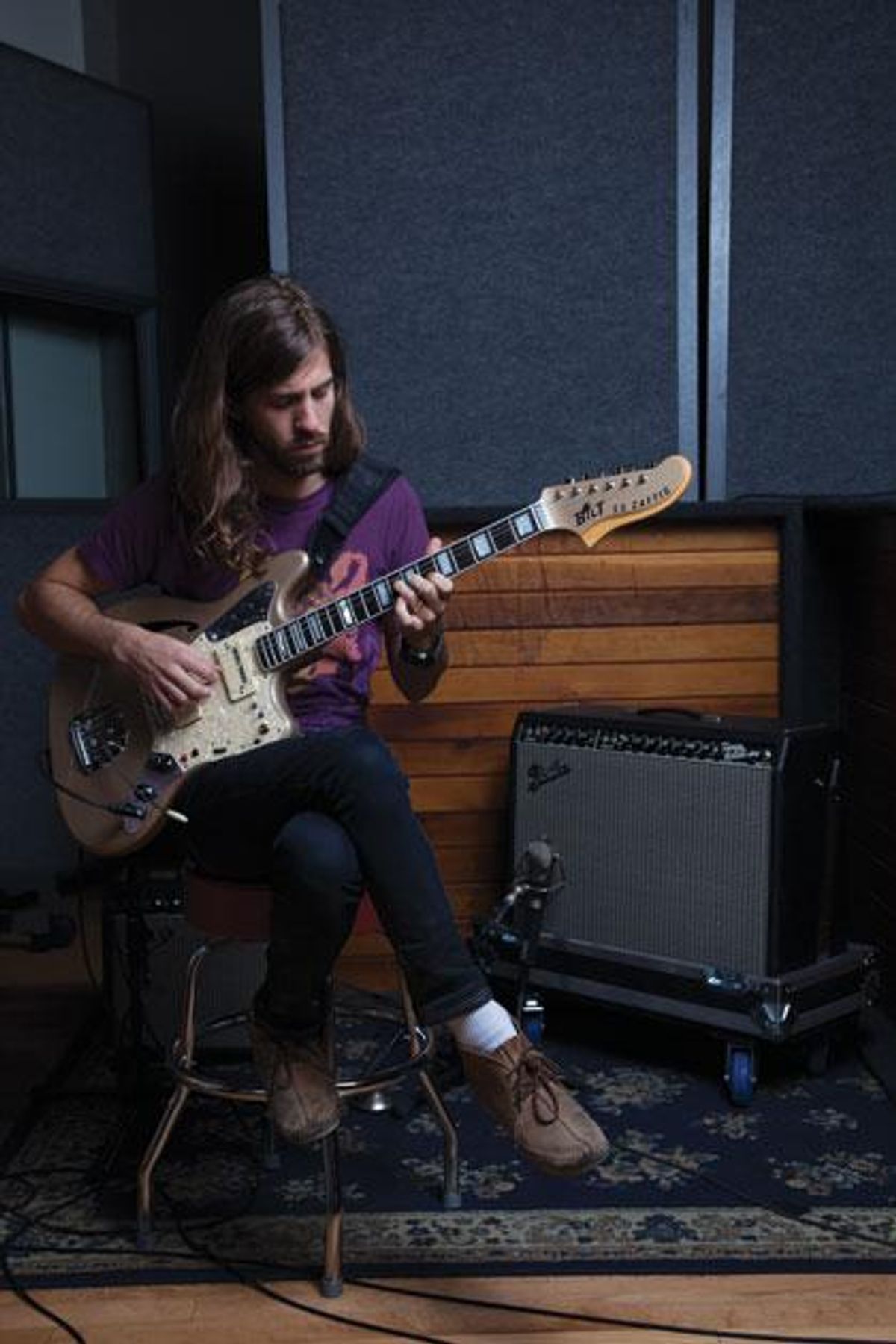 Photo by Nick Walker
A love of synth-like tones, simple melodies, and classic rock carries this former jazzbo to the big stages.
Growing up in Salt Lake City, Wayne Sermon was surrounded and entranced by music of a different time. While his millennial friends consumed the hits of the day, Sermon dug deep into his dad's record collection and became enamored with the classic rock hits of yesteryear. "He had a pretty awesome vinyl collection and a really nice tube amplifier, like audiophile quality," remembers Sermon. "When I was 6 or 7, I'd grab a tennis racket, put on a Boston record, and mimic one of Tom Scholz's amazing guitar solos. That was my introduction to guitar—to music, really."
---
Once Sermon got a taste of huge hooks and intensely melodic solos, he began exploring the music of über-shredders Joe Satriani and Steve Vai. "I'd buy all of the notation books and learn a lot of the shredders solos," he says. "I could do note-for-note Satriani solos from Surfing with the Alien when I was 19, but there's no chance I could do that now."
After graduating from Berklee College of Music, Sermon moved back to Utah and met up with singer Dan Reynolds. Soon after, Reynolds invited Sermon to move to Las Vegas to form a band that evolved into Imagine Dragons. Now seven years in, that quartet has become one of the few acts in recent memory to combine guitar-fueled dance-rock with a Top 40-level of success. In 2012, Imagine Dragons released Night Visions, a hook-filled call to action that spawned the insanely successful single "Radioactive" and led to a globe-crossing tour.
While on the road, the band began writing songs for their latest album, Smoke + Mirrors. "This album was done on tour buses, hotel rooms, and green rooms across the world," says Sermon. The resulting songs cover everything from trippy EDM-style grooves with huge anthemic choruses to the stomping percussiveness that is a cornerstone of their live shows. PG spoke with Sermon about his shred-guitar phase, his live rig, and how studying jazz has influenced his musical development.
I'm intrigued by how you sneak guitar parts into songs on the new album. In some ways, you use effects to mask the natural sound of the guitar.
I think there are a lot of sounds on the record that you probably wouldn't identify as guitar. As a whole, there are a lot more guitars on this record—which I'm pretty excited about—than our last record [Night Visions] because of the way it was written. I have a little Apogee Duet, and I'd use Guitar Rig or something to craft these really simple ideas and then send them to Dan [Reynolds]. Once he sang over them and added some other instrumentation, they became songs like "Shots," "It Comes Back to You," and "I'm So Sorry." There were a handful of songs that started with a very simple guitar part and that hasn't been something we've done in the past, so it's kind of exciting.
"I feel like I succeed in some ways on this record, because on a few of the tracks there are only one or two guitar parts."

So the idea of a melody really hit you more than some flashy riff.
For sure, yes. I figure, if you can't really sing along to it … don't get me wrong, I went through a phase where I learned Joe Satriani and Steve Vai stuff, but that was more of a phase. For me, it all comes down to a strong melody. I think that's not only true for the main melodies of what I'm singing, but also my guitar playing. I don't really play anything that you can't sing back. That has been my rule as a guitar player. I'm probably a worse guitar player, technically, than I have been in the past, but I feel like I'm getting a little tighter with time and rhythm. Hopefully, my choices are a little better and I'm a little more tasteful as I get older. I understand what I want to hear and what other people want to hear.
Was that phase important?
Yeah, for sure. It comes back to my time in college. I had a huge jazz phase as well, where everything was about jazz for four years when I went to Berklee. It's almost like you learn these things so you can then forget about them. There's something about acquiring the skills and then being able to let them go.
It must have opened your mind at a young age to the vast amount of musical possibilities.
Definitely. There are players who can play leaps and bounds over what I'll ever be able to play. There's a place for all different kinds of musicians. In Imagine Dragons, I found that sometimes what resonates most with people is simpler or more melodic.
I hear the influence of guitarists who were more about a sound than a riff. When did more textural players, like The Edge and Andy Summers, catch your ear?
It was ingrained in me as a kid. Before I listened to jazz or any shredder stuff, I listened to classic rock from the '60s, '70s, and '80s. For me, it all comes down to that. George Harrison, Eric Clapton, Jimi Hendrix—all the classics. The Edge is incredible. He has such a defined sound and I think that influenced a lot of guitar players. At the end of the day, it's about serving the songs. As I grow older, it's something I think about more and more.
For this album you apparently had a ton of demos. What happens once you present a demo to the band?
Some bands can go into the studio and write 10 songs that are all incredible, and that's just a lucky gift they have. But when you write 100 or 150 songs for an album cycle, there's not a lot of pressure on any single song, so you can write a lot more freely. The kind of output we have reduces those feelings of self-doubt when you write.
After such a huge debut album, did the band feel the pressure of trying to write a follow-up on the road?
We knew we didn't want to come to the studio with nothing. There are bands that come into the studio with no ideas, and they write together and that works for them. We knew that wouldn't work for us. We have to have a starting place—we don't like to go into the studio with a blank canvas. We like to have etchings and sketches of ideas to work on.
Once you begin tracking, does the process of crafting individual parts become more collaborative?
For Night Visions, there were moments of collaboration with all four of us in the room, but not nearly as many as on this album. On the first album, I cut a lot of my guitar parts alone and then brought in the band to pick them apart, talk about the sounds, and maybe improve on some parts. Somehow I felt a little more self-conscious or, for some reason, more unwilling to collaborate in a face-to-face way. I needed isolation or seclusion to write.
But on Smoke + Mirrors, most of what I wrote was with everyone in the room. We were bouncing ideas off of each other and that made the parts better. If I'd been alone in the studio, there are things that just wouldn't have happened. For me, it has been cool to have everyone else's input. You learn how to swallow your ego a little bit and listen to other ideas.

"I don't really play anything that you can't sing back. That has been my rule as a guitar player," describes Sermon.
Photo by Dee Christensen
Give us an example of how a specific part changed due to a suggestion from your bandmates.
There are little shredding moments here and there in the record, and I guarantee they wouldn't be there if I was recording by myself. The band actually pushed me to put these little things on the record. The end of "Shots" is definitely one of those moments—a direct result of everyone being there in the room with me.
Is that a sweep-picking riff you're doing there?
Yes, it's over the D, G, and B strings—a little texture thing. It's pretty simple, but it sounds harder than it is. After he listened to the record, my guitar tech texted me and was like, "Hey, is that a guitar or a synth?" That's a win for me. For instance, on "Gold" there are a lot of guitar parts that maybe don't sound right. We did a lot of manipulation and a lot of whammy work and stuff like reversing guitars. There are a lot more guitars on that song than anyone would possibly believe.
Do you lay down the basic tracks as a band?
There were only a couple of times we all four played together in the studio. For whatever reason, it works better to track one of us at a time, because then the rest of us can be in the control room and pick apart every single part that's going on—especially since we self-produced most of the record. When you produce a record yourself you've got to really have the ear of a producer. That's a really tricky thing for the band, and we didn't realize that until we were in it. I had to not only think as a guitar player, but also as a member of the band, and then as a producer. For us, it was really helpful to dissect everyone's part, and really listen to each element and see how it fits into the track. My layers and overdubs came together in the studio with the band listening and offering creative input.
Wayne Sermon's Gear
Guitars
Bilt Volaré
Bilt Relevator
Bilt Zaftig
Bilt Zaftig with Korg Kaoss pad
Gibson Dwight Yoakam Honky Tonk Deuce
Gibson J-35
Effects
Klon Centaur
Analog Man King of Tone
Paul Cochrane Timmy
Aion Compressor
ZVEX Fuzz Factory
Voodoo Lab Micro Vibe
Fulltone Soul-Bender
Eventide H7600
Eventide H9
Line 6 M9
DigiTech Whammy 5
Electro-Harmonix POG
Electro-Harmonix Superego
Malekko Vibrato
Death By Audio Robot
Amps
1964 Vox AC30
1966 Vox AC30
1967 Vox AC30
Matchless DC-30
Strings and Accessories
RJM Mastermind GT MIDI Foot Controller
Voodoo Lab Pedal Power 2 Plus
Mission Engineering Expression Pedals
Elixir Nanoweb electric strings (.011-.052)
Elixir Nanoweb acoustic strings
Dunlop 1.0 mm nylon picks
Wegen Bluegrass 1.4 mm picks (for acoustic)
What are the challenges of reproducing songs like "Gold" live?
We have to hire a few guys on the road to kind of fill out all of these parts, which is tricky, because you've got to pick out the most important parts and go with those. I feel like you have to really edit yourself a little bit, because of the way the modern recording process can be. Our Pro Tools rig can handle 256 tracks and it's really, really easy to want to fill each one of those. I view it almost as a weakness I'm trying to overcome. I feel like I succeed in some ways on this record, because on a few of the tracks there are only one or two guitar parts.
Which songs?
Let's see ... "It Comes Back to You" is basically just that main riff, plus one or two lines. "Hopeless Opus" is really simple on guitar. What else? "I'm So Sorry" is pretty simple, there's not a ton going on there. There are moments of self-restraint, which I am proud of, that I didn't have as much on the first record. For this new album I was always thinking, "How do I get this one part to speak as well as five or six parts?"
Again, it probably goes back to what I listened to growing up. Because they didn't have the capability to record and layer eight different guitar parts, they had to make that one part really good. I feel like "Shots" is that way. It's just that main guitar line, really. And I don't play at all during the verse. "Smoke and Mirrors" is another one where by the end, there's a lot of different layers. In some ways that's just who I am, so I don't want to completely fight that off. I just enjoy layered guitar parts that sound more synth-like.
Fight off what?
Just the simplifying and playing only one guitar line. It's a balance for me. Part of who I am is to layer these guitar parts. Also, part of it is fighting the urge not to simplify. It's the two sides of my brain that are always battling against each other.
Does exploring sound inspire you to play in a certain way?
For sure, yes. The whole intro to "I'm So Sorry" is filtered—I'm really trying to do that live. For that section, the Korg Kaoss Pad in one of my guitars has a filter I can manipulate. Stuff like that played a really big part in this record. I also use a lot of Sustainer. On "I'm So Sorry" I played a lot of demented stuff that sounds pretty rough. I used a Death By Audio Robot on that. You can manipulate the sound a bunch of different ways. It's pretty unearthly. I had the guys at Bilt Guitars build one into my instrument.
How's your rig shaping up for the tour?
The guitar nerd in me is rejoicing every time I see it. It's really a culmination of all the gear I dreamed of since I was a little kid, especially the vintage AC30s. I've wanted vintage Vox AC30s since I was 12 years old. My tech, Shane Johnson, has been really helpful. I don't think the rig I have would be possible without him spearheading it. I'm pretty excited about it.
What was the first piece of gear you bought with that first big Imagine Dragons check?
A Mark Sampson-era Matchless DC-30, which was a huge purchase for me at the time. I had never spent that much on gear—or that much money on anything—so that was a splurge for me. It's actually on the record quite a bit, along with three Vox AC30s—a '64, '66, and '67. The AC30s are probably on 90 percent of the album and the Matchless is the rest. The guitar solo at the end of "Smoke and Mirrors" is the Matchless. The '64 AC30 was used the most.
What's the main difference you hear between the three AC30s?
They're pretty similar. The '64 is probably my favorite—its top boost circuit is actually built in, not an add-on. The other ones sound great, but the differences are pretty subtle. The other two didn't have top boost circuits, so I had Shane install them.
Are they going out on the road?
Yes, that's basically how I recorded the album. I had a wet/dry/wet setup with the three amps. The left and right amps went to an Eventide H7600, which is where most of my delays and reverbs came from. It's awesome to be able to recreate the same setup on the road. I didn't think it was possible to do what I really wanted to do—it's a little more complicated than people might think. Plus, the RJM Mastermind GT makes switching effects a breeze. Shane knows a lot more about it. I just push buttons.

"I could do note-for-note Satriani solos from Surfing with the Alien when I was 19, but there's no chance I could do that now," remembers Sermon about his shred-filled youth. Photo by Ryan Tuttle
Apparently you're quite a fan of Bilt Guitars.
Yeah, Brandon Darner introduced me to them. He's an awesome guitarist for an Iowa band called The Envy Corps. He had a couple and they look like a [Fender] Starcaster, but a little bit different. The first one I got was the Volaré. It's kind of based on the Starcaster, but has its own thing. The guys at Bilt are great to work with because instead of finding ways to say no to things, they find ways to say yes. They put a ZVEX Fuzz Factory inside the guitar. I've got some things I'm thinking about doing for other guitars. I seem to be getting a guitar from them every four or five months.
What's the latest project you have them working on?
I want them to make me a baritone guitar for a song called "Fiction" on the new record. It's a pretty heavy song and I don't like 7-string guitars—I never have. Hopefully I'll get that before I go out on the road.
"We don't like to go into the studio with a blank canvas. We like to have etchings and sketches of ideas to work on."

You also had them put a MXR Carbon Copy delay in one of your guitars, right?
Yeah, my first Bilt guitar had a fuzz, Carbon Copy, Sustainiac pickup, a pre-delay and a post-delay. I used that guitar for most of the first record. My favorite model is probably the Volaré. For a while, I've had this obsession with gold things. I wanted a gold guitar, so they sent me a guitar that was painted gold. I was like, "Yeah, I want it more gold. I want it dipped in gold, like C3PO." They were scratching their heads for a month and finally found a guy who could do it. Not only does it look awesome and fulfill my love of gold, it sounds great. It doesn't sound metallic at all, it just looks like metal. Apparently it was the same guy who dips Beyoncé's mics in gold.
The band's music has a real percussive vibe to it. Was that there from the beginning?
Yes, it started from the beginning and has gotten bigger. Back six or seven years ago, Dan just had a tom at the front of the stage. This was back when not every band had one, like they seem to now. It started because he was a drummer before he was a singer. It was almost like a comfort thing for him. We saw Cirque du Soleil in Vegas, and they had these huge Japanese taiko drums. We were so inspired by the sound—it was just bigger than life. There's only one company in America that makes them, so we commissioned them to make some for us and it has become a pretty big part of the show.
You went right from recording Night Visions and touring behind it into recording this album. Are you worried that you might get burned out?

Once you get into this cycle of doing show after show, you have to remind yourself that things weren't always what they are now and that people want to hear you play. It's a miracle when that happens and a constant self-reminder of where you have been, where you are now, and where you are going.
YouTube It
With Sermon playing his custom Bilt Volaré, the band debuts a new song full of Edge-style tones in front of a raucous hometown crowd.