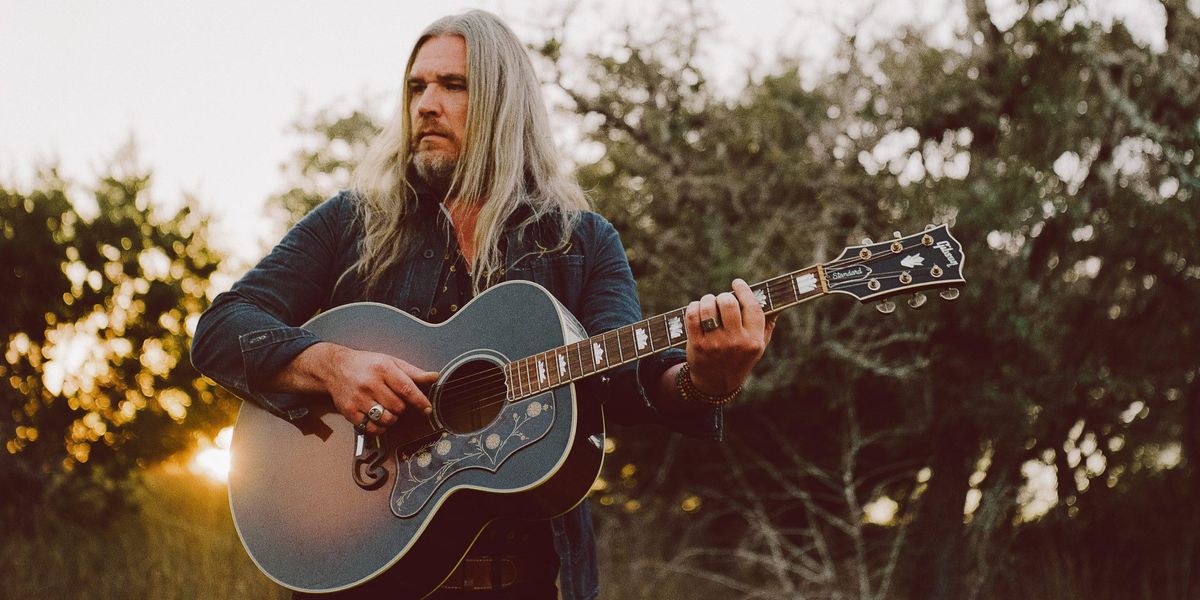 Photo by Chad Wadsworth
During a season of adversity, the psychedelic troubadour made his new album, Topaz, entirely on his own, playing all the instruments and teaching himself the ins and outs of recording in his Texas studio.
---
Foremost, perhaps, is the inability to come together and create with other musicians, and to commune with audiences, due to the pandemic. "It's been hard to be disconnected from what's a part of my identity," Nash says. "Performance is something I deeply appreciate. It's human, and it connects people that would never be connected. I mean, when you're in a room of people at a rock show, those are people that will never be assembled in that room again."
That frustration is shared by millions around the world, of course. But just when Nash began seeing glimmers of hope for live music's return, he was hit with another setback. A very un-Texas arctic winter devastated his region, forcing him and his family—whom he'd relocated from New York City to rural Dripping Springs a decade ago—to overcome obstacles yet again.
Israel Nash - "Southern Coasts" (Official Video)
"A week ago, I had to learn how to fix our water pump that froze and exploded," he says. "Living out here, you just start buying tools, start getting things, and start doing some things yourself because you can't get anyone out there when you need it."
That self-reliance—Nash's ability to adapt and grow—informs every note on
Topaz
, the first fully self-written, recorded, and produced album of his career. Nash's career started in New York City, when his original mix of psychedelic roots music springboarded from hip clubs like the Living Room and Rockwood Music Hall to catch ears around the world.


But even as his international success grew, the Missouri native was yearning for the slower lifestyle of his youth as well as a place to let his muse run wild.
"The guitar just doesn't feel right until it's up to about 4 on my Fender Bassman. No pedals. Just a hollow-body Gretsch."
"I was just drawn to the country and to live in a place that [my family] could build our own world," Nash says. "I needed to create a space that allows for anything to happen and allows those good things to happen."
The move to Dripping Springs, known as the "Gateway to Hill Country," really paid off. Settling on a 15-acre ranch about 30 minutes west of Austin, Nash found his forever home. He also slowly crafted an HQ for all of his creative endeavors, including hosting an annual music festival called From the Hills with Love. But most importantly, the ranch is where he built his studio, Plum Creek Sound.
Nash sees it as balancing the yin and yang of a musician's life. "You read about how many of our musical heroes had a little country space or home in the country. But music, except for this year, is also such a social thing. I love that. It keeps me alive! I really need that duality."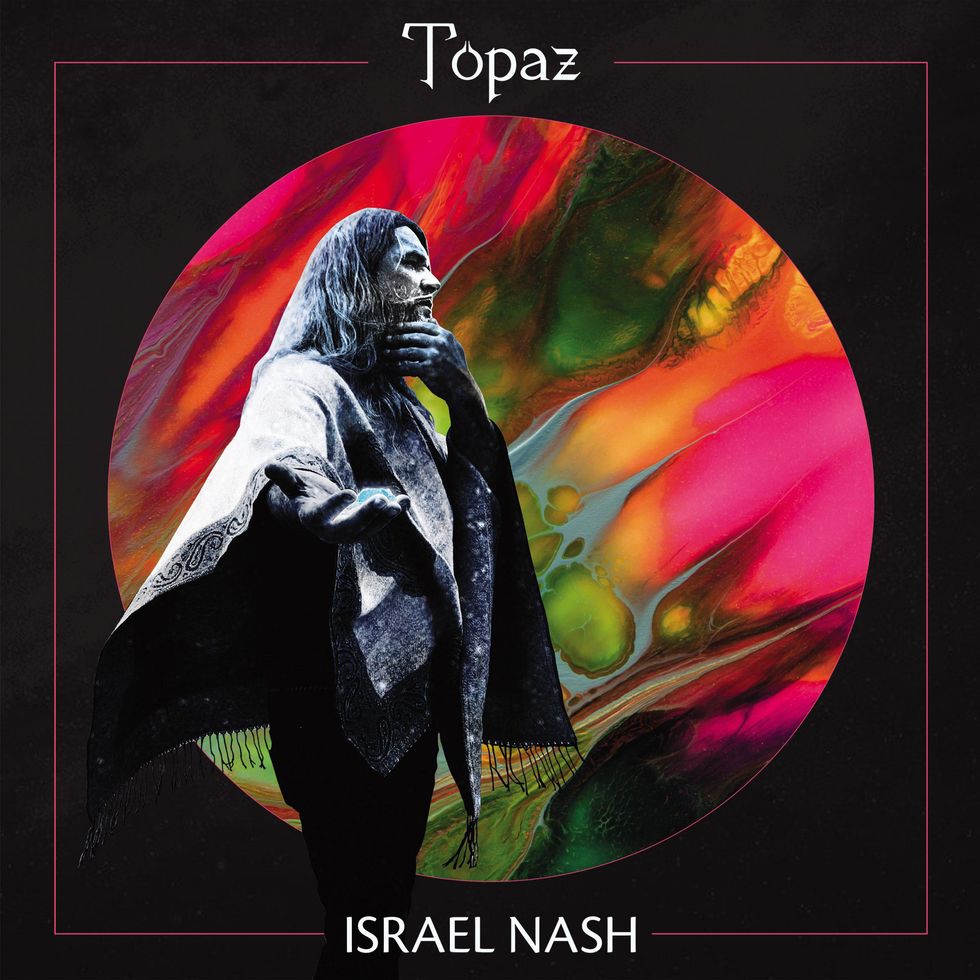 TIDBIT: Topaz is Israel Nash's sixth studio release, but it's his first entirely self-made album. It was recorded at Nash's own studio, Plum Creek Sound, located on his 15-acre homestead in the gateway to Hill Country, Dripping Springs, Texas. The album was co-produced by fellow Texan Adrian Quesada of the Grammy-nominated Black Pumas.
All of that, along with some urging by his wife, coalesced into Topaz. "Sometimes it takes someone outside of the business to see some of the absurdities of things," Nash says. "My wife saw just how much effort was put into other albums. So she basically encouraged me, saying, 'Hey, you have the studio. Do something different!'"
With that, work on Topaz began. Though it's Nash's first true solo album, it's actually the third album recorded in Plum Creek Sound. His original intent for the studio was to make albums the way he always had. He'd bring in his engineer, have his band join him for a couple of weeks, and hammer it out. But, without realizing it, he began to learn and absorb the recording process. The studio was becoming another instrument to play.
"I'd never thought that stuff that I would record by myself, without the blessing of an engineer, could be a professional, industry-standard album," says Nash. "But I found that the studio and the control room are just like a big guitar pedal. You got things going in and things going out. And you learn how to use it over time."
This realization opened the songwriting floodgates for Nash. Other than help from co-producer Adrian Quesada and some guest musicians, he could now create an unfiltered expression of the music swirling around his head. Nash didn't have to worry about album cycles, other musicians' schedules, or the business. If he heard something in his head, he was free to figure out how to get it to tape.
Israel Nash's Gear
Guitars

Gretsch White Falcon
Fender Custom Shop Stratocaster with White Falcon-style appointments and Clapton circuitry
Les Paul Studio
Gibson J-200
Epiphone J-200 for Nashville tuning
Amps

Fender Deluxe custom clone, made by bandmate Eric Swanson
Fender '59 Bassman reissue
Effects

Big Ear n.y.c. Frank Boost
Roland RE-20 Space Echo

Electro-Harmonix MEL9
Vintage A/DA Flanger
Maestro Rhythm King drum machine
Jim Dunlop Volume Pedal
Big Ear Pedals Elle reverb
Strings, Picks, and Slides
Ernie Ball Cobalt (.011 and .012 sets, for electric)
Ernie Ball Everlast custom sets (.013, .017, .026, .035, .045, .056)
Jim Dunlop .50 mm
Jim Dunlop heavy brass slide or glass bottle
"On 'Closer,' I played everything except for the pedal steel," Nash says of Topaz's second song. "I played every instrument at some point on the whole record: piano, lead guitar solos, almost all the harmonies. Except for the ooh ooh, and shalala harmonies, it was just by myself, over time.
"It felt beautifully simple," he says. "I was growing with the space, the environment, and the resources I had. It gave me empowerment, just like the plumbing. That was an unknown. I didn't ever expect that I would do emergency plumbing out of necessity [laughs]."
Nash didn't waste his new-found empowerment. From Sam Cooke-style soul to the fuzzed-out melody driving "Down in the Country," Topaz feels remarkably personal and complete, even while paying tribute to his favorite bands from the 1970s. And it does so while maintaining his trademark troubadour-from-outer-space sound.
"Music is about creating an experience," says Nash. "Albums are like movies for the ears. And songs are like chapters in a book. You shouldn't get everything in one song. You get it in the collection of them. The collection is the experience."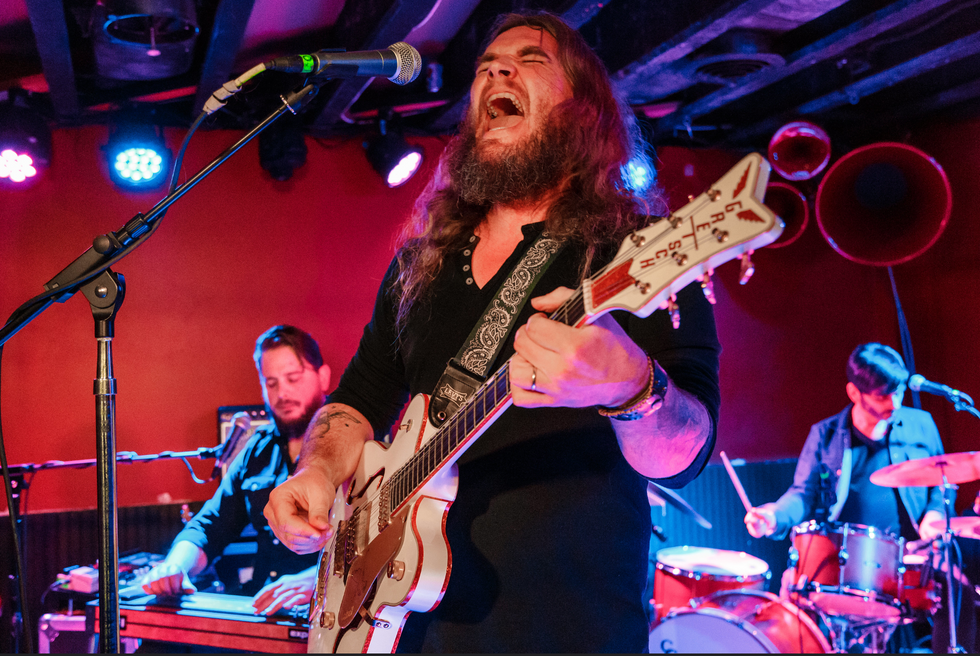 Israel Nash thrives on connecting with live audiences. "Music, except for this year, is also such a social thing," he says. "I love that. It keeps me alive!"
Photo by Matt Condon
Nash's opinion is no doubt influenced by the bands from his favorite decade in music. Influences like Pink Floyd—which he lovingly refers to as "The Floyd"—pervade the album. "The Floyd is the epitome of headphone records. You put on an album and get locked in," Nash says. "And maybe, on 'Dividing Lines,' someone will hear more of the soul or funk element. But by the end, it's full-on Floyd! There's a massive cacophony of stuff and guitar solos. The Stones did that, too."
Pink Floyd and Rolling Stones DNA doesn't stop there. Nash also makes heavy use of pedal steel and slide guitar throughout Topaz. The way he sees it, it's a key to finding his transcendental sound.
"There's just something so emotional about that instrument," says Nash. "It's like church in a box. I mean, you could just listen to Eric [Swanson, Nash's bandmate] play pedal steel by itself and feel you saw the face of God."
With such a high view of the instrument, it's no surprise that it's often front and center in Nash's music. But keeping with Topaz's DIY ethic, much of the slide you hear on the record is actually Nash running his trusty Gretsch White Falcon through a wash of delay.
"Guitar is pretty much always where a song starts," Nash says. "It's just such a beautiful instrument to find a melody and to find a rhythm. It's a powerful place to start. That's where you write a song. The kick-drum pattern usually comes from a strumming pattern."
"When you're in a room of people at a rock show, those are people that will never be assembled in that room again."
From there, Nash begins to build. The first step is marrying his acoustic strumming with a cranked electric. Each tone is carefully crafted for the song at hand, but emanates from a surprisingly small collection of guitars and, usually, one very loud amp.
"Sometimes I like to pick up an electric guitar and just have it fucking cranked," he says. "The guitar just doesn't feel right until it's up to about 4 on my Fender Bassman. No pedals. Just a hollowbody Gretsch. That Gretsch White Falcon is as important to me as my acoustic."
Nash's White Falcon is ever-present. It's also the main guitar you'll see slung around his shoulders onstage. He loves it so much that when the Fender Custom Shop built Nash a one-off Stratocaster, it was decked out in a white body, gold inlays, and gold hardware. Add in a Les Paul Studio for most of his leads, and that's all he needed to craft Topaz's electric soundscapes.
Nash's other main guitar is his time-tested Gibson J-200 acoustic which lays the rhythmic foundation for nearly every song on Topaz. But unlike the White Falcon, the J-200 is generally only used in the studio.
"It's been all over the world," says Nash. "But live, it's only electric. I might have an acoustic and do a song or two. But I just can't get into it on a stage without the electric. I want to feel it in my feet."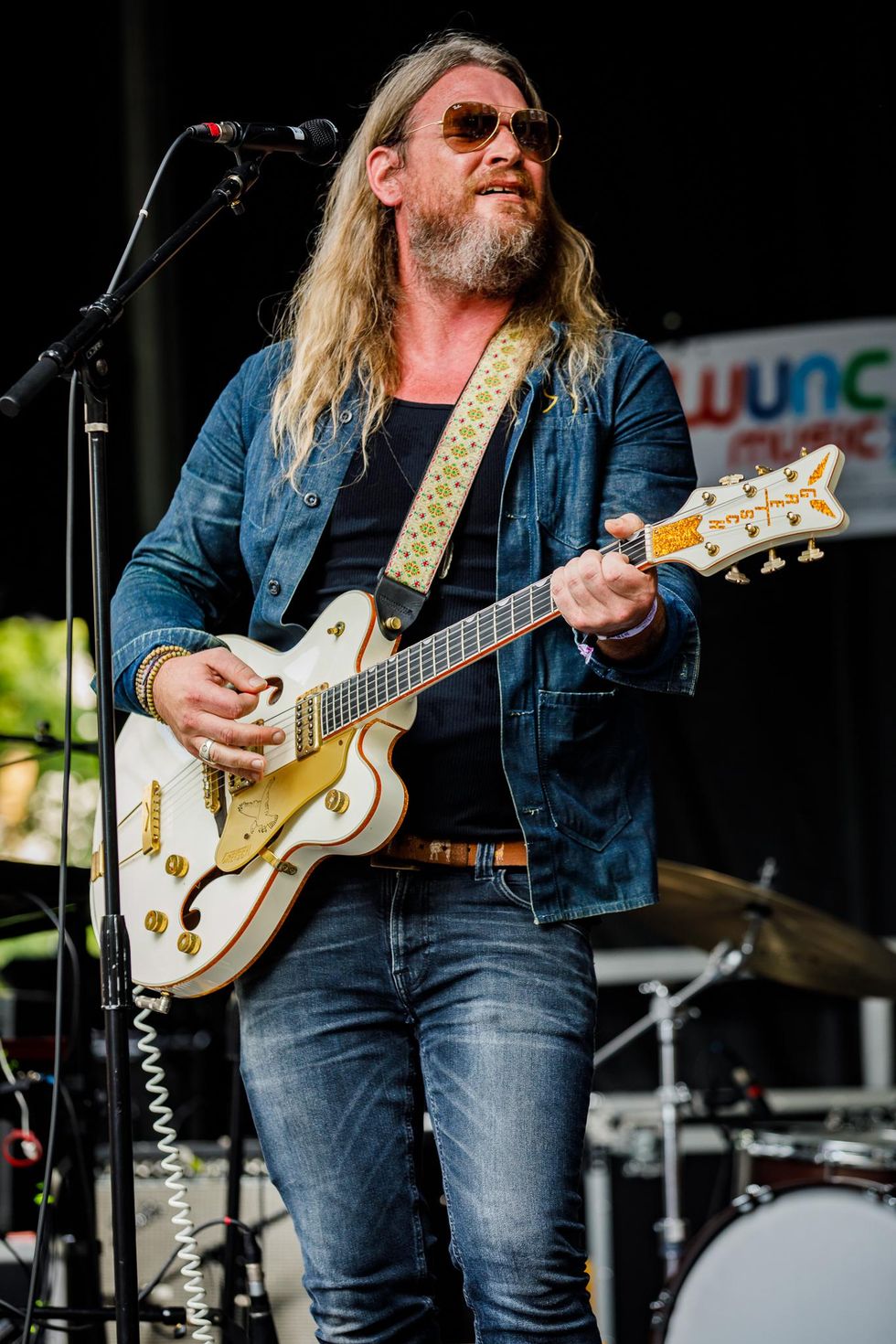 "Guitar is pretty much always where a song starts," says Israel Nash. His Gretsch White Falcon is his live companion, as seen here in his performance at the 2018 Hopscotch Music Festival.
Photo by Matt Condon
Though it features Nash's tried-and-true stable of guitars, Topaz broke with previous albums in the amp department. A custom, handwired Fender Deluxe clone (built by Eric Swanson) converted Nash into a bona fide small-amp guy.
"I love big amps! That's what I want onstage," Nash exclaimed. "For years, I wanted only that. But when you start getting into smaller amps, you find the control and the tone that you can get out of them are a pretty big deal."
It was a big enough deal that Swanson's Deluxe clone was the only amp used on Topaz. And whether plugging straight into his Neve console for a Beatles-esque fuzz or pushing his low-gain Big Ear Frank Boost pedal to sound like a trombone, everything else was up to experimentation.
"Lately, I like running two delays together for a nice ambient thing," Nash says. "My favorite has got to be the [Roland] Space Echo. I love the analog stuff. I like to use that also on vocals, on tons of stuff. Just patch it through anything."
Nash's sonic adventures also translate to live performance. Watch his solo YouTube delivery of "Canyonheart" and you'll hear beautiful, ethereal textures not normally associated with acoustic solo acts.
YouTube It
"I'm getting tired of just being a guy with an acoustic guitar," Nash explains. "So I split the guitar's signal with an ABY pedal and ran into the Electro-Harmonix MEL9 pedal. I also had a DI and a mic on the acoustic. I used a volume pedal before the MEL9, so I could make little swells and control it."
This sort of sonic experimentation makes it clear that Nash puts the song and the experience first, and finds passion in the process of creation.
"I always looked at myself as a songwriter first. It was one of those things in my whole life that just felt like it was the only option," he says. "Happiness, being creative, using my talents, making a living—all those things come down to making songs and albums."
Though the past year has been a struggle for everyone, Topaz is what can happen when an artist turns adversity and setbacks into art. But getting the album out into the world is only the first step for Nash. Now, it's about continuing to create and watching his music bring people together.
"I'm just starting to see a world that'll maybe look a little more familiar than it has been," he shares. "And the passions that inspired me and keep growing as I get older are to have fans that want to hear this and put it in their lives. I've had a fan that started playing guitar because he was inspired. Now, he and his dad play guitar every Thursday on the porch. It's beautiful. It's from those songs. They start so private and become collective, and I like that a lot. I like being a part of something."