Jeff Parker is "Just Tying to Make Weird Shit"
Photo by Jim Newberry
Tortoise's post-rock experimentalist on how a recent meditative mood led to less improvisation and more hypnotics on the jazz and hip-hop-infused Suite for Max Brown.
Over the course of an evening last October, I got to witness the wide range of Jeff Parker's musical world. Early in the night, I stood in an empty parking lot in Center City Philadelphia with a few hundred other folks, looking down upon a freshly landscaped abandoned parcel that was temporarily converted into a bandstand as part of a month-long public art project. Joshua Abrams' eight-piece Natural Information Society, featuring Parker on guitar, performed a slow, meditative set of repetitive, looping figures in search of a transcendent goal. Parker's soft tone blended with the timbres of Abrams' guembri (a 3-stringed bass lute) and Jason Adasiewicz's vibraphone, helping to create a warm body of harmony.
After finishing his section of the hours-long piece, Parker quickly packed up and made his way about a mile-and-a-half down Spring Garden Street to the Ruba Club, where he took the stage with drummer Makaya McCraven's quartet to a sold-out house as part of the October Revolution festival. In a set of climactic improvisations and hard-hitting beats, McCraven's groove-based, hip-hop-inspired jazz stood in distinct aesthetic contrast to Abrams' slowly unfolding minimalism. It was one of the most ripping sets I've heard Parker play. He took lots of burning solos, evoking his bluesy, soul-jazz side within a modern context and leading the band through a series of musical peaks.
Switching between such seemingly divergent sounds is nothing new for the 52-year-old who has worked with a wide array of artists over the course of his career. He's probably best known for his membership in post-rock pioneers Tortoise, and as a sideman with Joey DeFrancesco, Meshell Ndegeocello, and Joshua Redman. Parker's also a member of the Association for the Advancement of Creative Musicians (AACM). But hearing the distinctly contrasting sounds of these two sets revealed something remarkable: Parker has established a personal voice so clear and so strong that he manages to make himself heard and recognized in any group—while always contributing to the vibe.
Hear "Fusion Swirl" from Jeff Parker's newest full-length, Suite for Max Brown.
---
Though he's been honing his sound for several decades, it now seems Parker has reached a new plateau in his career, starting with the creation of his 2016 release, The New Breed. On that album, Parker pulls together all of the interests and inspirations he'd alluded to in his past work, using hip-hop production and heavy sampling to create tracks with funky, sometimes herky-jerky rhythms that combine with live instruments performing composed figures and improvisations. These tracks find Parker drifting toward subtle minimalism, as well as asserting soulful solos to create colorful and engaging music where his guitar is at the center of a much larger sonic world.
In January, Parker released his follow-up, Suite for Max Brown. Created using the same type of studio process as The New Breed, it shows a natural progression that, along with his 2018 single "Blackman," gives a big picture of the New Breed project. What Parker is creating isn't guitar music; it's studio-based composition that draws on all aspects of his voice. Across groove-centric tracks like "Fusion Swirl," the loose and sprawling "3 for L," the ethereal "Metamorphoses," and his warm and meditative take on John Coltrane's "After the Rain," Suite for Max Brown is the logical next step forward from The New Breed—an expression of an innovative sound that belongs wholly to Parker.
PG caught up with Parker at his Los Angeles home where he was briefly resting between legs of his tour with the New Breed band.
How is the New Breed project different from your previous work?
The New Breed is my way of merging my interest in hip-hop production with improvising. It became a specific way I put together music. For the new record, I'm employing the same kind of techniques and using a lot of the same musicians, but my interests have changed and broadened a little bit in the last couple years and it's more reflective of where I am now, but using the same process as the first New Breed album.
"I always tell cats, "Be open to the unknown—you'll surprise yourself."
How would you say your interests have changed between albums?
I'm more into longer loops and make more of the music by myself now, and I'm in a bit more of a meditative state. On the new album, there's not as much of me trying to blend improvising with the music. It's more of me just trying to make weird shit. With the first New Breed album, that's what I was trying to do: mix my interest in hip-hop production with an improvising jazz group. On this, there's some of that, but not as much.
How did forming the New Breed band inform the music you made on Suite for Max Brown?
This is a follow-up to The New Breed, so it made sense for me to use the same people. The way I choose who to play with is, the people who I think understand where I'm coming from and view themselves as musicians in the modern age in a similar way to myself.

Not everyone, though. [Drummer] Jay Bellerose is a pretty old-school dude. He's the person you know who has only had a cell phone for two years, barely has a computer, isn't on social media, and only plays drums from the '30s. But everyone else is interested in a lot of different things related to merging these worlds of digital and analog music, and is interested in production, and has a pretty broad perspective of the musical landscape in general.
This fall I saw you play two sets in two venues on the same night in Philadelphia. You keep busy with other people's projects and there seems to be a lot of overlap between musicians in those groups and in your group.
I play side gigs with all kinds of people. Ever since I started making my own music, I've always followed this idea of what it means to be a musician as the circumstances change. A lot of it is based in being practical, like making a living, and to be flexible and be open, and also what you can learn from these situations. The more situations you put yourself in, the more experience you have to draw from. If you look at it the right way, it just makes you a better musician.
TIDBIT: Parker explains his album-making process: "I'm a composer first. I have a framework and I assemble the musicians and we record it and improvise off the compositions, and then I try to blend everything together after that."
Nowadays, musicians have to do everything. You have to produce and engineer your own recordings, and you have to learn how to sample and set up digital music libraries. This is stuff I've been interested in my whole career, probably for 30 years at this point. Ever since I heard A Tribe Called Quest in the golden era of hip-hop, my relationship to jazz music really changed. It didn't just feel like my parents' music; it felt like something I could relate to as a 20-year-old kid. I started to figure out how they were making that music—sampling it from old records—and it changed the way you'd play, your phrasing, playing with MCs, playing loops over and over again live.
I tend to connect with musicians who are interested in exploring things the same as myself. Makaya sought me out as a mentor when he moved to Chicago because he saw I was DJ-ing, playing with Tortoise, doing all this free-improv stuff, making beats, making my own in-the-cracks records. When he moved to Chicago, I was one of the first musicians he wanted to find and, since then, we've become peers. We exchange ideas and I love what he brings to my music, just like he likes what I bring to his.
It sounds like you're both coming at things from a different angle but achieving similar results.
We make our music in opposite ways. He records improvisations and then samples it and cuts it up and makes compositions out of it. With me, I'm a composer first. I have a framework and I assemble the musicians and we record it and improvise off the compositions, and then I try to blend everything together after that.
How did you come up with the process for creating the music on The New Breed? I imagine you created samples and wrote melodies and guitar lines to build off of those?
Yeah, that's one way. I also would sample a whole song and re-create it from that. I'd take a song, chop it into pieces and it becomes something else. That's how the song "Gnarciss" is.
Basically, I use the recording process as a way to make compositions. I don't so much write music with pen and paper anymore. I kind of removed that part of writing music.
---
---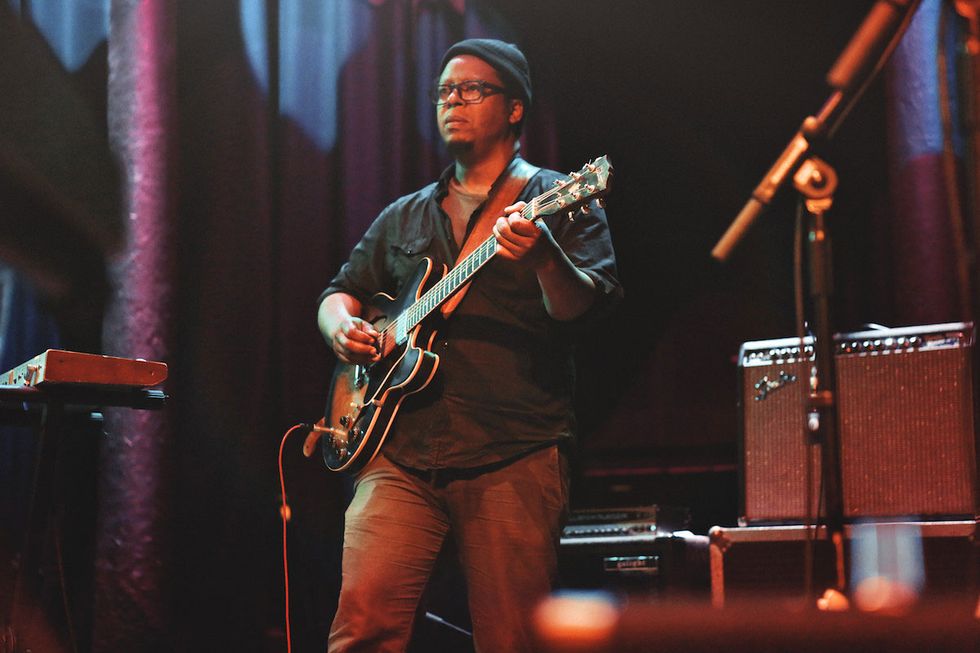 Parker's highest profile gig is with the post-rock experimentalists Tortoise. Here, he's onstage with the band at London's the Roundhouse on June 15, 2018, brandishing his favorite guitar, a 1983 Gibson ES-335 Dot Reissue. Photo by Sara Amroussi Gilissen
What is it about a song that motivates you to sample or re-create it?
If it inspires me to put it in a different context. Once you start making beats, you develop a producer's ear, so if you hear a recording, parts of it might stick out and make you start thinking about what it would sound like if you sampled it and chopped it up and rearranged it in certain ways. If it inspires you to manipulate it … that's pretty much all it is.
As a leader with your trio and quartet, you've made albums that are essentially jazz recordings. How is your role as a player different in the New Breed project?
There's less emphasis on the guitar playing. This is more me composing and flexing different brain muscles. It's a weird thing for me to say, but I'm not that interested in playing the guitar right now. I still enjoy it, but I'm more interested in exploring different settings I can create to put my guitar in, and I create that with this New Breed project.
I'm more interested in the general space that I can make for my music, sonically and in a social landscape of music, whereas the trio and quartet records were more about me trying to make interesting jazz guitar music, improvising with my friends and exploring that world: songs, tunes, head-solo-head—much more about improvising together and more of a live thing. The New Breed project is more studio-based and is more about the record. Not that [Parker's earlier albums] Like-Coping, The Relatives, and Bright Light in Winter were not about trying to make a good record.
When you present New Breed with the live band, is it more related to a collective ensemble vibe or getting across what's on the album?
It's both. We try and make faithful representations of what's on the record, but open it up in a way that it sounds spontaneous. I think we do a pretty good job. At the end of the tour we just finished, the band was sounding pretty great. I think it's a convincing synthesis of improvising and studio music.
"Ever since I heard A Tribe Called Quest in the golden era of hip-hop, my relationship to jazz music really changed."
On "Fusion Swirl," is that feedback that rings throughout the song?
It's not feedback, it's a Freeze pedal. That's the best guitar pedal ever, if you ask me. I've been waiting for that pedal for 30 years.
At the end of that track, you play a cool buzzy figure. How did you make that sound?
That's actually digital distortion. It's a super-hot digital signal, but the performance was really good, and I was like, "Damn, I need to use it!" So I turned it down and it's a cool tone, but it wasn't the original tone of the recording. It's a mistake. That's how you get some of the best stuff. You can't be tied to what's supposed to happen. You've gotta be open. I always tell cats, "Be open to the unknown—you'll surprise yourself."
The track "3 for L" sounds live. Is that right?
No. That's an old tune. I probably wrote that over 20 years ago. I'm playing synth bass and guitar on it. Me and Jay [Bellerose] recorded the rhythm section as a duet. I think it's two layered drum passes with him playing my adult drum set and then a pass on my son's kid-sized drums, and then he does a pass of percussion—strange sounds like springs and weird shit. Then a month later I recorded the guitar on it with [co-producer and bassist] Paul Bryan in my home studio. It's my 1950 ES-150 plugged direct into my UA Apollo 8.
The guitar tone has such a warm, live feel.
That guitar sounds amazing. It's the kind Charlie Christian played. It's really hard to play. I have it set up as best as I can, but it's really physical. It has a P-90 and I put flatwound .015s on it.

Guitars
1983 Gibson ES-335 Dot Reissue
1950 Gibson ES-150
Amps
Studious Moseley custom 2x12
Effects
Boomerang Phrase Sampler
Boss FRV-1 Fender Reverb
Boss RV-3 Digital Reverb/Delay
Crowther Hot Cake
DOD FX-17 Wah/Volume
Electro-Harmonix Freeze
Electro-Harmonix Small Stone
Maxon GE-601 Graphic EQ
Moog MF-102 Ring Modulator
ZVEX Fuzz Factory
Strings and Picks
D'Addario EJ22 XL (.013–.056) on ES-335
D'Addario ECG26 Chromes (.013–.056 with .015 for 1st string) on ES-150
Fender Extra Heavy picks
Describe the other guitars and amps you use on Suite for Max Brown.
I play the 150 on "3 for L" and "Gnarciss." On "Gnarciss," I'm only playing this kind of arpeggiated part that I wanted a fat tone on because it's emulating this electric piano part that is in the sample I referenced. All the rest of the record is my 1983 ES-335 Dot—a reissue of the '59 335. I've had it for over 30 years. It's the one I always play.
Most of it I recorded with my Studious amp, built by Bryant Howe. He makes one called a Moseley, an 18-watt tube combo. It's normally with one 12", but I like two 12s. It's cleaner than the one 12", and it has a little more headroom, but it's still low wattage and records really well.
Other than the Freeze, what pedals are you using?
I've had most of the same pedals for 25 years. I add something every once in a while. The Freeze is probably the newest thing. I have a Maxon Graphic EQ; the old Boss RV-3, which I've been using since 1986 or something; the Boss Fender FRV-1, which is a pedal version of the Fender reverb tank; a ZVEX Fuzz Factory; a Small Stone classic phaser; the Crowther Hot Cake, which is my normal distortion; the Moogerfooger ring modulator MF-102, and my DOD FX-17 wah-volume pedal.
I also have the same Boomerang Phrase Sampler I've had since 1999. The thing I like about it is that I can put stuff in it and trigger it. It is a looper, but it really is more of a sampler, and I can trigger it and improvise along. That's what I did on "Go Away." I sampled those riffs and I'm triggering them in real time and improvising along with myself.
My pedalboard was wired up by Gil Divine at Divine Noise. He has a great cable company in Portland and he was Ira Kaplan's [of Yo La Tengo] guitar tech for probably 20 years. He rewired my whole pedalboard and it looks amazing. It has that Strymon Zuma [power supply], which is the best, since it switches voltages automatically, so if you're touring the world, you don't have to worry about blowing your shit up.
The New Breed is dedicated to your father. Suite for Max Brown is dedicated to and named after your mother, and your daughter, Ruby, sings with you. What does the personal nature of these albums and the relationship to your family mean to you?
I'm just trying to put myself out there as an artist. I'm trying to be honest with the stuff that I'm dealing with. I think it's important now for people to be honest with the stuff that they're trying to do. A lot of it, I do it for me, just to prove to myself that I can do certain things. I'm playing drums on my record. I'm like the worst drummer in the world, but I did it because I'm just trying to make music.
The New Breed was so well-received by some people, I felt bad. I wished that my father could have seen the tribute to him, so that's why this record, I wanted to make it a tribute to my mom while she's still around to see it, and she loves it.
I don't really make vocal music, but I've been recording songs with my daughter since she was 4 or 5. I was working on the song "Cliche" on The New Breed, and it was instrumental and it wasn't really coming together. I thought, what if I wrote some lyrics and got somebody to sing on it? When I thought about who I'd get to sing on it, it was a no-brainer: I'd get Ruby to do it. It's cool, she's into it, her friends dig it, so I figured let's keep it flowing. We just work on stuff whenever we find time. So I guess it is personal, but it mostly is me just trying to be honest.
Dig Jeff Parker's layered riffage courtesy of his Boomerang Phrase Sampler on this live version of Suite for Max Brown's "Go Away." Parker's playing slowly morphs into a more soloistic improvisation at around 3 minutes, and he creates a loose vibe over a tight groove by weaving between improvising and the main figure.
---