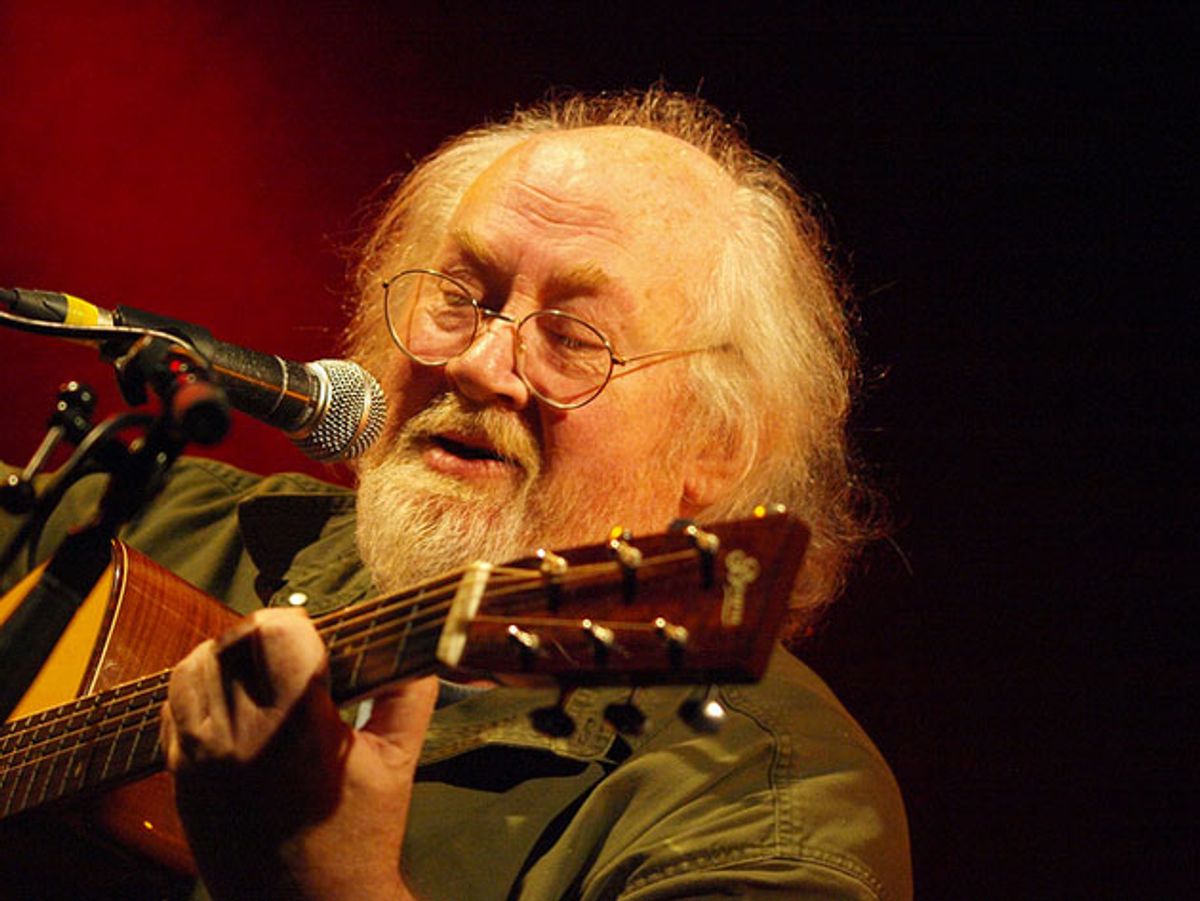 Photo by Sean Rowe
The prodigiously talented and influential British guitarist helped shape modern folk through his fusion of jazz, blues, psychedelia, medieval song, and ethnic music.
John Renbourn, who passed away from a heart attack in Scotland on March 26 at age 70, was one of the most talented guitarists of his—or any—generation. Though he possessed incomparable chops and uncommon melodic gifts, he was also a living bridge that linked wildly divergent styles—Anglo, Asian, African, and American—and spanned hundreds of years of guitar music and history. Using the '60s British folk explosion as a launch pad, he melded that history with his own fascinating musical predilections to create a singular, deeply personal, and massively influential body of work.
Trained in the rigors of classical guitar as a youth, Renbourn had the natural ability, skills, and musical resourcefulness to take his playing in any direction. But like so many British youth of his age, he was smitten with American rock 'n' roll and blues.
By the early '60s he'd also fallen in love with English and American folk music—and fallen in with a burgeoning and fast-mutating London folk scene that was home to such future folk heavyweights as Davy Graham, Anne Briggs, Martin Carthy, and his most important partner and collaborator, Bert Jansch. After releasing a well-regarded solo LP in 1965, Renbourn teamed up with Jansch for the landmark Bert and John LP in 1966. But by the following year, he and Jansch were piecing together the band that would most profoundly shape their respective legacies: Pentangle.
In Pentangle, Renbourn and Jansch became one of the most formidable—in fact, downright unfair—guitar duos in any style. They were fantastically complementary. And if the generally accepted clichés about Jansch, the propulsive and powerfully ornate picker, and Renbourn, the jazz-and-classical-inflected Baroque-ist, only scratch the surface of their interplay, they serve as a useful foundation for understanding the duo's potent dynamic.
Trained in the rigors of classical guitar as a youth, Renbourn had the natural ability, skills, and musical resourcefulness to take his playing in any direction.

For generations of folk musicians, they were the equivalent of Lennon and McCartney, or the Miles/Coltrane combos of the late '50s. And with the mysterious and bewitching voice of Jacqui McShee, and the potently jazzy rhythm section of Danny Thompson and Terry Cox weaving their own magic around the two-headed monster of Renbourn and Jansch, Pentangle became one of the most visionary bands in an era in which musical barriers were being smashed weekly.
Pentangle also became a showcase for Renbourn's vast capacities as a melodicist, arranger, vocalist, and shape-shifting multi-instrumentalist. His lyrical, unorthodox, and almost bluesy sitar work is featured on the fantastic and groundbreaking "Once I Had a Sweetheart." And on later Pentangle LPs, his jazz- and blues-hued electric guitar work would add yet another dimension to his and Jansch's spellbinding interplay.
In 1972, the original Pentangle released its last LP, Solomon's Seal, and though the band were musically as impressive and inventive as ever, they had seen their influence wane in England under the crush of glam and heavy rock bands like Led Zeppelin. (Ironically, Jimmy Page was unabashedly in thrall of and deeply indebted to Renbourn and Jansch's work.)
Even as Pentangle faded from the public eye, Renbourn remained prolific as a solo artist. Faro Annie, his soulful 1970 blues/folk collision, remains a guidepost for adventurous folk guitarists and songwriters to this day, while 1976's The Hermit found Renbourn interpreting English folk themes through his dazzling fingerpicking.
Renbourn's commercial success waxed and waned variously from the '70s, but he never stopped playing, touring, or recording. And if the psych-folk scene of the early 2000s helped rightly elevate his stature as folk Godfather in the eyes of the wider record-buying public, Renbourn remained resolutely modest and quiet about it all—happy to let his guitar do the talking. When Renbourn died this week he was at home, readying himself for a show with his old buddy Wizz Jones. Indeed, he never stopped playing—right up to the very end.