A chambered body and enhanced switching make this affordable Revstar light and loaded with tones.
Scads of cool tone combinations. Articulate pickups. Relatively light. Balanced and comfortable. Well built.
Some P-90 players might miss the extra grit the Revstar trades for articulation.
4.5
4.5
4.5
4.5
While the Yamaha name is famous in circles beyond the guitar world, they've made first-class guitars since the 1960s. And while they don't unleash new releases with the frequency of some larger guitar brands, every now and then they come down the mountain with a new axe that reminds us of their capacity to build great electric 6-strings. In 2015, Yamaha introduced the first generation Revstar. With a handsome aesthetic inspired by the company's motorcycle racing heritage, the Revstar combined sweet playability and vintage style touchstones. This year, Yamaha gave the Revstar an overhaul—including body chambering, updated pickups, and new switching. What's impressive is how these alterations enhance the already impressive playability and versatility of the original.
Keyed-Up Cruiser
At a glance, the newest Revstars look a lot like the originals. And streamlined controls suggest little difference between the Yamaha and a lot of other simple 2-pickup electrics. There's a volume knob, a tone knob, and a pickup selector. Simple, right? Not necessarily. Though the control layout is economical, it conceals a trove of tone possibilities. The pickup switch is now a 5-way selector. Positions 1, 3, and 5 are neck, neck/bridge blend, and bridge pickup settings. But positions 2 and 4 offer cool out-of-phase sounds. Yamaha also made the tone knob a push/pull pot which activates a passive boost called the focus switch. It effectively kicks up the low and mid ranges and shaves off the higher frequencies. In the case of our review guitar, the revised circuit is paired with a set of of Yamaha-designed VP5 P-90s with alnico 5 magnets. A humbucker-equipped model is also available.
The build quality on our gorgeous sunset burst Revstar is very nice. The double-cut body, which tastefully echoes vintage Yamaha style elements with a trace of '60s offset lines, is built around a layer of maple over chambered mahogany. And though the construction feels substantial, it's still light at just about 8 pounds. The carbon reinforced neck is built around a 24 ¾" scale and features a 12" radius rosewood fretboard. The tastefully subdued pearloid inlays are situated between jumbo, stainless-steel frets that will weather years of road rash before showing any wear. Unlike the deep glossy finish on the body, the back of the neck is finished in satin. It's an absolute dream to hold and feels faster and more precise for the lack of gloss.
In the context of a full band, the focus switch is also a handy solution when you need to duck into the rhythm pocket.
Shifting Gears on the Open Road
Yamaha succeeded in their efforts to make the Revstar more comfortable. Compared to a Gibson SG Classic, the Revstar feels a hair heavier but much more balanced. Hanging over my shoulder from a strap, it didn't exhibit any tendency toward neck dive. This isn't the only benefit of Yamaha's chambered design, but it pays a big dividend in this respect.
With the Revstar out in front of an Orange OR50 and a 4x12, additional comparisons with the SG classic were enlightening and edifying. In general, the Yamaha's P-90s have a moderately lower output, are less noisy, and exhibit greater overall clarity. While the pickups on both guitars sound similarly hefty playing campfire chords, the Revstar's output was more articulate playing barre chords further up the neck. Lead lines from the Revstar also brandish a bit more midrange honk that begs for funk riffs. Coupled with a glass slide, the Yamaha happily morphed into a blues monster.
Pulling up on the focus switch kicks sustain into high gear. That sustain comes at the cost of some detail in the top end, but it's absolutely perfect for long, drawn-out lead lines and slide. In the context of a full band, the focus switch is also a handy solution when you need to duck into the rhythm pocket. It's also a breeze to flip between the two voicings. Ultimately, the focus switch shines most with high-headroom amplifiers. With smaller amps, like a 5-watt Champ, the augmented lows and mids induce speaker break-up and some mud at moderate volumes, while the "unfocused" output remained gritty, yet eloquent.
The Verdict
At just a shade under $800, the Yamaha Revstar is a great deal. The array of available tones is impressive. And the sharp, unique looks speak for themselves. While the P-90s are a natural fit for classic rock and blues riffage, the overall capacity for picking detail, the out-of-phase switching capabilities, and the low/mid boost feature significantly extend the guitar's vocabulary—making the new Revstar a great companion for most pedals and very capable of being the only stage guitar you need. Whether you desire crystalline, single-coil chime or punchy, bottom-heavy power chord tones, the Revstar handles it all as gracefully as a café racer leaning into a sweeping curve, and feels great doing it.
Yamaha Revstar Standard RSS02T Demo | First Look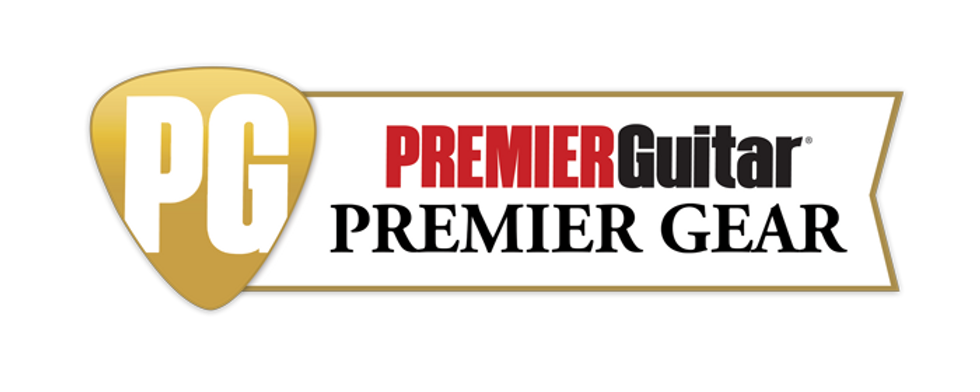 See a sampling of picks used by famous guitarists over the years.
Misfits guitarist Doyle Wolfgang Von Frankenstein unveils a new line of strings, collaborating with Josh Vittek of Sheptone.
Von Frankenstein Nickel Plated Electric Guitar Strings are vacuum sealed individually in anti-corrosion bags with gauges clearly labeled for easy identification, an especially helpful feature for working guitarists. In addition to the traditional gauge sets, the Von Frankenstein line will include three sets of actual signature sets that Doyle uses personally. His Abominator set is made up of gauges .010/.013/.017/.028/.038/.060 and used almost exclusively with his band, Doyle. The Decapitaters (.010/.013/.018/.030/.042.065) and the Monsters (.010/.013/.017/.028/.038/.052) are used for performances with the Misfits.
Doyle Wolfgang Von Frankenstein emerged from the fiery pits of New Jersey, the birthplace of the Misfits and a blood-soaked form of music called horror punk. In recent years, Doyle has made his own distinct mark on the genre with the inception of his self-monikered band. Doyle's debut album, Abominator, was released by his own label, Monsterman Records in 2013 and followed by Doyle II: As We Die in 2017.
Each set includes a different free vinyl sticker, encouraging fans of Doyle and Misfits to collect them all. MSRP $13.99. For a closer look and to learn more about Von Frankenstein Monster Gear, visit www.vonfrankensteinmonstergear.com.