Remembering Jim Hall (1930-2013)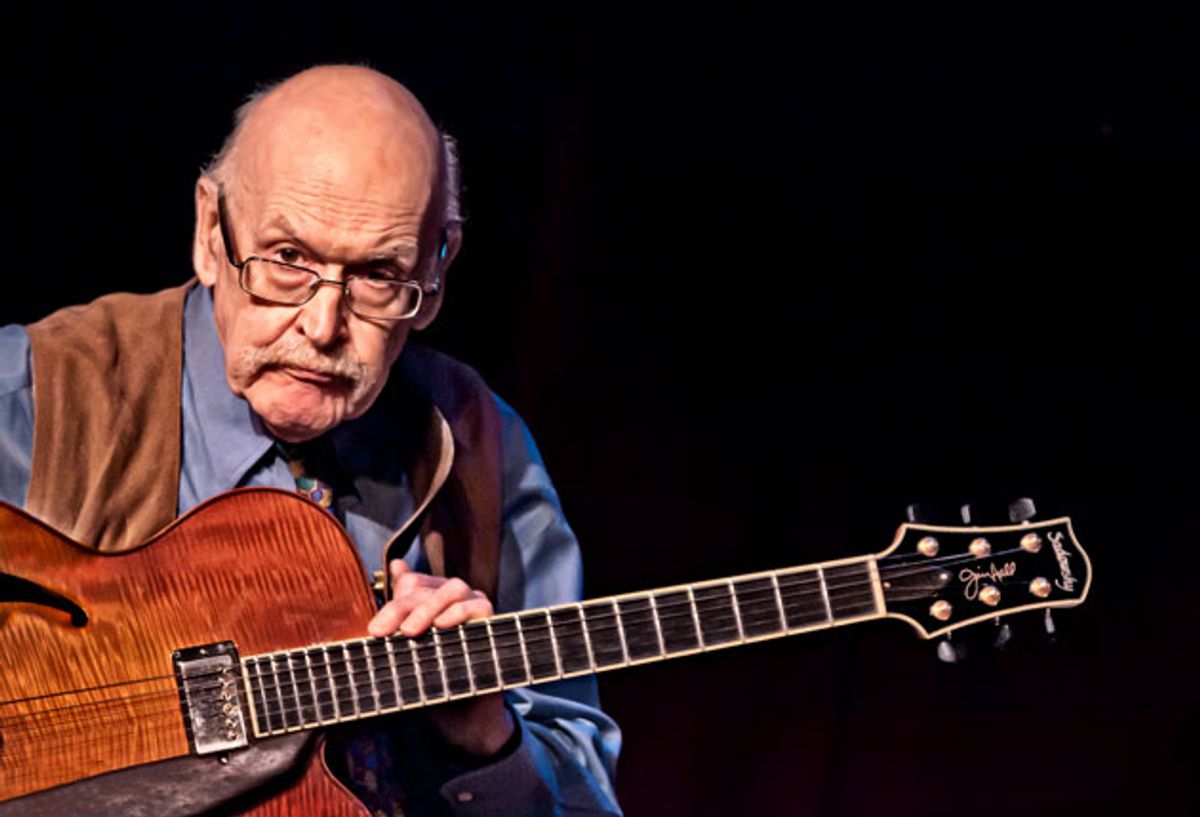 Photo by Ryan Paternite
The father of modern jazz guitar influenced generations of musicians with beauty, grace, and a commanding authenticity.
Every time Jim Hall opened his case there was a sticker inside the lid that reminded him of his mantra. "Make musical sense." Hall died in his sleep on December 10, 2013, at the age of 83. His contributions to guitar—both as a player and composer—elevated the instrument and made a deep and lasting impression on the musical world.
At times, Hall could be both elegant and angular with his approach but he never stopped searching for the next sound. Much in the mold of Hendrix, Michael Hedges, and Les Paul, Hall was an innovator who stretched, bent, and pushed the boundaries of modern jazz guitar and created a uniquely soulful language all his own. His approach to harmony, comping, and rhythm was groundbreaking and his landmark album with saxophonist Sonny Rollins, The Bridge, is a classic example of this.
The integrity of a musical passage always trumped the desire for technical flash. Hall's unassuming personality and sharp wit mirrored his approach to music. "He had the most incredible sense of humor and could cast his listening like a light on everyone in sight, so when in his company, you felt like you couldn't ever go wrong," shares guitarist Julian Lage, who had recently formed a quartet with Hall. After a recent tribute concert organized by guitarist Joel Harrison, Hall tracked down the names and addresses of all the musicians who performed and wrote each one a handwritten thank you note.
It could be argued that the jazz guitar tree is rooted in four names: Django, Charlie, Wes, and Jim. Virtually every guitarist, from classical to shred, has been touched by the music that flowed from that quartet. The influence of Hall's music moved well outside jazz circles, with followers including esteemed players like Wilco's sonic wizard Nels Cline and Testament's Alex Skolnick. The beauty and grace of his playing expanded beyond swing with a commanding authenticity.
It could be argued that the jazz guitar tree is rooted in four names: Django, Charlie, Wes, and Jim.

Early in his career, Hall played with two forward-thinking groups that broke stereotypes of what a jazz group should be. The Chico Hamilton Quintet, which also featured cellist Fred Katz and flautist Buddy Collette, was a chamber-jazz group that found Hall playing a decidedly non-jazz instrument—a Gibson Les Paul Custom. And in 1957, clarinetist Jimmy Giuffre asked Hall to join his trio with bassist Ralph Pena. The JG3 incorporated blues and folk elements along with classical counterpoint to create a unique slant on the West coast swing of that era.
"When you have Jim Hall, you don't need a pianist," said trumpeter Art Farmer. That rather famous quote followed Hall around and helped establish his reputation as an enriching and sympathetic accompanist. His two albums with pianist Bill Evans, Undercurrent and Intermodulation, demonstrated exactly how intimate improvised music could be. Other duo partners included bassist Ron Carter, guitarists Pat Metheny and Bill Frisell, and pianist Geoffrey Keezer.
With each new group or recording project Hall was determined to push the music forward. His 1975 album, Live!, is a template for the modern guitar trio and to this day is an excellent study in group interaction and inventive melodic interpretation. Hall continued to record and tour in a variety of formats through the '80s and '90s. He was among the first modern jazz guitarists to be honored as an NEA Jazz Master in 2004, in addition to writing a concerto for guitar and orchestra that was debuted at the World Guitar Congress.
The word "retire" had no meaning to Hall. He continued to record and perform up until the end of his life. Just this past November, Hall played with his trio that included Scott Colley on bass and drummer Lewis Nash for a two-night stand at Jazz at Lincoln Center and were joined by guitarists Peter Bernstein and John Abercrombie. "When I went backstage to say goodbye Jim said 'Great job, John'," remembers Abercrombie. "Then he remarked on Peter Bernstien's playing, and how much Peter always amazed him. He added, as his final remark, 'These kids today!'"
Even after some recent health issues slowed down Hall's physical abilities, he never lost his touch for the instrument. The notes that would flow out of his Sadowsky archtop combined the best of bebop, folk, blues, and Americana. His individual spirit brought joy to many people and he will be sorely missed.