Shredders lend five licks with video, tab, and description for this mega-lesson
Greetings Premier Guitar fans and welcome to the Shred Guitar Roundtable! I'm Jeff Beasley and I'll be your host for this evening's festivities. You may know me from my "Lethal Guitar" column here in Premier Guitar, but I'm also a seasoned shredder from way back. I've brought some friends along to give you an awesome glimpse into the minds and licks of some of the top shredders in modern guitar. Rusty Cooley, Mike Orlando, and Oli Herbert will be joining me in this roundtable. Each one has provided video examples with corresponding tab and text explanations for every lick.

Jump to:
Rusty Cooley
Mike Orlando
Oli Herbert

I'll kick it off with some examples of my own:

Lick 1
An intervallic approach to a fully diminished or diminished 7th arpeggio, resolving into the pentatonic minor scale with the b5 included. I break the arpeggio into minor 3rd intervals descending and resolve to the root of the pentatonic scale. I also use strict alternate picking throughout the line, making it challenging for the picking hand as the intervallic approach challenges the fretting hand.




---

Lick 2
This Shawn Lane melody is quite the attention getter at higher tempos and makes use of the odd beat grouping of quintuplets (groups of five). Notice I use fingers 1, 2 and 3 of the fretting hand exclusively, as I ascend in the line. This is the fingering Shawn used and I've found it to be quite player friendly at the quicker tempos. It requires a bit more stretching, but the ends justify the means.
---

Lick 3
The addition of the #4 into a basic major arpeggio gives a new color (Lydian) and brings the WOW factor to life in an otherwise common line. Spanning three octaves with the #4 inclusion and increasing in pitch as you jump from one octave to the next also creates a cascading beautiful line.
---

Lick 4
One of my favorite approaches to bring the common arpeggio to an exciting peak. The addition of the 4th at the top of the octave before the tap gives continuity and stability to the melody prior to the resolution of the 2nd to the 3rd with the tap/bend at fret 16 on the G string.
---

Lick 5
I got this idea after listening to a good friend, Ron Thal. He uses unusual voicings, rhythms, and resolutions in his music and when I wrote this line I had him in mind. I again take the major arpeggio but include a very dissonant minor 2nd that I resolve to unison pitch by bending the tapped note (Eb) up a half-step on the 16th fret of the B string.
---
Hit page 2 for Rusty Cooley's lesson...
The name Rusty Cooley has become synonymous with some of the best the shred guitar genre has to offer. His 7-string guitar madness has catapulted him to the top as one of the best shredders in the world. We're both Dean Guitar endorsers and at the NAMM show we spoke about all things guitar. I have to say that Rusty is not only a fantastic guitarist but a great guy as well.
Lick 1
Example one is one of my all time favorite sequences and is heavily part of my style, I call it sevens. I'm using a three octave A Mixolydian mode for the scale, which is from the key of D major. Basically, the sequence breaks down into seven-note groups that I play evenly over the beat. You can use this sequence in any three-note-per-string scale in any key or mode. I'm a huge fan of odd note groupings. Alternate pick this example.
---

Lick 2
Here's one more of my favorites. It's another odd note grouping, this time fives in E harmonic minor. The cool thing about fives is that every group flips directions from ascending to descending so you are hit with a barrage of notes coming at you from every direction--sweet! Again, you're using alternate picking.
---

Lick 3
Now it's time for some legato fun! We will be using Aadd2, Dadd2, and Eadd2 arpeggios. This is a very cool way to play arpeggios--you are actually playing each arpeggio on a single string using all four fingers, which is a refreshing approach considering most people these days are using sweeping. This lick is from the key of A major.
---

Lick 4
Next up--you guessed it--is sweeping. Here's a cool A7 arpeggio lick. I'm back to the odd groupings again with three groups of fives followed by what I consider to be a fairly common 5th string root shape for A7.
---

Lick 5
Last, but certainly not least, is one of my all-time favorite scales, Mixolydian b6, which is the 5th mode of F melodic minor. I don't get to use this scale as much as I like because I don't find myself writing in C Mixolydain b6 much, but I love its sound and the emotion it creates. This lick uses legato and string skipping with groups of five that ends with a nice legato C major arpeggio.
---
Hit page 3 for Mike Orlando's lesson...
Mike Orlando is the breakout shredding phenomenon from Staten Island, NY. Mike's debut CD, Sonic Stomp, has turned heads in the shredding community. Steve Vai describes Mike's guitar playing as "absolutely amazing." It has also been said that Mike's CD has the hottest shredding since Jason Becker's Perpetual Burn. Mike has given us some smokin' licks here in the Roundtable, so buckle your safety belts, you're gonna need them!
Lick 1
This lick is performed in C major, but can be played in any key and any position on the neck. It's a 5-string arpeggio from the A string to the high E string. It begins with a slide from B to C, then a down-stroke sweep until the upstroke on the B on the high E String. Next, alternate picking on the high E followed by a down-stroke sweep from the high E down to the A string and repeat. The end of the lick is a series of slides and hammer-ons from the high E string down to the low E string.
---
Lick 2
Lick 2 is performed with the flat-picking technique. You down pick a note, then pluck the note on adjacent higher string upward with the second or third finger of your right hand. The first part is straight flat-picking, and is followed by hammer-ons and pull-offs. The third part is a series of hammer-ons, flat-picking, and slides followed by straight two-note alternate string flat-picking down a box pentatonic pattern.
---
Lick 3
This lick is a series of fast alternate picking while muting the strings simultaneously with your picking hand, in quadruplets. Here it's performed in D Minor, but it can be played in any key and in any position as well. It is followed by groups of sextuplets with muted alternate picking, and hammer-ons and pull-offs.
---
Lick 4
This example is a series of four-note tapping patterns, while string skipping back and forth from the high E to the B to the G strings and back. It's followed by the same style tapping lick, but the right hand tapped note jumps from one note to another back & forth within the pattern which includes hammer-ons and pull-offs.
---
Lick 5

This lick is achieved by picking the first note and hammering-on the second. The third note on the high E is plucked with the flat-picking technique, followed by a pull-off and slide to the next note, and repeat. Next is the same style lick, but the third note is two notes together, so pluck both notes on the E and B strings at the same time with your right hand second and third fingers. It ends with a downward sweep arpeggio from the high E to the low E.
---
Hit page 4 for Oli Herbert's lesson...
Last but not least is Oli Herbert, the shredding master from the American metalcore band All That Remains. They have sold over 500,000 albums in the United States alone. Oli has a trademark heavy and technically skilled sound that continues to garner attention in the guitar community. Oli has agreed to share some of his ripping guitar skills here in the Roundtable, so plug in and get ready for a thrill ride into the world of shred guitar. For all of these examples, Oli is tuned down 1 1/2 steps (low to high C#–F#–B–E–G#–C#).
Lick 1
In this example, we have a sequence of stacked seventh chord arpeggios played using various forms of legato in which the articulation is consistent throughout. All of these arpeggios fit within the key of B minor with no chromatic or modal alteration. The arpeggios themselves can be seen as separate seventh chords, (Em7, C#m7b5) or combined to form various ninth chord arpeggios. I tend to view them as larger chord forms due to the tempo presented.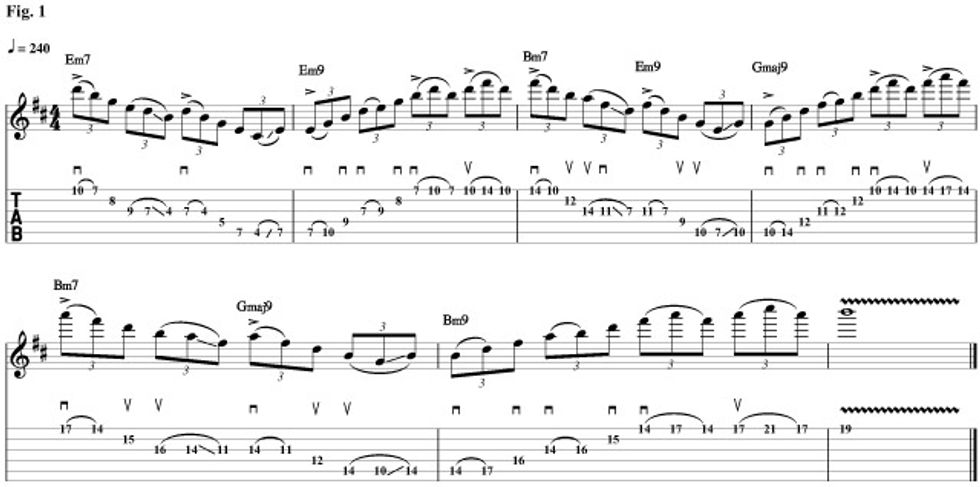 ---
Lick 2
Here is a focus upon one arpeggio played as triplets in which the Gmaj7 is played in root position and all three inversions. I have arranged the shapes to employ the same picking pattern throughout. I mainly utilize sweep or economy picking to facilitate the proper accentuation and overall flow. I have also outlined each arpeggio with scalar material in the key of D major. This firmly plants Gmaj7 as the IV chord giving it a Lydian tonality. The example ends with a B minor arpeggio that employs a tapped octave and quintuplets to achieve a minor diminuendo.
---
Lick 3
This example is played entirely with the left hand and is in the key of G major. The right hand is only used to keep down string noise. The main challenge here is to keep up with extended stretching and to keep equal pressure between the first finger and pinky. I would classify this as an example of lower pedal point where the upper voices move but the lower remains the same. I change the bass note every two beats to create a melodic sequence. I would suggest practicing this on a clean tone at slower tempos and changing to distortion at around 160 bpm once the hand has a grasp on the overall balance of the exercise.
---
Lick 4
Here is a very straightforward scalar lick in B minor. I am utilizing a six-note sequence in triplets that changes positions after each six and is the same, both ascending and descending. Be sure to alternate pick throughout. You will also notice that on the way up, every string change uses outside picking and on the way down, inside picking. This kind of sequence is very useful in general improvisation to connect melodic ideas.
---
Lick 5
This is variation on example four. I am using the same key, modal shapes, and positions, but I am altering the actual pattern played. The most noteworthy difference is the intervallic leap of a sixth within each sequence, and every note is alternate picked with sextuplets.