Meat Puppets: The Flesh of It
Photos by Jaime Butler
Hailing from the "middle of nowhere" in Arizona, brothers Curt and Cris Kirkwood continue the Meat Puppets' irreverent psychedelic grunge on "Rat Farm," solidifying a legacy of desert-punk songcraft that influenced a generation.
There was no shortage of punk bands in America's suburbs as we entered the '80s, but very few of them continue to make music today. The Meat Puppets, however, are very much alive and well, and have just released their 14th album, Rat Farm.
Formed by brothers Curt and Cris Kirkwood, and their high school friend, Derrick Bostrom, the band fused hardcore punk, classic rock, AM radio country, and more than a little of Doc Watson's influence into a unique sound that only could have happened in the Arizona Desert. But their survival, both as a band and as people, was far from guaranteed. After years of hard living, the band found itself in disarray in the late '90s, with Cris eventually serving two years in prison in 2003 after an altercation with a security guard. Tough times for a band that had a gold record (Too High to Die) under its belt, a successful tour supporting Stone Temple Pilots at the top of their game, and joined one of its biggest fans, Kurt Cobain, onstage during Nirvana's now legendary MTV Unplugged in New York performance, which included three songs from Meat Puppets II in the set.
Though Curt continued the band as the only original member during Cris' absence, 2006 saw a reunion of the brothers, followed by the release of Rise to Your Knees and a well-received performance of Meat Puppets II at All Tomorrow's Parties music festival. If there were any remaining questions about the band's legacy at that point, Dave Grohl selecting them to open the Sound City Players evening at this year's South By Southwest probably answered them all. Sharing the stage that evening with Stevie Nicks, Chris Goss, Lee Ving, Rick Nielsen, Rick Springfield, and other legends, The 'Pups took a much-deserved victory lap.
Though busy preparing for an upcoming tour that'll take them around the U.S. and Europe, Cris and Curt took time to chat with Premier Guitar about the group's humble beginnings, the new record, and the unsolved mystery of Abner's arm.
When did you start playing guitar, Curt, and who were your early influences?
Curt Kirkwood: I started taking lessons in fourth grade, so I was about 9. I loved The Beatles and The Monkees. What really made me want to play guitar, though, was my friend and I were taking clarinet, and decided the electric guitar was cool because it looked like you didn't have to push down on the strings—like you barely had to touch them. The clarinet was … I dunno, I liked it, but it seemed a lot easier to play electric guitar. I quit playing the clarinet, and Mom said, "You've got to take an instrument." So I picked guitar, and started learning fingerstyle from a classical and flamenco guy named Juan Cordoba, at Central Music in Phoenix. I didn't like it very much at first because, unlike what I thought, I had to push down harder than with the clarinet even. But I kept going, because my mom was strict about it.
I guess once you changed instruments you were committed.
Curt: Yeah. I felt kind of foolish because I'd made a stink about the clarinet, and dodged it, then guitar turned out to be even harder. I took lessons throughout grade school and into my freshman year of high school. Eventually I started lessons with a guy named Don Brewer. I think he lived at the YMCA, and he may have even been a dope addict. He came to our house and gave lessons to both my brother and me. Then I took lessons from Joe McClarty in Phoenix, who had a music shop and had played with Barney Kessel, so he played these colored leads. He was cool, encouraging, and taught me quite a bit. Then I quit lessons. Later, in high school, when people were carrying guitars around, trying to be cool, I realized that I could kinda play. I brought my guitar to school and started playing with this other guy a little bit. He always said I sucked, and I kind of did. I was rusty, and I hadn't played in a while. My mom wasn't happy, because I started getting into it and was slacking off with other things.
When did you make the transition to electric guitar and what did you get?
Curt: I got my first electric when I was in eighth grade. It was a knockoff of a Gibson 335 that I played through a bass amp. I started playing stuff like "Iron Man," "Satisfaction," and other heavy riffs. That's what I worked on in my last lessons. Our house burned when I was in high school, and I lost the guitar and amp. Then I got a Les Paul for high school graduation from my mom, even though she didn't like it.
Music was transitioning around that time. What steered you towards heavy music?
Curt: Just hearing Black Sabbath. When I was in seventh grade, The Beatles broke up, so my friends and I were looking around for other music. I heard "Whole Lotta Love," then "Iron Man." I loved all of that, and I tried to figure out "Day Tripper." It was just what was on the radio in Phoenix, pretty much. I loved the guitar on "Let It Be." Later, I definitely got into Robert Fripp. His sound on the record he did with [Brian] Eno, Evening Star, was fantastic. He's just a great guitar player.
It's a pretty big jump from learning Beatles songs to putting out the In a Car EP! How did that happen?
Curt: I'd been going to see concerts for a few years at that point, so I saw what real players were like live. I saw David Bowie first, then Rod Stewart, Foghat, Joe Walsh, Lynyrd Skynyrd. I started getting into just about anything really, from jazz-rock fusion, like Mahavishnu [Orchestra], to Leo Kottke and the Grateful Dead. I saw Return to Forever and Gentle Giant my senior year of high school. Then I saw Iggy Pop, with Brian James on guitar and Glen Matlock from the Sex Pistols playing bass. That led to The Damned, Stiff Little Fingers, and The Fall, which led to The Germs, The Ramones, and other punk rock.

Bassist Cris Kirkwood likes to irritate guitarist brother Curt by using a Boss Bass Overdrive pedal in his touring rig. "It sounds like a horsefly stuck in a screen door," Cris says. Photos by Jaime Butler
When did you first learn to play bass, Cris?
Cris Kirkwood: In the early-to-mid '70s. I started with guitar lessons, but all I remember about that is that the guy used to put his hand on my knee and tell me that he really liked me, and that I shouldn't tell anybody. Then I took some piano lessons from an old guy who would doze off in the middle of the lessons. I would sit there really quietly and wait for him to wake up and then I'd play the last few notes of the piece that I'd supposedly practiced, which I hadn't. Neither instrument caught my attention. At that age, all I wanted was a monkey, which I eventually got, and I named him Abner. He eventually wound up on the back patio with his right arm missing, which was one of the great mysteries of my life. When we were reading A Clockwork Orange in English class, we were assigned to go see the film. It was a double feature with Deliverance. The banjo sequence just lit up my little noodle, so I wound up getting a banjo and taking some lessons. That was probably '73. Shortly after that, I decided that bass looked cool. Fingerpicking was kind of like playing banjo, there was one less string, and they were farther apart.
At what age did you become aware that bass was different from a 6-string guitar?
Cris: I understood the difference as a kid because of The Beatles. One of my earliest memories is walking along between my grandmother and my mom, holding their hands, as they were singing "I Want to Hold Your Hand." I just thought basses were neat, so just like I had to have a monkey, I had to have a bass. I decided to learn, went to Arizona Music Center, and rented one for a while. I had my eye on a Music Man, the first year they came out. I just thought they were bitchin' looking. When I went to buy one, the guy grabbed a black Jazz Bass and said, "This'll have more resale value." I thought, "Okay ... whatever the hell that means." I eventually used that on our first 7-inch and our first album. I found puberty to be unsatisfying and high school to be extremely alienating, so I got into some [heavier] rock music.
It took me getting laid to understand what rock and roll and some of these bands like Led Zeppelin were about: love and having sex. My younger self was thinking about bitchin' instruments, a thorough knowledge of them, an applicable technique, and a background in theory, so that you could play whatever your imagination came up with. Then I realized no, that's hard. That's like math. I love Phil Lesh—a guy with a real schooled musical background who actually knows what he's doing. Then the lysergic element adds something too, but he has all of his musical knowledge to bring to it.
I was really into Jaco [Pastorius]. The first time Curt and I ever smoked grass together was before seeing him play with Weather Report. The first time we ever worked with a producer [on Forbidden Places], Pete Anderson said "Let's use an egg shaker on this thing." He actually brought in a studio percussionist and it was Alex Acuña, who was playing drums the night we saw Weather Report! I told him about that night, hoping he'd break forth with the "Oh, let me tell you about Jaco …" stuff, but instead he goes, "Man, that was like 50 years ago! I can't remember five minutes ago."
Another bass player I completely love is Dusty Hill. He's such a different player from Lesh and McCartney. He only stomps on the groove, hits the cool riffs with the guitar player, and then just stomps right back onto the groove. There's no improvisational element involved. I really loved Mike Mills from R.E.M., John Taylor from Duran Duran, and Tina Weymouth. She had a different sense of things and played cool bass lines that had movement.
You started as a hardcore band, but between Meat Puppets and Meat Puppets II there was a radical shift. What happened?
Curt: Just curiosity. I always have the feeling that you should change from record to record. You do one thing and move to something else. With painting, if you use oil paints, watercolors, charcoal, or whatever, the medium is one thing, but the message really shouldn't be the medium. Same with music. I figured that my ideas could be conveyed many different ways. Stylistically, I didn't feel like being bound to anything, so that's why Meat Puppets II turned out the way it did. Punk rock shows were fun, with everybody in the mosh pit, but they'd also spit, and throw crap at you. That influenced me to challenge the audience, and even find who our actual audience was.
Cris: Curt started out writing completely straightforward guitar things. Then, around the time of Meat Puppets II, he just started writing lyrics that were far out, and he blossomed into a songwriter. Then he just kept doing it album after album after album. It's allowed me to make records for years, and be the Meat Puppets and whatnot. It let us keep going. He's just a composer. It's always neat to watch the songs come out of the guy.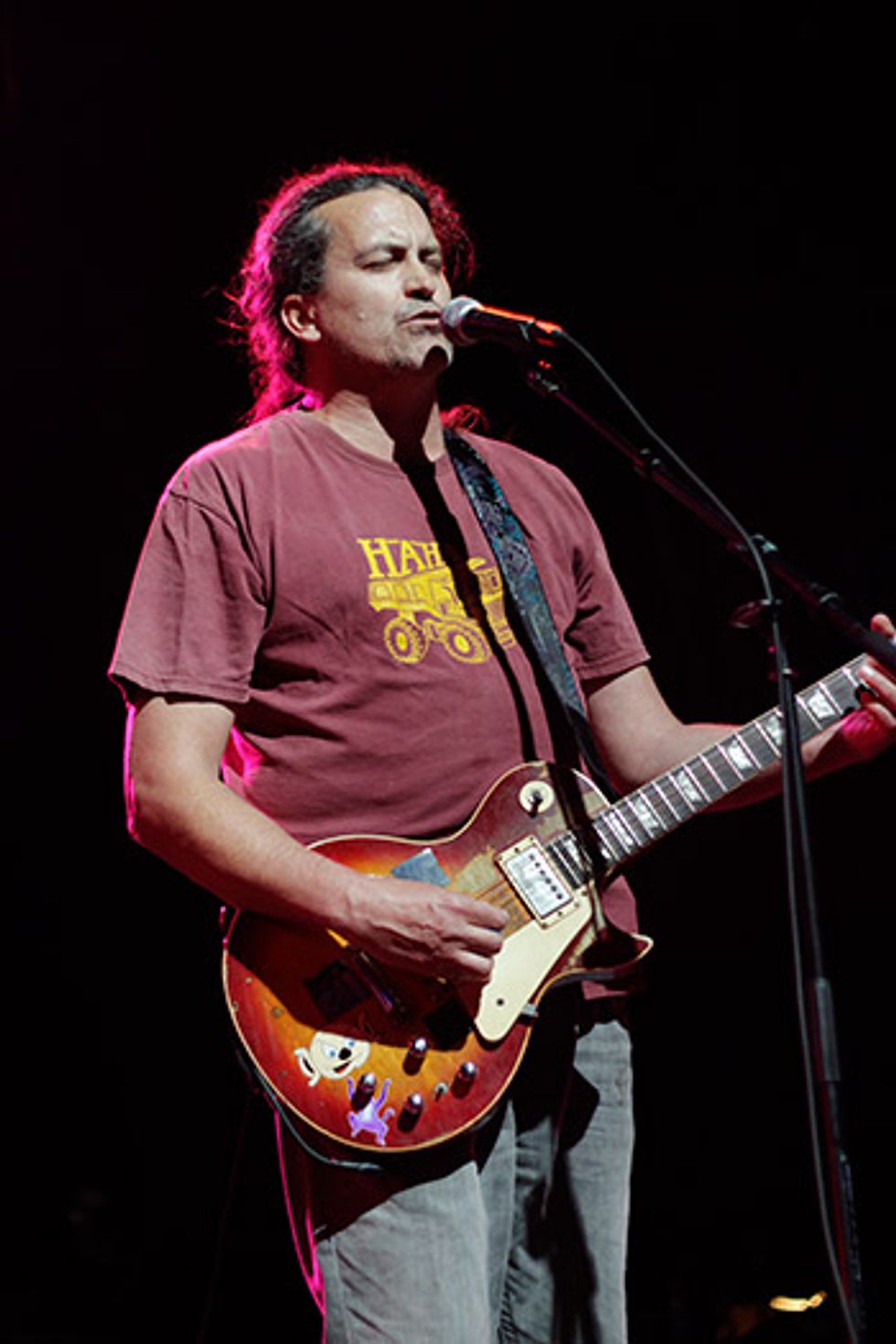 Curt Kirkwood has been rocking this 1981 'burst Les Paul '50s reissue (complete with epic cartoon-animal stickers) for about 20 years. Photo by Jamie Butler.
Did you feel like you were part of an emerging desert scene, along with Giant Sand and Sun City Girls?
Curt: I knew those guys, but I was just doing my thing. I went to school for a year at U of A, so I met Howe Gelb, in '78, when he was still with Giant Sandworms, and I knew the Bishop brothers [of Sun City Girls]. I didn't really feel too connected to anybody, though we played with Sun City Girls, Killer Pussy, JFA, and other area bands. I think it was more the point of view of people from other parts saying, "Oh, it's desert stuff." I had never been to New York City, or the East Coast, until '82, when we started touring. I did notice it was different from Phoenix, which was the middle of nowhere.
At some point you started experimenting outside of typical Meat Puppets territory. You used a guitar synth on Mirage, right?
Curt: Yeah, they were new, looked cool, and seemed like fun. So we bought a Roland 700 series guitar synth and used OctaPads for drums, just to see what we could do with them. We even used them a little bit on tour. I didn't use that for the whole guitar sound. I had a Jackson at the time, and I played the Ibanez Roadstar that I used on Up on the Sun.
Cris: There was a period where I got far enough away from the need to pretend like I was, you know, Keith Richards or whatever, and I was actually playing a seriously not-cool looking Steinberger. I was really into that new string sound, and I'd change them nightly back then. These days there's just so much good TV that I have a hard time getting to the music store. I don't even know what brand I use. James Jamerson didn't change his strings, you know? Then again, I guess you don't need to change your strings if you're James fucking Jamerson!
Curt, is it true you retired the Les Paul for a little while? What made you decide to do that?
Curt: My original Les Paul got stolen, so I got a '72 goldtop, which I still have, then I got the Jackson and the Ibanez. I did Meat Puppets II with the goldtop, and then I did Up on the Sun with the Ibanez. I was into Prince and Duran Duran at that time. I was kind of experimenting.
Due to legal issues, there was a period of several years when the Meat Puppets continued without Cris, but eventually he returned to the band. Did the break introduce a new dynamic?
Curt: Playing with him is like riding a bike. He had to get his chops together a little bit. He'd been playing in prison, but he hadn't done live shows. Playing with new people had been cool, and it gave me some perspective. Even back when Derrick, Cris and I were starting with cover songs we just had a mind meld, and an off-the-cuff way of doing stuff. That element slowly disappeared, though not altogether. There are things you just can't go back to.
Where did you record Rat Farm?
Curt: At Yellow Dog Studios, here in Austin, on South Congress, in the middle of the shopping strip. There are a lot of places to eat. You're not stuck! Dave Percefull, who recorded Rat Farm, started it a few years ago. He had a place in Tulsa, and worked at Abbey Road, basically commuting to London, but he started his own thing. He had the little gizmo that binds Pro Tools to the 24-track, CLASP, and I wanted to check that out. John Plymale mixed it.
Curt Kirkwood's Gear

Guitars
'81 Gibson Les Paul sunburst ('50s reissue)
Amps
50-watt Soldano with 4x10 cabinet, 100-watt Marshall
Effects
Boss DS-1 Distortion, Fulltone OCD, Chandler Tube Driver, Dunlop Slash Wah, Morley Echo/Chorus/Vibrato, Maxon Analog Delay, Boss RE-20 Delay
Strings, Picks, and Accessories
Ernie Ball Regular Slinky strings, Tortex Purple (1.14 mm) and U.S. quarters for picks
With you living in different towns was it hard to prepare for recording Rat Farm?

Cris: This is how we prepared: I asked Curt, "Hey, do you want to send me some of the songs?" He said, "Nah, it's no big deal." I went down to the airport, got on a plane, and flew to Austin on a Thursday. Friday, I went to Curt's house and he showed me some songs, then Saturday we went into the studio. That probably just meant there would fewer curlicues and noodly bass lines.
As far as recording guitars go, do you have one that you go to most of the time?
Curt: I've had a lot of guitars over the years. I used my '65 Telecaster on almost all of Huevos. Sometimes I'll just use whatever's sitting around in the studio. Too High to Die is mostly my '81 '50s reissue Les Paul sunburst that I use on 90 percent of Rat Farm, too. I played it through a 100-watt Marshall, which has a cool, crunchy sort of sound. It's got [Genalex] Gold Lion tubes in it, which are just awesome.
What basses are you using these days, Cris?
Cris: On Rat Farm, I used a slab-body Precision, a salmon-colored Mexican P bass, and Dave Percefull's Hofner. I pulled that out and plugged it in while sitting in the control room, after I had already tracked bass, but I thought, "Well, let me take a whack at a handful of these things again with the Hofner."
For some reason, the gods of the E-string G note and the F-sharp and the G-sharp … well, it had just never been that important to me. I marvel at some bass players who are so chill and tasteful. However, that Hofner had some real clear, solid low end. I suddenly took the bass in a new direction because it was so nice, smooth, and round-sounding. Curt says, when a bass player's left hand gets close to his body that's the "upper register," when it gets down to the other end, that's the "cash register."
On the new record you're using things like a Coral sitar and a baritone guitar. How important is it for you to replicate those sounds in live performances?
Curt: That's optional. To me, the song is basically just the chords and the melody. You pick whatever tempo you want to play it at, or however you think it's supposed to be at the time. My son has been playing with us for a while, so we have some more options now. Since the early '90s I've taken another guitar player on the road for that reason. The three-piece is definitely limiting if you've done a bunch of stuff in the studio. We're not going to take the Coral or the Jerry Jones baritone on tour though, and they aren't mine anyway.
What's your current live rig ?
Curt: I've mostly played the '81 Les Paul through the years. For amps, I love my Music Man, but it's broken right now. Sometimes I use a purple Soldano and the 100-watt Marshall. Both of those amps are big and heavy, so I'll just go backline if it's there. I don't really care that much. If I can get a good clean tone out of it, I can use pedals. I like Sovtek Big Muffs if I can find them, which I can't right now, so I'm using the Fulltone OCD and a Boss DS-1 distortion. I'll run them together a lot of times. I have a Chandler Tube Driver, too. Those are great.

As shown, guitarist Curt Kirkwood sometimes uses a quarter dollar as a plectrum, and a
tone knob as a prop for his sticker fetish. Photos by Jaime Butler
Cris: An old Gallien-Krueger 800RB. I love them! That goes through a GK 4x10. I've got a Boss Bass Overdrive pedal on the floor, but that's only to irritate Curt. It sounds like a horsefly stuck in a screen door.
Did you use it any in the studio or is it just your "nuclear button" when you're playing live?
Cris: Yeah, it's just that. The only real distorted bass I've recorded is on the song "Orange," which is on Lollipop. When I was a kid I had some nice effects. I had a delay, a wah, a compressor, even an envelope filter. The coolest effect I ever had, though, was made by Dave Rat, of Rat Sound. He built these huge cabinets, and I thought "This is what I need." On the front edge of the cabinets there was a strip of metal. At any point in the set I could crank things up, very loud, and then grind my guitar strings on that metal strip. It was exceedingly satisfying.
What's on your pedalboard, Curt?
Curt: I've got a [Dunlop] Slash Cry Baby Wah. For delays I use Maxon, and a [Boss RE20] Space Echo. I like the old tape units, but I got this one a couple of years ago and use it often. I like the tap-tempo feature. I've used the Morley ECV [Echo Chorus Vibrato] for years now. They're completely nuts. I'm also not much of a gearhead and some of my equipment kind of sucks. I've had it more together in the past. I got a Bob Bradshaw [CAE] rig, but it's too much to lug around. It hooks up to three amps, and it's just a little too space-age.
You've obviously influenced a lot of players over the years. Do you feel that any of them influenced you as well?
Curt: I'd say so. When we played with Soundgarden in the '80s, Chris Cornell said he liked us, but I didn't know just how much until we did some recent dates with them. Kim Thayil is such a great guitar player. People don't talk about Kurt Cobain as a guitar player as often as they should. I love Dean DeLeo. I've done shows with Stone Temple Pilots, and he's always amazing. He's just got great tone, and it seems like there's just nothing to it, it's so easy for him. I love that casual sort of approach. He says if it doesn't have a little bit of blues in it, it's just not that good, which is cool.
I realized early on that I'm not really a shredder. I don't really know scales or stuff like that. I think that's more like playing air guitar on a real guitar. Coming from seeing amazing live stuff like Mahavishnu, and even like Lynyrd Skynyrd, when I was a kid, I never really tried to out-do anybody. I've been out there for a long time, and I'm just not very competitive. I'm more about tone and then what happens from there, playing along with the tune.
Cris: To have been around long enough to be picked by the guys in Nirvana as musical representatives of an entire era, and for our ideas to get to the point where they were commercially palatable was huge. It was definitely interesting to see that our ideas had become part of that makeup and, of course, the culture shift. You get to step back from yourself and realize that you played a part in art history. We started because it was something to do, and it's about the only goddamn thing I'm interested in. Then here we are, all these decades later, and it's like, "Wow, far out!"
On new songs like "Again" and the solo in "You Don't Know," your love of psychedelia comes through. How did you get those sounds, Curt?
Curt: "Again" is just a slide with the Space Echo right into the Marshall, straight up. On "You Don't Know," I'm just holding an EBow, sliding my finger around on the neck a little bit, and I probably have the tone pot turned all the way up on the rhythm pickup. That's all.
Cris Kirkwood's Gear

Guitars
Fender Precision
Amps
Gallien-Krueger 800RB with G-K 4x10 cabinet
Strings, Picks, and Accessories
"Whatever is already on the bass" for strings, Tortex Green (.88 mm) picks
You're clearly not just players, but music fans as well. How do you listen to music these days?
Curt: I don't have an iPod, but I spend a lot of time on YouTube. I can look up something, and it'll suggest different music by the same, or different people. I just go from there and surf around like that. It's a good time to discover things. It's amazing how much stuff is out there.
Cris, do you still play banjo?
Cris: I do. The only banjo I ever recorded was when Mike Watt asked me to play a little banjo on one of his solo records. When Curt's will is finally broken, there will be plenty of banjo on Meat Puppets records. Don't lose hope!
YouTube It
The Meat Puppets have been making music for four decades—check out these live performance Cliff Notes to see what these psychedelic hillbillies are all about.
The Brothers Kirkwood make an appearance on Late Night with Conan O'Brien circa 1994, playing their hit single "Backwater" from Too High to Die, with Curt wielding his 'burst Les Paul.

This acoustic treatment of the chicken-pickin'-flavored new track "Sometimes Blue" was shot in Curt's homebase of Austin during SXSW 2013.

After less than two minutes of verse and chorus on one of several 'Pups' tunes that Kurt Cobain famously covered, guitarist Curt Kirkwood breaks into solo and slide, while bassist Cris Kirkwood get into a groove with drummer Shandon Sahm that lasts longer than six minutes.

On their current Rat Farm Tour, The Meat Puppets play their upbeat, island groove title track in Athens, Georgia, on March 30, 2013.

From Your Site Articles
Related Articles Around the Web