Warren Haynes: Working-Class Hero
Warren Haynes takes us inside "Man in Motion", his first solo album in 15 years. Plus, co-producer Gordie Johnson and bassist George Porter Jr. discuss working with one of rock's busiest guitar slingers.
Warren Haynes with his Cherry Red 1959 Gibson ES-345. "I always think back to B.B. King, Freddie King,
and Albert King. That was the sound I was looking for, and they played a lot of hollowbodies."
Photo by Stewart O'Shields
Warren Haynes is probably the leading candidate to take over the late, great James Brown's title of "The Hardest Working Man in Show-Business." Haynes' ability to morph into any musical situation is a rare trait and one that has brought him to the forefront of modern guitar heroes. Combining a Southern rock attitude with a classic rock ethos, Haynes' main creative outlet has been Gov't Mule. Shortly after he formed the group in 1994, they released their self-titled debut album. The muscular sound of Haynes, drummer Matt Abts, and bassist Allen Woody forged one of the strongest power trios in recent memory. After Woody's death in 2000, Haynes and Abts expanded the group to include keyboardist Danny Louis and current bassist Jorgen Carlsson.
In 1993, Haynes released his first solo album,
Tales of Ordinary Madness
, to critical acclaim. Produced by legendary session keyboardist Chuck Leavell, this album foreshadowed the sound and material that Haynes would later develop further with Gov't Mule. Since then, he has released two live solo albums, (2003's
The Lone EP
and 2004's
Live at Bonnaroo
), and released 16 live and studio albums with the Mule. It is easy to see why his latest album,
Man in Motion
, was a long time in the making.
With
Man in Motion
, Haynes returns to his roots with a collection of R&B tunes that combines elements of Motown, Stax, and Muscle Shoals into a modern tribute to his heroes. "This album was a real labor of love and a dream that Warren has had for a long time," says Gordie Johnson, who co-produced the album with Haynes. Even though this is a new release for Haynes, he recorded the album at the same time as the most recent Gov't Mule album,
By a Thread
.
For this project, Haynes wanted to expand the sound beyond the trios and quartets he usually plays with. Joining him on the album is a New Orleans-based rhythm section that includes drummer Raymond Weber, bassist George Porter, Jr., and keyboardist Ivan Neville. Rounding out the band is saxophonist Ron Holloway—a longtime Haynes collaborator— and vocalist Ruthie Foster, who is also a fine guitar player. And while Haynes was tracking the record in Austin, he invited former Faces keyboardist Ian McLagan to join the musical party.
We recently caught up with Haynes between rehearsals for the Allman Brothers' annual residency at New York's Beacon Theater to discuss hollowbody guitars, the three kings of the blues, and how he still continues to kick out the jams.
You're quite a prolific songwriter. Did you write the songs on Man in Motion specifically for this project, or have you been collecting them over the years?
Haynes digs into a Gibson non-reverse Firebird with three P-90s during a gig in Negril, Jamaica, on January 27, 2011. Photo by Dino Perrucci
It was a combination of both. The majority were probably written with the project in mind or at least within a short window of time in the last two or three years. There are a couple of songs that go back further, like "Real Lonely Night" and "Your Wildest Dream," that I've just needed an outlet for. Most of the other stuff is pretty new.
What was your songwriting process?
I've been a lyrics-first type of guy, but in the last few years I have been trying to do the opposite just to shake things up and not fall into a pattern. I often tend to write when I am lyrically inspired and then somewhere during the process of putting the lyric together I get some sort of cadence or melody in my head, which will eventually lead to the music. But that's not always the case. Some of the songs on this record were written with the music first. I guess I don't have a set way to write.
How did you choose the band for the album?
They were all exactly who I would prefer to interpret the songs for this kind of project and this type of music. George Porter, Jr., Ivan Neville, Raymond Weber, Ron Holloway, and even Ruthie Foster had all worked with me on previous projects. The only person I had not worked with before was [Faces keyboardist] Ian McLagan who was kind of brought in at the last minute. Gordie Johnson, the co-producer and engineer on this project, had been working with Ian on some other stuff. Ian lives in Austin, where we were recording, so Gordie thought it would be nice to have a dual-keyboard setup, similar to The Band with Garth Hudson and Richard Manuel, where there are two keyboardists playing all the time. Ivan knew Ian from when they worked together on a Keith Richards project. I met Ian in the studio for the first time and things just fell in place very quickly and organically.
Did any songs develop in something different once you were in the studio?
"A Friend to You" originally was all one time signature. Right before I showed the songs to the band, Gordie and I were messing with the arrangement and I came up with the idea to make the intro and the bridge in 6/8 instead of 4/4. The final version, which was what we showed the band, had those time-signature changes.
Your guitar tone on this album is much cleaner than your usual tone with Gov't Mule.
Yeah. The music itself dictated a change in my approach. I went for a much cleaner, more old-school blues and R&B sound. Most of the sounds on the record are what I consider to be "pre-rock" with lower gain. For the most part, I am playing vintage hollowbody guitars like Gibson ES-335s and 345s. On a couple of tracks, I played my Les Paul and on a couple I played my D'Angelico New Yorker. The intent was to go for a completely different thing. The vibe was to take the soul music of the late '60s and combine that with early-'70s blues—right when they were making that transition more towards soul music. We didn't go in wanting to copy anything directly. We just wanted to take a cue from two worlds we felt would best represent the songs we'd chosen.
What was it about the sound of the hollowbody guitars?
It just seemed like the right sound for the music. I always think back to B.B. King, Freddie King, and Albert King. That was the sound I was looking for, and they played a lot of hollowbodies. Of course Albert played a V, but his sound was distinctive. We just wanted to find something that matched the music more than anything else.
Did you use a multi-amp setup?
Yeah, it was usually a combination of two or three amps we recorded separately during the session and then blended during the mixing. I used a Trainwreck amp I borrowed from a friend because my gear was all in New York. Because we were recording in Texas, it wasn't possible for me to bring all of my vintage gear. So I just brought a few things and then borrowed the rest. Most of the amp sounds were the Trainwreck, an old Fender Vibrolux, or a '60s Fender Super Reverb.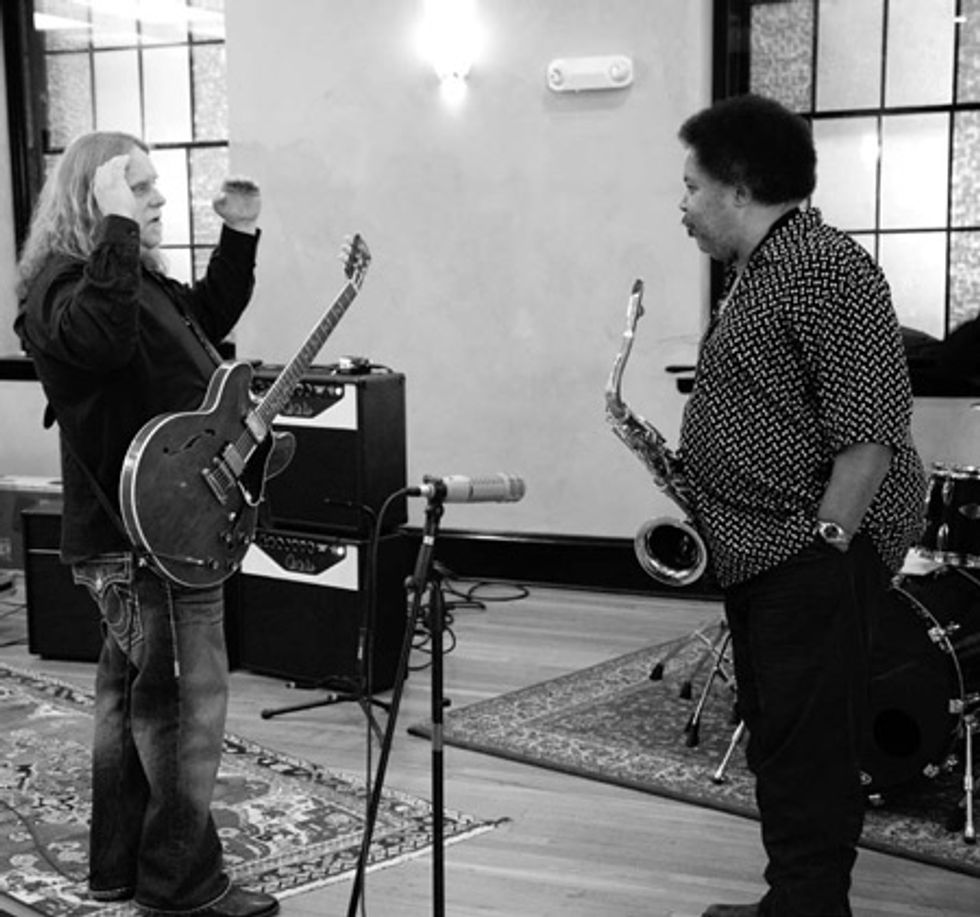 Armed with his vintage Gibson ES-335 and PRS amps, Haynes discusses a tune with
saxophonist Ron Hollaway at Willie Nelson's Pedernales Studios in Austin, Texas.
Photo by Stewart O'Shields
You and Gordie Johnson have worked together before. When you're in the studio, what is the dynamic between you two like?
When we start to record, Gordie is in the control room and I'm on the floor with the band. Once we graduate beyond that, we work very well together and I take a very hands-on approach. Gordie and I have a very good working relationship. We trust each other's instincts, and if one of us feels really strongly about something, the other one usually backs off.
Does that happen very often?
Most of the time we agree, but if we don't, the one who feels the most passionate takes the ball and runs with it. But I trust his instinct so much, which is why he is there. I not only trust him sonically, but also from an arrangement perspective. From a creative standpoint, he is one of the best I have ever worked with. The end result is always great because neither one of us are going to settle for less than something that satisfies both of us.
Did recording at Willie Nelson's Pedernales Studios add to the vibe of the sessions?
We recorded the last two Mule records at Pedernales, so I'm very comfortable there. Gordie works a lot out of there— it tends to be his home base. There is a big "comfort factor" there. Gordie knows how to get what he is looking for in that room, and it's just a great place to record. In order to do this kind of record, we really needed a studio with a great vintage mic and amp selection. It worked out great.
Many of the songs have stretched-out sections. Did you plan this going in?
We went into it knowing there needed to be a lot of guitar playing in addition to the songs and my voice, which tend to be the focus of the record. The jams— especially in the song outros—went down just like you hear them on the record. We had the option of shortening them or fading sooner, but we felt that would be the wrong choice. Most people who buy this record would probably prefer the longer version.
How did you decide on a good performance in the studio?
When I'm looking for a good performance, the most important factor is to get the chemistry of the band together. The call and response, and the interplay between the musicians is more important to me than how well I am playing at any given moment, and that carries over into the solos.
Did you cut your solos live?
All the guitar solos were recorded live on the basic track with the band—I don't go back and overdub them later. I find that's pretty futile in improvisational music. For me, capturing the spirit of the whole band hitting on all cylinders is the most important thing, and the best way to capture that is to have the whole band in the room looking at each other while we're playing. That's what I am accustomed to. It's how we make Gov't Mule records and how we did the last Allman Brothers record. Sometimes I think, "Well, maybe for the next record I will overdub more," but it never turns out that way. I always find I'm happier with the solos I play on the live track.
How did you approach recording the horn section?
That's an Austin-based horn section that we added after the fact. All the tenor sax solos, including the sax through the wah on "Sick of My Shadow" and the harmony saxes on the end of "Real Lonely Night" were played by Ron Holloway. He has been a good friend for many years and will be in the band I tour with.
With all the horns and keyboards, it's easy for some instruments to get lost in the shuffle. How did you avoid having a cluttered mix?
We went for a pretty old-school approach. The organ, piano, and Wurlitzer were all recorded mono. That means whenever there are two or more keyboards playing at the same time there is no stereo panning of the keyboards. We didn't go for the stereo Leslie sound or the stereo piano sound. The goal was for everything to sound natural, so Ivan Neville's organ and Clavinet is on the left side, and Ian's piano and organ comes from the right. We wanted to leave space for the guitar and vocals in the center. It was a pretty natural, old-school way of doing it, as far as making room for the sax and the horns. We had a vision way in advance for what we wanted this record to sound like.
For Gov't Mule gigs, Haynes plugs his Gibson Les Paul Inspired by Warren Haynes into a
Diaz CD- 100 amp driving an Engl cab. Photo by Brian Shupe
Did you have specific albums in mind?
We didn't physically go and A/B the sound. We just wanted to go from what it sounded like in our memory. A lot of that started with using vintage equipment, vintage mics, and recording to analog tape. Also, recording at 15 ips, which is very, very old-school. The intent was to make the record sound like it belonged with the music that influenced it.
Do you think any of the songs from this album will creep into a Mule or Allman Brothers set list?
We're actually starting to play "River's Gonna Rise" with the Allman Brothers now. I can imagine some of the songs would get played with Gov't Mule, even though I chose to record them for this other project. When the time comes, we'll look at some of them and reinterpret them as Gov't Mule songs.
Looking past this album, what projects are on the horizon?
I think the music business is reinventing itself to such an extent that it's probable we'll come out with a lot of projects—even if they're released through our own label. I don't want to wait nearly this long to do another solo record. I have several projects in mind, but I'm guessing the next thing I'll do is a new Gov't Mule record, and I'm excited about that. But I want to start working on another solo record very soon as well. And it won't be like this one—it will be completely different. It will probably have more acoustic instruments and come from a singer-songwriter direction.
Warren Haynes' Gearbox
Guitars
Gibson Les Paul Inspired by Warren Haynes, D'Angelico New Yorker NY-4, 1969 Gibson ES-335, 1967 Gibson ES-355, 1959 Gibson Les Paul, 1959 Gibson ES-345, Gibson Custom Shop, Firebird V
Amps
Trainwreck, Gibson Voyager, PRS Dallas 50-watt, PRS Club 30, Fender Super Reverb, Fender Pro Junior, Fender Vibrolux
Effects
Hughes & Kettner, Rotosphere, Dunlop Cry Baby wah
Strings
GHS .011–.050
Gordie Johnson Talks About Capturing Haynes' Tone
How did the physical studio space contribute to the sound of the album?
There's a lot of room at Pedernales. We had several different size rooms for isolation. I put the Leslie for Ivan Neville's Hammond B-3 out in the lobby, which has Mexican tiles on the floor, a wooden ceiling, and Willie Nelson's platinum records on the wall. It's really reflective in there, and it made Ivan's Leslie sound like an organ in church.
What mic'ing techniques do you use to capture Warren's tone?
We have a technique that we use from time to time, which is really mic-intensive. Say we have a 4x12 cab, a 4x10 cab, and a mini-amp with a single 10" speaker. I will mic all three of those rigs with about twelve microphones. I tell you what though, I have also recorded him on a number of occasions through a 15-watt amp, and I just put a mic in front of it. I have used dynamic mics, condenser mics, old fancy Neumanns, newer Shure mics, whatever.
So it mostly depends on the situation and feel you are going for on a particular song?
I just mic it in whatever way might excite him in the moment and create a nice vibe. Sometimes the vibe is, "Hey man, let's just put one mic on this sketchy little amp I found in the closet." If he thinks its cool, then we are going to get a good performance out of it. If the prospect of putting 12 mics on the rig excites Warren, then that's what we will do. Ultimately, though, Warren sounds like Warren Haynes.
For this album, was it more of the 12-mic setup or a paired-down version?
We had a Fender Super Reverb, a Fender Pro Junior, and a custom Trainwreck. All of the amps were mic'd, but I didn't always use all of them when mixing. I just wanted to be covered in terms of the tonal colors I might need. If Warren was listening primarily to a Super Reverb, then that's one I would use during the mixing.
How did you keep the Pro Junior from getting lost among the other larger amps?
That little Fender Pro Junior is really handy. It was actually the biggest sounding amp because it's so direct. You have to mic it in an isolated way that makes the guitar sound really big with a tight bottom end. It's not a Princeton or some special old amp. You can buy one for a couple hundred bucks at Guitar Center. We have used it on Mule records, and it is just this little supplement that goes into the sound and is very effective.
With all the tones at your disposal, how did you handle the mixing?
I prefer to print the tones I want to hear on mix day. I'll hear the guys warming up and rehearsing the song a little bit and go, "I'm not going to want to gate the toms, let me run out there and put a piece of tape on it." Or I might move a mic a foot away from something because that's how I'll want to hear it in the mix. Instead of just putting reverb on it later, I'll move that mic away. I am pretty hands-on that way.
What was the most challenging part of the session?
Getting George Porter, Jr. to change a note in a bass line. I felt bad even asking because it's George Porter and I am just some dude in a cowboy hat sitting in the control room. He was playing a bass line that was like "In the Midnight Hour," and I said, "Can we change it a little bit?" He just looked at me like I had a horn growing out of my head. I hated to even ask him. I wasn't going to suggest what to play, but I just wanted it to be something different. About 10 minutes later it would just fall right back into that. It was getting uncomfortable. I was like, "Look, George, can you please play something different. I don't really know what to tell you."
George was like this statue, this bronze statue just staring at me. I was thinking, "What am I going to do? Warren doesn't want to record 'In the Midnight Hour.'" George holds out his hand and looks at it and nods his head. I had to reach in my pocket and pull out a $5 bill. I had to pay him five bucks to change a note! Anytime I had a suggestion for the bass, I had to hold up money.
Going Through the Motions
Haynes walks PG through each track on Man in Motion
"Man in Motion"
That is one of a couple of songs where we actually used a grand piano—most of the other songs use a Wurlitzer. I had come up with the horn arrangement in my head just walking around, and Gordie helped me change it a little bit. That song is hard to describe in terms of influences. It was a combination of a lot of different things.
Guitar
: 1959 Gibson ES-345
"River's Gonna Rise"
It definitely has the Albert King sound and approach. At the end of the song, we're just jamming in the studio thinking we could always go back and either fade earlier or put an ending on it. We wound up using the longer version because we thought all the guitar freaks would like it.
Guitar
: Gibson Les Paul Inspired by Warren Haynes
"Every Day Will Be Like a Holiday"
That was the only non-original song on the record. It had been stuck in my head for years and I always wanted to record it. The Mule actually played it once or twice, but when I started thinking about this record it seemed like a good candidate. I really love the combination of my voice along with Ruthie Foster and Ivan Neville, and all the interplay between Ivan and Ian. Just everything about that track is really special. I don't remember the first time I heard that song, but I'm guessing that it was William Bell's original version. I could never pinpoint exactly what recording it was. When I went back years later to revisit the song, I couldn't find a version that sounded like what I remembered, so I just listened to a few different ones. William has been a friend for over 20 years, so it was a nice coincidence that he wrote the only outside song on the record.
Guitar
: 1959 Gibson ES-345
"Sick of My Shadow"
I think the D'Angelico provided a nice contrast to the saxophone, especially since Ron is playing through a wah. It has a very early-to-mid-'70s vibe. People like Eddie Harris and Miles Davis' album,
On the Corner
has stuff like that—a unique sound.
Guitar
: D'Angelico New Yorker
"Your Wildest Dreams"
I use flatwound strings on the New Yorker, so it has that real earthy, warm sound. I have had that guitar about 10 years now. They sound amazing. I was able to do all the cool rhythm stuff, but with a sound that wasn't as predictable.
Guitar
: D'Angelico New Yorker
"On a Real Lonely Night"
Again, I wanted to contrast with the sax, which on this song didn't have the wah. I thought all the cool question-and-answer stuff between the sax and the guitar works well. It is a little different sound from "Your Wildest Dreams," even though it is the same guitar.
Guitar
: D'Angelico New Yorker
"Hattiesburg Hustle"
We went for a little heavier sound on this song than the rest of the record—just because of the nature of the song. It could easily have been a Gov't Mule song. I would say it's the only one on the record that could have gone either way.
Guitar
: Gordie Johnson's Gibson ES-345
"A Friend to You"
This time—in addition to the amps—I ran it through a Leslie set on slow speed. That kind of cool Hendrix-y flange you hear is a real Leslie.
Guitar
: D'Angelico New Yorker
"Take a Bullet"
David Grissom came by the studio the day we recorded that track—he lives near there and I told him just to drop by any day. I asked him if he wanted to play, so David played the rhythm guitar part, and I just sang on the basic track and played lead. Since the song is in E%, he tuned an ES-345 down to an open-Eb tuning. He was playing through the brown Fender Vibrolux that was from the late '50s or early '60s.
Guitar
: 1969 Gibson ES-335
"Save Me"
We recorded that with just the piano, vocal, organ, and a small amount of guitar. We set up a really big old-school mic in the middle of the room and I sang about six feet away from it. I played through a Fender Super Reverb with some tremolo. We had originally thought it would be cool to record that song in a church—to capture that gospel essence of the tune. Willie has a really old church on his property and so we were actually going to try to record it in there. But they didn't have a piano and we couldn't move our piano, so we decided to just recreate the sound in the studio. We recorded it completely live and it was the last thing we did for the album.
Guitar
: Gibson Les Paul Inspired by Warren Haynes
Solid As a Rock
Legendary bassist George Porter Jr. talks about holding down the low end on Man in Motion.
Armed with his vintage Fender P bass, George Porter Jr. established the sound and feel of modern New Orleans music with the seminal R&B band, the Meters. Even though
Man in Motion
was the first full studio record Porter has recorded with Haynes, it wasn't the first time they had worked together.
"A year or so after the Mule's original bass player passed away, Warren was doing a record and Art Neville and myself got a call to come up and play on the record," remembers Porter. "Pretty much from there, the handwriting was on the wall. When they decided to go out on the road to support that album, Greg Rzab and I got the call to do the tour."
Although the band Haynes assembled for the new album had never played together before, the rhythm section had some history together. "I had played with both Ivan Neville and Raymond Weber before," says Porter. "They grew up in and around the scene in New Orleans, musically and otherwise, their whole lives. The three of us had a connection that was pretty developed. When Warren showed us the songs, we could tell it was right in the vein of the music we grew up with."
When it comes to the tools of his trade, Porter is rarely found without his iconic Fender P bass. "The neck on the P bass is a '63 and the body had a fretless neck on it when I bought it in 1970. The Meters didn't like the fretless concept, and I was ordered to get rid of it or 'they would break it,' in the words of Art Neville."
Even though the band didn't like the fretless sound, Porter didn't abandon the axe completely. "Basically, I really liked the tone of that particular bass and the CBS pickups more than I liked the sound of the original P basses. The CBS basses seemed to have a lot more punch to them. So instead of looking for another bass, I went looking for a neck to put on that bass."