Baldwin Model C1 Amplifier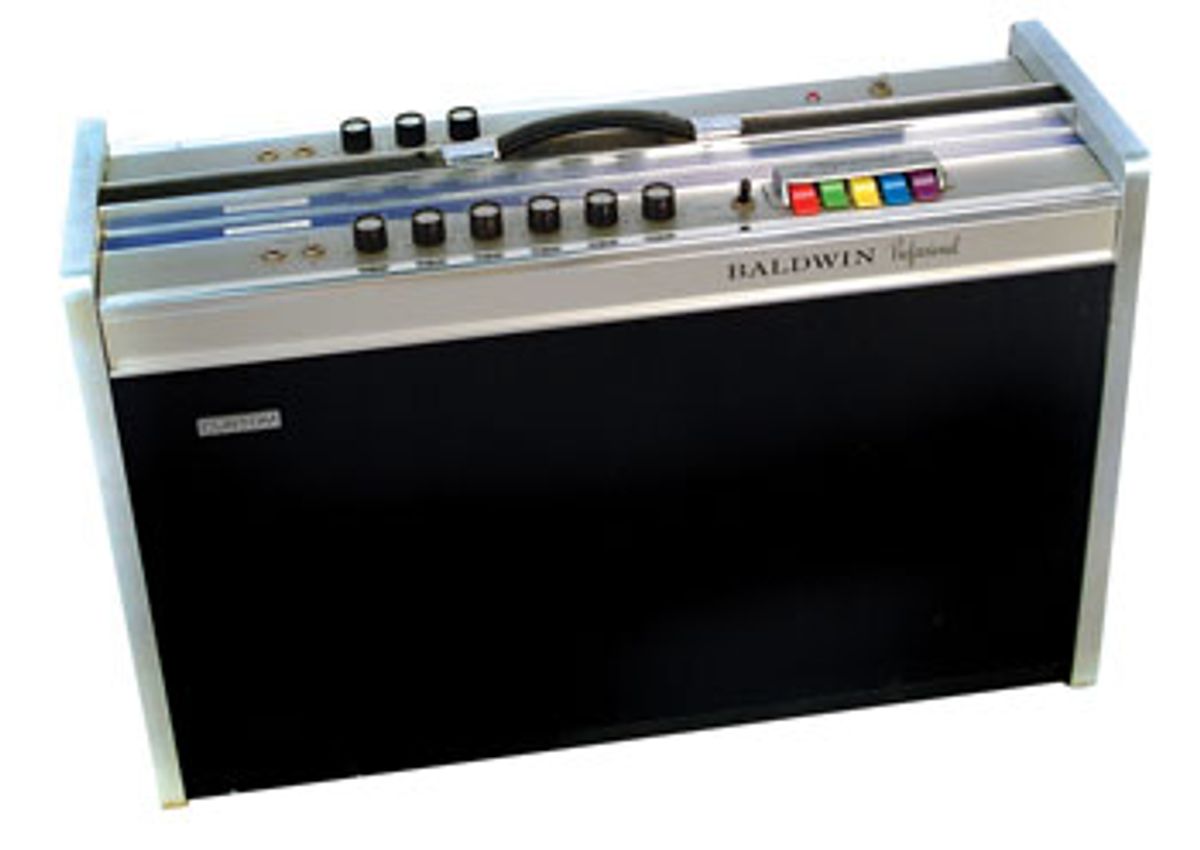 Zachary sheds some light on the history of Baldwin amplifiers, and specifically the Bladwin Professional, or Model C1.
Hey Zach,
I was hoping you could shed some light on this Baldwin Professional amplifier I've had for several years. I rarely use it, but I was thinking it might be a neat amp for my son, who is really starting to get interested in guitars. Please tell me as much as you can about this amp and an approximate value!

Jim in Joliet, Illinois

Hey Jim,
I'm glad to hear that your son is interested in guitars—it's mainly up to parents to get kids involved in music today, and I applaud your efforts. If your son truly has guitar fever, he'll love to play through just about any amplifier you show him. Trial and error is all part of the guitar experience when it comes to selecting gear, and since you already have this amp in your house, you might as well start there and see where it goes. Let's take a look at Baldwin and the Professional model you have.
Dwight Hamilton Baldwin opened a music store in Cincinnati, OH, in 1862 and by the 1960s, Baldwin was one of the largest piano and organ manufacturers in the world. In response to the guitar boom of the early 1960s, Baldwin decided to expand into guitars. A little known fact is that in 1964, Baldwin tried to buy Fender before CBS became involved—think of what Baldwin and Fender would be today if that had happened! Instead, Baldwin ended up buying Burns guitars from English luthier Jim Burns in 1965. Burnsbuilt guitars began appearing in the US labeled as Baldwins on the headstock. This arrangement with Burns lasted through 1970 and ended largely because Baldwin bought a much larger trademark/company in 1967: Gretsch.
It was around the same time in 1965 that Baldwin began building guitar amplifiers. All assembly took place in the Fayetteville, AR, organ plant, which was supervised by Stan Krueger. Baldwin amps utilized a very innovative design from the late 1960s with a solid-state chassis. Another unique feature of Baldwin guitar amplifiers is the "Supersound" tone circuit controlled by the colorful push buttons on the right-hand side of the control panel. These were basically pre-set EQ settings for Treble, Mid 1, Mid 2, Bass, and a mix. A three-way toggle switch allowed the user to switch between normal operation, Supersound operation, and dual operation. All of these effects could be switched while in operation, and according to Baldwin's factory catalog, "Hear it, and you might think it's a happening," whatever that means!
While your amp says it is a "Professional" it is actually the Model C1 (Custom Amplifier with Supersound). It features 45W power RMS (125W peak), 2x12" Baldwin-designed nylon-reinforced speakers, two channels, tremolo, reverb, four inputs (two per channel), nine knobs (Ch. 1: Volume, Bass, Treble, Ch. 2: Volume, Bass, Treble, Tremolo Speed, Tremolo Intensity, and Reverb), and the Supersound circuit with five push-buttons and a three-way switch. A two-button footswitch is included as well. It's all encased with attractive baby blue side panels, a black speaker grille, and a brushed aluminum control panel. We're talking serious '60s groove here, baby!
Most reports and reviews on these amplifiers indicate that they sounded full and responsive, but again, they are from the dinosaur era of 1960s solid-state amplifiers. Since Baldwin was a piano and organ manufacturing company to begin with, the amps actually have many tendencies towards organs, such as pushbutton presets. Because of these factors, collectors and players have never really taken an interest in these amps. Today, this amplifier is worth between $325 and $400, which is quite a bit of amp for not a lot of money.
Baldwin ceased amplifier production in 1970 to fully devote time to Gretsch (although Baldwin did offer some Gretsch amps in the early 1970s, they were Sonax branded, which were built in Canada). As long as this amplifier is in full working order, your son could have many hours of enjoyment experimenting with the Supersound circuit, which is a treasure in itself, regardless of the monetary value!
---
Zachary R. Fjestad

Zachary is the author of the Blue Book of Acoustic Guitars, Blue Book of Electric Guitars, and the Blue Book of Guitar Amplifiers. Questions can be submitted to:
Blue Book Publications
Attn: Guitar Trash or Treasure
8009 34th Ave. S. Ste #175
Minneapolis, MN 55425
800-877-4867
bluebookinc.com
guitars@bluebookinc.com