Photo courtesy of Don Peake
The Wrecking Crew guitarist played with the Everly Brothers, the Jackson 5, Marvin Gaye, and many more. He shares memories of hanging with Elvis, the Beatles, and the Stones, long sessions with Phil Spector, recording with Sonny and Cher, and spitballing now-iconic guitar lines ingrained in music history.
The Wrecking Crew was a group of Los Angeles session players who shaped hundreds of hit records in the '60s and early '70s. The list of guitarists often named as crew members includes Tommy Tedesco, James Burton, Glen Campbell, Al Casey, Barney Kessel, and Howard Roberts. More rarely mentioned is Don Peake, who was right there in the studio trenches with them, creating timeless tracks for Phil Spector and others.
Peake later cut hits for Motown as well. If you listen to classic pop radio, you have doubtless heard the iconic opening wah-wah lick to Marvin Gaye's "Let's Get It On" and the guitar line doubling the bass on the Jackson 5's "I Want You Back," but probably never knew it was Peake playing those parts.
Though he appears briefly in The Wrecking Crew movie, it's safe to say Don Peake's place in the world of historic session guitarists is shamefully unsung. It's long past time for this purveyor of iconic guitar parts to be recognized. While many of his peers have departed, Peake luckily remains with us, ready to relay some amazing stories, which he does in this Premier Guitar interview.
"Elvis would come in three nights a week. We'd sit with him in the balcony on the break." —Don Peake
Don Peake was born in Los Angeles, California, on June 7, 1940. During high school, he played clarinet and sang with an a cappella choir. Picking up the ukulele at 16, he eventually moved to guitar. When word got out he could play Gene Vincent's "Be-Bop-A-Lula," it was recommended he try out for a gig with rockabilly singer Jackie Lee Cochran.
"I went to a night club called the Rag Doll," Peake recalls. "In the parking lot was a line of guitarists waiting to audition." Cochran fortuitously asked Peake if he knew "Be-Bop-A-Lula," and an affirmative answer helped him clinch the gig. Opening night, after playing that song, Cochran asked the young guitarist what else he knew. "Nothing," he replied.
Peake managed to keep the job, but to fill in the gaps he quickly signed up for lessons at Clara Joyce Sherman's School of Music in Hollywood. As luck would have it, his guitar teacher was Ray Pohlman, who would go on to be a regular guitarist and bassist in the Wrecking Crew. "Ray was a jazz guitarist who played with the Billy May Orchestra," he says. "He taught me to play and mentored me. I bought my blonde, 1946 Gibson ES-350 with the single pickup from him." A special guitar, indeed: The ES-350 Peake bought from Pohlman was a rare one-pickup jazz model made in 1946. Gibson started making the iconic two-pickup models in 1947.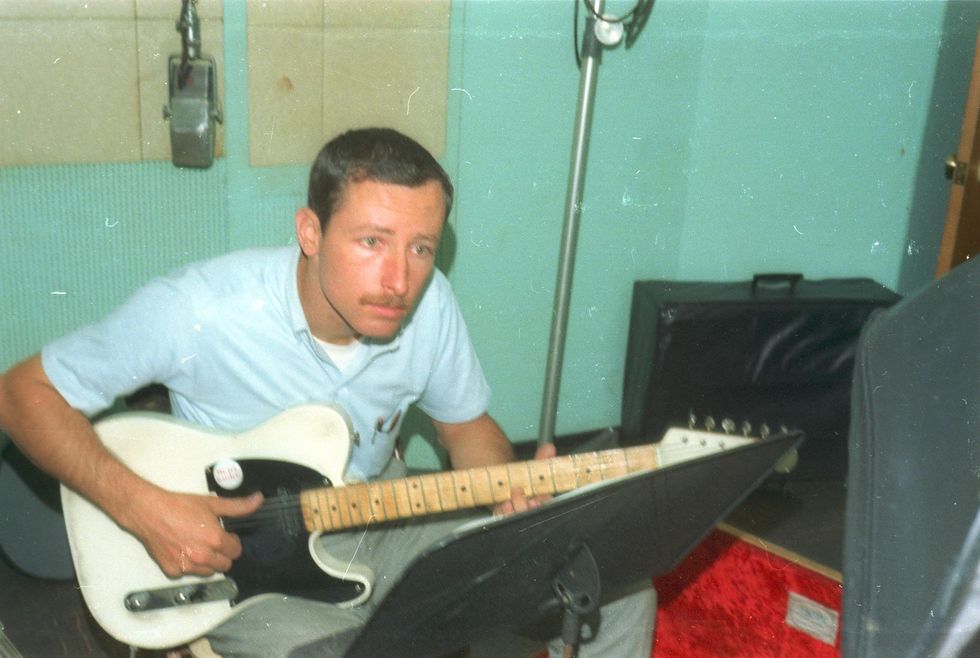 Here's Peake at work in studio, putting his skill at reading music to work. This is a still from the documentary film The Wrecking Crew.
Working with Cochran helped cement the young guitarist's reputation as a rock 'n' roll player, which led to a gig with Lance LeGault, Elvis Presley's movie stand-in. "LeGault loved Ray Charles' songs and had his sax player write out 'Hallelujah, I Love Her So,' 'Drown in My Own Tears,' etc.," says Peake. "I learned the exact guitar parts, which came in handy later. Elvis would come in three nights a week. We'd sit with him in the balcony on the break."
Learning to read music while playing rock 'n' roll gigs provided Peake a perfect primer for later working with the similarly schooled Wrecking Crew, who also helped create much of the era's teenage music. Another bit of serendipity was hanging out with a young Phil Spector.
"Phil was studying with Howard Roberts," Peake remembers. "I started studying with both Barney Kessel and Roberts. Howard would write out arpeggios for me, while Barney was 'Mr. Time.' He would say, 'You've got a rod connecting your forearm to your foot. You have to tap your foot and keep your arm moving. It doesn't matter if you miss the chord, keep going. Never stop your right hand.'" Spector gave Peake a T-Bone Walker LP, adding a blues influence to the guitarist's jazz and rock background. "T-Bone had those wonderful moving 9th chords," he says.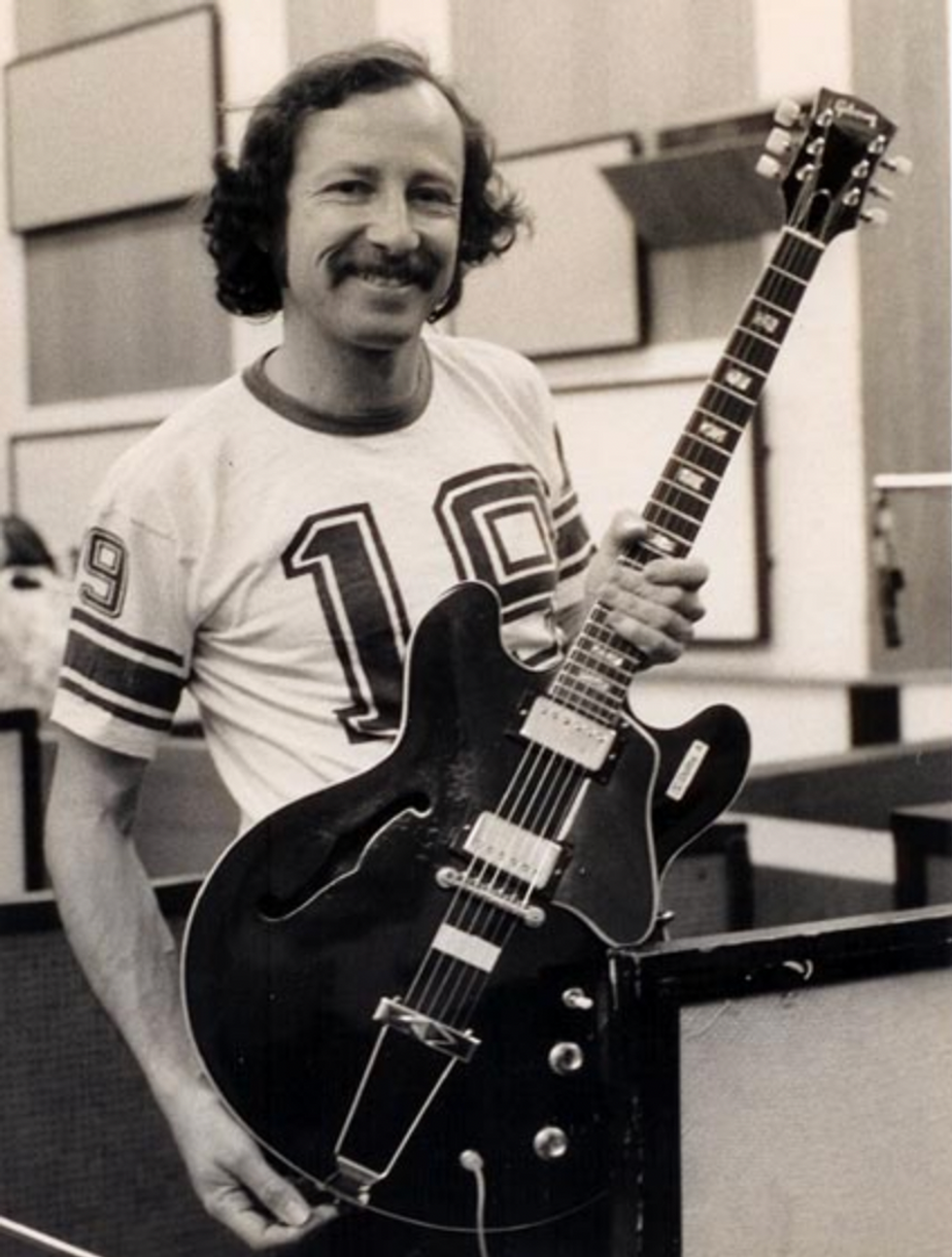 Shown here in 1972 at an RCA Hollywood Studio session, Peake holds a modified ES-335 that began life as a 12-string, owned by John Phillips of the Mamas & the Papas. Fellow sessioner Paul Herman got it from Phillips and cut down the headstock and painted it black before selling it to Peake, who then used the instrument as his primary studio axe.
Courtesy of Don Peake
Spector's friend Marshall Leib, from his group the Teddy Bears, told Peake that the Everly Brothers were looking for a guitar player. Playing with the Everlys would be his first big gig and place him at the center of the musical revolution taking place in early '60s England.
"We flew to London," he recalls. "After the gig, we went to a night club where a pretty good band was playing." Still wearing their matching gray suits, it was clear that Peake and company were a band as well, so the local performers joined them on their break. Among those locals were Albert Lee and Eric Clapton. In his autobiography, Clapton describes Peake as one of the American guitarists who impressed him as being technically better than he was.
On the next trip to England, the Everly Brothers headlined a tour featuring the Rolling Stones, Bo Diddley, and Little Richard. "As I was watching one of the other acts, I noticed a black man in a full-length peignoir across the stage, holding a bible," he says. "One of the stagehands said, 'That's Little Richard Penniman.'"
"Brother Ray came in and sat down at the piano. He said, 'Do you know 'Hallelujah, I Love Her So?'—cut back to Lance LeGault, making me learn those Ray Charles songs—I said, 'Absolutely.'" —Don Peake
Brothers and band soon started hanging with the Beatles and Stones in Hamburg. "The Star-Club had three stages," says Peake. "We traded sets: Everly Brothers, Rolling Stones, Beatles. Jim Gordon came over as the drummer. He went on to play with Clapton."
During his Everly Brothers tenure, Peake had to leave his 1951 Fender Broadcaster at home. "The Everly Brothers were sponsored by Gibson, so we weren't allowed to use a Fender guitar onstage," he explains. "They gave me a brand new, bright red SG. We were strumming hard, and it would constantly break the 3rd or 4th string. I didn't have a spare guitar, so I would finish the show playing an octave higher."
Once back in Los Angeles, producer Jimmie Haskell heard about Peake and arranged for him to play with Ricky Nelson. "I played on the Adventures of Ozzie and Harriet sessions for a little while," he says. "James Burton was there at the same time. He came in the studio one day and started bending strings. I said, 'How did you do that?' He said, 'I've got an E string, where my G string is supposed to be.' That was the first time we saw anybody play a light G string."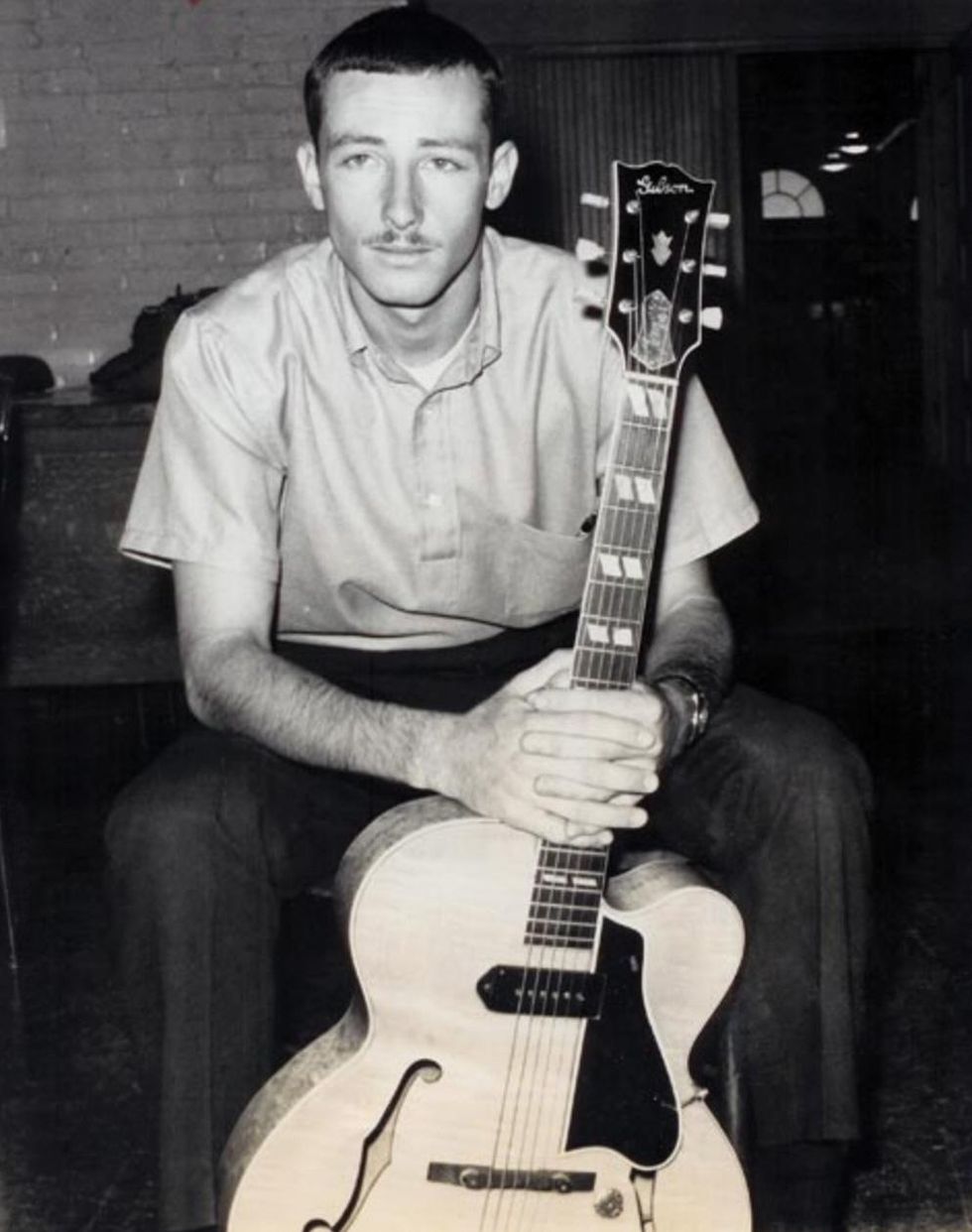 Don Peake bought this blonde 1946 Gibson ES-350 with a single pickup from Ray Pohlman, his guitar mentor and Wrecking Crew bandmate. This rare jazz model was a precursor to the two-pickup model introduced in 1947. Peake's chart-reading and big-band chops were honed while playing in the jazz band at L.A. City College, where this photo was taken in 1960.
Photo courtesy of Don Peake
Peake's sessions with the Wrecking Crew started around 1966 with the Righteous Brothers' "You've Lost That Lovin' Feelin'." That record would define Spector's "Wall of Sound" and become one of the most played radio tunes of all time. A sizable chunk of that "wall" was the guitar section, including Barney Kessel, Howard Roberts, Bill Pittman, Tommy Tedesco, and Peake, all playing together.
"Tommy or Barney would be the first chair," Peake recalls. "There were always three guys playing miked Gibson L-5s. I bought mine from Howard Roberts. The board at Gold Star only had seven channels, so they had all the guitar mics running together on one channel. Phil would have us move around to get the balance. He would rehearse us for three hours. Howard Roberts once said, 'Man, you come out here and play this. I'm getting tired.'"
Peake is featured on another major hit that sounds like a Spector production, but isn't. "One day, I'm up at Armin Steiner's studio and a shaggy-haired guy comes in with a beautiful girl in bangs," he relates. "The producer said, 'This is Caesar and Cleo.' The song was 'Baby Don't Go.' I did the tremolo strumming part."
"Don was the best reader of the three of us and would help us with any problems reading charts." —Louie Shelton
A week later, Ahmet Ertegun heard the duo, changed their name to Sonny and Cher, and ordered a full album, which included the massive hit "I Got You Babe."
"That tune is me on my Fender Telecaster with a lot of reverb," says Peake. "Sonny produced the records. He'd been a gofer for Phil Spector and, like Phil, he was into lots of reverb and long rehearsals. Barney Kessel was sitting next to me. He had played jazz with Charlie Parker and Lady Day [Billie Holiday]. After playing this one F7 chord for three hours he said, 'Sonny, if a doctor told me I had only two weeks to live, I'd spend them with you because each moment is like an eternity'."
In 1964, Peake landed a gig with a man whose music had inspired him as a teenager. While recording at Gold Star Studios, he ran into his friend Arthur Wright on the phone with Ray Charles' manager Joe Adams. Wright put Peake on the call.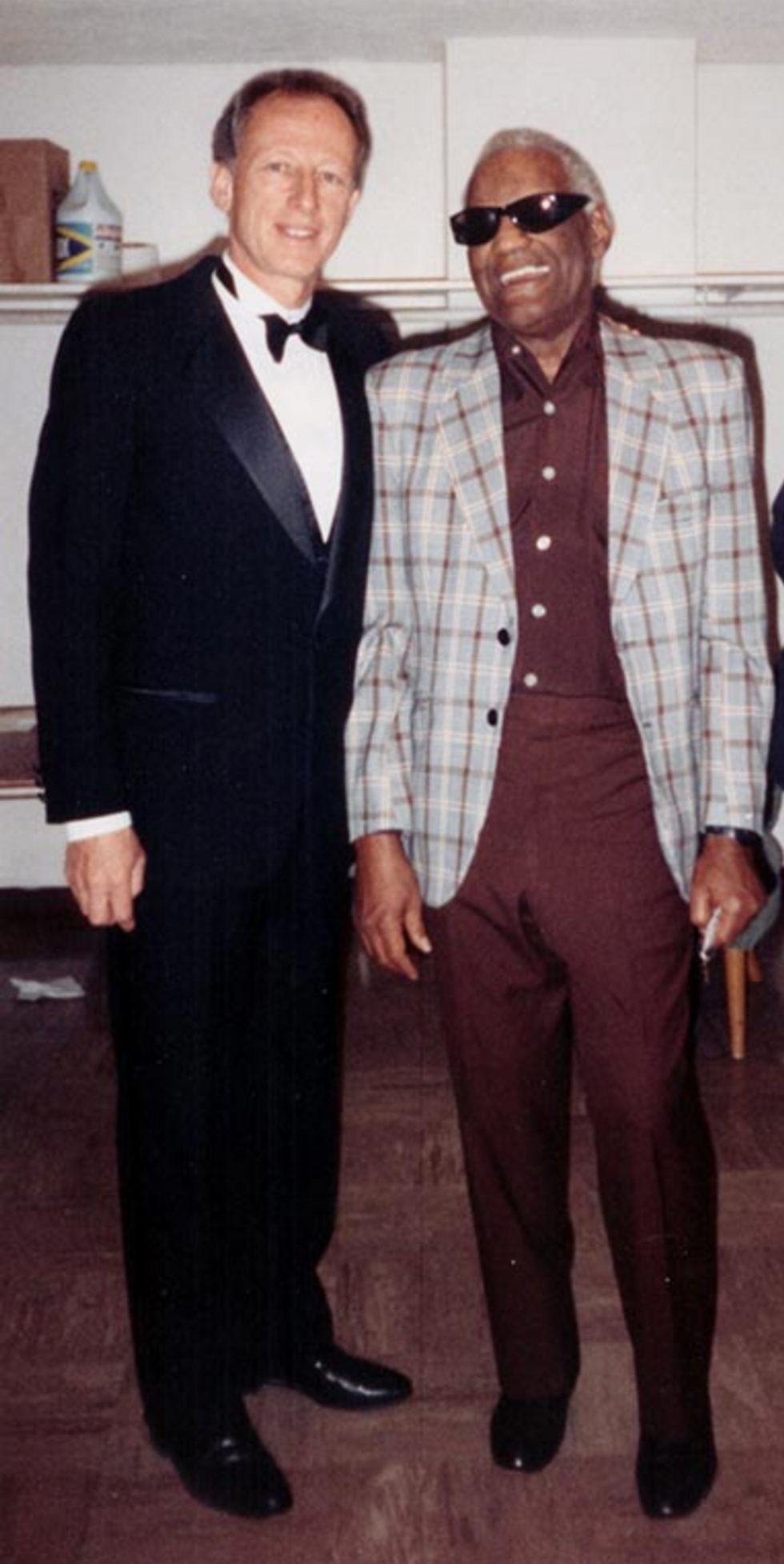 Don Peake with his boss, the great Ray Charles, in the dressing room before a show in Wichita, Kansas, circa 1993.
Courtesy of Don Peake
"Adams said, 'Ray Charles is looking for a guitar player," he recalls. "We've tried 35 guys and can't find anybody who can play the blues, read music, play jazz, and already knows Ray's old songs, because we've lost some of that music.' I said, 'I'm white.' He said, 'Can you play?' I said, 'Yes.' He said, 'Get down here.'"
Peake grabbed his Deluxe Reverb, Gibson L-5, and ES-350, and drove to the studio, where he hauled all three up a flight of stairs. With his hands full, he kicked open the rehearsal room door, slamming it into the wall.
"Staring at me were five saxophones, four trombones, four trumpets, bass, drums, an empty piano chair, and an empty guitar chair," he says. "I'd been playing with the jazz band at L.A. City College, so I knew how to read big band charts. The drummer called an up-tempo Count Basie blues and I started playing that L-5 as fast as I could. Leroy Cooper, the baritone player, leaned over to Lily Fort, the lead singer of the Raelettes, and said, 'That boy is serious.' Then they said, 'Get out your electric.' I picked up the 350 and we did 'Jumping with Symphony Sid.' Brother Ray came in and sat down at the piano. He said, 'Do you know 'Hallelujah, I Love Her So?'—cut back to Lance LeGault, making me learn those Ray Charles songs—I said, 'Absolutely.'"
Joe Adams informed Peake that Charles wanted to hire him at $200 a week. "I told him the Everly Brothers were paying $225," says Peake. Adams said he would have to talk to Mr. Charles. Fearing he had blown the gig of a lifetime, Peake drove to his mother's house, where he lived when he was off the road. "She said, 'Joe Adams called," he recalls. "They're going to pay you $225, but give you a separate envelope for the $25, so the rest of the band doesn't know about it.'" Thus, Don Peake became the first white guitarist to play with Ray Charles.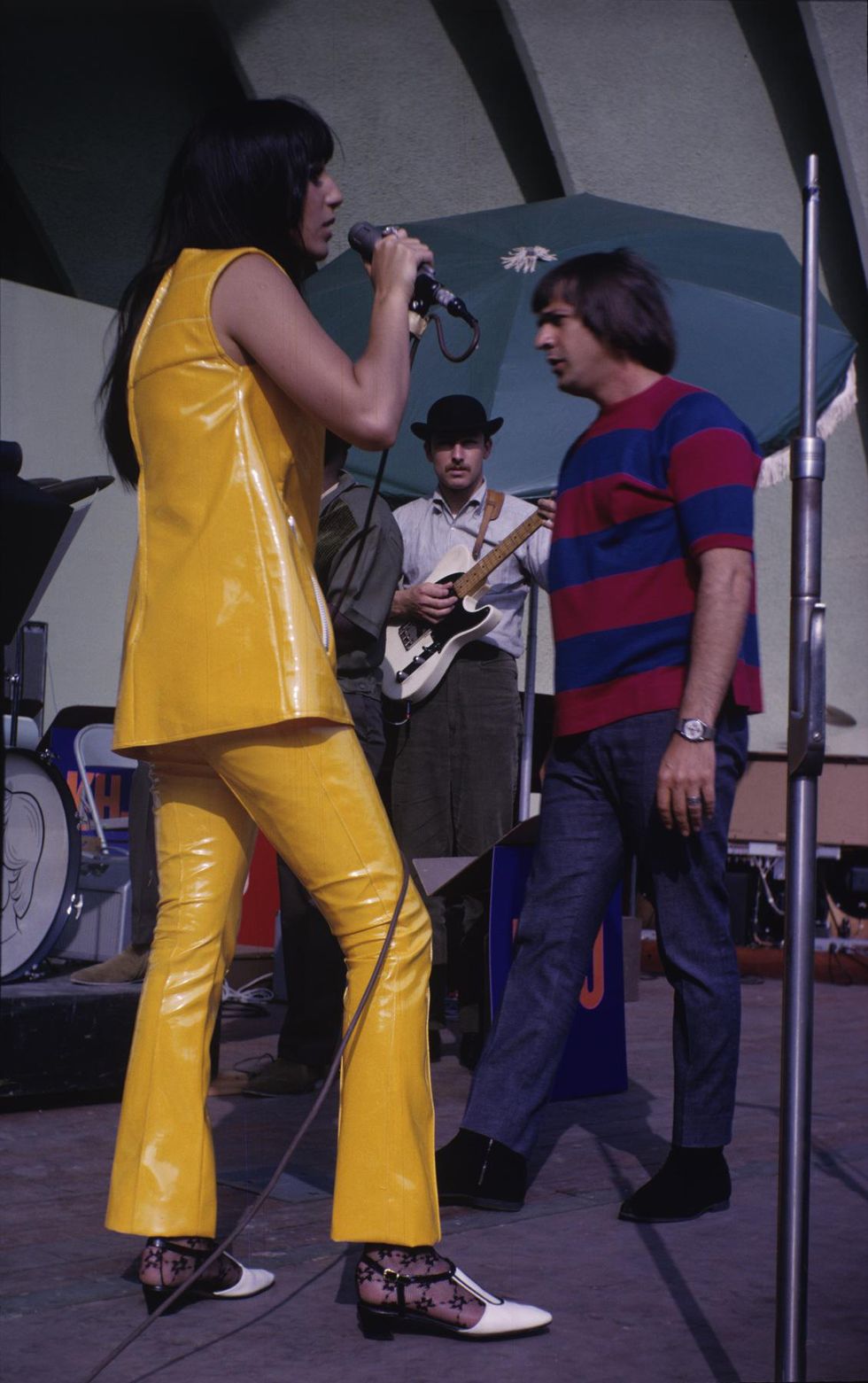 Don Peake peeks out of a Sonny and Cher sandwich while backing up the iconic duo at L.A.'s Hollywood Bowl in 1966.
Courtesy of Don Peake
Before they hit the road, Charles recorded a live album. During the show, he began playing the introduction to "Makin' Whoopee"—a song for which there was no chart. "I had never played it with him," says Peake. "When he goes up a half-step on the dominant you can hear me slide into it. I'm learning the song onstage while they're recording it."
Peake continued recording with Charles even after he stopped touring with him, cutting classics like "America the Beautiful" and "Crying Time." He can be heard loud and clear on a lesser-known Charles cover, "Blue Moon of Kentucky," playing the signature intro and the solo over the fade. Toward the end of the track, you hear Charles exhorting the guitarist, "Play it! Play it 'til it gets good." Rather than being critical, according to Peake, he is encouraging him. "He's saying, 'Keep going. It's good,'" Peake says.
While "Blue Moon of Kentucky" is a deep cut, the guitarist's soulful blues licks on the massive Charles hit "Let's Go Get Stoned" have been heard by countless millions through the decades. Though the tone sounds Fender-ish, the guitar was an old Gibson ES-175. "I restrung it with real light strings," Peake explains. "I ended up not liking it, but I did use it on that recording."
In 1966, Peake was asked to go on the road with Bobby Darin, but told Darin he wanted to stay in town and be an arranger. A week went by before he got the call from the singer's managers. "I went to their office, where they played me 'If I Were a Carpenter' by Tim Hardin," he says. "They wanted strings and I'd never written for strings before. I went home, opened up the Russell Garcia arranging book [The Professional Arranger Composer], and feverishly figured out how to write the string quartet. When we recorded at Gold Star, I stood near the studio door so I could get out quickly. When the strings came in, I thought, 'That sounds all right,' and started walking back into the studio." This Bobby Darin hit would mark the beginning of an arranging and scoring career that would ultimately replace Peake's session work, but the guitarist still had some classics to cut.
"There are certain guitar licks or solos that always give me goose bumps, and Don Peake's opening part on 'Let's Get It On' is one of those." —Denny Tedesco
By 1969, Motown had started recording in Los Angeles. Diana Ross was going to produce the first Jackson 5 record with Ben Barrett as contractor. For the Ross-produced record, Barrett put together a band that included Peake, David T. Walker, and Louie Shelton on guitar, Wilton Felder on bass, and Gene Pello on drums. "On 'I Want You Back,' I doubled the bass line with Wilton," he recalls. "I had to read it."
Peake was quite good at that, Louie Shelton recalls. "Don was the best reader of the three of us and would help us with any problems reading charts," Shelton says.
In addition to doubling one of the most famous bass parts of all time, Peake appears on much of the Jackson's subsequent output. That's his Coral electric sitar on "Maybe Tomorrow" from Third Album and his early fuzz pedal shaping the memorable distorted part on "ABC." "I also had a Cry Baby wah," says Peake. "It said Thomas Organ Company, Sepulveda, California, on the bottom." He doesn't remember if it was him or Wah Wah Watson, aka Melvin Ragin, playing the wah part on the Jacksons' "Never Can Say Goodbye," but he is very clear about who played the memorable intro to Marvin Gaye's "Let's Get It On." As with many Peake performances, there's a fascinating backstory.
"There was a fabulous guitarist named René Hall who was also a great arranger," he relates. "Hall started using me because of my blues playing. He actually had me come in and finish a B.B. King album. B.B. had walked away from the record company and wouldn't talk to them. They had already recorded the songs but needed guitar fills, so I did them."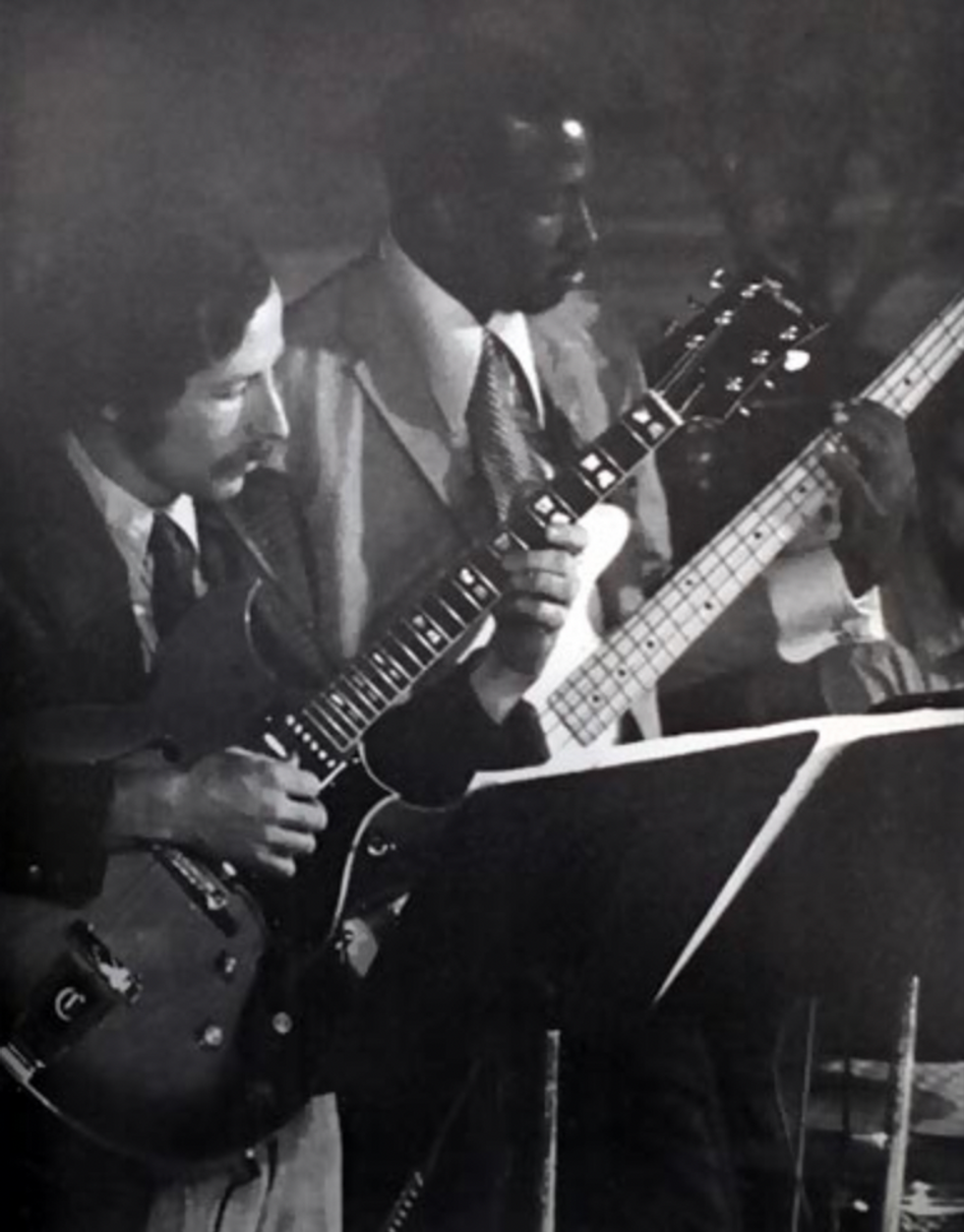 Peake stands beside bassist Wilton Felder on an early Jackson 5 session. Peake played essential parts on some of the group's early, barnstorming hits.
Courtesy of Don Peake
In 1973, Hall was the arranger on "Let's Get It On," working at Motown's L.A. studio on Romaine Street. "René said, 'I want you to make up something at the beginning'," says Peake. "I turned on my wah-wah pedal and played." As was so often the case in those days, Peake's name was left off the album. Wah Wah Watson was on the road with Gaye at the time, so everyone assumed he played the part. "It's me," says Peake. "I made a terrible mistake about 15 seconds in," he says. "I got excited and hit the open G string." (Editor's note: Actually, it's 13 seconds in, and you can hear it clearly.)
"There are certain guitar licks or solos that always give me goose bumps and Don Peake's opening part on 'Let's Get It On' is one of those," says Denny Tedesco, director of The Wrecking Crew movie and son of Tommy Tedesco.
In addition to playing on some of the biggest hits of the day, Peake played on numerous movie scores. Though his excellent reading skills no doubt played a part, sometimes it was his rock 'n' roll heart that landed him the job.
"I played for Elmer Bernstein on the Steve McQueen movie Baby the Rain Must Fall," he says. "Bernstein called me because, though Tommy Tedesco could pretend to be musically ignorant, I just naturally came up with stuff that was unsophisticated. Bernstein said, 'Just do whatever you want.' On the soundtrack, you'll hear me playing all this crazy guitar."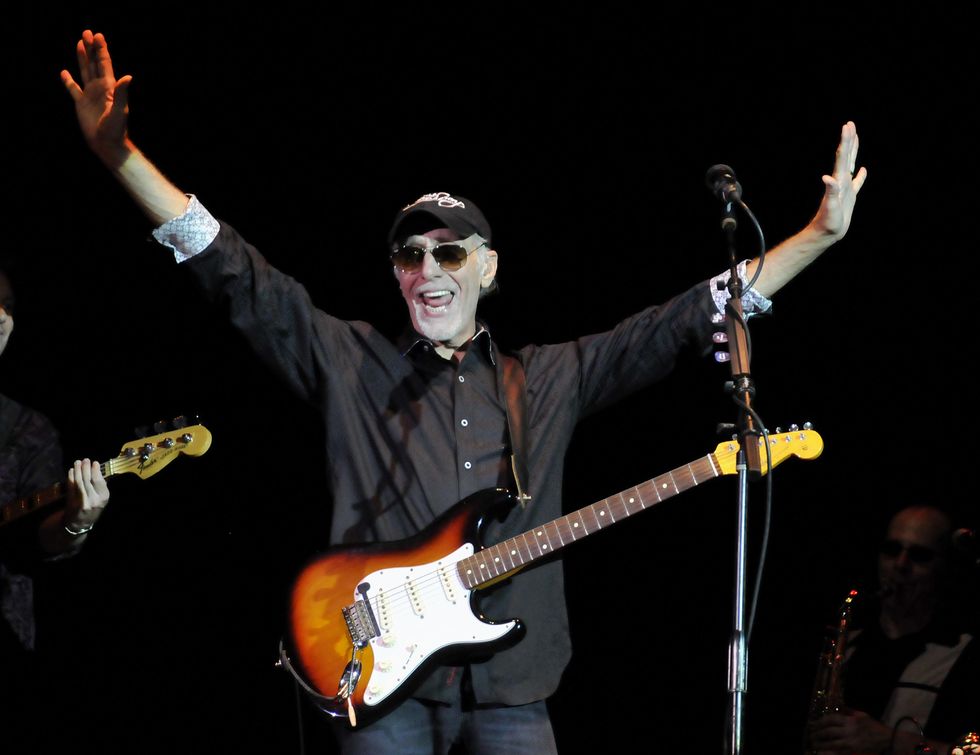 Peake performs with the Beach Boys in 2015 at the Great Auditorium in Ocean Grove, New Jersey.
Photo by Frank White
As the 1970s progressed, with guitarists like Larry Carlton, Jay Graydon, and Steve Lukather coming up, sessions began drying up for Peake's generation of musicians. The guitarist looked toward composing and arranging for the next chapter of his musical life, but to be successful he found he had to fully commit. He began studying arranging and composing with Albert Harris, a famed Hollywood orchestrator, and called composer/conductor and frequent session contractor Ben Barrett to bow out of his studio guitarist role. "He didn't say the words, 'Are you out of your fucking mind?'—but I know he was thinking it," says Peake. Sane and serious, he sold the instruments in his cartage trunk and devoted himself to a career that would provide compositions and arrangements for more than 50 movies and television shows, including Knight Rider and My Two Dads.
For the last decade, Peake has been a professor at Los Angeles' Bridges Academy, a school for gifted children that have learning differences, such as autism and ADHD. "I teach guitar, jazz, and blues," he says. "Our music program allows these children to put both sides of their brain together. They get better at their studies."
As of this writing, Peake is still playing with some of the surviving members of the Wrecking Crew, including Chuck Berghofer, the bassist who played the slithery part on Nancy Sinatra's "These Boots Are Made for Walking."
"Don Randi is playing piano," he says. "The drummer is Ed Green. We do a Glen Campbell tribute, because we played on his records. We also do a Sonny and Cher song. We were just about to go on the road, when COVID hit."
This just scratches the surface of Peake's extraordinary life. Did we mention he was a champion race car driver? While there may be no official designation of who was in the Wrecking Crew, by any definition, Don Peake deserves mention as a member of that historic assembly. Maybe even more important is the mark his guitar playing left on memorable Motown tunes that have become embedded not just in music history, but in the culture at large.
Don Peake Essential Listening:
An echo machine from Quebec is a ticket to sweet repeats and mutant glitchy and octave delays.
Snap! Crackle! Pop! You've never heard T-styles deliciously deformed like this pair of steamrollers piloted by noise-rocker Christian Lembach.
As this Rundown unravels, your inner armchair expert (especially once we get to the pedals) may scream "gluttony." And you're not wrong, but Whores creator Christian Lembach doesn't care to be right.
"Honestly, when people say 'You don't need all that stuff,' my response is, 'No shit! I want all this stuff,'" he proudly states. "Necessity is the dumbest argument in rock 'n' roll. For me, it has nothing to do with utility—playing guitar and using all of this [gear] gives me pleasure [laughs]."
And with that spirited passion, he's been Whores' ringleader since 2010 when he formed the swaggering, strutting power trio with bassist Jack Schultz and drummer Travis Owen. The band has released a pair of blistering EPs (2011's
Ruiner
and 2013's
Clean
) that were followed by a refined, groovier, raucous sound for the full-length debut (2016's
Gold
) that featured the current lineup of bassist Casey Maxwell and drummer Douglas Barrett.
Carrying on the brash, boisterous tradition from '90s underground slobberknockers like the Melvins, Shellac, Swans, and Jesus Lizard, Whores churns out the loudest, most obnoxious (yet infectious) rock 'n' roll you won't hear on your dad's airwaves. "When rock music gets too fancy, it gets ruined. I know I'm not the world's greatest guitar player. I don't want to be," admits Lembach. "I just wanna play guitar, in a band—I just love fuzz pedals and big, loud music so much—nothing else on earth makes me feel like that."
Recently, Whores entered producer/engineer and longtime collaborator Ryan Boesch's Candor Recording to track their second album. During the process, Lembach virtually welcomed PG's Chris Kies to go over his simplistic-but-intense guitarsenal. Plus, we admire his plentiful pedal paradise (rivaling your favorite guitar store's inventory) that delivers both "flavor crystals" and "fire-breathing craziness," and he shares the two-pedal combination that "is the reason this band exists."
[Brought to you by D'Addario Auto-Lock Straps:
https://ddar.io/AutoLockRR
]
Mid-2000s Fender Classic Series '50s Esquire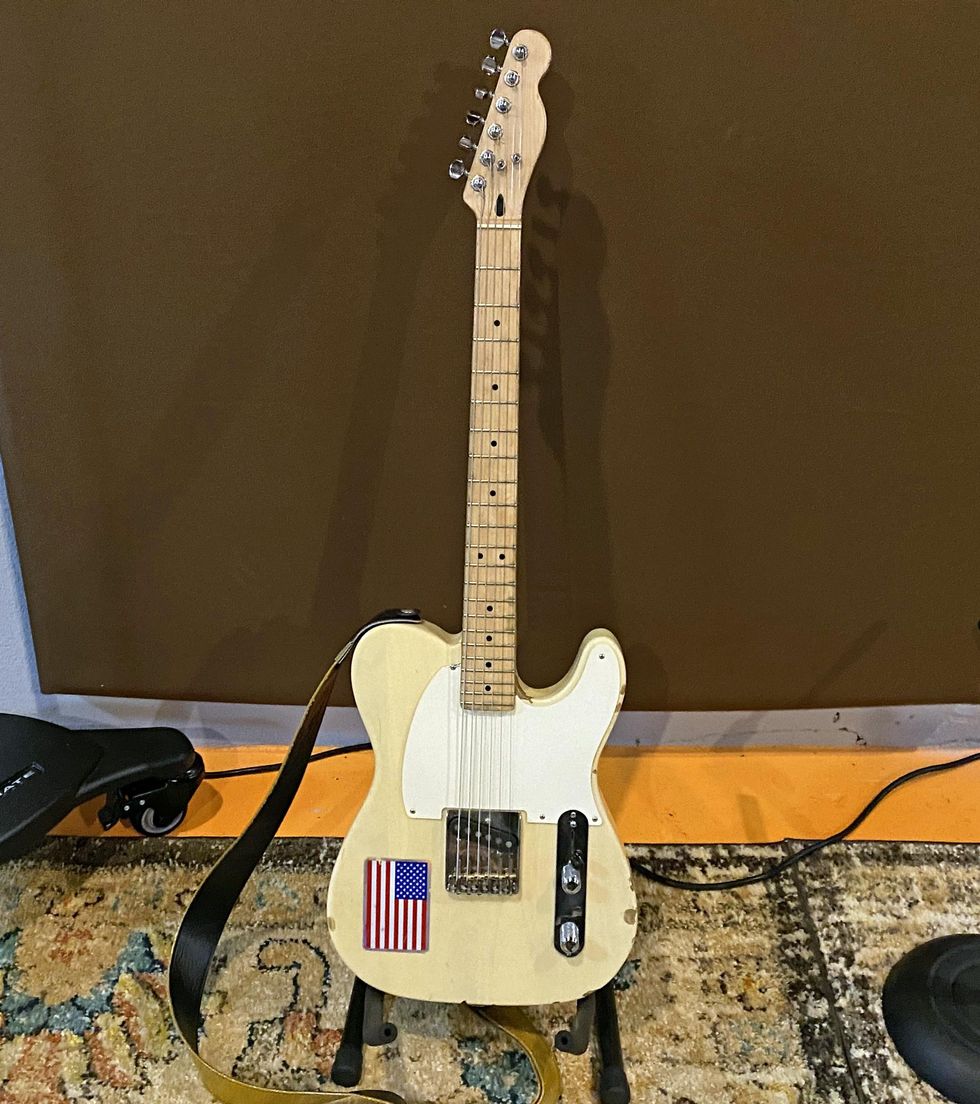 You might not believe it (especially if you take a gander down at his feet and the three pedalboards), but Whores' ringmaster Christian Lembach likes to keep it simple … at least with guitars. His longtime No. 1 is this mid-2000s Fender Classic Series '50s Esquire (MIM). However, that wasn't always the case. He originally pulled the trigger on this reissue to serve as a backup for his then go-to axe (a Fender American Standard Telecaster). Before he trusted the Classic Series for the road, he had to replace the anemic stock single-coil. A friend offered a solution by way of a spare Schecter F520T. Christian wired it into the T and, wham-o, the Esquire instantly became his Excalibur. (Because of the F520Ts being out of production (it's connected with Mark Knopfler in the "Walk of Life" video), Christian has since opted for obtainable F520T recreations—wound and wired by German pickup maker Harry Häussel, and aptly called Walk of Life—in his stage guitars.)
In the Rundown, Christian breaks down the pickup's special DNA: "It's basically an overwound single-coil that has half of the winds in one direction and the other half of the winds in the opposite direction, so you could coil-tap if you want. I don't have it tapped. I have it on full blast, all the time."
He also revels in the Esquire's often misunderstood switching setup. (Why in the hell is there a 3-way switch for a one pickup guitar?!) In the back position, it's just the standard Tele bridge sound that bypasses the tone circuit. The middle slot is your standard Tele bridge setting that brings back in the tone control. And the "neck" or third position removes the tone circuit again and activates a bass boost. He loves how dark and loud that last setting is because, when smeared with fuzz, it balances out for a lively, laser-like tone. Other repairs, upgrades, and switches include an Amazon-purchased, 6-saddle brass bridge, a Mighty Mite maple T-style neck, Hipshot locking tuners, and a bone nut.
The band usually lives in drop-C tuning (CGCFAD), and he plays with light picks (.60 mm) paired with heavy strings (.013–.056). That sort of imbalance allows Christian to hammer on the strings without walloping them out of tune.
MJT Musikraft VTM Telemaster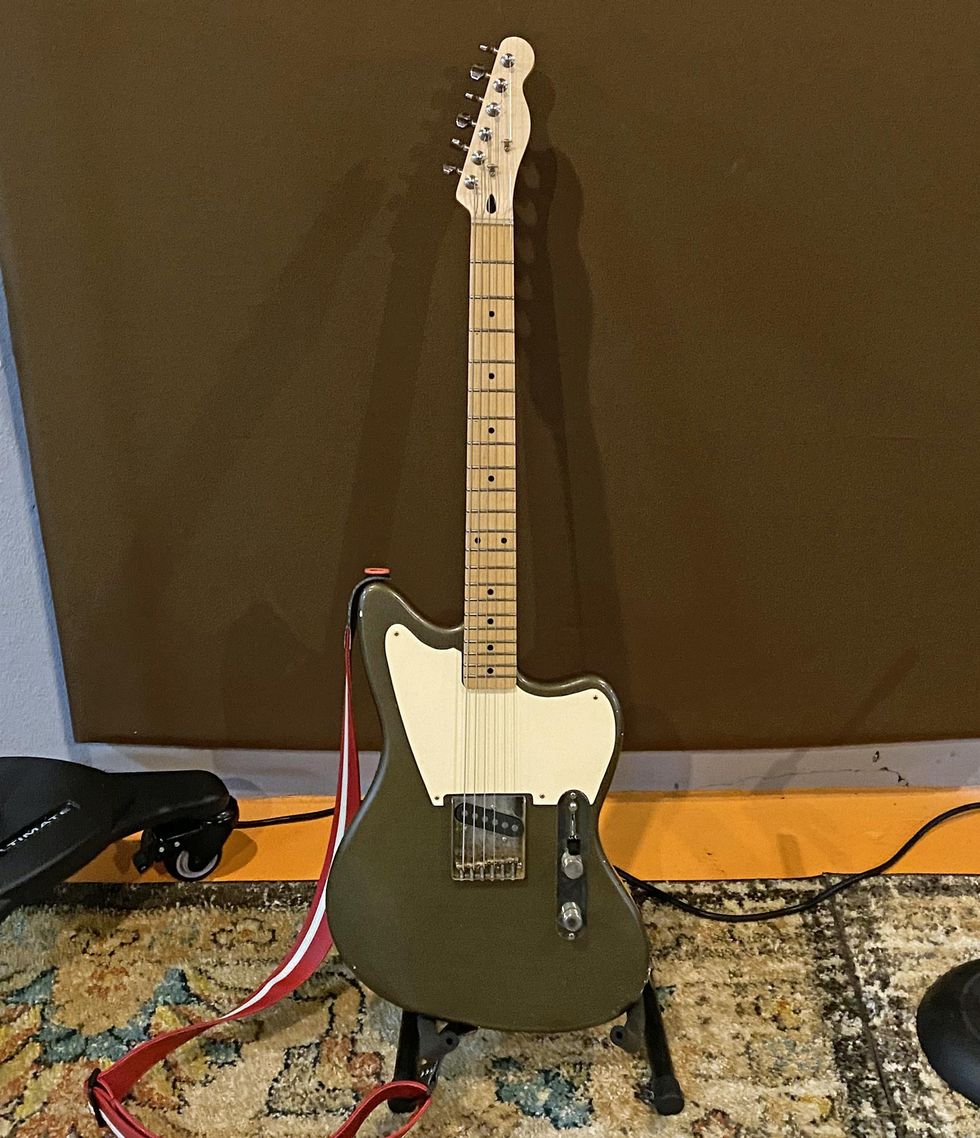 This Fullerton knockoff features all of the same ingredients as the T (Amazon bridge, Mighty Mite neck, Hipshot locking tuners, bone nut, Esquire circuitry, Häussel Walk of Life pickup), but with a MJT Musikraft VTM body. He admits that this one is closing in on the No. 1 slot, because the beveled body is easier on his picking-hand forearm, which gets shredded by the slab-bodied Esquire.
Acrylic B.C. Rich Mockingbird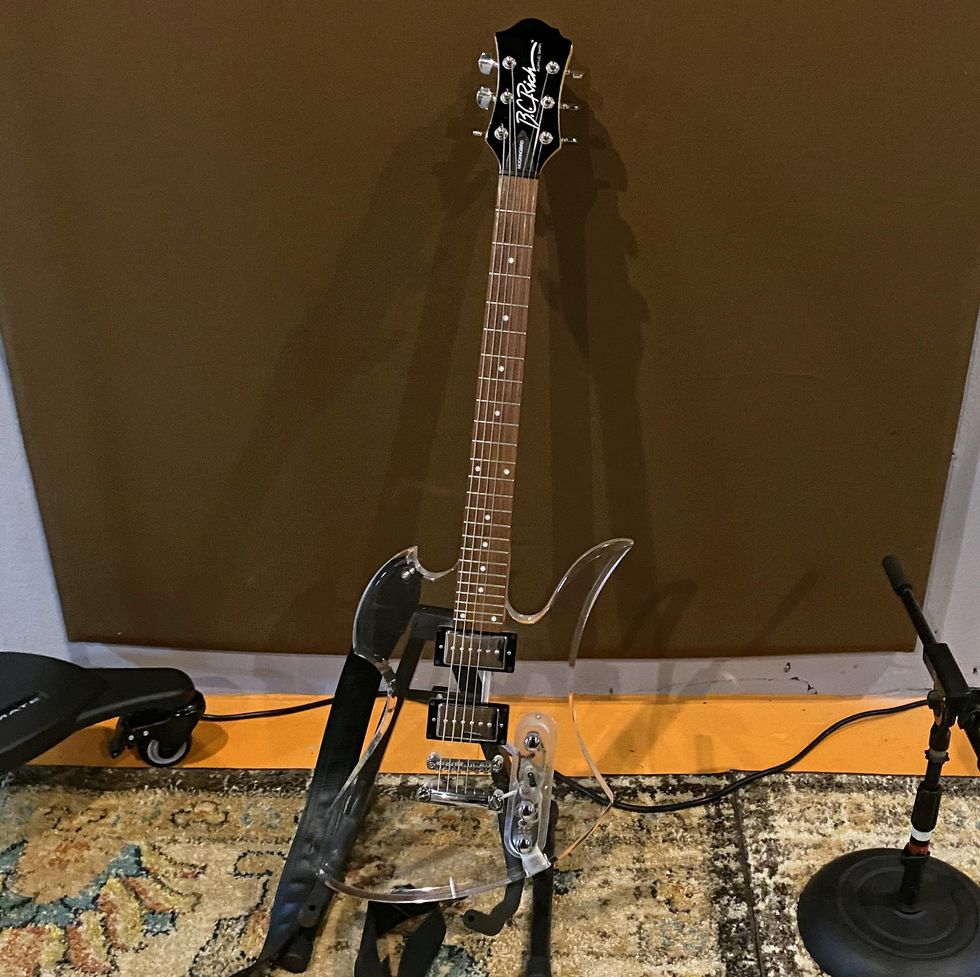 During one of Whores' Canadian tours, Christian blew out his knee. (In true rock 'n' roll fashion, he continued the tour and performed sitting down.) While at home recovering from surgery, he was browsing online and came across this acrylic B.C. Rich Mockingbird. He screenshot the bodacious instrument and shared it on his social media because it was that cool. Well, friend and fan John Cooper bought the guitar and contacted Lembach, who appreciated the sentiment but said he had no spare cash for the instrument because of the surgery. Christian didn't realize that Cooper bought it for him as a gift. The below guitar might not see a lot of stage time (our necks hurt just looking at it), but it will always have a special spot in Lembach's boat.
1960s Marshall 100W Super Lead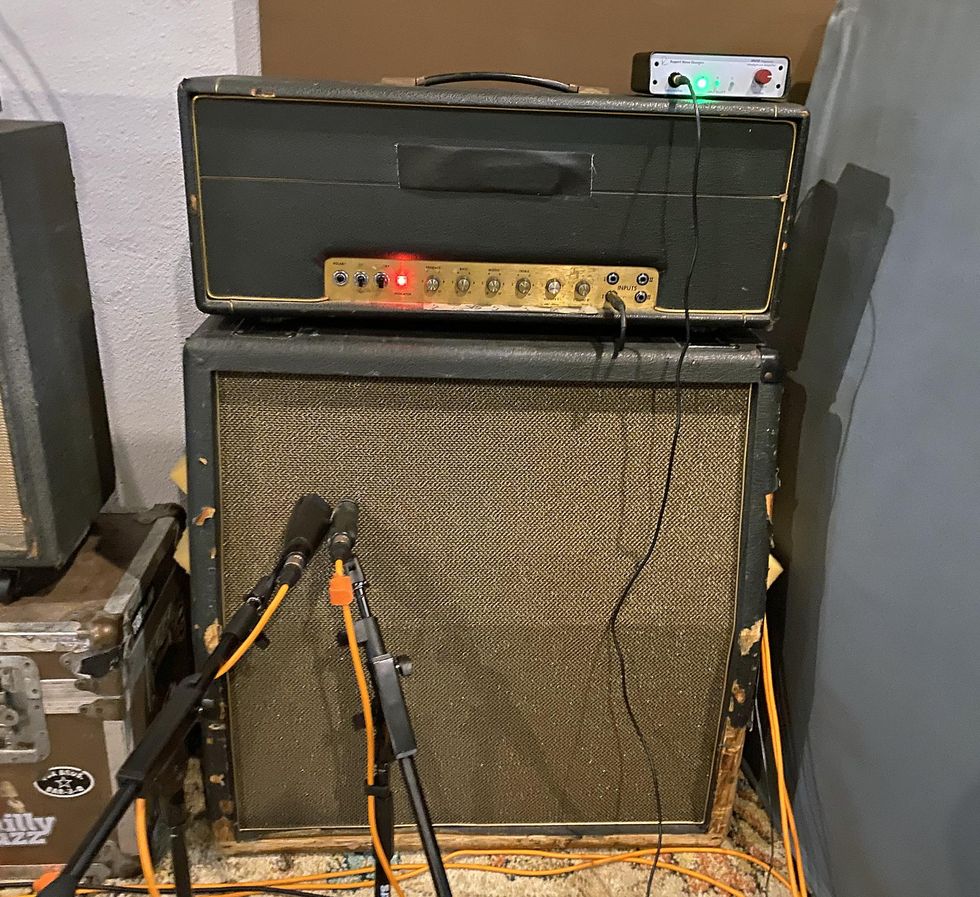 For his auditory assault, Christian packs a one-two Marshall punch. Below is a late 1960s (or possibly early '70s) 100W Super Lead. He runs that through a Marshall JCM800 1960A Slant 4x12 cabinet filled with Celestion G12T-75s.
2000s Marshall 1959SLP 100W Plexi Reissue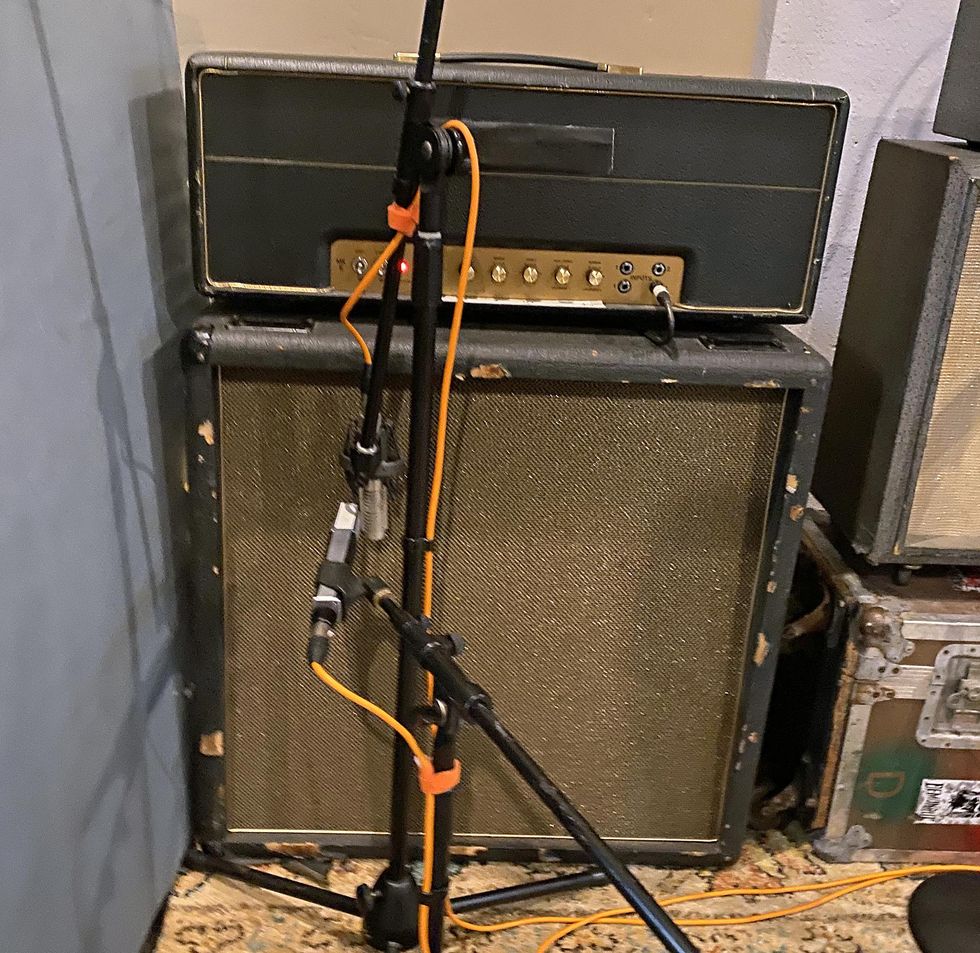 The second part of the amp equation is this 2000s Marshall 1959SLP 100W plexi reissue. This one hits a Marshall JCM800 1960B straight 4x12 cabinet that's also loaded with Celestion G12T-75s. Both of the heads have lower gain than stock plexis, because Lembach put in 12AU7 preamp tubes. To give himself even more headroom, he plugs into the low inputs and both heads have been upgraded with Mullard or Tung-Sol EL34s. (He plugs into channel 1 of the original Super Lead, which is internally jumpered, while he plugs into the low-input channel 2 of the reissue.)
1960s Silvertone 1484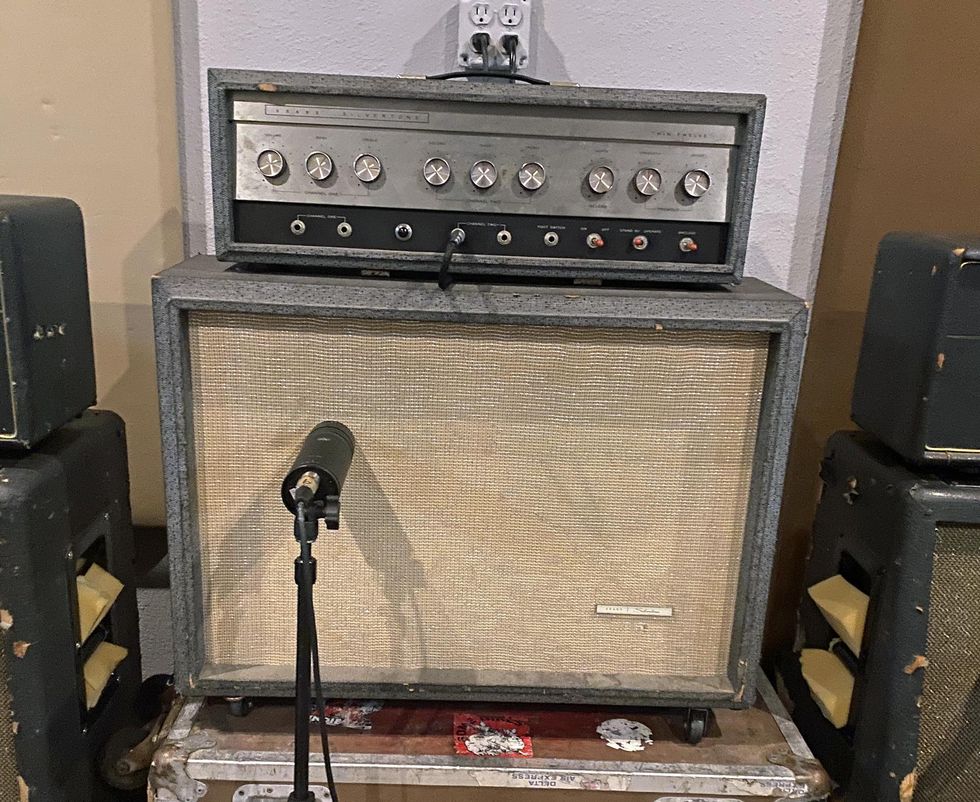 His latest gear acquisition before entering the studio was this 1960s Silvertone 1484 head and cab.
Christian Lembach's Pedalboard #1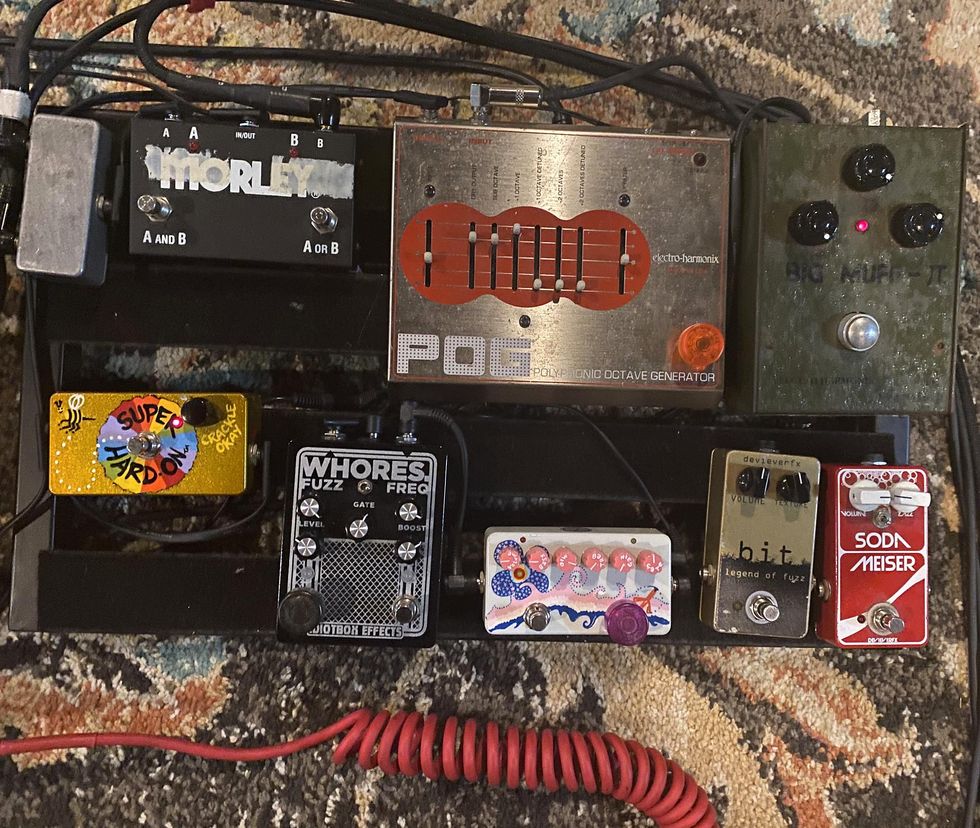 We were lucky enough to swoop in to producer/engineer Ryan Boesch's Candor Recording while Whores tracked their new album. (Lembach does admit to traveling with a lot of pedals, but this amount is insane and for studio shenanigans.)
To try to make sense of this plethora of pedals, let's start at the end. Christian divides his pedalboards into two paths. The A loop is everything except what's in loop B. The B loop is the always-on, menacing combination of the ZVEX Super Hard On ("SHO" as Lembach calls it) and the green, tall "bubble font" Russian Big Muff. "That combination is literally on every song we've ever recorded and is used on every song we perform. It's the reason this band exists," he says.
Lembach has it set up this way so he can go from any sound conjured in the A loop to the aforementioned destructive duo on a dime. (In the next photo, you'll see a small, non-descript gray box in the lower-right corner that switches between A and B loops.) Everything else on this board (lower right) includes a pair of Devi Ever FX stompbox (a Soda Meiser and a Bit: Legend of Fuzz), a ZVEX Box of Metal, signature IdiotBox Effects Whores Fuzz/Filter, and an original Electro-Harmonix POG. A Morley ABY box switcher commands the Marshalls.
Enter to win Christian's signature IdiotBox Effects Whores Fuzz/Filter!
Christian Lembach's Pedalboard #2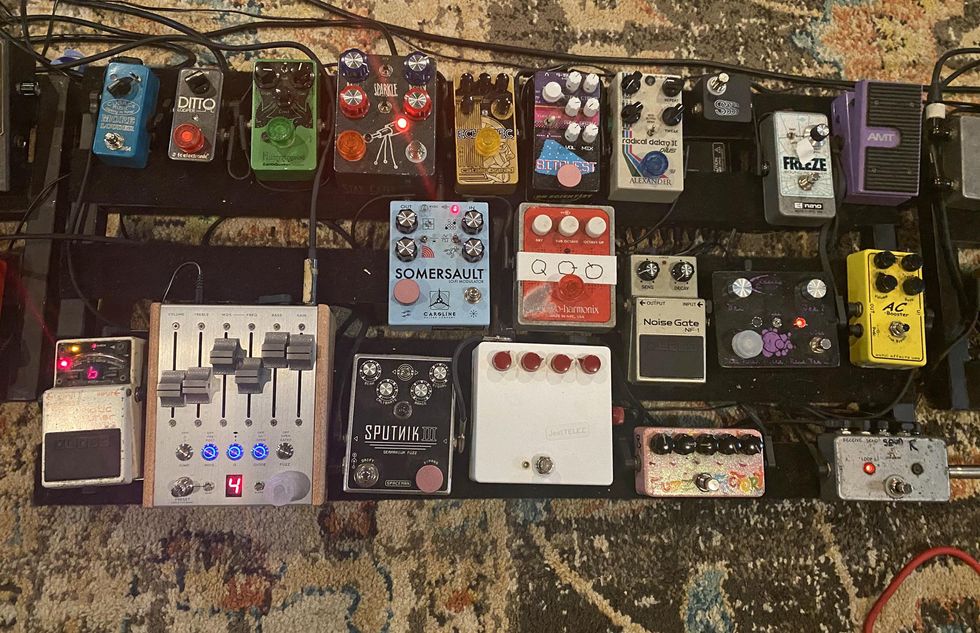 Moving left, the pedal parade continues (bottom right) with a ZVEX Fuzz Factory, Jext Telez White Pedal (fuzz/overdrive), Spaceman Effects Sputnik III, and Chase Bliss Audio Automatone MKII Preamp. (Those last two pedals were both presents from his better half.) The middle row consists of a Caroline Guitar Company Somersault, EHX Micro POG, Boss NF-1 Noise Gate (because of Steve Albini), Keeley Nova Wah, and an Xotic AC Booster. And the top row starts with a Cusack More Louder clean boost, TC Electronic Ditto Looper, EarthQuaker Devices Hummingbird, Hungry Robot Pedals Stargazer (V1), Catalinbread Echorec, Dr. Scientist BitQuest, Alexander Pedals Radical Delay II Plus, JHS Stutter (small black box), an EHX Freeze, and an AMT Electronics Japanese Girl Wah. A Boss TU-2 Chromatic Tuner keeps his guitars in check. While he doesn't claim to have Eric Johnson's hear-the-difference-in-9V ears, Lembach does claim to distinguish differences between all his fuzzes and filters.
Christian Lembach's Pedalboard #3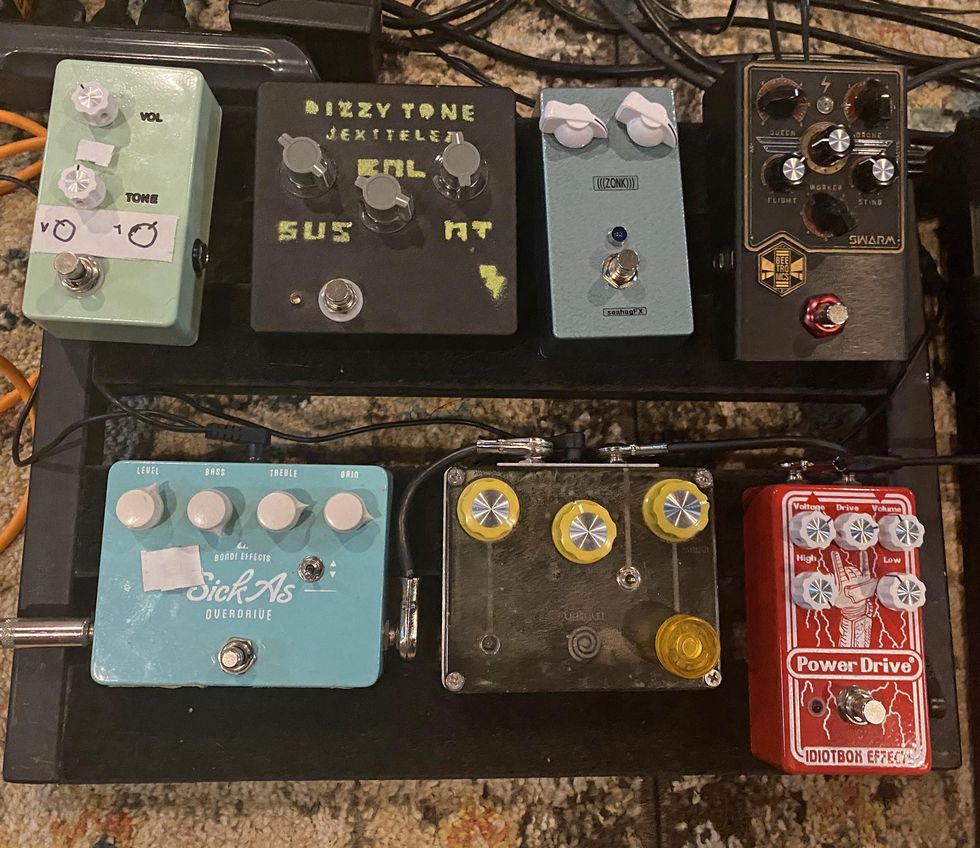 This last board is specific to studio experimentation. It has an IdiotBox Effects Power Drive, Spiral Effects Yellow LM741 Overdrive, Bondi Effects Sick As Overdrive, Beetronics Swarm, seahagFX Zonk (clone), Jext Telez Dizzy Tone (OC44 transistors, for pedal nerds), and a Montreal Assembly Your and You're (fuzzy synth).
Deceptively simple—this straight-ahead rocker is a many-toned, stereo-enabled scorcher with a subtle side.
Very well made, cleverly simple yet deceptively versatile. It's a superbly playable guitar that translates easily to a wide range of playing styles.
4.5
5
5
3.5
Further stretching the reach and diversity in its Artist Series, Ernie Ball Music Man's latest offering beautifully embodies the subtle power of the player that gives it its name. Dustin Kensrue has shepherded his band Thrice's development from post-hardcore/punk thrashers to more mature and evocative stylists, and forged a flourishing solo career as a singer/songwriter plumbing the emotive depths and possibilities of heavy rock. Appropriately, the new Dustin Kensrue StingRay from Ernie Ball Music Man is subtly beautiful, restrained, powerful, and surprisingly adaptable.
Outwardly, the Dustin Kensrue Artist Series is a classic StingRay. And just about any player or fan of this unheralded Ernie Ball Music Man model could find inspiration in this guitar, regardless of their perspective on or knowledge of Kensrue's style and tone. But it's built around several features that are unique in an already varied StingRay lineup.
Clean: Guitar's mono output into a Twin Reverb preset on the Quad Cortex; 0:00 – bridge pickup , 0:16 – middle position, 0:34 – neck pickup.

Mean: Guitar's mono output into a Boogie MkIIC+ preset on the Quad Cortex; 0:00 – bridg pickup, 0:55 – neck pickup.

Stereo: Guitar's stereo output—recorded all in the same single take—into two different treatment paths in the Quad Cortex: neck pickup into a pitch shifter for faux-12-string; bridge pickup into high-gain amp. The two are gradually blended together.
Down Time
While the StringRay body shape nods at Music Man's strong Fender family heritage, the satin TV blonde finish on our test guitar (a dark satin tobacco burst is also available) is sprayed over a very Gibson-like African mahogany body that lends the StingRay range unexpected heft. But the mahogany also lends a warmth and reactivity that extends the sonic palette.
The neck joins the body using a refined and practical 5-screw attachment and sculpted heel. It's carved from solid maple in the maker's appealingly comfortable "C" profile, with a vintage-tinted satin finish and rosewood fretboard. There are 22 medium-jumbo frets, a 10" fretboard radius, and a 1 5/8" width at the nut, which is compensated for precise intonation. Scale length is 25 1/2".
While those specs look pretty conventional, you'll notice something very different about this guitar when you start playing. String gauges are Kensrue's choice of .011–.058, and the guitar comes tuned to his preferred D standard. The D standard tuning is not mandatory, of course, but everything certainly sounds and feels bigger and more muscular in this configuration. The guitar is easy enough to set up for E standard and lighter strings, too.
Despite its simplicity, it is a canvas across which you can paint just about any tone color.
The Dustin Kensrue StingRay further differentiates itself by way of its pickups. A medium-wound Ernie Ball Music Man single-coil in the neck and a Ernie Ball Music Man humbucker in the bridge are selected via a 3-way toggle switch on the small chrome control plate. It's also home to a concentric volume/tone control, which is a smart, easy, no-look way for a singing guitarist like Kensrue to make those adjustments on the fly. The lower horn is home to a small black mode button, which is easy to miss until you start exploring up close. When the button is up, the standard neck/combined/bridge selections are routed to a mono output. In button-down mode, however, the circuit taps each pickup individually and sends the signals to a stereo output for processing via two amps, or two channels on your modeler of choice. (Kensrue often makes use of a Line 6 Helix.)
Hardware includes Ernie Ball Music Man's impressively stable, 2-post floating vibrato system and locking Schaller tuners. The guitar is also equipped with the 9V-powered silent circuit hum-cancelling system.
Super Thumper
It's little surprise that the Kensrue StingRay is super playable and easy to get comfortable with. Ernie Ball Music Man's reputation on that count is well founded. Nor is it surprising how ferociously and readily this seemingly simple instrument takes to being amped up and played with attitude. But for all that bold, trenchant, lively core tonality and simplicity, the Kensrue is a canvas across which you can paint just about any tone color.
It excels at mellow jangle, warm ballad tones, and crushingly heavy rock. It also loves raunchy garage and swaggering roots and twang moves. If you're worried this guitar will pigeonhole you into some kind of Thrice/Kensrue style compartment, forget it. The mono/stereo capabilities are stupidly easy to use, and I had fun crafting wildly divergent dual-path rigs on a Neural DSP Quad Cortex (simultaneous faux-12-string from the neck pickup and high-gain metal from the bridge, anyone?). Suffice to say, this is a guitar that will do just about whatever you want in brilliantly straightforward fashion.
The Verdict
Deceptively streamlined, the Dustin Kensrue had me skeptical at first. (A stereo guitar that ships in D standard can do that.) But the design is so well executed, and the guitar so appealing, that I ultimately found its musical potential addictive. The build quality and playability are outstanding. It sounds great in the most straight-ahead settings or at the extremes of its stereo-enabled potential. And the clever pickup and switching complement make it ridiculously versatile. With powerful modelers becoming a go-to solution for more and more guitarists, it's also easier to leverage the stereo output and create mammoth tones in the process. Well done Ernie Ball Music Man—and Dustin Kensrue.
The bass amp and acoustic amp are equipped to provide power and portability.
NUX Mighty Bass 50BT is a versatile bass amp powerhouse for practice, rehearsing and recording. It is equipped with a premium 6.5" loudspeaker and driven by 50 watts classic D power amp. That makes the amp compact and portable. You can use it in the bedroom and even for a small club with DI out.
NUX's iconic TS/AC modeling technology brings you various nice-sounding amp models and all the essential effects with great playability & response, while Impulse Response technology offers you more cab sounds. It's really a Mighty Bass Amp!
NUX Mighty Bass 50BT Bass Combo
For the bass lovers, we know you need Drum & Bass practice! You can engage the drum function using a dedicated APP, and even record the phrase loop with the original NMP-2 footswitch.
Mighty Bass 50BT has 3 channels, you can store all the parameters as preset in each channel. For deep tone editing, simply use the Mighty Amp APP on mobile devices, or the Mighty Bass 50BT Edit Software on Mac/PC.
Bass Amp Modeling with Cab IRs, expanding possibilities of tones.
Support 3rd party IRs (1024 samples) loading with Mighty Bass edit software.
White-box compressor effect offers you analog touch and response.
Independent IR toggle switches for Amp and DI out.
USB audio stream for recording interface with routing setup.
Including NMP-2 footswitch to remote Drum & Loop (60 seconds).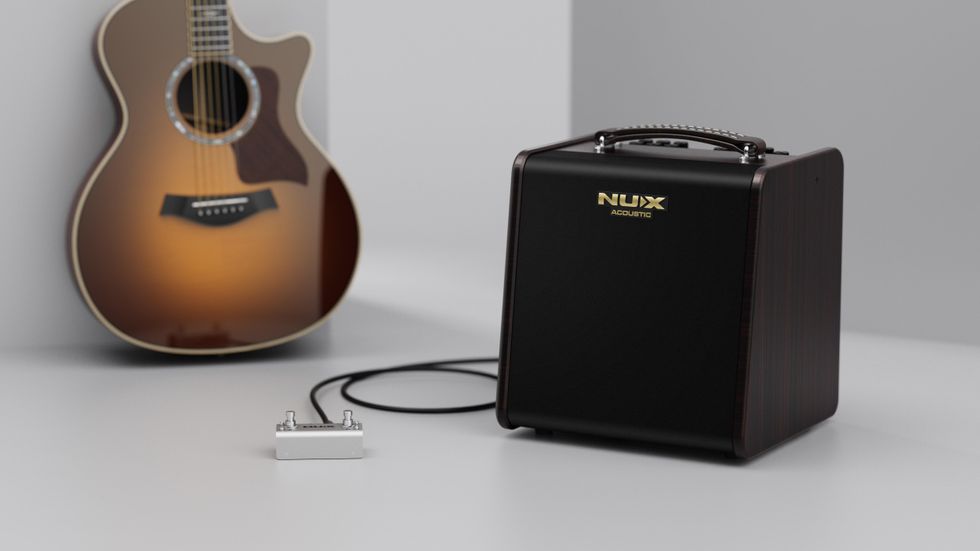 The battery-powered acoustic amplifier delivers 80-watts and has a built-in looper that is controlled via footswitch and mobile app.
The Best of 2 Worlds ~ Analog Preamp with Acoustic IR & Post-EFX.
Stageman II is an 80-watt battery-powered acoustic amp, featuring pure analog preamp with NUX's iconic Core-Image post-effects. It has 2 channels; both are optimized for acoustic guitar and microphone inputs respectively. NUX designed specific EQ scenes for finger-style as well as strum-style, and you can further engage the built-in Acoustic IRs simulating legendary guitar sounds from Gibson, Martin and Taylor. Acoustic IR is the new trend to make your acoustic sound as natural as micing!
The Acoustic Guitar Amp with ENDLESS Features! • NUX Stageman II
This small, portable acoustic amp might look unassuming, but it's packed with an insane amount of features, effects, and tonal options. It's killer right ou...

There's also a built-in Looper & Drum, both controlled via the included dual footswitch, and the Stageman II mobile APP.

With the APP, you can also switch channels, choose signal block routing options, adjust the 12 effects including Chorus, Delay, Tape Echo, Modulation, Reverb, etc., as well as the 8 Acoustic IRs. Moreover, you can connect your phone with Stageman II via Bluetooth Audio, and play along with your favorite music.

Stageman II is the perfect companion for an acoustic-electric guitar when you want to be able to perform anywhere and be heard loud and clear without having to haul around a bunch of gear. With a large capacity lithium battery, the Stageman II is ready for as long as 4 hours outdoor performing for any musician.
80 watts rich warm sound acoustic amp with 6.5" premium speaker and 1" tweeter
Rechargeable battery for 4.5 hours outdoor performing
Built-in Acoustic Impulse Response
2 independent channels with routing adjustable post-effects
Mobile APP for editing and control
Drum & Loop (60s phrase loop).
Bluetooth Audio Stream
The company worked with Michael Angelo Batio to design two of its three new series.
Sawtooth Guitars are proud to announce three new guitar lines for 2021! The Hybrid and ST-M24 models designed with legendary guitarist, Michael Angelo Batio, as well as the eye-catching Relic Series, are sure to blow every guitar player's minds. Sawtooth's focus is to bring high quality and innovative designs that exceed all players expectations at an achievable price. These three new guitar series from Sawtooth deserve a spot in every guitarists collection.
ES AND ET HYBRID SERIES GUITARS
Create YOUR own TONE!
Designed with legendary guitarist Michael Angelo Batio, Sawtooth's new ST-ES and ST-ET Hybrid Series offers a unique innovative design that features both single coil and Humbucker pickups all in one guitar. Each guitar is equipped with a German Floyd Rose Tremolo system. With the ST-ES and ST-ET Hybrid guitar, you can express any sound you desire across all music genre's. This is the most versatile guitar line in the industry today
ST-ES Hybrids: A classic, double cutaway body style that offers 23 different pickup combinations from Sawtooth's specially designed Alinco V Humbuckers & Single Coil pickups. Create your own tone with sounds that can only be heard on the ES Hybrid guitar! Available in both left and right hand configurations."The Hybrid ES guitar is absolutely amazing. It has 23 different pick up sounds, ranging from studio quality true single coils to full range Humbuckers! –Michael Angelo Batio
ST-ET Hybrids: A traditional, single cutaway body style that lets you choose from 15 different pickup combinations from Sawtooth's specially designed Humbucker, Lipstick and Single Coil pickups. Create your own tone with sounds that can only be heard on the ET Hybrid guitar! Available in both left and right hand configurations "Playing the Hybrid ET guitar is so inspiring. The single coil pickups and Humbuckers either alone or combined, can get so many different sounds, that I write new riffs every time I play it." – Michael Angelo Batio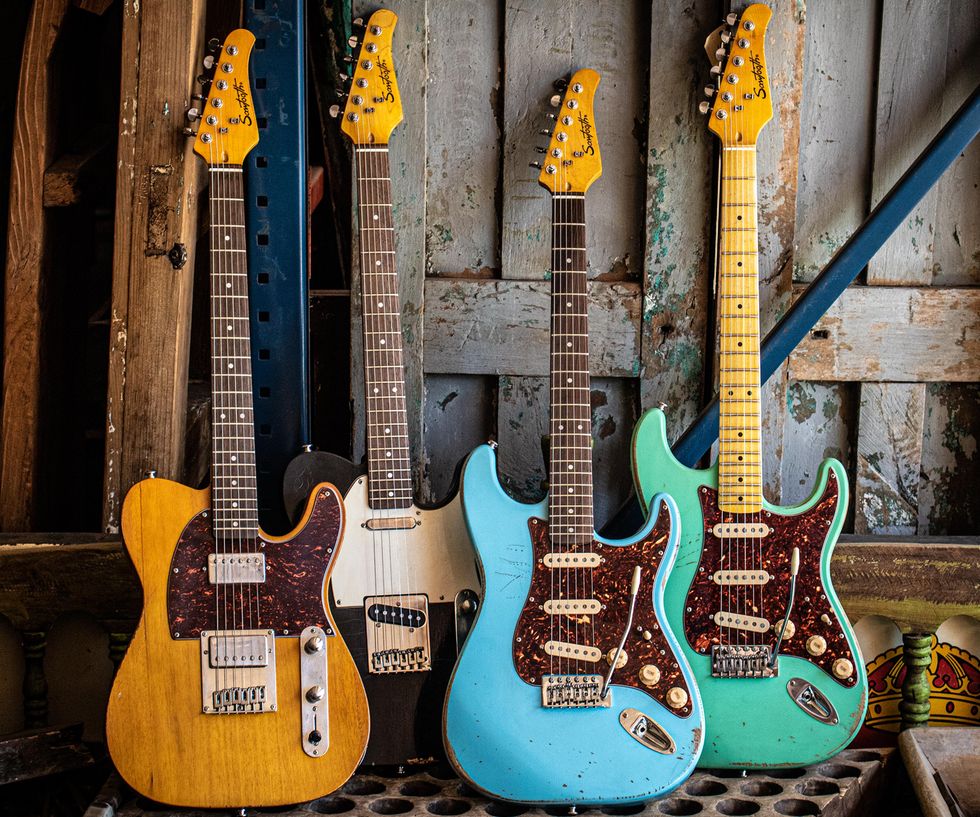 The ES and ET Relic Series features ash bodies and aged Canadian Maple necks with aged sandalwood fretboards.
ES AND ET RELIC SERIES GUITARS
"The Relic guitars are special. They look fantastic and "distressed," but the hardware is new, making it a perfect guitar for performing or studio work." – Michael Angelo Batio. The Sawtooth Relic Series evokes the story of a guitar that's seen it all. Experience the feel and look of a guitar that's been there and done that. These new, individually hand relic'd, one of a kind, guitars come with custom aged worn finishes with body scars, scratches, dents, and include Sawtooth Designed Alnico V Pickups. A classic look and feel for any player. Enjoy the sweet sound that all guitarists seek from a road-worn guitar.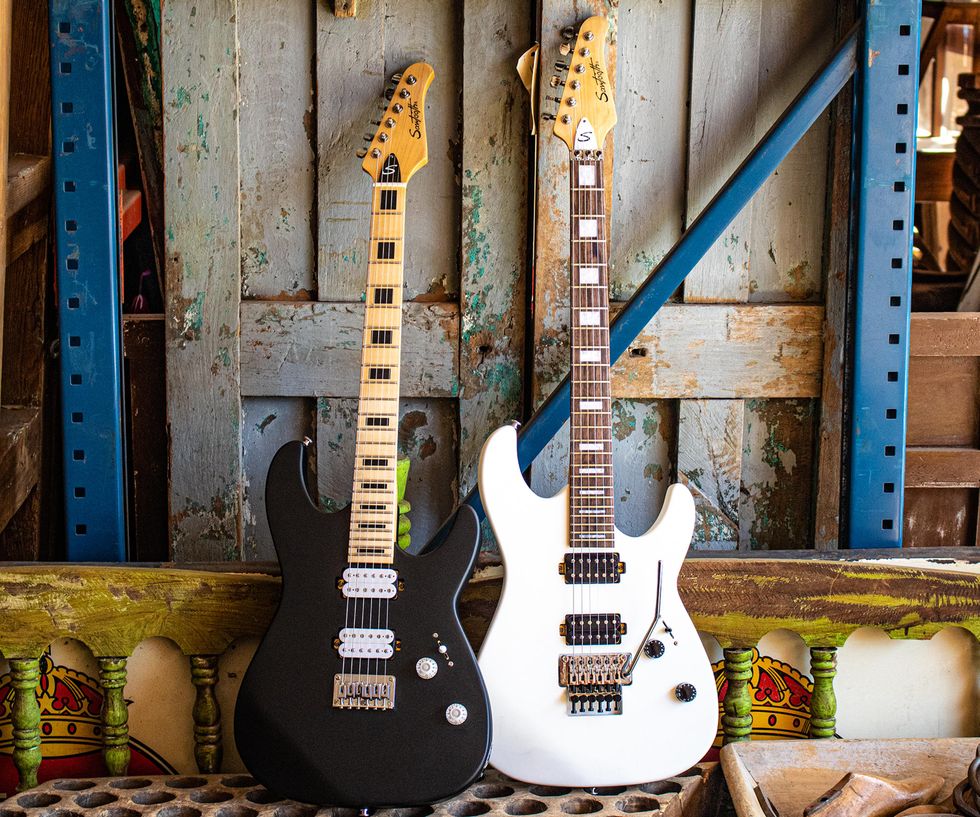 These Michael Angelo Batio–designed guitars come stock with Alnico V humbuckers.
ST-M24 SERIES GUITARS
The Sawtooth ST-M24 Series, also designed with Legendary Guitarist Michael Angelo Batio, offers the best value 24 fret guitar on the market today. Receive upgraded appointments from Wilkinson and Floyd Rose without the associated cost.
"The ST-M24 guitars combine classic features with a modern feel and sound. When it comes to value, they are the best!"- Michael Angelo Batio
These "made for speed" guitars are the must have for every shredder. The ST-M24 in Satin White includes a German Original Floyd Rose Tremolo System and the ST-M24 in Satin Black includes a Wilkinson Hard Tail Bridge, giving players either option. If you've been thinking about adding a 24 fret guitar to your collection, the ST-M24 series is the right choice. Available in both left and right hand configurations.
Sawtooth Guitars Michael Angelo Batio ST-M24 Satin Black Electric Guitar Demo and Overview