Boss Introduces the GP-10, GT-001, and VE-2 Vocal Harmonist
Boss introduces three new products at Musikmesse including a new desktop recording interface.
Los Angeles, CA (March 10, 2014) -- BOSS is pleased to introduce the GP-10 Guitar Processor, an instrument modeling and multi-effects unit that puts an immense range of sound possibilities into the hands of all guitarists. Driven by BOSS' acclaimed COSM technology, the GP-10 gives players access to various guitar, bass, and synth models, instant tuning changes, and a wide selection of world-class amps and effects, all in one compact and affordable device. In addition to stage performance, the GP-10 is a powerful partner for DAW music production, with unique multi-channel audio capabilities and guitar-to-MIDI conversion via USB.
Equipped with both a 13-pin GK input and a 1/4-inch guitar input, the GP-10 functions as an instrument modeling processor and a powerful multi-effects unit. The multi-effects section features COSM amps and effects derived from the flagship GT-100 Amp Effects Processor, and these can be used with any guitar via a standard 1/4-inch cable. The GK input provides access to both the instrument modeling and multi-effects sections, opening up a universe of sonic exploration for both live playing and studio recording.
When using a GK-compatible pickup with the GP-10, a guitarist can instantly change their instrument's entire sound and/or tuning with the press of a pedal. Powered by real-time DSP, the GP-10's modeled sounds are ultra-responsive and highly expressive. They can also be blended with the normal guitar sound, putting an infinite range of tones under the player's fingers.
Included are classic modeled electric guitars with single coils and humbuckers, as well as steel- and nylon-string acoustics, basses, banjo, resonator, fretless guitar, and even a sitar. The GP-10 also includes an analog-modeled synth engine that powers a super-fat OSC Synth and an emulation of the legendary Roland GR-300 guitar synth. In addition, the Poly FX section offers many unique sounds only possible with GK processing.
With any of the GP-10's modeled instrument sounds, the player is able to change their guitar's tuning at will, even in the middle of a song. Quick-access presets include many different open tunings, 12-string sounds, and "down" tunings popular with modern metal guitarists. Users can create their own custom tunings as well.
The GP-10 features an onboard USB audio/MIDI interface, letting players capture great amp and effect tones in their DAW with any guitar. But when using a GK pickup, the GP-10 expands production capabilities far beyond any standard guitar processor. For example, it's possible to record a guitar's six strings individually on separate tracks, either processed with the GP-10 or captured dry for later processing. Multi-string sound recording offers creative options not only for re-amping applications, but also for "re-guitaring" sounds through the GP-10's modeling section to change the entire sound while mixing. The guitar-to-MIDI function lets players to stretch their creativity even further by using their guitar to play soft synths, capture MIDI sequences, and input MIDI data into music notation software.
BOSS TONE STUDIO offers an inviting graphical interface for editing and organizing GP-10 patches on a computer via USB. Available as a free download for Mac and Windows, the software also provides an integrated connection to the BOSS TONE CENTRAL website, where users can preview and download patches created by top pro players directly into the GP-10.
The GP-10 is available by itself (GP-10S), or with an included Roland GK-3 Divided Pickup and 13-pin cable (GP-10GK). The GK-3 allows players to easily add GK compatibility to their favorite guitar with no modification necessary.
With its built-in GK pickup, Roland's popular GC-1 GK-Ready Stratocaster is ideal for use with the GP-10, and there are GK-compatible guitars available from many other manufacturers as well.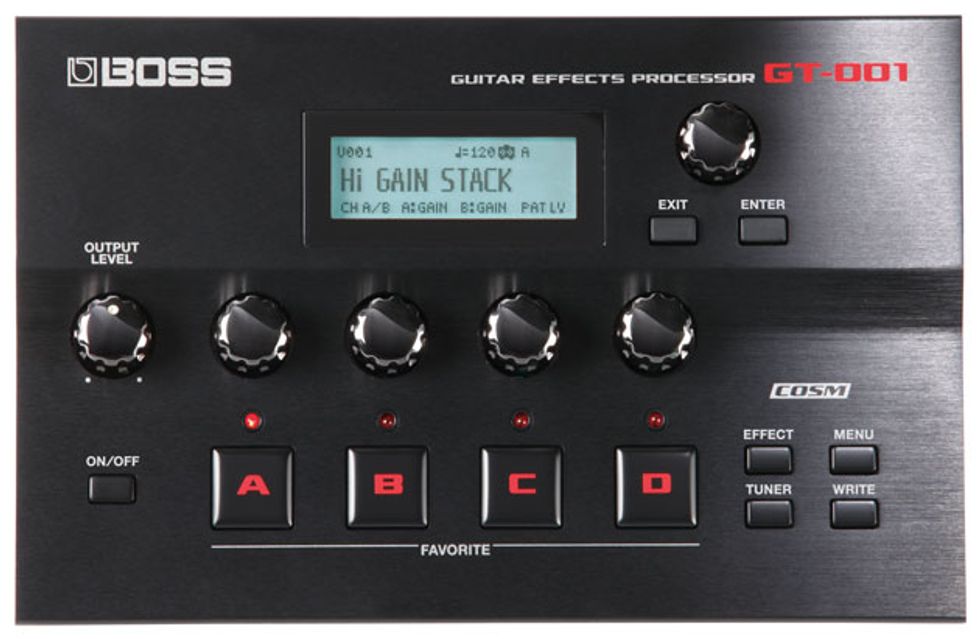 BOSS is proud to announce the GT-001 Guitar Effects Processor, a sleek desktop unit with premium sound and an integrated USB audio interface. Equipped with a huge selection of top-quality COSM amps and effects, 1/4-inch and XLR inputs, and much more, the compact GT-001 brings flagship BOSS guitar tones and advanced recording features to any home studio or mobile setup.
Inside the GT-001's streamlined body is a full-featured multi-effects engine, with COSM amps and effects equivalent to the GT-100 Version 2.0, BOSS' top-of-the-line processor for stage performers. Dual effects chains allow users to create sophisticated tones with two amps and series/parallel effects routings. Advanced parameters include a channel divider for A/B switching of effects chains, either via a connected footswitch or according to frequency or dynamics.
The GT-001 also functions as a high-quality USB audio interface for a Mac or Windows computer, with four-channel operation for enhanced flexibility while recording, re-amping, and mixing. Users can listen to the GT-001's amps and effects while capturing an unprocessed signal in their DAW, record processed and dry tones on separate tracks, and listen to a mix while re-amping and adjusting guitar tones through the GT-001. Flexible power via the included AC adapter or a computer's USB bus offers great convenience, particularly when using the GT-001 for mobile recording with a laptop PC.
In addition to a 1/4-inch guitar input, the GT-001 also has an XLR mic input (with phantom power) for capturing vocals and acoustic instruments. Specially designed patches for vocals and acoustic guitars are included as well, providing great sound for monitoring and tracking. There's also a stereo aux input for connecting a smart phone or drum machine for jamming when the GT-001 is not connected to a computer.
The GT-001 includes a newly developed monophonic guitar-to-MIDI function that allows users to play MIDI instruments in a computer using a normal guitar. This cool function is great fun when working with Roland's free Guitar Friend Jam software, and also lets users experiment with soft synths and MIDI sequencing in music production software.
Available as a free download for Mac or Windows, BOSS TONE STUDIO offers an intuitive graphical interface for creating, editing, and organizing GT-001 effects patches on a computer via USB. The software also provides an integrated connection to the BOSS TONE CENTRAL website, where users can preview and download free patches created by top guitar pros directly into the GT-001.
BOSS is pleased to announce the VE-2 Vocal Harmonist, an easy-to-use stompbox for singing guitarists and solo vocalists. Featuring guitar-controlled harmonies, effects, automatic pitch correction, and much more, the affordable VE-2 gives singers a no-hassle solution for achieving impressive, studio-quality vocal sounds while performing on stage and at home. The VE-2 also offers USB connectivity, allowing users to capture processed vocal sounds in a computer for song recording and social media videos.
The VE-2 is incredibly intuitive for anyone to use, even for vocalists that have no experience with music theory or sound equipment. Buttons and knob-based controls make it simple to get great sounds instantly, and the integrated multi-function footswitch allows users to turn harmony on/off or bypass the VE-2's sound entirely while performing. Three favorite sounds can be stored and recalled at the touch of button.
When a guitar is connected to the VE-2, Auto Harmony mode detects the chords and key being played, automatically generating the correct harmony as the user sings. Solo vocalists that don't play guitar can set a key manually with a panel knob. Hybrid mode offers a combination of the two approaches, ideal for situations where the guitar part alternates between rhythm and lead playing during vocal passages.
From a little added color to a rich ensemble sound, it's easy to create harmonies with the VE-2. 12 different harmony types are available, and each adds one or two voices above and/or below the singer's own voice. Each type also has a variation setting that incorporates more voices for even fuller harmonies.
The VE-2 also includes a selection of effects for polishing vocal sounds with pro quality. The Echo knob provides reverb, delay, or a mix of both, while pressing the Enhance button evens out vocals for a more refined sound. A second press adds in some subtle pitch correction for stable harmony.
Via USB, users can record their voice along with the VE-2's real-time harmony and effects directly into their favorite computer recording software. In addition to music production applications, this offers a convenient way to achieve impressive vocal sounds while recording performances for social media videos. The Loopback function lets users mix audio playback from the computer with the mic sound, perfect for singing with backing tracks and karaoke tunes.
The VE-2's XLR input accepts a variety of professional microphone types, including condenser mics that require phantom power to operate. Phantom power is even available when the VE-2 is operated on batteries, giving a singer the ability to use a studio-level mic everywhere they perform.
For more information:
BOSS