Builder Profile: Charles Fox
Through his innovative steel-string designs, widely used guitar-building tools, and highly influential American School of Lutherie, this restless builder from Portland, Oregon, has had a remarkable impact on guitar making.
Charles Fox is one of the guitar community's earliest independent builders. Through his American School of Lutherie and his affinity for jig making and problem solving, it's not unreasonable to speculate that he has directly or indirectly influenced virtually every acoustic guitar maker working today. Visit any flattop luthier's shop, and you'll probably find his Universal Side Bender—and maybe even his Bridge Clamp system. Further, some of the techniques he developed in his classroom are now standard practice among acoustic luthiers, particularly in the way trim work is installed.


LEFT: This Ergo features cocobolo back and sides, a Honduran mahogany neck, and a Gabon ebony
fretboard, in addition to an elevated fingerboard and a compound cutaway that gently twists the
surface away from your fretting hand and brings it flush with the tapered heel. RIGHT: Fox's patented
unibody design features back and sides with a Brazilian rosewood exterior, an aircraft-foam core,
and a three-ply laminate interior.
Fox credits his extensive training as a teacher with helping him discover simple, efficient ways of working that also happen to increase accuracy, consistency, and quality. His newest project, the Ergo, is a gorgeous expression of the state of the art from his extremely well-versed perspective. With a wedge-shaped body, Laskin arm rest, elevated fretboard, closable side port, removable access panel, compound cutaway, and stunning good looks, it's what many players would call a "dream guitar."
We caught up with Fox recently between a three-week trip to southeast Asia and a two-week intensive guitar-making class.
Ergo—with all its functional details, like side ports that can be opened or closed—is a stunning piece of craftsmanship. How did it come about?
It took shape in 2005. The aim was to take a number of significant new guitar-making trends—Linda Manzer's wedge-shaped body, the late Tom Humphrey's elevated fretboard and negative-pitch top, Grit Laskin's side sound port, Abe Wechter's removable access panel, Jeff Elliott's compound cutaway, etc.—and combine them with things I'd been exploring. Things like monocoque/unibody construction [
Ed. note: Monocoque designs support the stresses put upon them through their exterior shells rather than through interior bracing
], braceless double-top steel-string soundboards, removable necks, and so on. The idea was to synthesize these elements in a form representing my own take on the state of the art. One motivation for the project was the challenge that its unusual architecture posed. I was bored with the more-or-less conventional construction I had worked with for so long, and I needed to shake things up and stretch a little. On a different note, I wanted the
Ergo Noir
, with its piano-black soundboard, ebony binding, and red pinstriping, to at least hint at life's erotic dimension. I don't know how clear that is to everyone, but for those of us who are of a certain sensibility, she is a sexy beast.
The Charles Fox-designed Universal Side Bending Machine has become a go-to tool for
acoustic luthiers all over the world.

The Luthiers Mercantile catalog offers the Fox Universal Side Bending Machine, the Fox Bridge Clamp, and a few other tools you created that have pretty much become workshop standards now. Can you tell us a little about how they were developed and whether you've got tools in the works?
It's satisfying to contribute something useful to one's craft. Today's rich approach to guitar making is the result of contributions from hundreds of luthiers thinking "What if . . . ?" As a teacher, I'm a bit more public than my inventive colleagues, and my students go on to share with others what they learn from me, which helps account for the modest influence of my innovations. Regardless, I have this reputation as a tool maker—the Jig Meister—and my approach to guitar making is certainly weighted toward the use of simple, easily made devices that make the work more efficient, accurate, consistent, and, of course, of higher overall quality. I teach jig- and fixture-design principles that others can apply to their own needs in their own shops.
As a teacher, I'm motivated to create ways for beginners to tackle challenging tasks and achieve high-level results. The now ubiquitous Universal Side Bender was a response to such a need. The mother of that invention was the nightmare reality of eight or 10 students at a time scorching and breaking guitar sides right and left as they learned to bend them on a hot pipe. An example of a now-common process that came from my shop is the practice of installing trim work dry, with all the miters and other joints nice and tight, and then using thin CA [cyanoacrylate] glue and capillary action to secure them while they are taped in place. One design feature I've introduced is the classical guitar's modern double-top technology adapted to the more rigorous demands of the steel-string guitar. There are many others, some now so deeply embedded in the craft that today's luthiers might imagine them to be part of some timeless tradition. It must be said, though, that good ideas don't come from nowhere. I credit whatever gift I have for creating tools to a giant in that field, Michael Gurian. His work introduced me to a whole new way of thinking about and relating to the craft and literally changed the course of my career. The late, great guitar maker Richard Schneider is another mentor whose personal example had a profound impact on my relationship to my work.
This Ergo Blanc grand concert has quilted-sapele back and sides and snakewood bridge and bindings.
When did you build your first guitar, and what drove you to get into lutherie?
I built my first guitar in the mid 1960s. Today's thriving artisan guitar-making scene didn't exist, and North American guitars were still virtually all factory-made. In the mid '60s, though, the guitar was emerging as the magical Excalibur-like counterculture power object that inspired the post-war youth generation to break free and boogie. The music, the drugs, the dramatic social changes, and our shared belief in a brilliant future . . . it was all incredibly empowering, and anyone with a new idea, insight, or dream felt more free than ever before to just go ahead and do it. So that was the zeitgeist when a number of us independently took it into our heads to build our own guitar.
This Ergo Blanc features a grand-concert body with Brazilian rosewood back and sides, a Honduran mahogany neck, and a Gabon ebony fretboard.
I was in my 20s then, with a master of fine arts degree, painting and teaching art in Chicago and studying flamenco guitar at the Sherry-Brener guitar shop—at that time, the US distributor for Ram'rez and other handmade Spanish guitars. Like so many other soon-to-be-luthiers, I wanted a guitar that I couldn't afford. Buying a Spanish, handmade flamenco instrument was out of the question on my budget, and no economically priced student flamencos were available. But the real things were there in the store for me to examine, and by chance there were some guitar-making materials for sale there, as well—though I'm not sure why. I'm sure I wouldn't be a luthier today without that serendipitous combination of frustrated desire, available examples and materials, and being still young and cocky enough to decide to just build my own damn guitar. Thus, a life began.
You've influenced or taught or supported the early efforts of a lot of other builders, and with the American School of Lutherie, you're working with more builders all the time. Was teaching always part of your mission?
I was a teacher before I was a guitar maker. Education has always been important to me. I founded the first school for guitar makers in North America in Vermont in 1973 during a leave of absence from my position as head of the high-school art department in Hanover, New Hampshire. Since then, I've introduced the craft to many hundreds of individuals and taken experienced builders further on their path. Along the way, I developed the basic learning model and teaching formats used by other guitar-making classes and schools, of which there are so many today in North America. Since closing a demanding full-time version of my school in California in 2002 and downsizing to my Portland, Oregon, home workshop, I specialize in intensive, short-term, full-immersion classes designed for busy working adults—beginners and experienced guitar makers for whom long-term study isn't an option. I enjoy the high energy and focus of working this way, and one- and two-week classes are easier to schedule into the rest of my guitar-making life.
How did you establish the American School of Lutherie?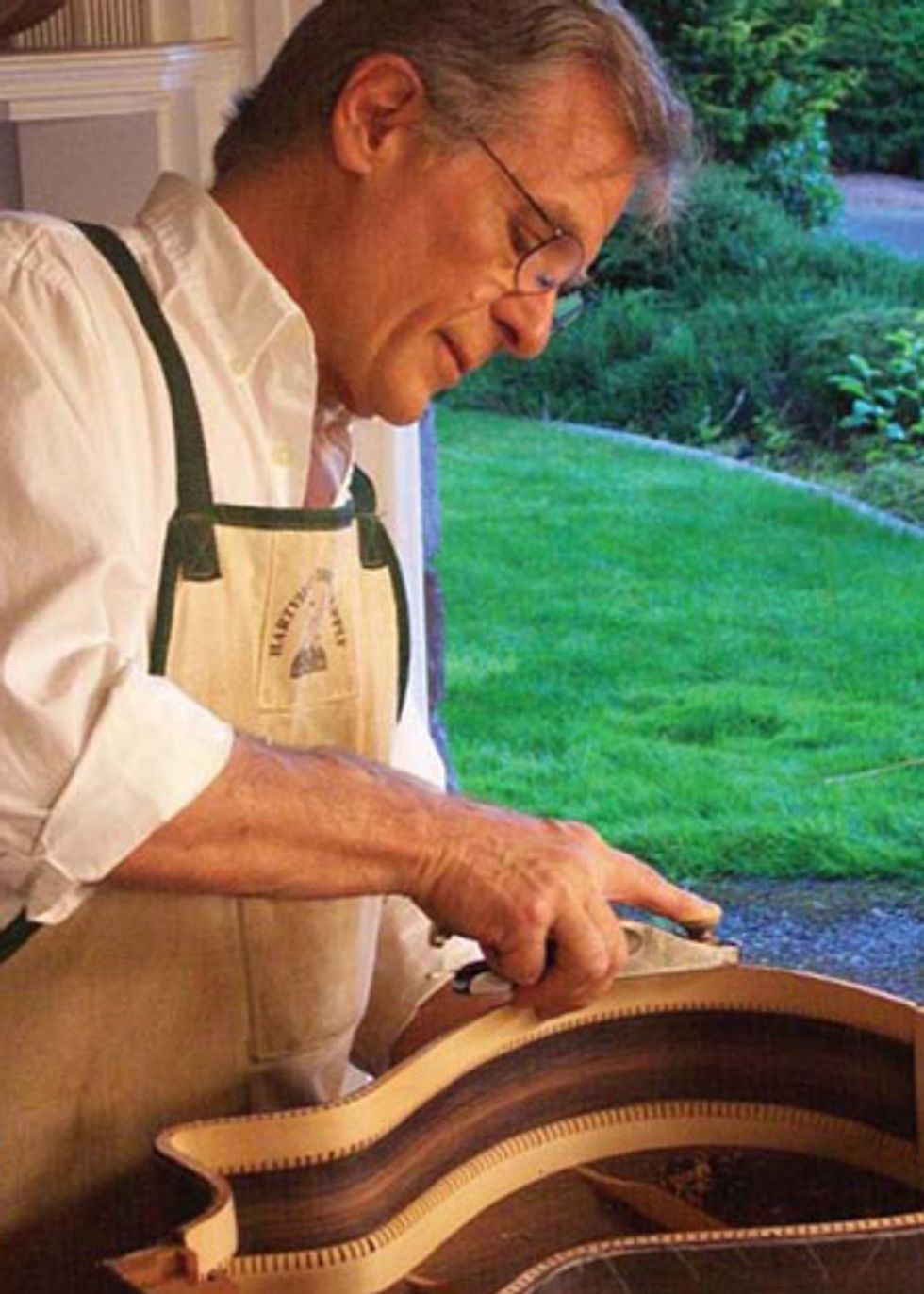 Charles shaping a back-and-rim assembly's two-piece linings in his Portland, Oregon, workshop.
The current version of the school that I began so long ago dates from 1993, when I moved to Healdsburg, California. It grew into a full-time program of short- and long-term classes, a teaching staff, and a roster of guest instructors like John Monteleone, Jeff Traugott, Frank Ford, Don MacRostie, Jeff Elliott, Dana Bourgeois, Rick Turner, and others. But running the business was all consuming and eventually left no time for my own guitar making. In 2002, my wife and business partner, Denise, and I relocated to Portland and downsized ASL to a program of small, intimate classes taught by myself here in my home workshop. I still work full-time, but the current mix of teaching and building my own guitars is more balanced—and it feels almost like retirement to me.
You have several classes for a multitude of experience levels, right? Can you tell us a little about your Hands-On Acoustic Guitar Making course?
It's a short-term, intensive workshop in which you'll work long hours every day building a no-compromise, performance-quality guitar. You'll build an acoustic steel-string or classical instrument in two weeks, and a solidbody electric guitar in seven days. These are not kit-assembly classes. Every step is explained and demonstrated as you work from the raw materials, learning every step of the guitar-making process—from parts making to final setup. On the last day of class, you'll be playing your new guitar. The class is designed to be the best possible foundation for continued self-learning.
The Advanced Design Features class sounds intriguing. What's covered in that?
It's a five-day seminar that focuses on new design features that a growing number of luthiers offer as options and even standard features. The attraction and value of double tops, sound ports, arm rests, and wedge-shaped bodies is clear to most luthiers and players who've experienced them, but the theory and the how-to of these new elements isn't always obvious. Advanced Design Features is an opportunity for experienced builders to bring their work up to speed in this area. Seminar topics include double tops, arm rests, sound ports, access panels, adjustable necks, removable necks, spiral fretboards, laminated rims, rigid linings, compound and scalloped cutaways, elevated fretboards, wedge-shaped bodies, semi-hemispheric fret ends, headless necks, off-center soundholes, removable bridges, double cutaways, synthetic bridge and saddle materials, multiple scales, fanned frets, pinless bridges, alternative body architecture, ventilated, relieved braces, and unibody construction.
LEFT: This small jumbo Ergo Noir has a floating jazz-style pickguard. RIGHT: Fox's blue Stag Leap electric features a radically shaped, deeply carved swamp ash body with a flamed hard-rock maple neck.
How can people find out more about your classes and guitars?
To learn more about ASL, visit
americanschooloflutherie.com
and see if any of our classes seem right for you. We always recommend checking out a number of schools, and you'll find advice on our site for choosing the best fit for you. If you're interested in exploring having a custom guitar made, you might start by perusing the Ergo Guitars website,
ergoguitars.com
.
What's the impetus for your mixture of teaching and building?
Independent lutherie is a lonely business practiced largely in monkish solitude. When I teach, my shop takes on a welcome social dimension. The balance of my time working alone and with others is good for me, and I can adjust the balance as I wish. Over the course of a year, it's roughly half and half. Lately, I've been loading up on the spring and summer classes—when more of my students can leave their day jobs—and leaving more time in the fall and winter for working alone on my own instruments and other projects. My income is about the same whether I'm building for clients or teaching. So these are among the practical attractions of teaching. I also love it—I take it seriously, and I do it pretty well. And I'm sure I'm a better guitar maker than I would be if I didn't teach the craft. Teaching has me regularly explaining and reviewing my understanding, and that deepens my understanding of things that I would otherwise never think much about. I also learn a tremendous amount from my students, among who are artists, professionals, and entrepreneurs of every sort. That enormous knowledge base passing through my shop is not wasted on me.
LEFT: Fox's Ergo acoustic features a "low-mass parabolic" soundboard that he also refers to as a "double top." Between its two thin layers of high-grade tone wood is a 1/16" sheet of space-age material with a honeycomb pattern. Fox says this combination weighs 40 percent less than a solid top and thus enables the top to ring more freely. Here, the rear "skin" of cedar is about to be laminated to the spruce top skin, which already has its honeycomb core attached. RIGHT: The Ergo features a shoulder sound port and ebony binding with red veneer pinstripes.
What projects are you planning for the next five years or so—either at the school or in your shop?
I'm designing a more affordable guitar that incorporates some of the Ergo's features, seriously revisiting the electric guitar, and adding a class or two to ASL's curriculum—including a setup and basic repairs class designed for guitar owners as well as our lutherie students. Jig plans and kits are on the way, too, as well as some instructional videos.
Some builders want to die at their workbench, others want to retire and never use a scraper again. How about yourself?
It's hard to imagine not building guitars—at least for a long time. I've left the craft and come back to it more than once, and I understand its importance to my sanity and balance. On the other hand, the thought of buying a few acres in coastal B.C. and cruising the inland waterways in a stout wooden boat is very appealing. Who knows? Of course, a time will come when I just can't do it, when I can no longer stand at my workbench or guide a tool accurately, but that time is way yonder. I've got far too many ideas and projects still to bring to life.