From its humble 1960s beginnings with Slinky strings to its paradigm-changing StingRay bass to its current stance as a respected manufacturer of guitars and basses that walk the fine line between tradition and innovation, Ernie Ball Music Man is a true American success story.
John Petrucci, Albert Lee, and Steve Lukather signature models await final testing at the Ernie Ball Music Man factory in San Luis Obispo, California. Ernie Ball strings are made at the company's facility in Coachella, California.
Inside Ernie Ball Music Man
Click here to see a factory tour photo gallery.

What comes to mind when you hear the names "Ernie Ball" and "Ernie Ball Music Man"? I asked a bunch of guitar players and here's what I got: Slinkys, StingRays, four-and-two headstocks, Battle of the Band competitions, and "solid accessories." They kept going: Silhouettes, Reflexes, "really well-made necks," Steve Lukather, Albert Lee, John Petrucci, Steve Morse, and Eddie Van Halen. Putting the same question to people in the industry yielded many of the same answers, along with a few items that the greater public is becoming increasingly aware of: crazy costumes, the Ernie Ball Music Man family itself, and an attitude that is sometimes referred to as "maverick." Looking back on where the company came from, it's easy to see how these elements fit into the larger picture.
Wardrobe Function
Roll up to the Ernie Ball Music Man display at the annual Winter NAMM show in Anaheim, and there's no telling what you'll find. No, really—who you'll find waiting to show you the company's latest products is always a complete surprise. Last year, visitors were greeted by astronauts and cosmonauts. The year before, NAMM attendees ran into a slick-suited Sonny Crockett (Don Johnson's character in the Miami Vice TV show) and a curly-haired, cape-wearing Ralph (aka
The Greatest American Hero
). You see, Ernie Ball employees are known for donning theme-related costumes at the big industry trade show. (Keep an eye out for our on-the-floor video demos and product walkthroughs from NAMM on premierguitar.com and you'll see what we mean.)
In an industry where you're just as likely to have a guy in a suit walk you through the design appointments of a piece of gear at NAMM (not that there's anything wrong that), EBMM's annual costume themes are a reminder to dealers, distributors, and journalists that musical instruments are indeed designed to bring pleasure to people's lives. If you can't have a little fun with the things you love, what's the point? Their reps are dead serious when it comes to talking about product design decisions and quality-control tolerances, but the spirit of fun is inescapable. Company founder Sherwood Roland "Ernie" Ball—a talented musician who was known as quite the character until his passing in 2004 at the age of 74—started dressing up and showing off cool cars at his NAMM booth in the '70s to bring a little levity to the show. And the tradition continues to this day, with planned out themes having been in place since the late '90s.
Freshly painted guitar and bass bodies dry in a temperature-controlled room. Some models receive up
to 27 layers of base, color, and clear coats, which are then buffed by automation and by hand.
All in the Family
There is no one else quite like Sterling Ball, Ernie's son and the current head of the company. He has ridiculous chops on both guitar and bass. He tenaciously pursues great tone, while simultaneously being amused at the concept of desiring something so nebulous and subjective. He is a tinkerer. He likes to question why things are done a certain way and whether the process can be improved. He loves a good, raunchy joke. His life has also intersected with much of the history of the electric guitar.
Ernie Ball beta-tested instruments for Leo Fender in the early '50s. This is Ernie Ball's official Fender endorsee photo. Photo courtesy of Ernie Ball Music Man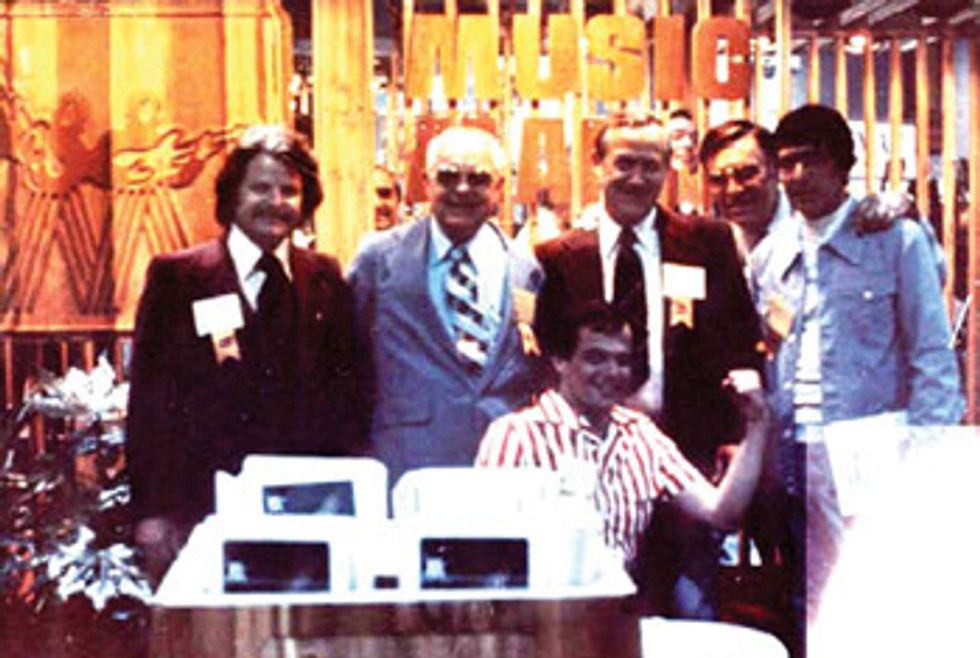 This mid-'70s NAMM photo shows some familiar faces at the Music Man NAMM booth (left to right): Ron Taylor, Leo Fender, Sterling Ball, George Fullerton, unknown, and Jody Carver.
Sterling was surrounded by gear from the day he was born. Father Ernie sought out a guy named Leo Fender to learn everything he could about the steel guitars and the newfangled electric guitars he was making. He also beta-tested Leo's instruments and became an endorsee.
Sterling, now 55, was putzing around Leo's workshop at the age of 4, and he really knew his way around that workshop by the time he finished high school. By then, his father had made a run at teaching music lessons for a living and had opened what many believe to be the country's first electric guitar music store. Shortly afterwards, Ernie pioneered custom-gauge strings as the world of rock 'n' roll guitar accessories was taking shape.
Sterling's childhood involved packaging strings and helping musicians find what they were looking for in the family store. Before long, he was going to NAMM shows, gigging around Los Angeles, representing Ernie Ball on the road, managing sales, and beta-testing Leo Fender's new StingRay bass for the Music Man company—which Ernie bought in 1984. A few months later, a fellow named Dudley Gimpel would land at Music Man after sending over a 6-stringed resume—a Tele-style guitar that showcased his abilities as a luthier. Sterling and Gimpel have been working together ever since.
Just as you can't discuss the strings made at the Ernie Ball facility in Coachella, California, without mentioning Ernie Ball himself, you cannot discuss the Ernie Ball Music Man instruments made in San Luis Obispo, California, without noting Gimpel's hands-on design role in the company. Take a tour through the company's vault of historic prototypes and production models, and Gimpel can tell you about every spec and nuance you could possibly ask about—right down to exact dates and thousandths of a millimeter—because he is the guy who handmade, oversaw the production of, or dissected everything in there at some point. He can explain the pickup pole piece positioning of "Old Smoothie"—the first StingRay that Leo made in 1976—and why prototype #19 of Eddie Van Halen's signature guitar has a Schaller Floyd Rose tremolo on it. If there is anything that can be explained about Ernie Ball Music Man gear, Gimpel can explain it.
Ernie Ball Music Man began offering "roasted" maple necks as a Ball Family Reserve option in August 2010. The company says that, in addition to drawing out the character of figured maple, the roasting process makes necks stronger and more resonant by changing the wood's microstructure.
The family element of Music Man is pervasive. While Gimpel is an example of how the EBMM "family" isn't necessary all blood-related, some other people in key positions are indeed bound by DNA. A third generation of Ball family members in the business includes Sterling's sons Brian, 30, and Scotty, 32, who both wear a number of hats but are officially involved with marketing and sales, respectively. According to Derek Brooks, who also wears many hats but is heavily involved with artist relations, Brian and Scotty are responsible for everything from new products to new versions of products to new ideas that are setting the tone for the future.
The EBMM family of products is as diverse as any real family, too—with Ball Family Reserve guitars representing the top of the heap and the Sterling by Music Man line offering more affordable versions of Ernie Ball Music Man instruments that are still set up and inspected in the US.
The first electronic test is conducted on a Reflex Bass after pickup installation. Note the temporary handle attached to the neck joint. This allows the bass body to float above the workbench during sub-assembly, eliminating the possibility of scratching from loose accessories, tools and debris.
Trailblazing Quality
While Ernie Ball Music Man's connection to Leo Fender is significant and continues to serve an inspirational role in a number of ways, it doesn't define the company. In a fairly crowded industry that often doesn't seem to change much—the basic guitar shapes, electronics, and sounds that sell the most units haven't changed that much in 50 years—EBMM has carved a niche somewhere between the extremes of tradition and innovation. For example, the company is proud to be known for the StingRay, but enjoys pushing the envelope with instruments like the Bongo bass. Introduced in 2003, the Bongo comes in single-humbucker, dual-humbucker, or humbucker-and-single-coil configurations (and with optional neodymium-magnet pickups and/or a piezo-equipped bridge), and an 18-volt, 4-band (two-pickup models) or 3-band active EQ. On the guitar side, some fairly traditional EBMM axes have won favor with many players worldwide, but folks at the company are excited about the early-2011 release of a new guitar they say is quite innovative.
As for
how
these guitars and basses are made, the 50 to 100 instruments that come out of the San Luis Obispo factory every day show the precision and consistency of CNC machines, as well as the careful attention and nuanced handwork of dozens of people who rely on old-fashioned tools and elbow grease to make each guitar and bass pass muster with working musicians.
Scotty Ball shows off a new gold-sparkle StingRay that will be unveiled at NAMM 2011.
On a recent guided tour of the factory, Sterling Ball made a point of emphasizing the company's guiding principles. "We're passion driven," he said. "We respect the niche." The mantras kept coming as we snaked backwards through the building, beginning with finished guitars and ending with solid blocks of wood. "It's the details, baby. The devil's in the details," Sterling beamed at a setup bench where he had just played a funky song that allowed him to test every single fret on a sparkle-blue StingRay. "The difference between a good guitar and a great guitar? About 100 details—we hope we know what they are after almost 30 years."
Despite selling guitars in 86 countries, Ernie Ball Music Man still operates much like a small factory: It doesn't create inventory at will—a customer or a dealer has ordered every instrument in progress at the shop. Even so, the company is successful enough that Sterling has to spend a lot of time with "damn accountants and attorneys" at this stage of the game. That explains why, when he's on the factory floor, he races around like an inside dog who has just been turned loose in the backyard. He's been tweaking his guitar-making operation for nearly 30 years and is excited to show anyone and everyone what makes his guitars different.
These Reflexes in progress show the basswood body's routed chamber pattern before the guitar's mahogany tone block and maple top are assembled.
"Success is being able to identify where the handwork and the machine work are necessary," he pointed out as he stood between "Ursula," a buffing robot, and an employee with 26 years of experience who was handbuffing the curves and tight spots that Ursula can't buff as well. "That gives you a guitar with a little bit of soul."
One of the secrets of Ernie Ball Music Man's famously comfortable necks is a process that involves warping them on purpose after the fretboard has been glued on. They crank the truss rod to intentionally create a back bow of 7–8 thousandths of an inch. Attached to a swinging hinge over a belt sander, the back bow is then sanded off the fretboard according to the desired radius, and then the truss-rod tension is released. The process may have its naysayers, but for a company known for its necks, it certainly helps the company distinguish itself. Other neck innovations worth mentioning include the gun-stock-oil-and-wax treatment that started with the Van Halen guitars and is now standard on most EBMM models, and their new "roasted" neck treatment that turns maple an alluring shade of brown—like a well-done chocolate- chip cookie. The latter process has a stunning effects on bird's-eye maple and other figured woods.
Some other atypical things you'll notice on the factory floor:
The binding process. Instead of gluing and wrapping plastic binding, they pour it in liquid form into mold-supported body routes to custom fit each guitar.
Frets. Plek machines are not used. Fret jobs take about 45 minutes, because the frets are cut so that there is a gap on each side of the neck rather than extra fret wire that has to be clipped. That gap is filled by hand with lacquer and a soldering machine.
Respect the body! Temporary handles are fastened to neck joints before the necks are put on, and then they are secured to vices at each sub-assembly bench so that the body remains in a hovering position when the electronics are installed. This prevents the bodies from getting ganked and scratched by screws, tools, or other debris on the benches.
Wood treatment. Despite buying already-dried and treated wood, EBMM uses real heat from kilns (that is, not ultraviolet light) to draw more water out of their wood. It takes four days to cure a guitar body.
Striped chambers. Reflex guitars are chambered by routing parallel grooves into the bodies.
Guitar and bass bodies wait in line for their time with Ursula. Note the oval-shaped tags in the electronics cavities. These tags use radio waves to help Ursula identify which buffi ng patterns are needed for each body.
Another big difference between Ernie Ball Music Man and other companies is their approach to artists. As Brooks put it, they aren't focused on converting up-and-coming players by the masses. Rather, they prefer to let the instruments win true fans of the brand. A point of pride for the company is the fact that their artists often show up empty-handed to in-store events. "When Steve Lukather is in a store that sells our gear, he knows that every guitar on the wall is set up to his high standards," Brooks said.
As for the previously mentioned "maverick" description, Sterling embraces it. This is evidenced in the shock he expresses over people buying guitars that need to be set up after they're purchased. He also shows a bit of frustration over the fact that musicians can be slow to accept new innovations. "I think it'd be nice if the guitar and the bass could move forward a little bit," he says. "There's a lot of technology out there that could be applied. The challenge is to come up with better ways of making new, more flexible instruments that are intuitive."