Celestion Gold Series Speakers
The new 50-watt Alnico magnet speakers represent the latest in a line of legendary tones from a company that has had a significant impact on the history of guitar tone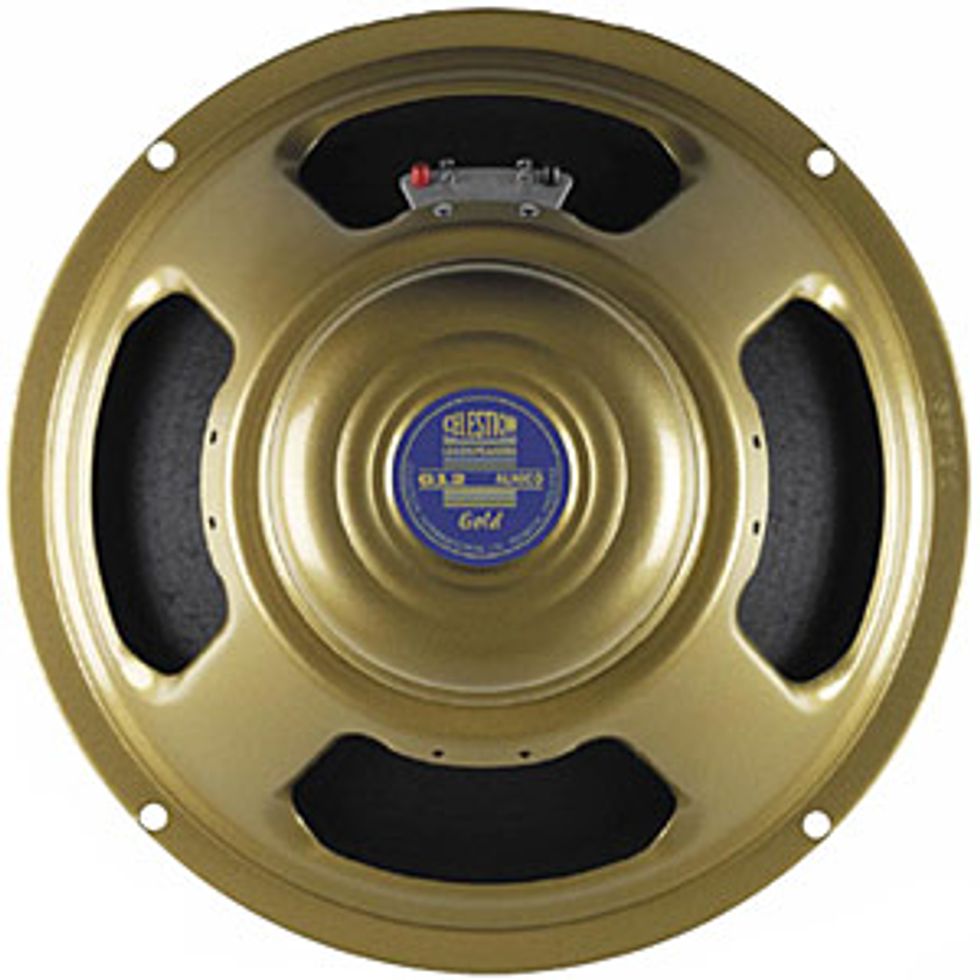 Our good friends at Celestion International submitted a pair of their new Gold Series 12" speakers for review this month. The new 50-watt Alnico magnet speakers represent the latest in a line of legendary tones from a company that has had a significant impact on the history of guitar tone. We head off to the Tone Chamber to check out the latest in precious metal.
Installation
Talk about a pawnshop prize! I found a somewhat vintage '80s Marshall 1966B 2x12 cab at a pawn shop in Arlington, TX that was unloaded. This is the definition of a perfect score. I have owned another 1966B cab for years, loaded with standard 75-watt stock Celestions, which I use in smaller venues. I really like these cabs, as they are small and lightweight but punchy. Of course, these cabs are somewhat of a rare creature – they are square, not rectangular like the new style of Marshall 2x12 cabs. Needless to say, what an ideal home for a pair of Gold Series speakers.
Upon receiving the cab via UPS, I installed the two Gold Series speakers to the straight baffle cab. I prefer straight front cabs as opposed to angled, as I believe you get a bit more bottom end thump from straight baffled cabs. With the two cabs, I had a convenient way to A/B the new Gold Series 12s with the stock 75-watt 12s. We were wired for sound and ready to rock.
Sound Check
For testing purposes, I utilized a '80s JCM 800 Model 2205 two-channel, 50-watt head and set aside a '74 Les Paul Custom Black Beauty as well as a late '80s butterscotch Tele. I first plugged into the 2x12 cab with stock Celestions. Of course I am a fan of these speakers, but I wanted to refresh my memory of the tone of this original cab. More importantly, I wanted to provide an A/B comparison with the cab loaded with the "precious metal" Gold speakers.
In firing up the Marshall JCM 800, it was an instant reminder of the legendary tone of rock n' roll – a Les Paul into a Marshall, out to a Celestion-loaded cab. The overdrive tone was big and ballsy, fat and warm with of course the gritty, throaty midrange that is the signature combination of tone. After throwing down for about 10 minutes, it was time to fire up the cab with the gold.
By simply re-routing the speaker output cable to the Gold Series cab, I could honestly hear the difference on the very first power chord. In a nutshell ... warmer! I noticed a tighter and punchier low-mid growl and, to my ears, a smoother midrange response. However, all of the topend bite and sizzle that Celestion is known for remains present and accounted for. Overall, the Gold Series speakers seemed more musical to me, with richer harmonic overtones. I also noticed a bit more volume, probably due to the 100db sensitivity rating of these speakers.
---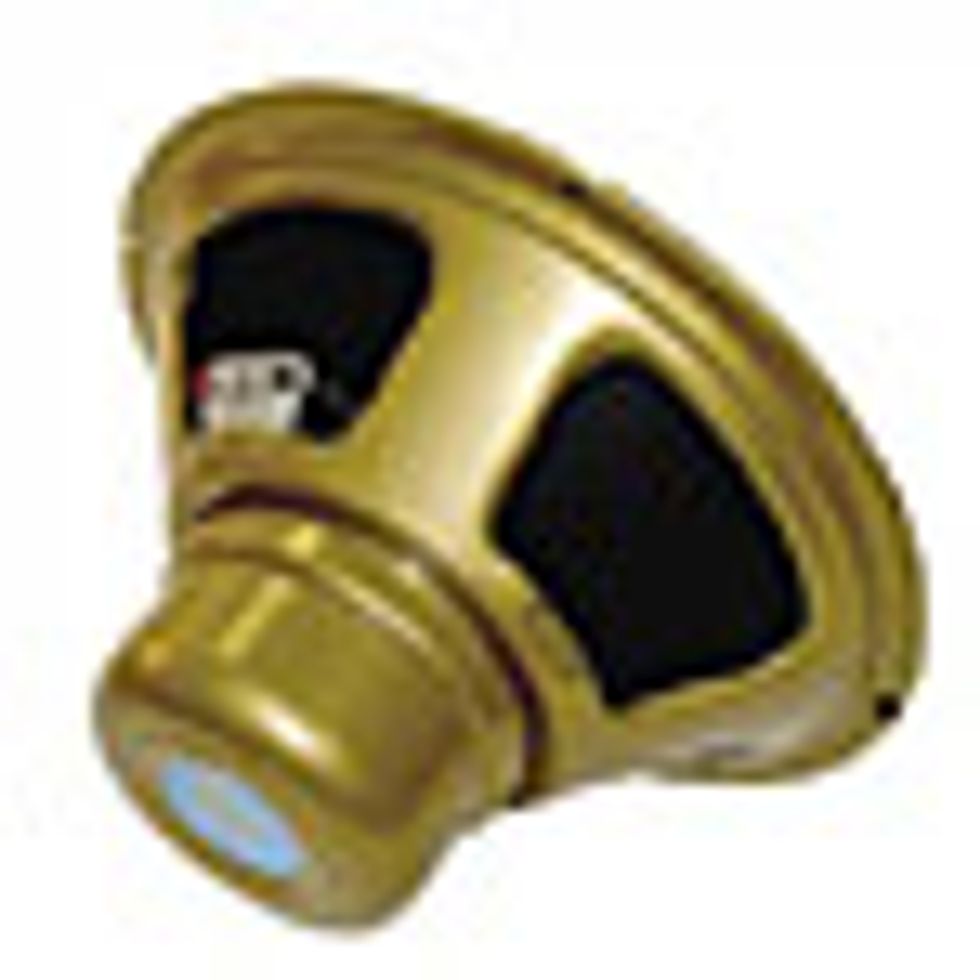 "Overall, the Gold Series speakers seemed more musical to me, with richer harmonic overtones. I also noticed a bit more volume, probably due to the 100db sensitivity rating of these speakers."
---
Alnico's Secret
Boutique pickup builders have been tapping into the tone of alnico-based metals for some time now. For the uninitiated, alnico is an alloy consisting of aluminum, nickel and cobalt, used for magnets. This can produce similar sonic dynamics when compared with standard ceramic magnets in speakers as well.
The Gold Series are modeled after the legendary Celestion Blue speakers – Celestion's flagship speakers for some time, producing a distinct tone – but feature an alnico magnet that can provide superior power handling. As you may be aware, the Celestion Blues had a sweet spot when pushed to around 15 watts, where the cone would start to break up nicely – past that, however, the Blues start to reach their operational limits. The Gold's superior power handling capability (50 watts) provides a safety margin while also providing additional headroom to drive the speaker with more power.
It was certainly a challenge for Celestion to achieve the tonal equivalent of the legendary Blue; in doing so, Celestion experimented with many tweaks to both the cone and the voice coil, not to mention hundreds of hours of testing. Of course, Celestion remains somewhat quiet about this proprietary process – it's safe to assume that if they told us, they would have to kill us.
Final Mojo
For those of you who are Celestion faithful like myself, at the conclusion of my testing I could comparatively summarize the tone of the Golds as follows: the Golds come across cleaner and a bit smoother in the mids than the legendary Blues or even a Greenback, warmer but darker than a G12, and not as clean or bright as a Vintage 30. The Golds also sound a bit looser on the distortion side than a G12, but in my opinion produce a bigger bottom with a much smoother midrange.
The obvious upsides are the big bottom end with a smooth, almost vocal-like midrange, coupled with increased power handling and headroom. The Gold Series would make a great replacement upgrade for higher-powered Vox combos, classicstyle Fenders or anything in-between. New models include push on, solderless connections for easy installation. Now I understand why they call this Celestion the Gold – "precious metal" equates to precious tone.
On the downside, these speakers are a bit spendy, due to the fact that alnico magnets are expensive to produce. At a retail price of $420 per speaker, it could get expensive to upgrade a 4x12 cab, but it remains a nobrainer for 1x12 or 2x12 combos. Boutique quality comes with a boutique price tag.
All in all, hats off to Celestion for creating another guitar speaker that will undoubtedly solidify its place in tone history.
Rating...
Tone...
 
Craftsmanship...
 
Features...
 
Value...
 
Overall...
 
---
Celestion International
MSRP $420
celestion.com
Our expert has stated his case, now we want to hear yours. Log on to premierguitar. com, click on "Forum" and share your comments and ratings.