We use a refrigerator and the hot summer sun to see if this pedal's Active Bias Monitor makes it one of the coolest germanium fuzzes on the market.
Jaw-dropping array of germanium-flavored fuzz and drive tones, recallable more consistently than perhaps any other germanium fuzz on the market. Robust build.
5
5
5
5
In a world where new fuzz pedals seem like an endless train of Big Muff, Fuzz Face, or Tone Bender wannabes, the germanium transistor-driven Silktone Fuzz instantly stands out. Cool logo and skirted flying-saucer knobs aside, what really draws the eye is the three-digit LED readout. At a glance, you might assume this indicates some sort of programmability—a digital task not normally associated with stellar fuzz. That's not the case.
But why, exactly, are those LEDs constantly shifting? If you're any sort of fuzz-o-phile, you know how finnicky vintage-style germanium units like those on classic Hendrix, Gilmour, Page, and Beck recordings can be. Getting consistent tones from the best germianum fuzz specimens can be a crapshoot. That's because temperature has a dramatic effect on the stability of the current and voltage drawn in a germanium circuit. In electro-speak, this is called transistor bias.
Numbers Cruncher/Mercury Muncher
Perhaps the coolest (pun intended) of the Silktone Fuzz's three extremely cool features is the near-miraculous way it enables its two germanium transistors to deal with temperature woes. While all transistor-driven fuzzes have at least one bias point, they're usually only tweakable via tiny internal trimpots. But the Silktone's bias is controlled by a handy full-sized knob up top, right next to the even handier patent-pending Active Bias Monitor readout. This means, for any of the many killer tones available, you can document—to two decimal points—the transistors' bias measurement and then adjust to compensate for mayhem wrought by Mother Nature or a cranked air conditioner.
It's not often one gets to employ a refrigerator and a hot summer day to test a guitar pedal, but that's how I went about assessing the reliability of the Silktone Fuzz's bias control and monitor. First, I recorded a reference tone with my Tele, Vibrolux Reverb, and a Royer R-121 ribbon mic in my 66-degree basement studio, photographing the knob positions and LED readout (which read 6.00 with bias at noon) for accuracy. Then I placed the Fuzz on a front-porch rocker in the 84-degree sunlight for 10 minutes, brought the warmed-up stomp back to the studio, and noted that the same bias-knob position now measured 8.25 and the tones sounded much more gated and jagged. Dialing bias counterclockwise to roughly 8 o'clock and comparing to my recording, I got the reading back to essentially the same reference tone and bias reading. I had the same experience in reverse after a 10-minute chill session in the fridge.
You Said Three Cool Things…
To nix another finnicky aspect of vintage-style fuzzes, the Silktone also has a pickup-simulator/debuffer at the beginning of the circuit that enables it to sidestep issues related to placement in a signal chain. Go ahead, put it before or after your wah or overdrive—it sounds the same. Further, the cleanup knob works in tandem with the debuffer to facilitate the range of scrumptious in-between boost and distortion tones that a good germanium stomp can yield with guitar-volume tweaks—only you don't have to do anything but stomp to get there. Volume, meanwhile, works dynamically with fuzz and cleanup to let you go from deliciously grainy fuzz to thick, Muff-esque doom tones, to myriad shades of skanky, toothy, stabbing, or sqwonky boost/overdrive.
Saying anything is the "ultimate" anything can make you seem like either a novice or an ass-kissing eager beaver, but ... damn, man—the Silktone Fuzz is really cool.
Adding to the fun, there's also a 2-way toggle for "classic" or meatier, more harmonically saturated "raw" bias modes. The bias control also acts as a potent tone/responsiveness control in its own right. Although the circuit design was inspired by the Fuzz Face and nearly identical Tone Bender MkI.5, setting bias near minimum can impart lo-fi, Velcro-esque stickiness—anywhere from thick, Fuzz Factory-like sounds to bee-in-a-can Fuzzrite tones. At other settings, bias tends to yield airier, more open-feeling tones, and past noon they're more rotund. Near maximum, you get a palette of "strangled-fuzz" vibes.
The Verdict
Saying anything is the "ultimate" anything can make you seem like either a novice or an ass-kissing eager beaver, but … damn, man—the Silktone Fuzz is really cool. I don't own a single guitar pedal with a digital readout, as they kinda give me the heebie-jeebies. But here it makes tons of sense, especially if you're a germanium fan who gets around. But, even if your board never leaves your studio, this control scheme serves up so much ear candy, from traditional to offensive, that you might find yourself wanting three or four Silktones in a row for instant access to a horde of progressively aggro sounds. Huge, huge kudos, guys!
A plugin designed to transcend the limitations of traditional DAW plugins to bring the qualities of analog sound to digital recording.
Simply connect the Big Muff to your DAW by USB, select a track, and open the plug-in window. Instead of software emulation, you have real clipping diodes, overdriving transistors, and nature itself coloring your sound. The analog circuit is pushed over the edge and loses control. The sound you hear is the natural warmth of electromagnetic chaos. The new Big Muff Pi Hardware Plugin can even function as a 2-in/2-out USB audio recording interface, which enables the user to record with or without the Big Muff effect engaged.
The Big Muff Pi Hardware Plugin can be used as a stand-alone pedal and shares the circuit design of the legendary 1973 Violet Ram's Head Big Muff. That coveted pedal has set the standard for musical distortion and has been heard on countless classic recordings. It's renowned for its unmistakable articulation and exceptional sustain, and now it has been updated to be true stereo. It also features Tone Wicker, Tone Bypass, and presets.
Features
Brings analog warmth and magic to the digital domain. Great on guitar, but also exceptional on keys, drums, vocals, and more
Integrates seamlessly with all popular DAWs (digital audio workstations) like Pro Tools, Ableton Live, Cubase, GarageBand, Logic Pro X, Reaper and more
Works like a standard DAW plugin and it can also be used as a stand-alone pedal
The Big Muff Pi Hardware Plugin's circuit design is straight from the legendary 1973 Violet Ram's Head Big Muff with some very special updates including true stereo
A Tone Wicker switch delivers the option of opening up 3 high-frequency filters for extra top-end snarl and bite
A Tone Bypass button completely removes the tone control for broadband Big Muff slam
Ten footswitch-accessible presets let you dial in and recall your favorite Big Muff sounds
Provides the added versatility and enhanced functionality of a 2-in/-2-out USB audio recording interface… record with or without the Big Muff effect engaged
Comes with an EHX 9Volt power supply and can also be powered via its USB 2.0 Type B port
Electro-Harmonix Big Muff Pi Hardware Plugin
Priced at $329.90. For more information, please visit ehx.com.
Week #2 is here! You could win one of SIX Pedals! This giveaway ends September 26, 2022.
Click here to jump to the entry.
This page contains affiliate links. Any purchases made through these links may support Premier Guitar financially.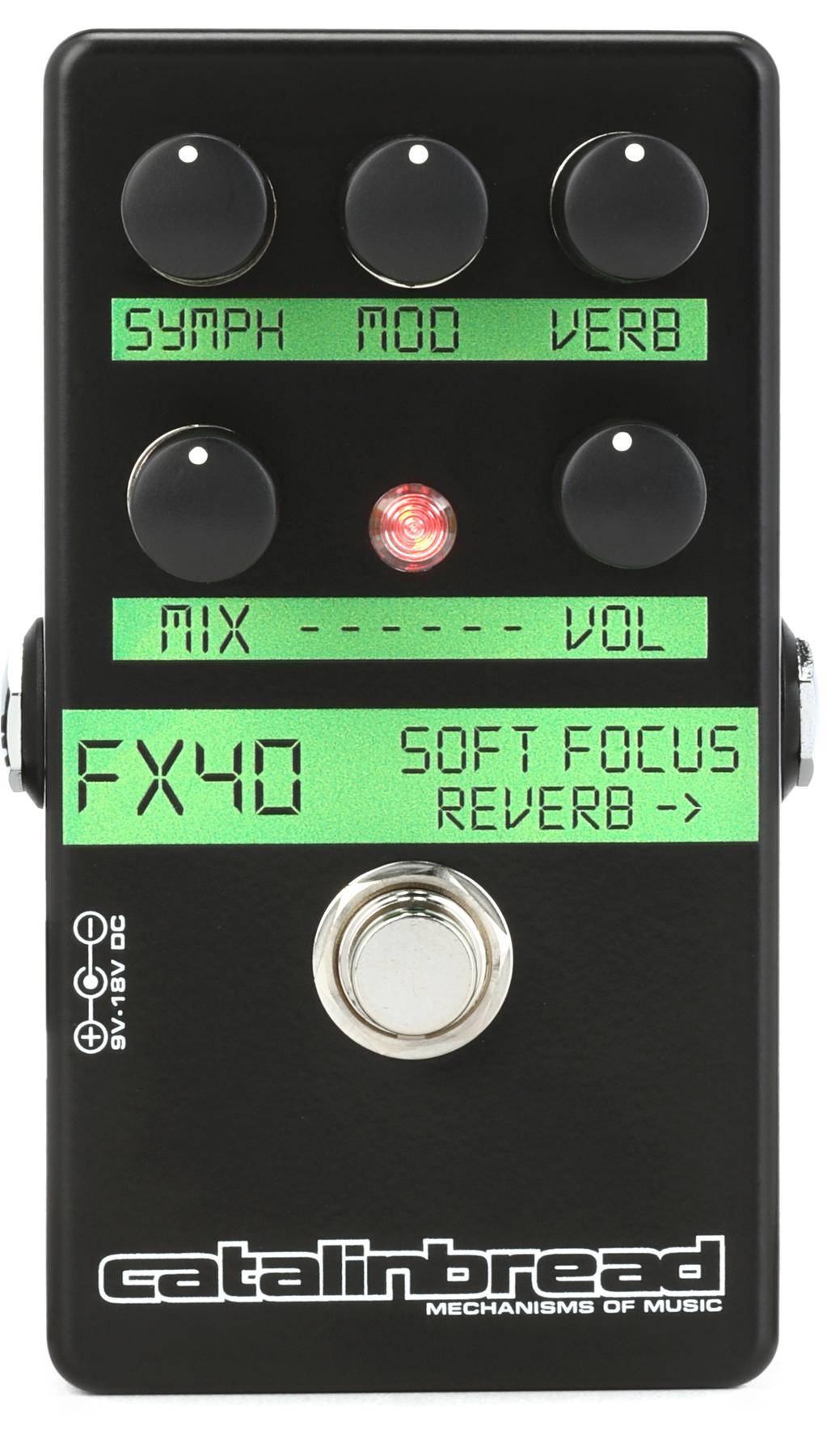 The Soft Focus patch on the Yamaha FX500 was widely used in the '90s by early shoegaze bands, most notably Slowdive on Souvlaki. With its roots in that patch, the Catalinbread Soft Focus is intended to be an instant shoegaze button, while addressing the most glaring issues of the original unit. The original unit had a very plug-and-play approach, offering no mix control, a sub-par preamp and a ghastly tone-sucking bypass signal. At its heart, the Soft Focus is a heavily modified plate reverb with adjustable time, which is subsequently split into three. One path contains a "symphonic" chorus modulator, another features a well-appointed octave-up mixed in with the reverb, and the third path leaves the reverb untouched. The Mod knob controls the rate of the chorus on path one, and the Symphony knob controls the level of the octave on path two. All controls are "coupled" to the tone of the reverb to give users an expansive playing field of sounds to discover and fine tune. Our Soft Focus is not an exact recreation but was exhaustively compared with our own FX500; the difference is that a fairly generic fixed-time digital delay is present on the Soft Focus patch. We found that leaving this feature intact ate into the patch's memory just a little too much for such little payoff, so we leave that addition to you and your favorite delay.
Catalinbread
NEED A SMALL RIG FOR STUDIO WORK, PRACTICE OR CRAMPED GIG SPACES?

The EARTHBOARD EBII-SR is a junior version of the EBII! It has all the innovative features that came with the original EARTHBOARD as well as new built-ins designed to simplify the process of building and using your rig! The world's only magnetically designed and powered complete Effects Pedal System comes with everything you need so you can Focus on the Music, Not the Set-Up. Just add your pedals and patch cables - in under 30 minutes - and you're on your way...

EARTHBOARD EBII-SR System holds up to 5 standard size pedals plus 1 battery and comes with:
5 Gravity Boots (for 4 pedals and the battery)
Gravity Boots come with "fuzzy" hook-side Velcro to easily transfer your pedals from your current board
4 Gravity Boot Tethers and 1 Battery Tether (connecting cables) to provide power from the Gravity Boots to your pedals
Standard 9v, 10,000mA long-lasting, rechargeable battery (includes USB charging cable and mesh carry pouch)
PLUS these unique built-in features:
- undermount Blue LED lights for the cool factor
- 2 Battery Port Input Jacks (side-mounted) for the option to place the battery on the floor next to the board to make room for one more pedal!
- 2 Power Port Input/Output Jacks - 1 on each side for maximum flexibility to: convert to wall power if desired (AC adapter sold separately), power a pedal on the floor next to the board rather than on the board (Requires the Lifeline Tether, sold separately) or connect additional EARTHBOARDs because one battery can power multiple connected EARTHBOARDs (Requires the Lifeline Tether, sold separately)

Compare this complete Effects Pedal Platform to plain ol' pedalboards. It comes with everything you need to get playing - just add your pedals and patch cables! And it's the cleanest, uncluttered rig available because we've eliminated the messy cobweb of daisy chains and power cords! The flexible, modular design allows you to build upon, move and re-arrange pedals and change your rig on the fly. No need to schedule half a day to modify your board…So you can Focus on the Music, not the Set-Up!
Earthboard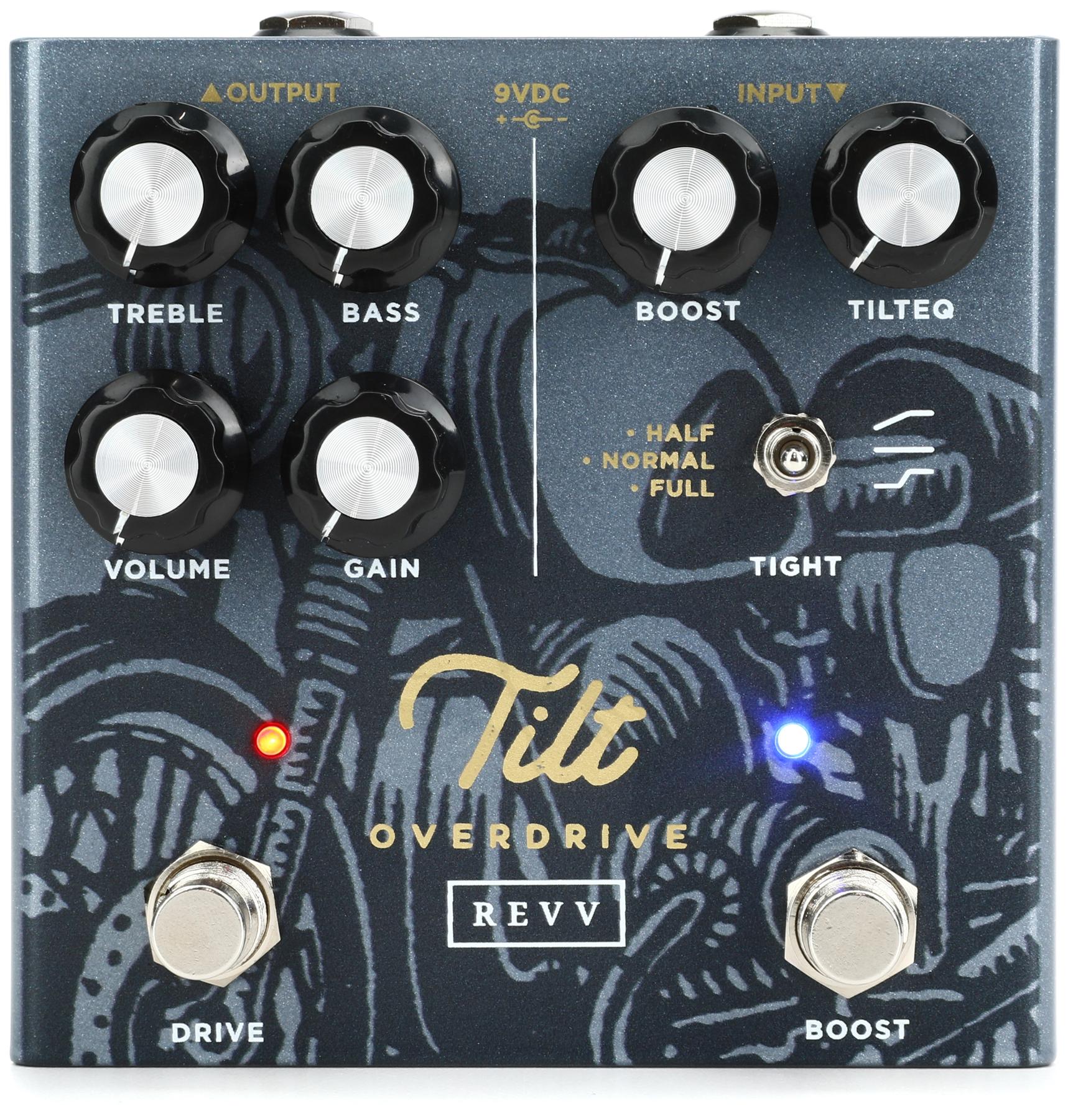 The Shawn Tubbs Tilt Overdrive is the tonal culmination of a lifetime in music. Shawn not only needed a practical tone tool to give him the right sound quickly in any musical context - he aimed to combine the greatest vintage amp tones & recorded guitar sounds of all time into one ideal sound. Now that tone is available to you in a compact 9v double pedal with a unique Tilt Boost.
Revv
**A harmonic tremolo pedal you can keep on Earth, or get lost in space**
This harmonic tremolo gives you a huge range of tonal possibilities. It can be used as a standalone tremolo, optionally with with some layered on reverb, or you can dial in some complex textured delays and feedback to create dreamy soundscapes. And of course you have everything inbetween.
MAS Effects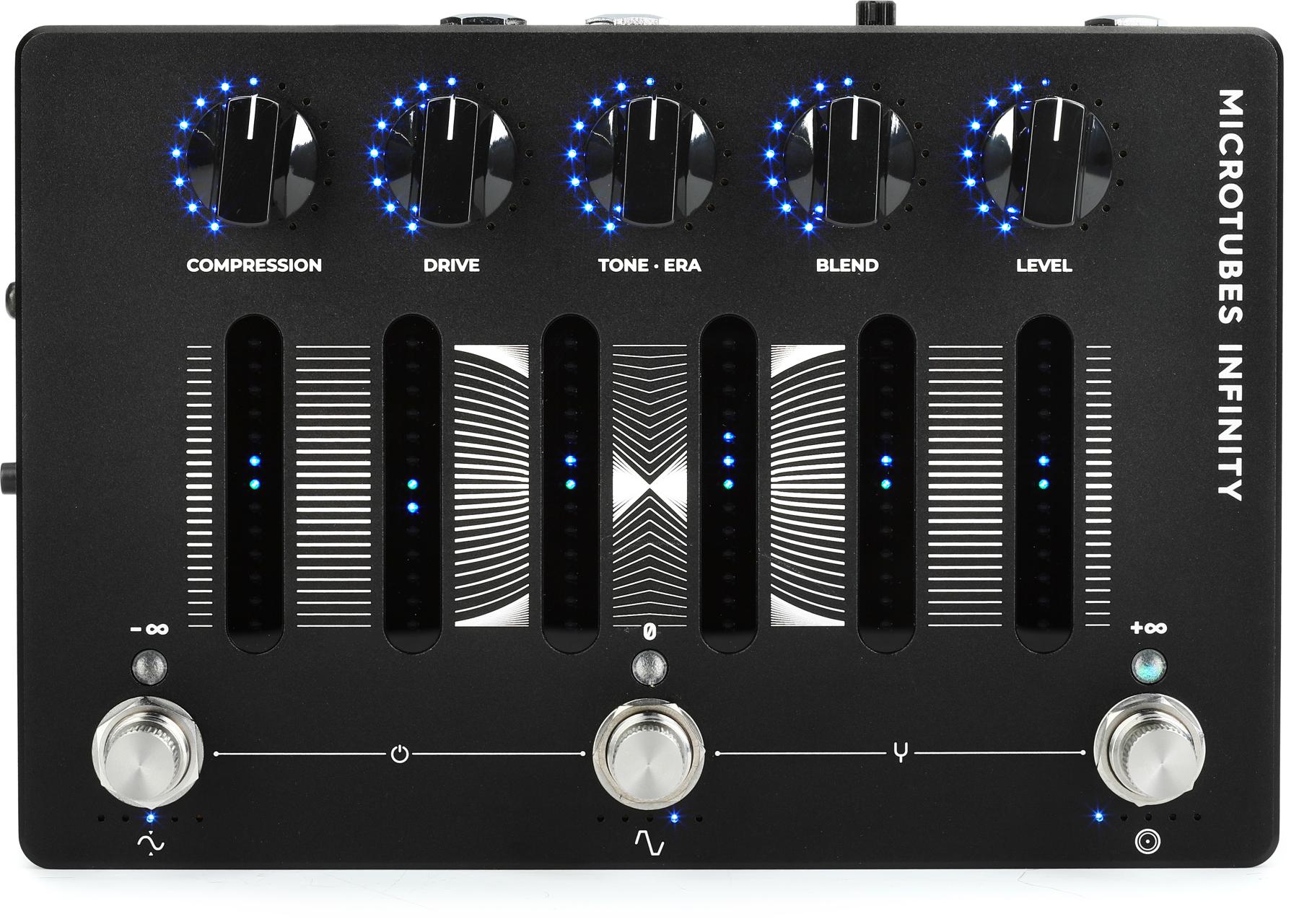 If we get to choose only one piece of gear to take on tour: how would we want it to be? The Microtubes Infinity shares the footmark of the Darkglass programmable line, packed with our three legendary Microtubes distortions: B3K, Vintage, and X. It allows multiband compression on every mode and blending Impulse responses between distortions: an infinity of possibilities.
Darkglass
Up to one second delay with pitch-shifting modulation. And that modulation! Pitch shifting modulation on the repeats which makes those delays sound MASSIVE! And the modulation is foot-switchable: leave it on for those big clean chords, and turn it off when you kick in the overdrive for that crushing solo.
Repeats controllable from one to infinite.
Mix control to perfectly dial in the amount of effect.
Tone control to adjust the tone of the delayed signal from a hard bright room to a soft dark room.
Foot-switchable pitch shifting modulation with Speed and Intensity controls.
Full bypass wth fail-safe relay control; the effect is automatically bypassed if the pedalboard looses power.
9V DC input.
Mayfly Effects