How to introduce these classic effects via your DAW into your own mixes.
Hello and welcome to another Dojo. This time I'll discuss the differences between phasing and flanging and offer some advice on how better to use these effects in your recording and mixes.
First, what is flanging? Flanging gets its name from the glory days of tape machines. More specifically, the miles of spooled tape that was used to make records that were fed, and alternately collected, on metal reels—the outer edge of which was called the "flange." The earliest way to accomplish flanging was by synching two tape machines playing back the same exact audio material, and manually slowing down one of the machines by pressing a finger (or two) on the flange of the playback reel on one of the tape machines, releasing it, and listening to the characteristic "swoosh" as it raced back into synch with the other machine. Do this more than once, and you are "flanging."
I particularly like using these effects on families of instruments (drums, grouped guitars, background vocals, strings, synths, loops, etc.) or on whole sections of mixes.
In the late '70s, Eventide came out with the classic FL 201 Instant Flanger and added some nifty little tweaks: adjustable rate on the LFO, a choice of triangle or sine wave LFO, feedback, phase, envelope follower, and more. You can buy the plug-in version for around $129. Have a look at Fig.1, where I've drawn up a basic signal flow for this type of circuit. As you can see, the primary way flanging gets its sound is by manipulating delay time and its parameters.
In contrast, phasing is accomplished by lining up a small group of non-linear, all-pass filters in series that react with frequencies in different ways. Look at Fig. 2. This shifts a particular frequency's wavelength ever so slightly (i.e., 250 Hz moving an eighth of a wavelength). By combing other filters reacting to different frequencies, and phase-shifting those wavelengths by random amounts, you get the comb-filtering that is characteristic of phasers.
Fig. 2
Both effects have similar sounds, characteristics, and controls. Today, most offer adjustable delay times in parallel or series, phase angles, LFO types, filter types, and delay lines at different degrees of phase that can be modulated in sync with your DAW's bpm.
Now, let me offer some basic jumping off points for you to begin experimenting with phasing and flanging. I particularly like using these effects on families of instruments (drums, grouped guitars, background vocals, strings, synths, loops, etc.) or on whole sections of mixes. Try this:
Flanging Reverb
Take your guitar solo and send it to a reverb. Place a flanger (or phaser—you should switch them out and see what works best) after the reverb and then blend that into the solo for added effect. Next, mute the phaser/flanger on the reverb channel and instantiate the same phaser/flanger directly on the guitar solo track. Listen to the difference and adjust to taste. You can also try the same thing using a delay instead of a reverb.
Sectional Phases
Experiment with manipulating sections of your song (the bridge, interlude, verse, etc.) by adding a flanger to master stereo output (aka the "2-bus"). You should be able to automate various parameters of the effect. I would suggest starting by automating the power/bypass on the plug-in in your DAW. If this isn't an option, you can always bounce down the section you want, or even the entire song, with the effect on the whole time, then import that bounce back into your session to add in when inspiration hits. When playing back the "flanged" mix, make sure you mute all the other tracks, since they're already contained in the bounce. Otherwise, you'll be introducing even more phase to the session, and not really in the best way. If that happens, you may find yourself reaching for the volume knob, because everything disappears and there is not much energy in the frequency spectrum.
As always, I invite you to come by my website for more information and demonstrations on these techniques. Until next time, stay open-minded, and be safe and well. Namaste.
Photo by Mascha Thompson
The jazz and blues virtuoso changed his tone palette on the new all-instrumental album, Pure, stepping way from his legendary 100-watt Dumble. After 36 years playing the same rig, the transition was not easy.
"I consider it a real blessing having learned the guitar through the blues medium," says Robben Ford. "I then developed a great love for jazz and, in particular, the tenor saxophone. Those guys—or the guys that I like, I should say—are all very vocal players. They're singers. Miles Davis's trumpet as well is the most brilliant example of a trumpet player using his horn as a voice. It's very much related to speech. Sometimes you speak softly. Sometimes you just groove along. Sometimes you yell. You're always trying to say something as opposed to play something."
Robben Ford's musical conversations date back to the early 1970s and include work with artists as disparate as Joni Mitchell, George Harrison, Miles Davis, the Yellowjackets, and Charlie Musselwhite. He's also released more than 30 albums as a leader, with most featuring his songwriting and vocals. However, like many things these days, change is in the air, and his recently released Pure is an all-instrumental album. It's the first time he's done that since Tiger Walk in 1997.
Pure
Ford's playing is a unique hybrid style that incorporates the nuance and sensibilities of the blues with the harmonic complexity of jazz. It's an approach that sounds intuitive and obvious in his hands, and on Pure, he takes advantage of the instrumental setting to showcase those different sides of his musical personality.
Pure's roots date back to 2017, when Ford relocated to Nashville. After years on the road, he was looking for a community with a vibrant music scene. He wanted a place where he could gig regularly with local players, focus on producing albums for other artists, and—for someone who's basically been a road warrior since the early 1970s—somewhat settle down.
"I've always been trying to find it on the guitar as opposed to with an effect."
By early 2020, Ford had racked up a number of production credits and was knee-deep in instrumental projects with people like saxophonist Bill Evans, pedal-steel guitarist Paul Franklin, and guitarist John Jorgenson. But then the world came to a screeching halt, and all that work was put on hold.
Except his psyche was still in a very instrumental zone, because that's what he was busy with when the work dried up. "Ever since Tiger Walk, I've basically devoted myself to really learning how to write a good song and to deliver it on the bandstand as a vocalist," Ford says. "But my head was in the instrumental thing, and I thought, 'Let's just run with it. I am feeling it.' And indeed, that's why I did the instrumental record."
​Robben Ford's Gear
Since 1983, Ford had used the same amp on all his albums—the second Overdrive Special built by Howard Dumble, with a 2x12 Dumble cab—until 2018. "It's been a revelation for me to get into the smaller amp thing when recording," he says.
Photo by Joseph A. Rosen
Guitars
1960 Fender Telecaster
1952 Fender Telecaster
1966 Epiphone Riviera
1964 Gibson ES-355
1964 Gibson SG
Assorted Paul Reed Smith guitars
Strings & Picks

D'Addario (.010–.046)
D'Addario heavy picks
Amps
Dumble Overdrive Special (100 watt)

Dumble 2x12 Cabinet
Little Walter "59" (50 watt)
Little Walter King Arthur (15 watt)
Effects
Hermida Audio Zendrive

Cornerstone Music Gear Gladio preamp
Strymon TimeLine Delay
Electro-Harmonix Micro POG
It's a setting that plays to Ford's strengths—the most prominent being his use of dynamics. He doesn't dime his amp and scream at you song after song. He tells a story, mimicking the natural inflections of speech. It's a skill he's mastered and, according to him, is the result of growing up immersed in the blues, followed by developing a passion for horn-centric jazz.
Rig Rundown - Robben Ford
Another way Ford changes things up is in the subtle use of his pick. He regularly plays by holding the pick backward and using the rounded end, but switches to the pointy end when aiming softer and lighter. He'll also vary the timbre by intuitively moving his picking hand between the neck end and the bridge, which is more percussive and punchy.
TIBIT: The new album was recorded at Purple House, an intimate studio outside of Nashville owned by Ford's co-producer, engineer, and second guitarist, Casey Wasner.
"I've always been trying to find it on the guitar as opposed to with an effect," he says about searching for the right tone. "That's another deliberate choice. Rather than going to a pedal, I'll try to get nuance using the pick and volume. It's just the way I learned how to play. The blues players and tenor players, man, those guys weren't using effects." But he's not an anti-pedal purist (despite the album's title), and pedals have factored into his tone for decades. "We have so many colors on the new album that I am trying to find them and recreate a little of what happened on the album through effects. This is a new phase for me. I'm using two different overdrives instead of just the one, because I need that other color. I am also working a lot with the Strymon TimeLine Delay. I've been using that for a while, but really just for short and long delays, nothing special."
Ford's main overdrive, for decades, is the Hermida Audio Zendrive. He's been through a number of units, but it's been a staple. He's also added a second overdrive to his pedalboard: the Gladio preamp from the Italian manufacturer Cornerstone Music Gear.
Robben Ford Show 6º Festival de Blues e Jazz
"It's basically an overdrive pedal," he says. "The fellow basically designed it trying to capture what he heard me doing with the Zendrive. He sent pedals to my friend Jeff McErlain. Jeff is a guitar player from Brooklyn. I produced his album, and he's been very helpful to me in terms of gear. He's turned me on to things that I was unaware of, and the Gladio was one of them."
Another essential element of Ford's tone has been his Dumble Overdrive Special, which he's been using since 1983. Since all Dumbles are built for specific players, Ford's was made by Howard Dumble with his particular tonal needs in mind. That amp—the second Overdrive Special built—still comes out occasionally when he plays live, but in the studio, since moving to Nashville, his needs have evolved.
Ford's latest album features several guests, but his core band is Casey Wasner on guitar, Michael Rhodes on bass, and drummer Shannon Forrest.
Photo by Mascha Thompson
Ford was recording 2018's Purple House at a studio in Leipers Fork, Tennessee, called—you guessed it—the Purple House, when he realized that the Dumble wasn't going to work. "The Purple House is a studio owned by my co-producer and engineer, Casey Wasner. It's a small house and the rooms are small—the rooms aren't live—and I tried using the Dumble and it was just too big. Everything was being recorded in one room. It was a small, dead room, and the drums, bass, and myself—with my amp and a cabinet—were in that one room. The bass was direct, and Casey was in the control room playing rhythm guitar, along with a second engineer. No matter how hard we tried, the Dumble just didn't fit. I always work in a much more spacious environment. I like larger rooms. When we did that record, it was an experiment. I learned a lot about recording—how to record and how to use the studio—and, in particular, I got comfortable with small amplifiers."
"I don't want to change the way I play. It took a long time to get here."
For Ford, getting comfortable with small amplifiers meant finding a way to adapt to the new situation without changing the way he plays. "That was the journey," he says. "How do we keep the vibe? I don't want to change the way I play. It took a long time to get here. I had to find a way. It was hard for me, and it was a struggle. It took about four months during the making of Purple House to feel like, 'Okay, now I get it.' There were times when we went into a really righteous overdub room where I could crank the amp up. It's a real process and, for me, not one that I ever paid that much attention to. Up until Purple House I had always worked in larger rooms, with the same amp and cabinet, and some great engineer. I've been doing this for 30 years. It was a big change but cool. I am really happy having had the experience and having learned these things."
Back in 1974, George Harrison hired wunderkind 23-year-old guitarist Robben Ford for the George Harrison and Friends North American Tour.
Photo by Jim Summaria/Frank White Photo Agency
Ford took those lessons to heart, and he's continued in that vein on Pure. In the studio, his primary amp was the Little Walter "59," which is a 50-watt head, through a single 12" cabinet, which, despite what he's learned, is still taking some getting used to. "I've literally done every record I've ever made since Talk to Your Daughter (1988) with the same Dumble Overdrive Special and cabinet. [That's a 2x12, also built by Dumble.] It's been a revelation for me to get into the smaller amp thing when recording."
But despite his intensive efforts discovering the right tone—not to mention his years studying the instrument and developing his craft—ultimately, playing, for Ford, is intuitive.
"An analogy that I came up with for the way I play is that it's like finger painting," he says. "You put the color on the paper and then you brush it around. You're not making a square, necessarily, you're free flowing. It's more like clouds and wind. There is freedom in it, and it is never going to be the same way twice—it actually can't be the same way twice—because it's like brush strokes. I made a very conscious effort to take chances in the improvisations. It's always been very key to me, and, once again, it's a product of the people I listened to."
How to Play "That Out Shit"  
A big part of Robben Ford's playing is his use of the half/whole diminished scale, which is an eight-note scale that alternates half-steps and whole-steps over the course of an octave. It's a scale that's been in the jazz repertoire for decades and was a huge part of the Miles Davis sound throughout the 1980s. Ford was a member of Davis' band in 1986, although he began using that scale much earlier.
"A long time ago, I was 19, and my brother Patrick, a drummer, and I were playing with Charlie Musselwhite," Ford says. "We were on the bill with Larry Coryell at a club long gone in L.A. called the Ash Grove. At one point, I just asked him, 'How do you play all that out shit?' He said, 'I use the half-step whole-step scale.' And I was like, 'Okay.' I went back to my hotel room and went G, G#, A#, B, and I worked out the scale. That was in 1971."
"We were on the bill with Larry Coryell at a club long gone in L.A. called the Ash Grove. At one point, I just asked him, 'How do you play all that out shit?'"
One aspect of that scale's sound is the b9, which is a note Miles Davis often sat on. "Miles Davis would just play a b9 right on top of a seventh chord as his first note. I heard that sound, and from that time on I experimented with the half/whole diminished scale. Once I understood it through learning chords and realized it was a diminished scale and you could play it right off a #9 chord, that was the sound that I heard. I just got deep into it, and it has been a major quality in my playing."
Ford points out that all of the notes in a dominant 7th chord fit into the scale and says, "So there's my chord and I can play any of these notes. I can play a b9 against a G7—whether anybody likes it or not—and it's legit. I really work with that, and for me, that was the gift of Miles Davis."
Enter here for your chance to WIN a Pedal Pad DEEP III in Black Tooled Leather! Giveaway Ends October 22, 2021.
DEEP III Pedal Board in Black Tooled Leather tolex. Left side has standard AC inlet/outlet plus 2 -1/4" double female jacks. The right side has 3 -1/4" double female jacks. The DEEP III Pedal Board series have an extra inch of height below (perfect for players using a switcher and feature a slotted hinged pedal deck with Velcro style loop fastener, which is permanently mounted to its surface. Cables are routed neatly under the pedal deck where additional components such as power supplies or additional effects can be stowed.
Pedal Pad
A vastly underrated overdrive gets even more rating worthy.
Great capacity for balanced detail across gain range. Sweet growl in low mids. Silky smooth. Useful EQ section.
20 bucks more than the original—but who's countin'?
4.5
4.5
4.5
4.5
Were TC Electronic stomps not already abundant in our Killer Pedals Under $100 feature, the original MojoMojo would have been a shoo-in. I've had one for years, used it in recording situations, and watched other artists select it in place of more exotic and expensive overdrive fare. In general, the original MojoMojo's flexibility, liveliness, capacity for detail, balance, and organic amp-ish gain textures made it a hit. All of those qualities live on in the new Paul Gilbert version, but with more available gain, higher headroom, and a robust low-mid bump that impressively adds airiness rather than flab.
The Gilbert edition retains its silkiness and capacity for detail at the most saturated settings too.
Recorded with Fender Telecaster, black panel Fender Tremolux, Universal Audio OX with Marshall 4 x 12/Greenback cabinet emulation.
TC Paul Gilbert Mojo Mojo: all controls at noon for rhythm track, progressively advanced gain, treble and bass settings as lead track develops.
Played side-by-side and at equivalent settings, the original MojoMojo sounds comparatively boxy and thinner. But the Paul Gilbert version's extra low mids don't just add mass. They make the output sound more full-spectrum and a lot silkier—a tone picture that really flatters single coils but is just as detailed with all but the muddiest humbuckers. The Gilbert edition retains its silkiness and capacity for detail at the most saturated settings too—even with the toggle in extra-gain "11" mode and the gain knob up high. Predictably, such settings make solos sing, but it's easy to dial in acerbic early-Jimmy Page tones with enough treble. Full chords sound balanced and sparkling across the gain range too—exhibiting a deep growl in the low-mids and lots of assertive top end.
In describing this new version of a company classic, EHX founder Mike Matthews stated: "The new Nano Deluxe Memory Man delivers the lush bucket-brigade delay and modulation of our classic large-format pedal. We simply shrunk it and added some features for modern players including both Rate and Depth knobs for enhanced modulation control. Now, you can have the Memory Man in our time-honored standard chassis, or our new, compact, nano design."
Features
Rich analog delay, chorus and vibrato
Maximum delay time of 550mS
Compact, rugged, pedalboard friendly enclosure
Internal user-accessible switch to turn delay tails on or off
True bypass when tails feature is off
9.6DC-200 power supply included
Electro-Harmonix Nano Deluxe Memory Man Analog Delay / Chorus / Vibrato Pedal (Demo by Bill Ruppert)
The Nano Deluxe Memory Man features a U.S List Price of $203.10 and is available now.
For more information:
Electro-Harmonix
Witness how the self-proclaimed World's Best American Band values pragmatic workhorses over rock 'n' roll excess.
Tired of pretentious music? Are you looking to just have fun and rock out? The good-time, make-you-move-and-groove medicine you're after is what White Reaper dispenses.
The band's core was formed in 2012 when Louisville high schoolers Tony Esposito (guitar/vocals) and Nick Wilkerson (drums) started jamming as a duo. Then Nick recruited his twin brother Sam (bass) and Esposito added friend Ryan Hater (keys). And the fearsome foursome released their rowdy, ripping 2015 debut, White Reaper Does It Again, on Polyvinyl Records.
Carrying forward their blend of lo-fi garage rock and pop-punk hooks, the quartet added second guitarist Hunter Thompson in 2016, before recording 2017's (tongue-in-cheek) The World's Best American Band. The glee blossomed with shinier, poppier melodies that soared over harmonized guitars—think crossing Cheap Trick with Thin Lizzy.
The World's Best American Band graduated them to major label Elektra, where they earned studio time with producer Jay Joyce (Cage the Elephant, Halestorm, Eric Church, Carrie Underwood, Emmylou Harris). With Joyce providing a slicker, tighter sound, the quintet unveiled an even catchier package that employs the sheen of peak Cars and early Maroon 5 in danceable tracks like "Might Be Right" and "Eggplant." (The former earned them a No. 1 slot on the Billboard Alternative Songs chart.) But rock purists still got to stomp and howl with the hard drivin' "Headwind" and redlining "Raw."
Hours before their headlining gig at Nashville's Exit/In, White Reaper's Esposito and Thompson checked in with
PG
to talk tone. The guitar duo showed us how the rigors of the road have impacted their touring gear decisions and why COVID-19 handcuffed one of them to the digital life.
[Brought to you by D'Addario XPND Pedalboard: https://ddar.io/xpnd.rr]
Come Fly With V
It's said rock 'n' roll is a young person's game. And while the garage-rocking gentleman of White Reaper have no plans of slowing down any time soon, guitarist/vocalist Tony Esposito already knows the importance of a strong back. The combination of lumbar-compressing Les Pauls and thin leather straps resulted in soreness and welts that have forced Tony to keep his Lesters at home.
Above is the first of his lighter Gibsons: a 2000 Flying V he bought on his birthday in 2015. During the Rundown, he refers to it as the School of Rock guitar, since fictional student Zack Mooneyham played one in the film. Aside from Esposito's sweat, skin, and some dust, this guitar is completely stock.
This V stays in E-flat-standard tuning and rides the stage with either a custom set of Augustine Spectras (.011–.052) or Ernie Ball 2226 Burly Slinkys (same gauge).
Light as a Feather and Ready To Rock
Not wanting to show favoritism, Esposito is quick to note that this 2000s Gibson ES-335 isn't a backup. He's actually used it the most since playing live shows again, because the fly-date-heavy schedule worried him about the angular fragility of the V. He even revamped his amp and pedalboard setup to mesh better with the 335 (more on that in a minute).
Who You Calling Runt?!
Vox have been a big part of White Reaper's DNA, and both Esposito and guitarist Hunter Thompson (not from Louisville and no relation to Dr. Gonzo) have used them live and in the studio for years. "I loved the reliability of the AC30s, but I was using more pedals (than now) to essentially turn it into a plexi," says Esposito. "I had a compressor, Tube Screamer, and EQ pedal that were always on, but when I switched to the Friedman Runt 50 it was already that thing."
While touring with the Struts he noticed how much
guitarist (and Rig Rundown alumnus) Adam Slack
loved his Friedman Small Box 50, so he did some research and landed on the 50W, EL34-glowing Runt. The Runt 50 hits a stock Fender Super-Sonic 60 2x12 extension cab that has its original Celestion Vintage 30s.
Dials for Dimebag
Passing time in the van by listening to Pantera's Cowboys from Hell, Esposito wondered how Darrell "Dimebag" Abbott set his Randall for the nasty breakdown during "Domination." He lucked out and found an old '90s Guitar Magazine article displaying Dimebag's Randall settings. He's since loosely adopted those for his own live tone, as seen here.
Simplifying Esposito's Stomp Station
With less purposes for pedals, Tony Esposito's pedalboard has shrunk. Basically, he has the Way Huge Green Rhino MkIV for additional drive, and a Boss DD-5 Digital Delay and Jacques Meistersinger chorus for spacier sounds and occasional leads. The pair of Boss pedals—an NS-2 Noise Suppressor and GE-7 Equalizer—are in place to squelch any unwanted feedback from the 335 and to supplement any anemic backline amps he encounters on fly dates. Everything comes to life via a Voodoo Lab Pedal Power 2 Plus.
This Baldwin Baby Bison Burns
When White Reaper started, guitarist Hunter Thompson toured the world with this 1965 Baldwin Baby Bison. He stumbled across the guitar on Reverb.com and, after some homework revealed it was a choice instrument for Jeff "Skunk" Baxter when recording with Steely Dan, pulled the trigger.
His favorite part of this peculiar 6-string is its Burns Tri-Sonic pickups (
similar to the ones in Brian May's Red Special
). They're stacked single-coils. Additionally, Thompson enjoys how the "tone" knob acts more like a presence control that "blends in the bottom pickup, allowing you to make the guitar's sound really gain-y or really clean." To take things to another level of weird, Thompson added a Roland GK-2A Divided Guitar MIDI pickup to have fun at home.
Can I Interest You in a Strat, Sir?
Aside from the aforementioned Bison, Thompson normally rocks Les Pauls or Teles. However, he recently scored this lightly worn Nash S-63. For its speaking voice, he opted for the Lollar Sixty-Four single-coils. And you'd think the tonal differences would throw off Thompson a bit, but he said the biggest transition to a 3-pickup guitar is being careful to not rake the middle single-coil with his hand and/or pick. This S-63 stays in E-flat-standard tuning, but Thompson goes with a lighter set of D'Addario NYXLs (.010–.046) and hits the strings with Dunlop Tortex Flow .73 mm picks.
Ready for Your Profiler?
White Reaper was in the middle of a U.S. tour supporting 2019's You Deserve Love when COVID-19 struck and the world shut down. The band's gear went with the Kentuckians back to Louisville, but Thompson retreated to his home in Austin. For the first few months, he hunkered down in the Lone Star State with his one electric and some crappy desktop sims. Longing to play proper electric and be creative, he ordered a Kemper Profiler. Its diverse sounds and intuitive interface prompted Hunter to play guitar more than ever. Everything he needs is backed up on a thumb drive and his entire rig fits in a laptop bag.
"When it came to touring again, the use of the Profiler was a practical decision," admits Thompson. "It's not the coolest rock 'n' roll decision [laughs], but until someone else is setting up my gear, I'll probably be taking the Profiler." And most of his profiles are built off a Divided by 13 model that's brighter than Tony's and sits a bit higher in the mix.
Caution: Cab at Work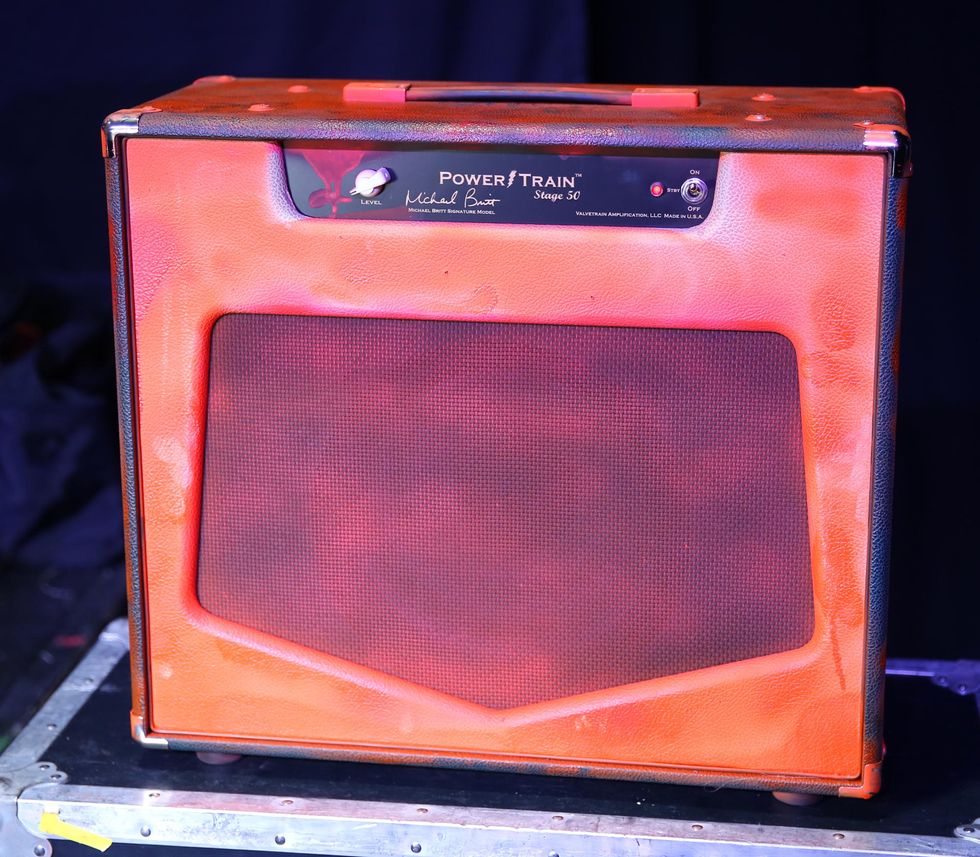 Thompson does run a direct line to FOH, but he also craves stage volume, so he splits the Profiler into this ValveTrain PowerTrain Stage 50—an all-tube (6L6GC) powered monitor designed to work with digital modelers. It has a flat EQ, a single level knob, and comes stock with an Eminence Legend EM12.