Fargen Amps Launches New 2014 Product Line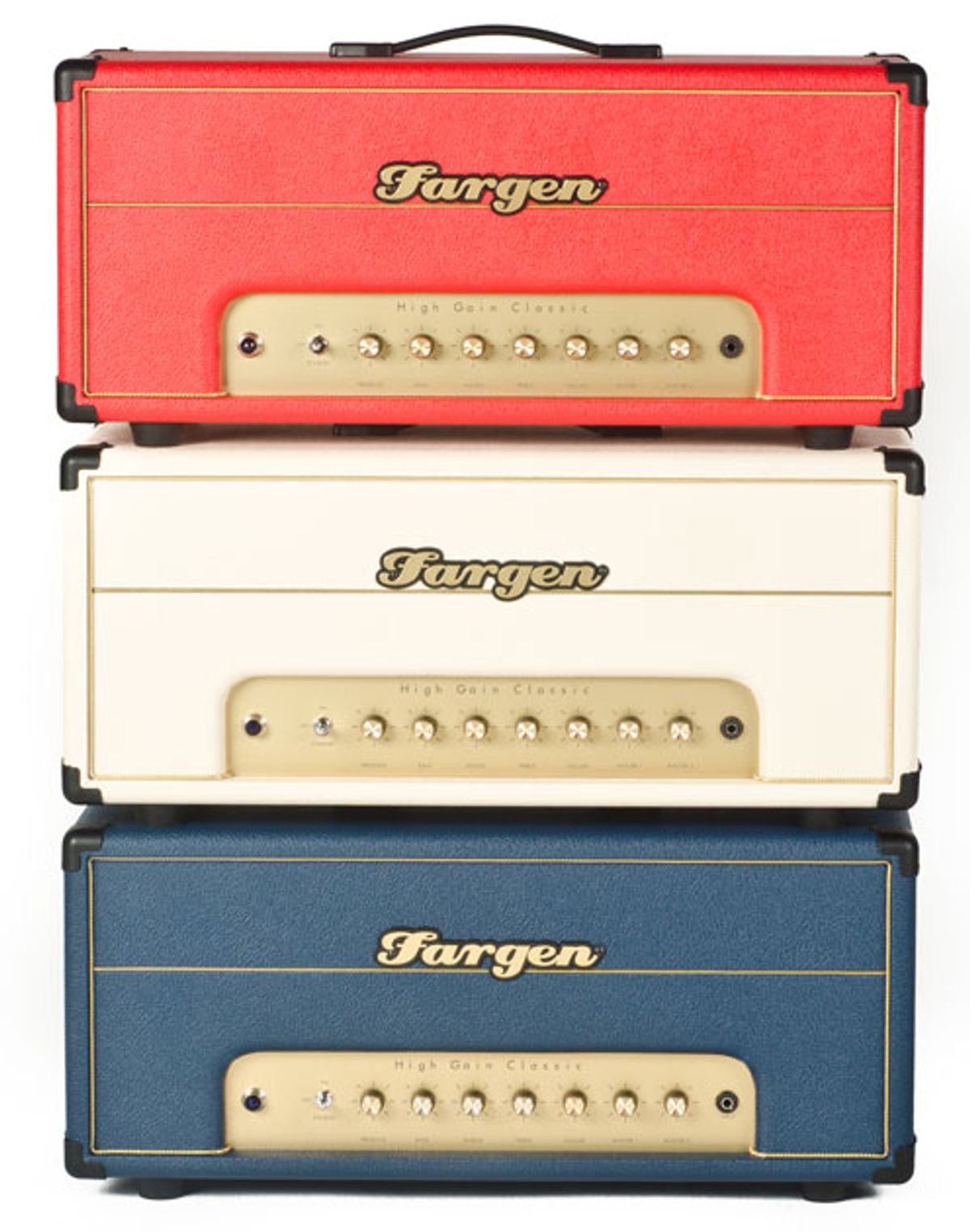 The new lineup includes the High Gain Classic 50, Fargen Townhouse 20, and Jazz Custom SE.
Sacramento, CA (January 15, 2014) -- To celebrate Fargen Custom Shop's 15th year of crafting some the world's finest USA built tube guitar amplifiers, they announced the limited edition red/white/blue High Gain Classic 50. Ben Fargen has pulled out all the stops and rolled 15 years of high-gain Custom Shop builds into this 15-piece exclusive run of amplifiers. Classic rock through pure molten metal lava only scratches the tonal surface of what this modern masterpiece can achieve. Classic 3 x 12AX7 preamp gain staging, 12AX7 tube buffered FX loop with true bypass switch, foot switchable dual master volume coupled with a 50 watt classic 2 x 6CA4/EL34 power amp makes for the ultimate powerhouse amp head. The High Gain Classic 50 is available on the Fargen website and at select authorized dealers, in red, white or blue tolex, with Fargen producing five of each color. MSRP $3,499.

Jazz Custom SE
Fargen also announced two new additions to its standard retail line. Its first jazz amp is presented in a lightweight grab and go combo that weighs under 25 pounds, and offers pure tube tone. Fargen has developed its first ever tube/ solid state hybrid design. The brand new Fargen Jazz Custom SE combo features a pure high voltage hand-wired tube preamp feeding an ultra-efficient lightweight 50W class D power amp, through two ultra-efficient 8" full range speakers. Now, jazz guitar players, and any player needing great clean headroom tone, can have pure boutique tube amp tones in a super lightweight and compact design. This amp brings fresh new traditional vintage & modern jazz-style tones inspired by the classic 60's blackface all-tube preamp architecture. MSRP $1,599.

Townhouse 20
The Townhouse 20 is the new "gig ready" edition to the Fargen Amps lineup for Winter 2014. Following on the success of the micro-sized class A Townhouse 5 watt head (released at Summer NAMM 2013), the Townhouse 20 sports a new 2 x 6V6 20-watt power amp in a brand new compact 1 x 12" grab-and-gig compact combo design, while offering hand-built, made in the USA boutique tube amp quality and tone. The two-way Decade Switch features a 50?s setting with vintage tweed-inspired tones, and a 60?s setting inspired by brownface tones. The Townhouse 20 is like two-amps-in-one, at a reasonable price considering its boutique essence. MSRP $1,599.
Finally, Fargen has reissued its J&J Overdrive pedal, originally marketed under the Sonic Edge brand. The new J&J is based on the same circuit as the original, and is now hand crafted in the USA. This marks the second Sonic Edge pedal reissued and branded as Fargen. MSRP $189.
"We're kicking-off our 15th anniversary year in a big way, with an exciting limited-edition high gainer and a cool, warm jazz box - two firsts for us in terms of production amps" said Ben Fargen, founder. "The Townhouse 20 is a nice extension of the 5W Townhouse, for our customers who love Townhouse but are looking for a little more, but still at a reasonable price for a boutique amp", says Ben.
For more information:
Fargen Amps