Foxgear Introduces the T7EBABY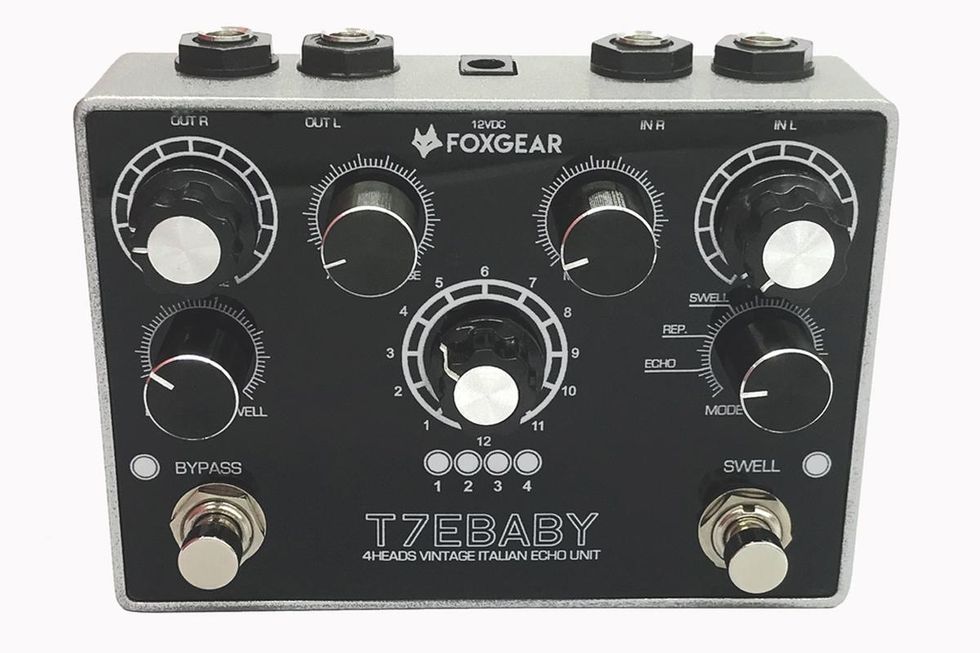 The Binson Echorec-inspired delay will feature four playback heads and three operation modes: echo, rep, and swell.
With our other Brand GURUS we have been awarded about our Echosex series, reproducing the old Italian Echo Binson Echorec, with the appreciation of many big pro artists, our Echosex became quickly a big part on the tone of people like Steve Lukather of Toto, Guy Pratt of Pink Floyd, Albert Lee, Alan Parsons, Walter Becker of Steely Dan, Adrian Belew, Skunk Anansie, Lifehouse, John Shanks and Phil X of Bon Jovi, and numerous other big names.
---
With Foxgear, we released the Echosex Baby (mimic the Echorec Baby that Binson made back in the 70' with a transistor version of his Echorec that was smaller and cheaper..) and it was another success, being today one of our best selling products.
That's why we now wants to extend the Foxgear range, with a full reproduction of the old Binson's features:
Stereo Engine (input & output)
4 Playback Heads
Motor Speed Adjustment
Swell Footswitch
Three working mode: Echo, Rep, Swell
12 combinations of the four heads
Ture bypass assisted by golden pin relays
Analog MIX
Small size: 3,5"x5"
Size: the new FOXGEAR T7EBABY enclosure makes it one of most pedal board friendly of the "Binson-inspired" pedals: only 3,5" x 5"!! ( 9 x 13cm.)
- Connections: the FOXGEAR T7EBABY is equipped with full Stereo Input & output, and an internal stereo engine that works on a phase and split-frequency resulting in an unbelievable stereo 3D effect for an outstanding and lush ambient tone.
- Switching: Now available with 2 footswitches handling bypass, that is a real True Bypass assisted by relay, that lets you put it at the end of your chain between stereo pedals, and a very useful SWELL footswitch, to immediately recall the swell mode (reverb) in order to have two different presets for your ambient/echo tone.
- Motor Speed adjust: along with the other cool features of the old Echosex Baby, we've added this control, that let you increase the overall delay time, you can mimic a slowered speed of the magnetic drum. This allows the FOXGEAR T7EBABY over 880ms of long, lush delay, keeping the 4 heads in sync, no matter what combination of head you are using.
Foxgear T7EBaby quick test