Who wouldn't love to add a Supro Flanger to their rig? Now's your chance! Enter here for today's Stompboxtober giveaway!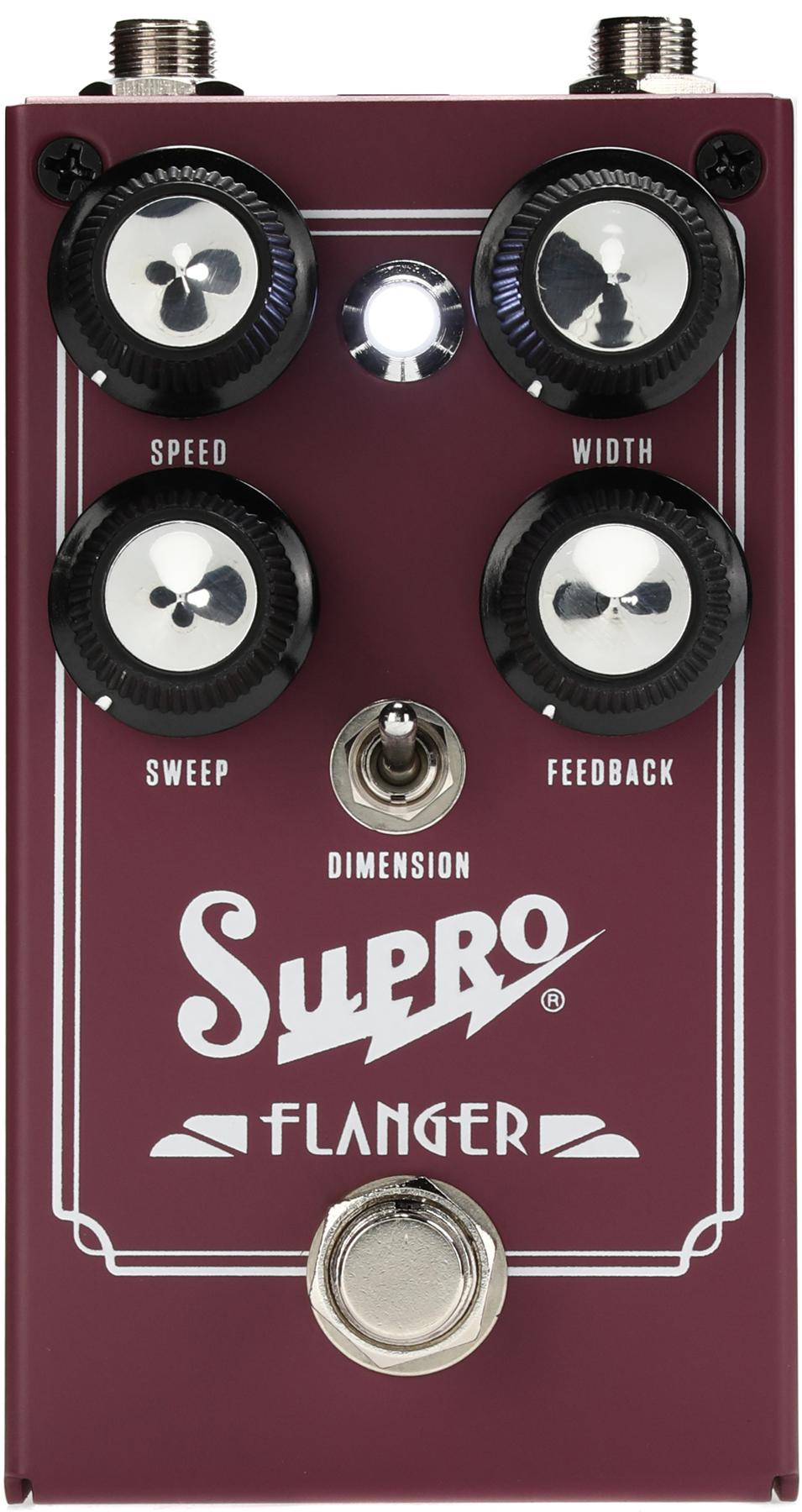 Sibling to the Supro Chorus, the Supro Flanger is an all-analog, full-stereo modulation effects pedal that uses a quartet of genuine MN3009 Bucket Brigade IC chips to deliver the absolute richest Flanger effect possible while maintaining exceptional headroom. In addition to Speed and Width knobs, the Supro Flanger features a bi-directional Feedback control and a Sweep control that increases the delay time on one side of the stereo field while shortening the delay time on the other side. Featured for the first time in a flanger pedal, the Dimension switch crossfeeds the two channels into one another, creating the entrancing double-flanger effect of two delay lines being modulated in opposite directions, even when used in mono. Runs on standard 9VDC.
Supro
The Trigger Fly Capo builds on the original Trigger Capo—Dunlop's most popular capo design—designed for better handling and tuning stability.
First released in 1995, the original Dunlop Trigger Capo quickly became the go-to for live performances—it can be placed anywhere with a quick squeeze of the hand thanks to its sleek, lightweight design and balanced tension. The Trigger Fly Capo takes all of that to the next level with a more ergonomic grip, a specially engineered spring mechanism for precise, even pressure and easy placement, and an optimized rubber pad that allows notes and chords to ring out with smooth clarity up and down the fingerboard.
Trigger Fly Capo highlights:
Our most popular design with better handling and tuning stability than ever
Streamlined grip for more comfortable, ergonomic feel
Custom spring mechanism for easy placement and precise intonation
Optimized fret pad ensures notes ring out with smooth clarity
Available in black, satin chrome, and gun metal finishes
$25.99 MSRP
Dunlop Trigger Fly Capo
Gretsch honors the late AC/DC co-founder, guitarist, and songwriter with an all-new signature guitar, Limited Edition Malcolm Young "Red Beast" Signature Jet.

Malcolm and Gretsch have a storied relationship and this new Signature Jet pays tribute to Malcolm's famous 1963 Gretsch Jet Firebird 6131, aka "The Beast". Designed in consultation with Malcolm's nephew, Stevie Young, this Signature Jet reflects the earliest iteration of Malcolm's famed guitar used in early AC/DC performances and music videos, including "It's a Long Way to The Top," before eventually making his own mods and stripping the top.

For over forty years, Malcolm's riffs have inspired generations of rock and metal guitarists. Today, Gretsch honors the late AC/DC co-founder, guitarist, and songwriter with an all-new signature guitar: the G6131G-MY-RB Limited Edition Malcolm Young "Red Beast" Signature Jet.
Features
2"-deep double-cutaway chambered mahogany body with maple top
TV Jones® Ray Butts Ful-Fidelity bridge, TV Jones® Starwood humbucker middle and TV Jones® Ray Butts Ful-Fidelity neck pickups
Individual pickup volume controls, master volume, three-position pickup toggle switch, three-position tone switch and three-position standby switch
Harmonica-style Adjusto-MaticTM bridge with pinned ebony base
Available in an aged Vintage Firebird Red finish with black pickguard and aged gold hardware
The Gretsch Limited Malcolm Young Signature "The Beast" Jet | Gretsch Presents | Gretsch Guitars
Introducing the new Boogie Cabinet Series, comprised of new guitar cabinet offerings and long-time Mesa player favorites.
The Boogie Cabinet Series dates back to the early 1970s when Randall Smith set out to fulfill player requests for extension cabinets matching their Mark I 1x12 and 1x15 open-back combos. The compact size was originally determined by the combo's dimensions, however as the Mark Series evolved and expanded, so did the extensions. Now players have more options than ever before. Designed with portability in mind, all Mesa cabinet enclosures are crafted from the finest void-free marine-grade Baltic birch ply and loaded with premium Celestion speakers. Super strong rabbet corners are glued and nailed, and speaker baffles are fitted with superior dado joint construction and braced. Grilles are wrapped around a separate grille board, not the baffle board. Grille material is made of strong twisted jute dipped in a special coating that filters top end for a sweeter response. Each lends its unique character to your tone as a standalone cabinet or an extension for your combo amp.

Mesa/Boogie has remained the original boutique Home of Tone, hand-crafting amplifiers of uncompromising quality from the world's finest materials in California, USA. Founder Randall Smith instilled basic principles into Mesa such as passion, drive, integrity, and excellence, and his insistence on making the best amplifiers has guided half a century of breakthrough innovations, elevating the amplifier into an instrument in its own right--one with the power to shape and create musical genres. Mesa/Boogie is proud to announce the new Boogie Cabinet Series is available now at authorized Mesa/Boogie dealers.