Acoustic Gear Finds June 2021
Don't miss the latest and greatest gear finds for your acoustic!
---
Cole Clark Guitars
The Cole Clark CCFL2ECRDBL Acoustic-Electric Guitar is designed for the guitarist who demands the highest standards in an instrument. The 2 Series FL Dreadnought guitar is the go-to choice for every player looking to have ultimate control of both the acoustic and plugged-in performance environments, with Cole Clark's signature 3-way pickup system and beautiful, sustainably-sourced, natural Redwood and Blackwood timbers.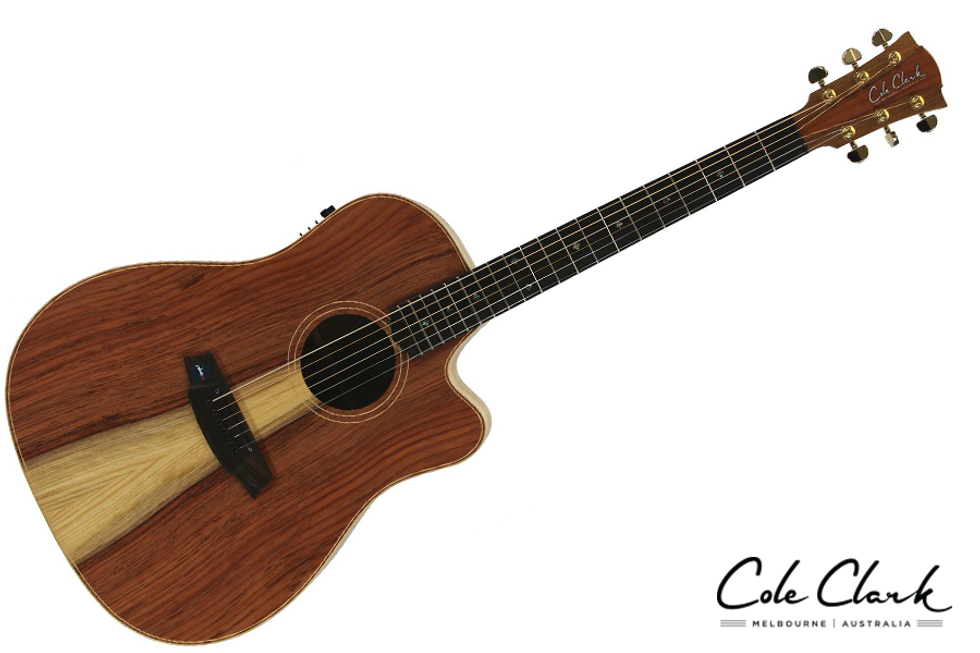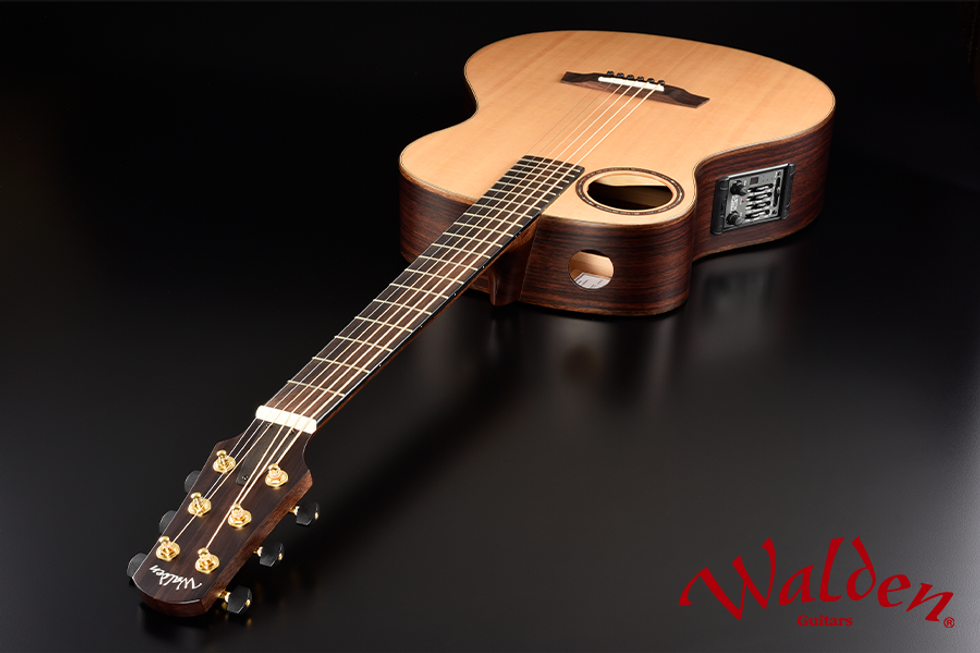 "I love this thing, I can't put it down. It's kind of like having a piano in your lap, you got all the low end for bass lines, and you got chords that you can strum on top, even alternating simple bass lines. There's all kinds of fun you can have with this thing!" ~ Sean Harkness, NYC

Typically tuned to B, the Baritone provides a clear low end response perfect for soloists, singer-songwriters, percussive finger-style players, or guitarists who crave a walking bass line while comping chords.

With its offset soundhole, side-port, and solid Sitka spruce top with innovative low-mass bracing, the Walden B1E sounds sonically excellent while incorporating the more comfortable Grand Auditorium body shape. A graphite reinforced Mahogany neck contribute to stability and its 27″ scale length and 1-13/16″ nut width contribute to the B1E Baritone's transparent playability.

Click here to watch videos
Click here for more information
Click here to follow Walden Guitars on Instagram
Walden Guitars
PRS
The PRS SE P20E is a parlor-sized acoustic with a big voice. Features include all-mahogany construction and PRS hybrid "X"/Classical bracing, which allows the top to freely vibrate, the SE P20E projects with even, bold tone. Its smaller size makes playing for hours fun and comfortable and allows for more convenient transport.
Plug in the Fishman GT1 pickup system, and it delivers dynamic, organic tone. This electronics system features an undersaddle pickup and soundhole mounted preamp with easy-to-access volume and tone controls, which essentially transforms what some may consider a "couch guitar" into a workhorse stage instrument.
Available in three satin finishes with herringbone rosettes and accents. Other high-quality features include a solid mahogany top, ebony fretboard and bridge, and bone nut and saddle. Gig bag included.
Click here to learn more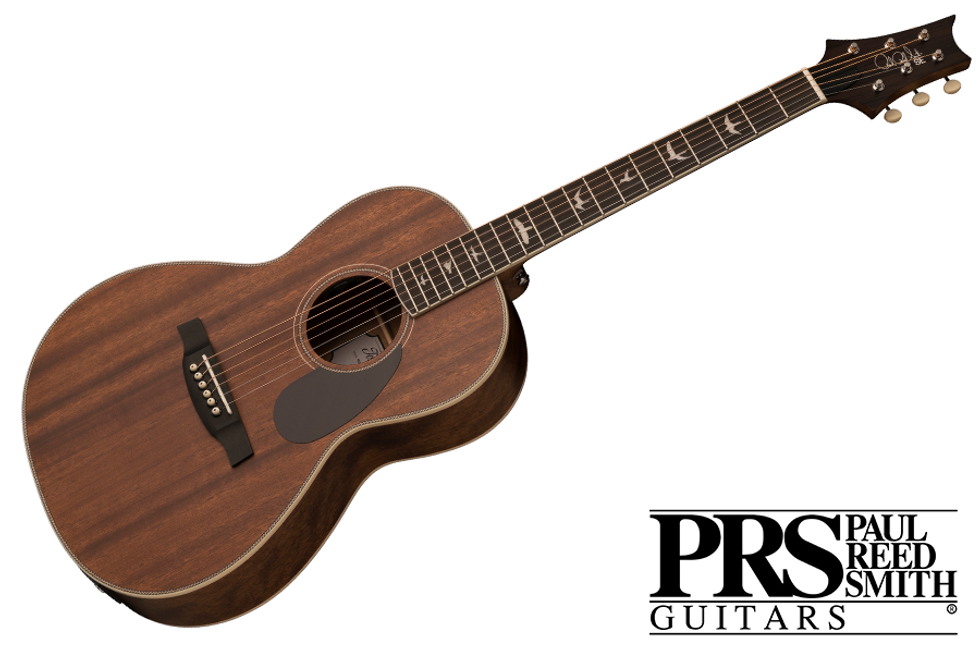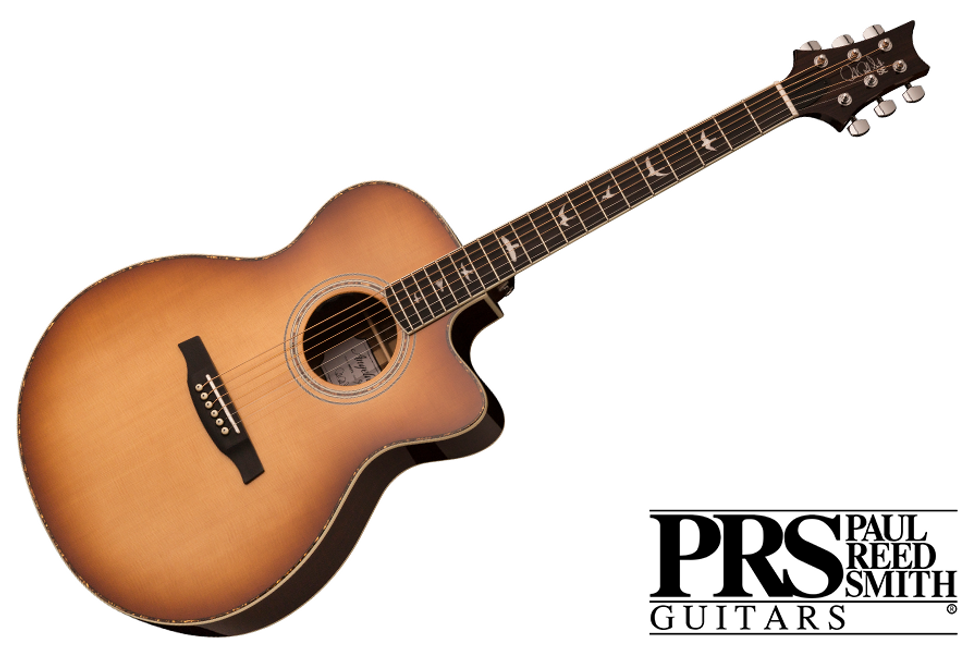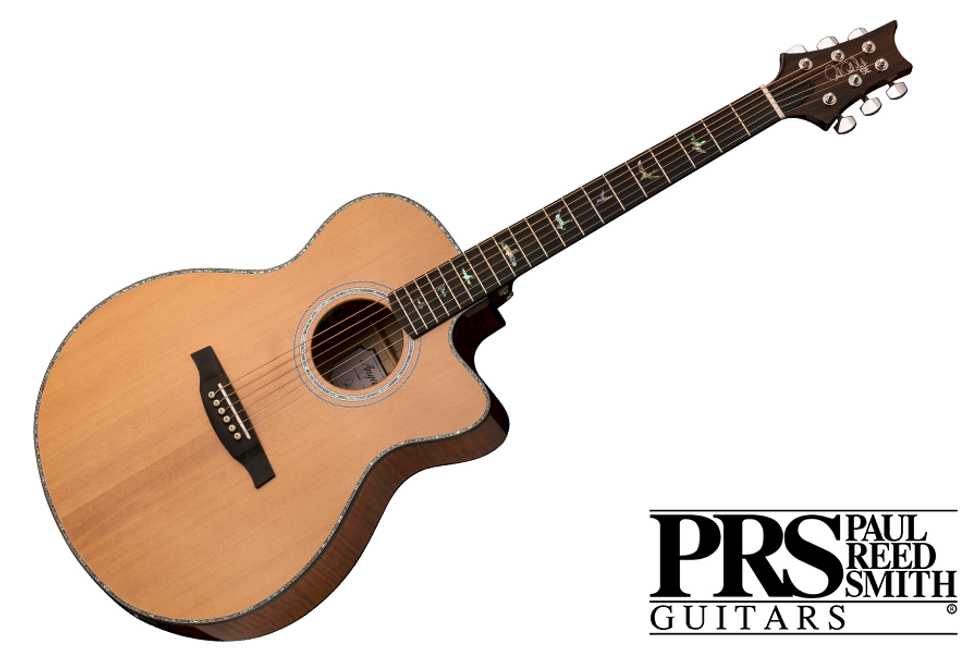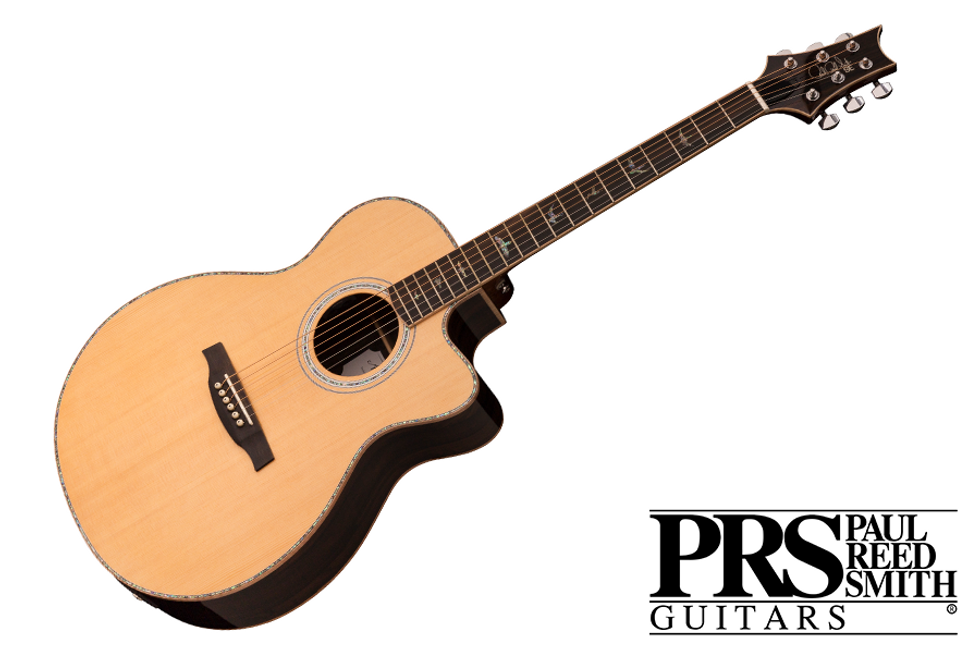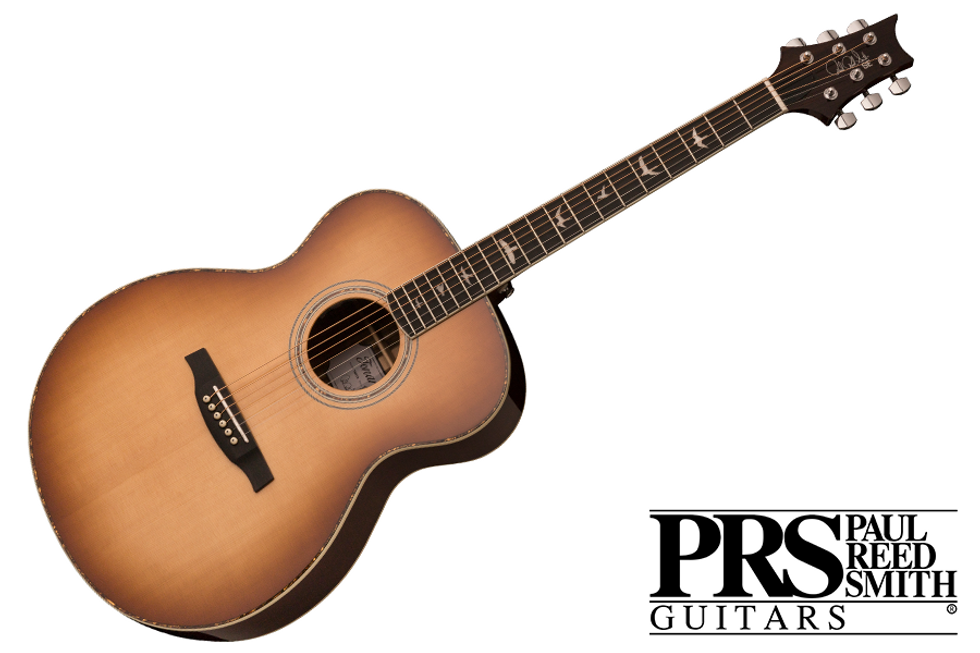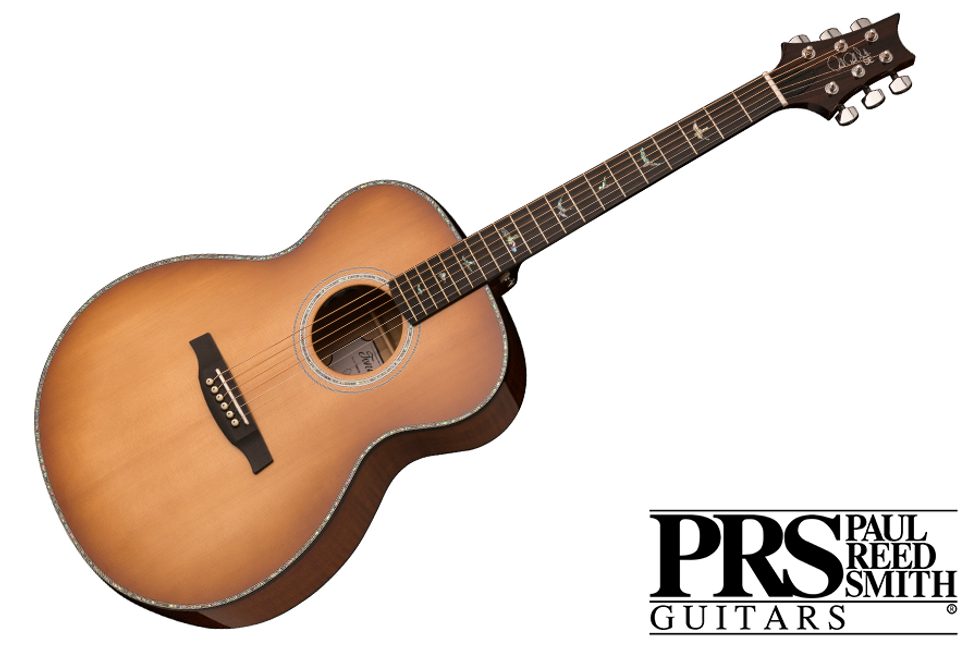 Tanglewood
Inspired by the guitars made in the 1930s, the Tanglewood Blackbird series evoke traditional values, yet offer the benefits a guitar manufactured in the modern era. These guitars feature hand-selected tone woods and a unique bracing pattern. The Blackbird Orchestra electro-acoustic guitar is carefully braced to environments, with Cole Clark's signature 3-way pickup system and beautiful, sustainably-sourced, natural Redwood and Blackwood timbers.
Click here to learn more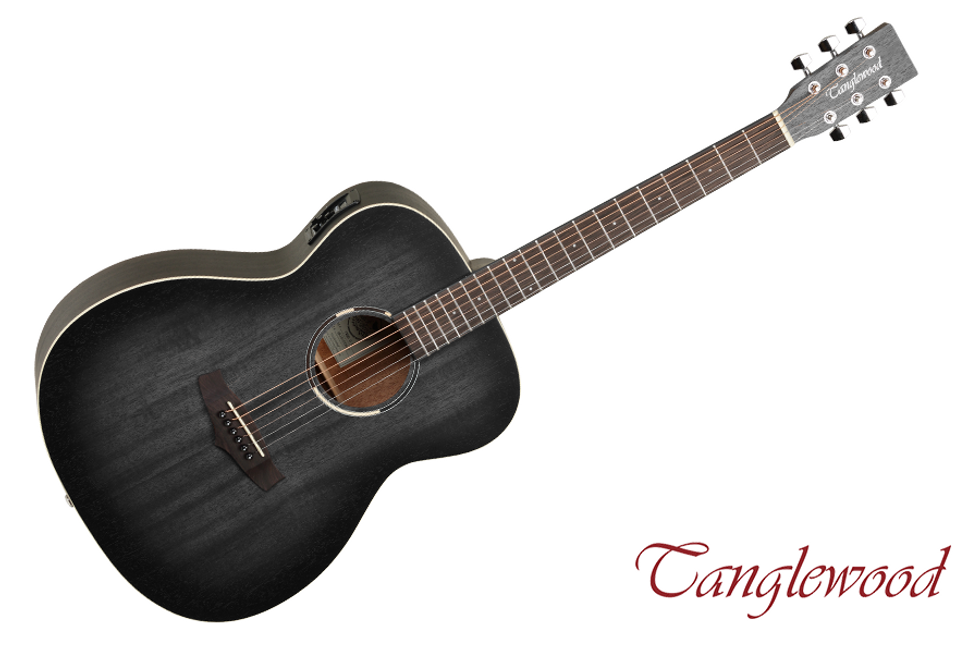 Taylor Guitars
Taylor's popular, compact GS Mini has brought countless hours of guitar-playing joy to musicians of all stripes, and the GS Mini-e Koa Plus takes the fun to a new level with elevated aesthetic details. Back and sides of layered Hawaiian koa pair with a solid koa top for a punchy, bold sound with surprising power and volume for a small-bodied guitar with a scale length of 23-½ inches, while the 1-11/16-inch nut width makes forming chords a breeze. A dusky edgeburst accentuates koa's natural grain and luster around the top, back and sides, while other notable features include nickel tuners, a three-ring rosette, and a genuine West African ebony fretboard. It includes onboard ES2 electronics and Taylor's new AeroCase®, a soft yet sturdy case with all the protection of a hardshell case at one-third the weight.
Click here to learn more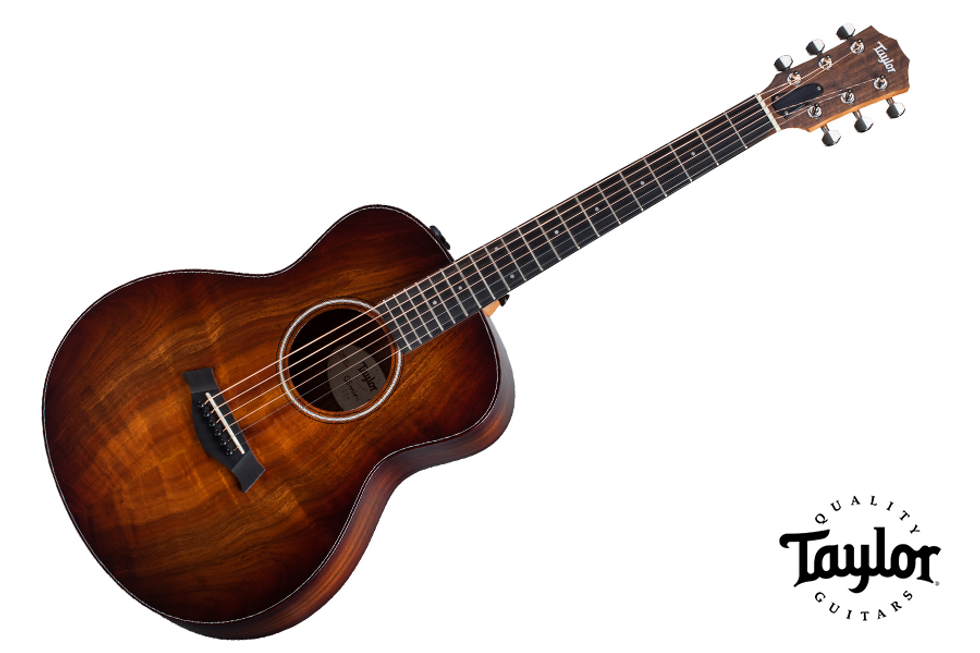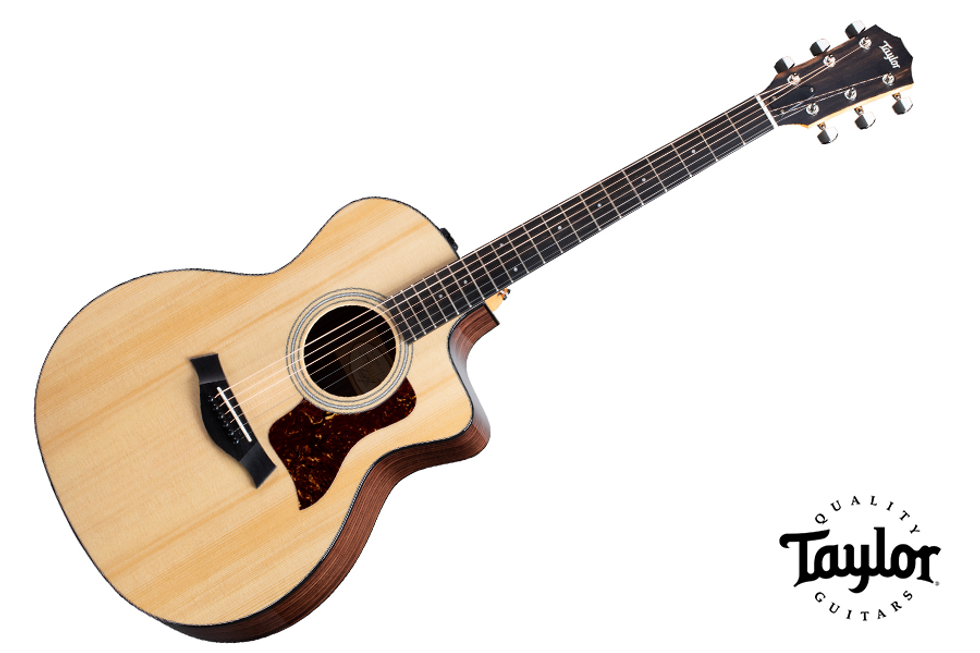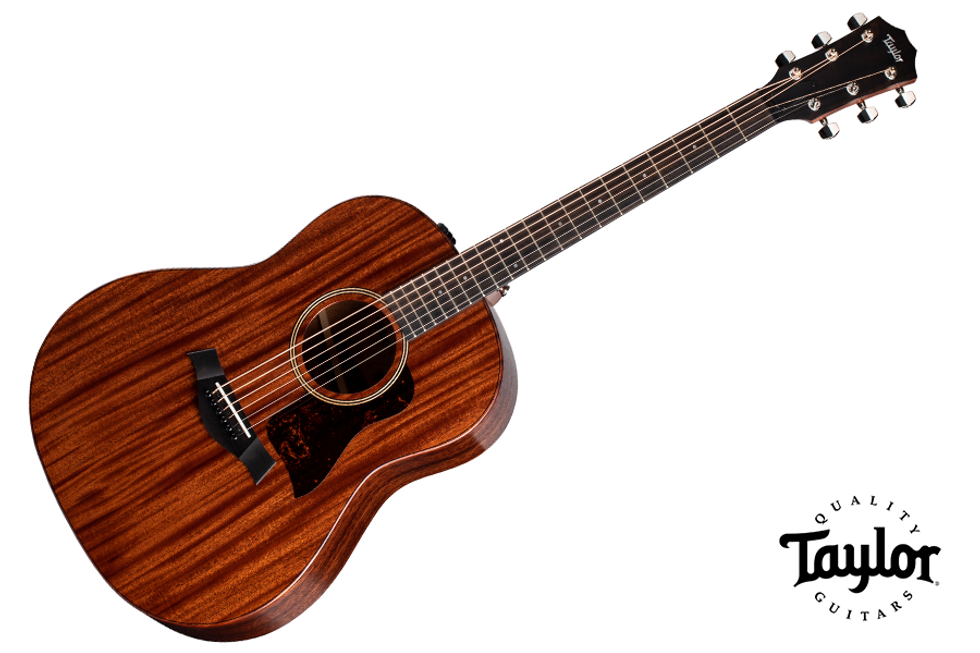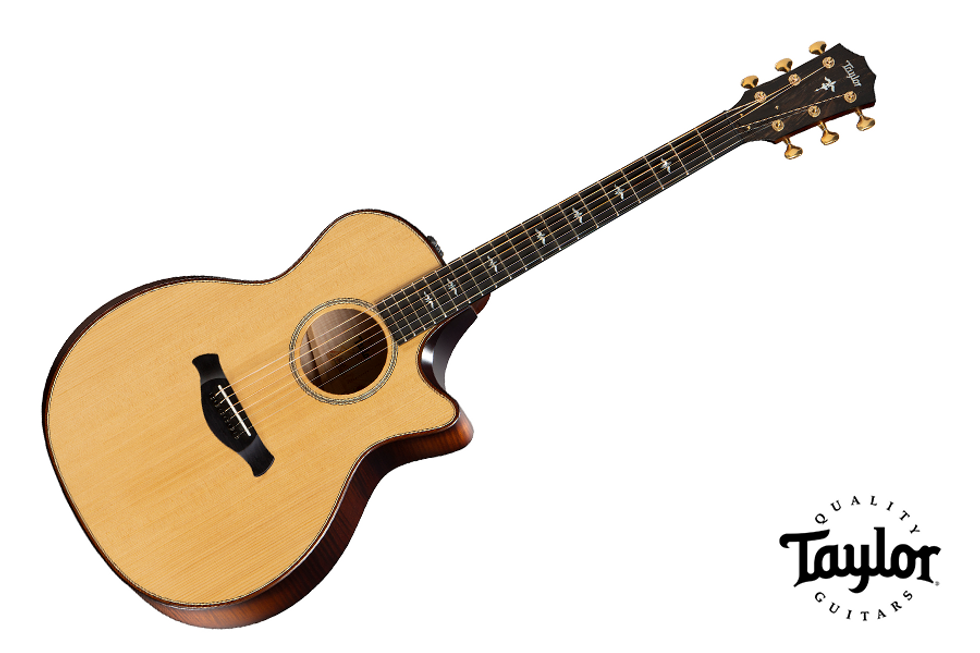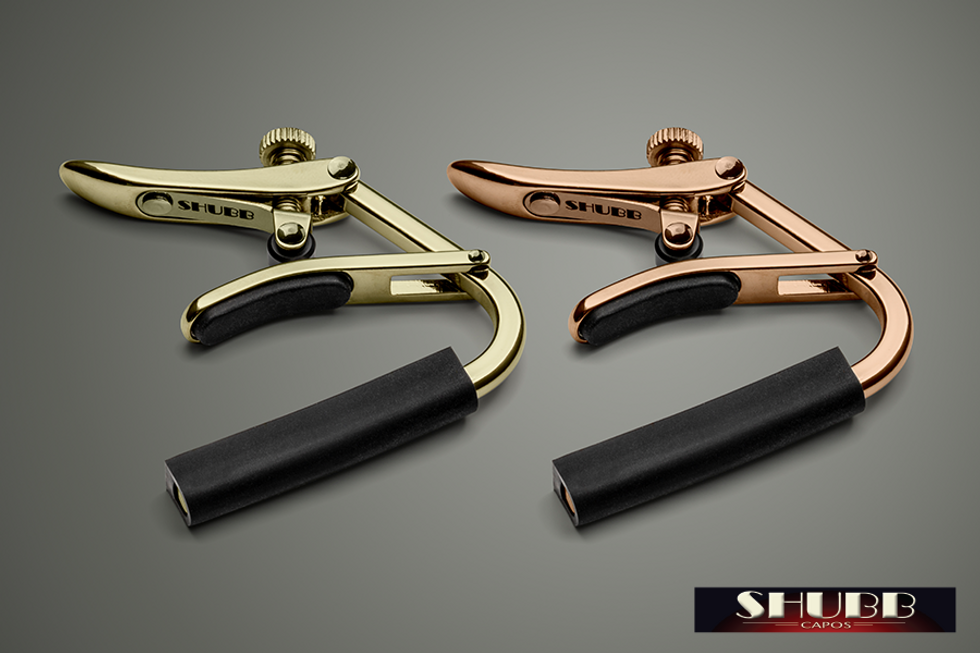 Adding to the company's line of premium capos, Shubb has introduced the new Capo Royale Series, featuring durable gold finishes that deliver long-lasting beauty.

Available in two lustrous finishes – Gold and Rose Gold – the Capo Royale Series brings a distinctive visual flair to Shubb's famed capo design, revered since 1980 for its ability to provide flawlessly clean fretting while keeping the instrument in tune.

For many years Shubb has received requests for a gold plated Shubb Capo. While gold is undeniably beautiful, it is not at all durable; it will wear off far too easily and quickly. It is also famously expensive. Now, Shubb has developed a high-tech technique for creating a gold-toned titanium finish. It possesses all the beauty of real gold, but is as durable as any metal finish in the world.

Click here to watch videos
Click here to learn more
Click here to follow Shubb on Facebook
Shubb Capos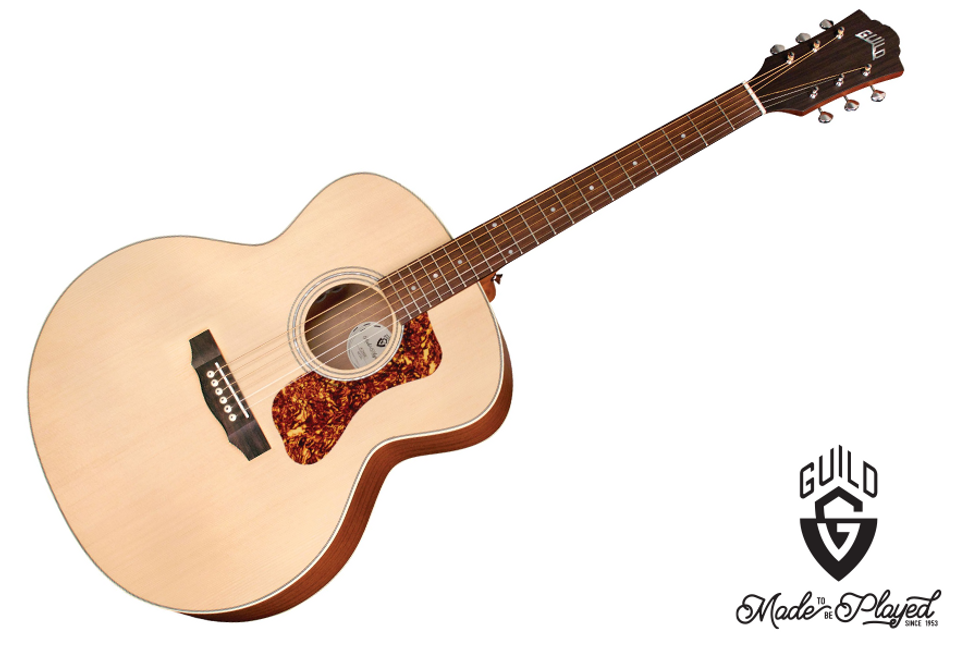 Guild's most affordable jumbo yet! The F-240E is a tone cannon at a player's price. Built with a solid spruce top, mahogany sides, and an arched mahogany back, the full-bodied and powerful voice of this Guild Jumbo provides guitarists with historically-Guild acoustic tone and voicing. Guild's signature arched back design allows for enhanced volume and projection, long sustain, and a lush, full sound. The F-240E features Guild's Fishman-designed AP-1 electronics, a pau ferro fingerboard and bridge, bone nut and saddle, mother-of-pearl rosette, period-correct tortoiseshell pickguard, and a satin polyurethane finish.

Click here to see videos
Click here to learn more
Click here to follow Guild Guitars on Instagram
Guild Guitars
Blackstar Amplification
The Blackstar ACOUSTIC:CORE 30 was designed to give singer/songwriters the ability to get a professional sound without any sound engineering expertise, then share it via live streaming or recording, or live performance. All in a compact easily portable combo with the option of battery power. This take-anywhere acoustic amp is designed for the way you play today: streaming, recording, practice or live.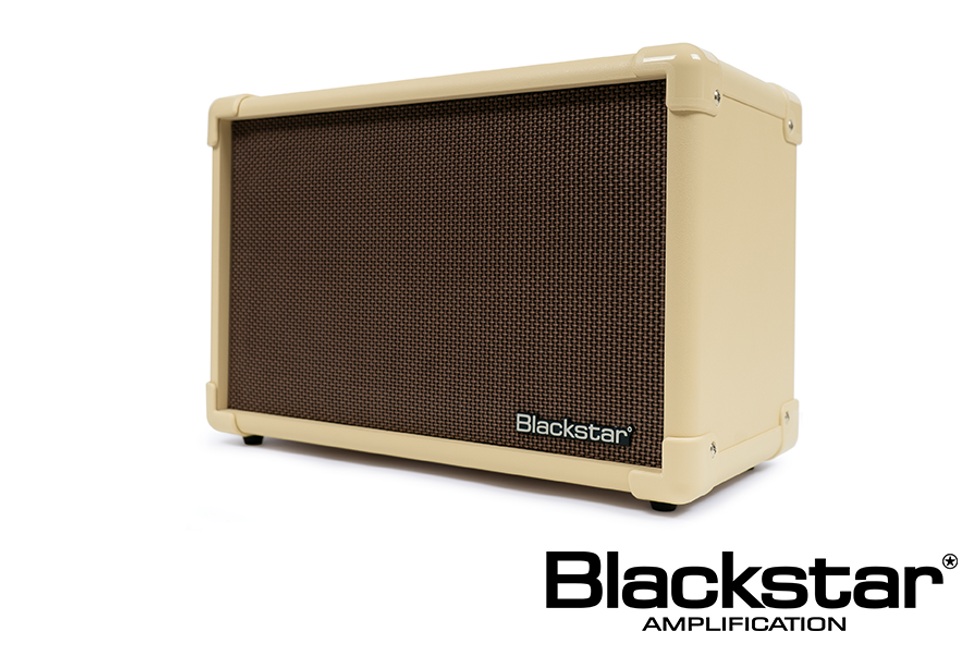 Santa Cruz Guitar Company
Santa Cruz Guitar Company has made it even easier to order the custom acoustic you've always wanted. They invite you to email them directly at scgc@santacruzguitar.com to be walked through the design process, where they will take the time needed to answer all your questions about models, tonewoods, structural options and aesthetics to ensure you will receive the heirloom acoustic that is right for you.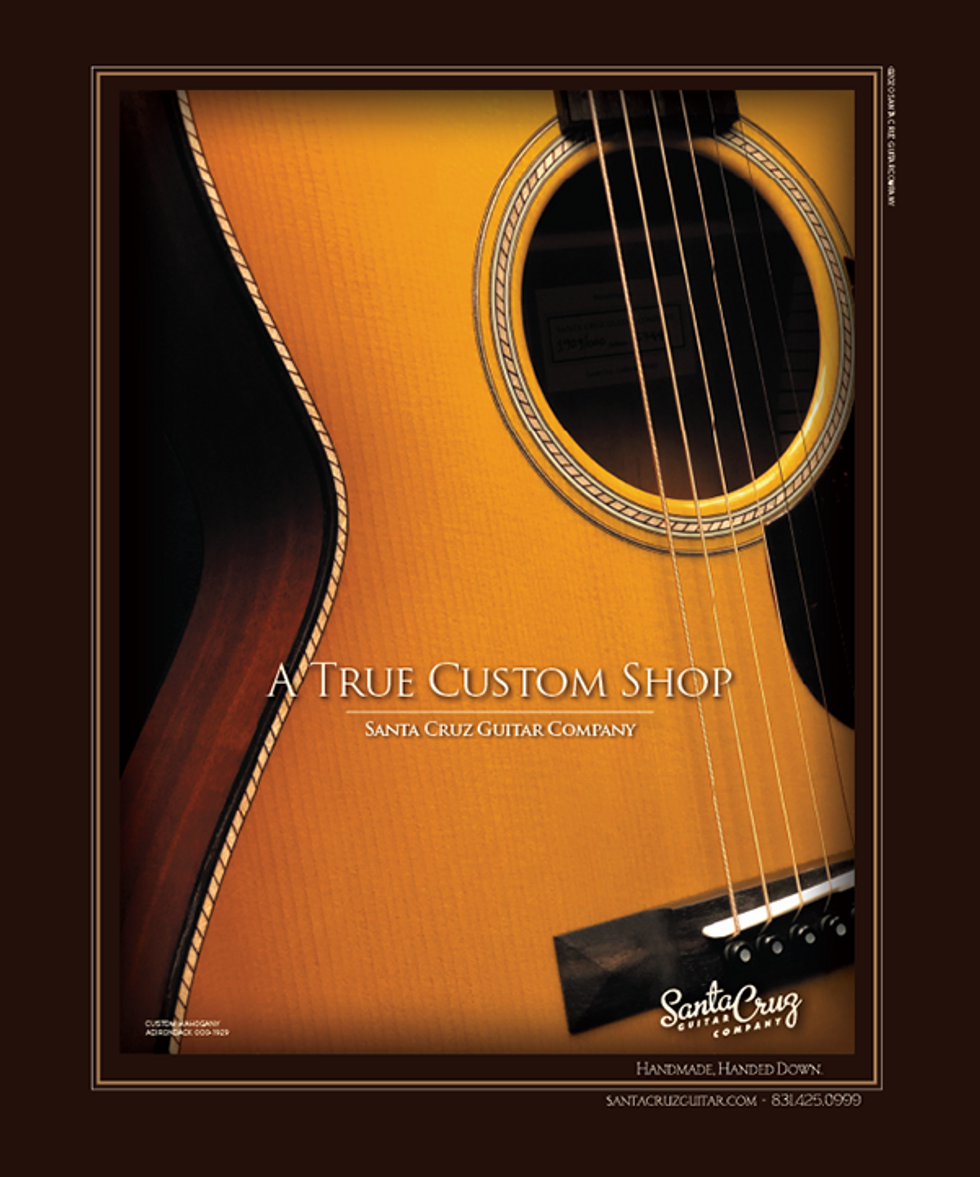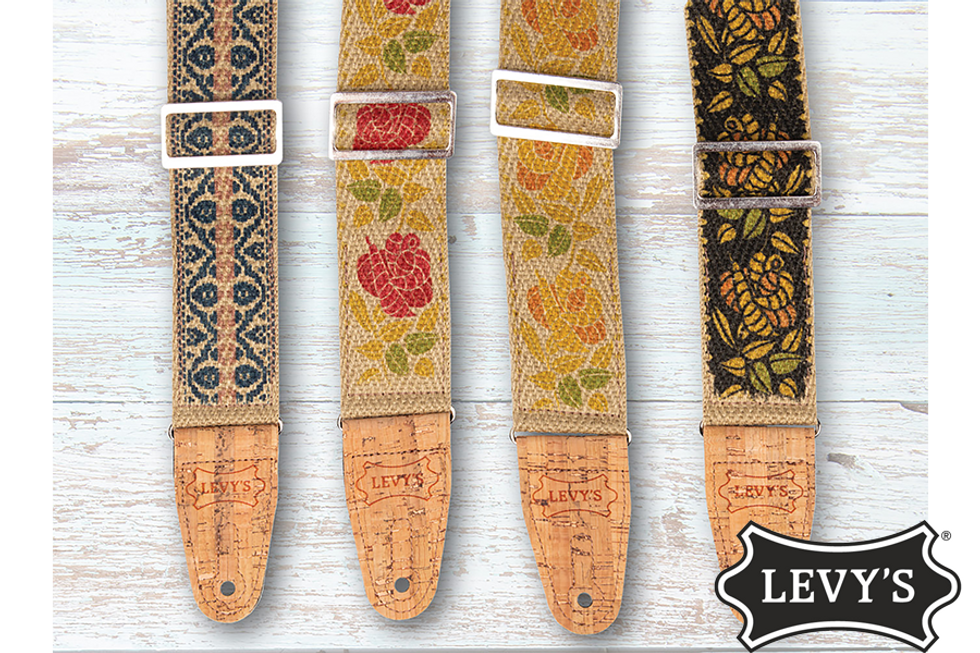 The New MH8P Series Vegan Hemp Series guitar straps by Levy's come in four new beautiful motifs and measure 2"/51mm in width. These organic straps are cruelty-free using sustainable materials and extend from 37"/940mm to 62"/1572mm via silver-colored tri-glide sliding adjustment. Natural hemp webbing and durable 2-ply cork ends safely support your instrument, along with pinhole stitching on both ends to prevent stretching. To address the issue of pick dropping encountered by almost every gigging guitarist, the MH8P Series comes equipped with a convenient 2.5"/64mm inside pocket to provide quick access to extra picks. Hand-crafted in Novia Scotia.

Click here to learn more
Click here to follow Levy's Leathers on Instagram
Levy's Leathers
LR Baggs
The product of nearly 3 years of intensive research and collaboration with a team of PhDs, LR Baggs is thrilled to introduce Voiceprint DI, the next breakthrough chapter in acoustic amplification. Voiceprint DI measures the acoustic response of your guitar by leveraging the processing power of your iPhone® to accurately capture your guitar's one-of-a-kind voice. A Voiceprint is created, transforming your pickup into the most authentic sound we have engineered in our 40+ years.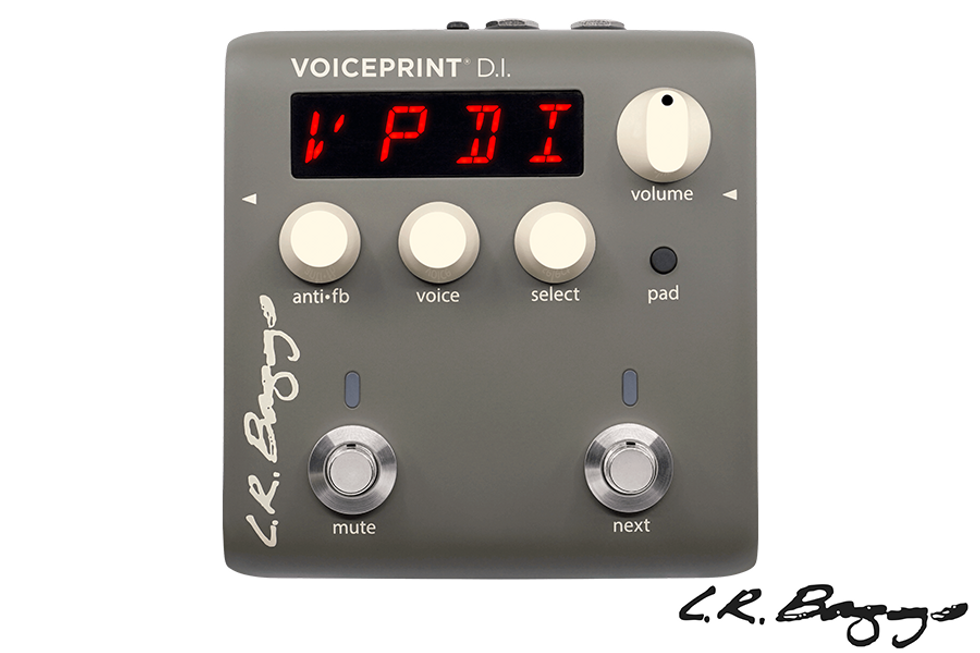 Henriksen Amplifiers
Raise your hand if you only own one guitar… that's what we thought. But do you need a different amplifier for each one? The Bud from Henriksen is no ordinary amplifier; it sounds just as amazing with your acoustic guitars as it does with your electric guitars, regardless of style. The Bud is just 13 lbs and 9"x9"x9" but packs 120 watts of power and a pro-grade feature set that you can truly gig with, record, teach, or just practice.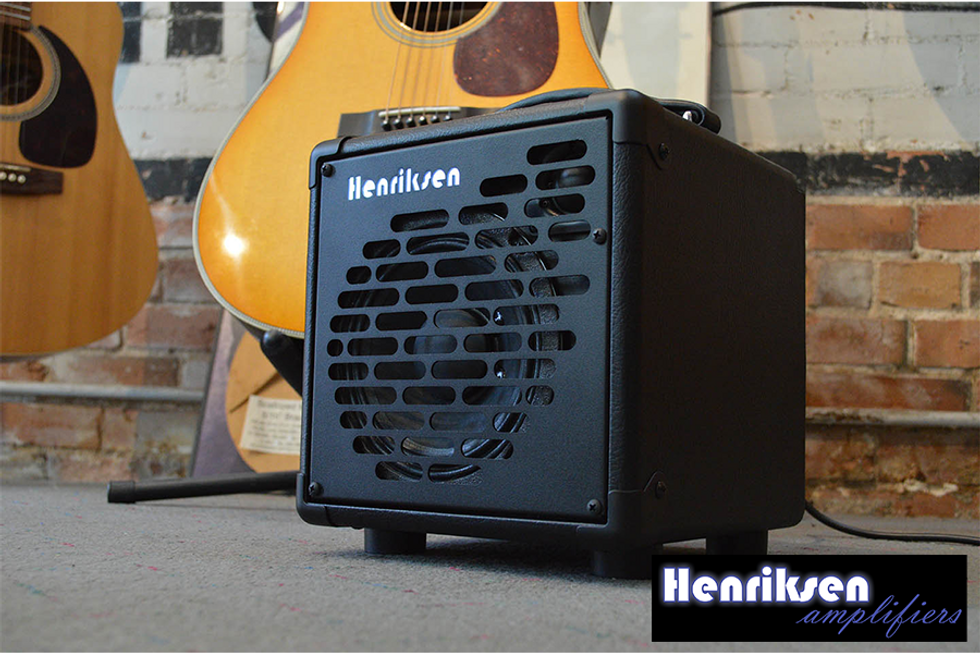 Breedlove Guitars
Powerful and responsive like a dreadnought, tonally the acoustic electric Breedlove Jeff Bridges' Signature Model emphasizes the unique qualities of myrtlewood, with a deep rosewood-like bass, the fundamental clarity of mahogany and the enchanting shimmer of koa. The Breedlove Jeff Bridges signature "All in this Together" project benefits Amazon Conservation Team, which works in partnership with indigenous colleagues to protect rainforests.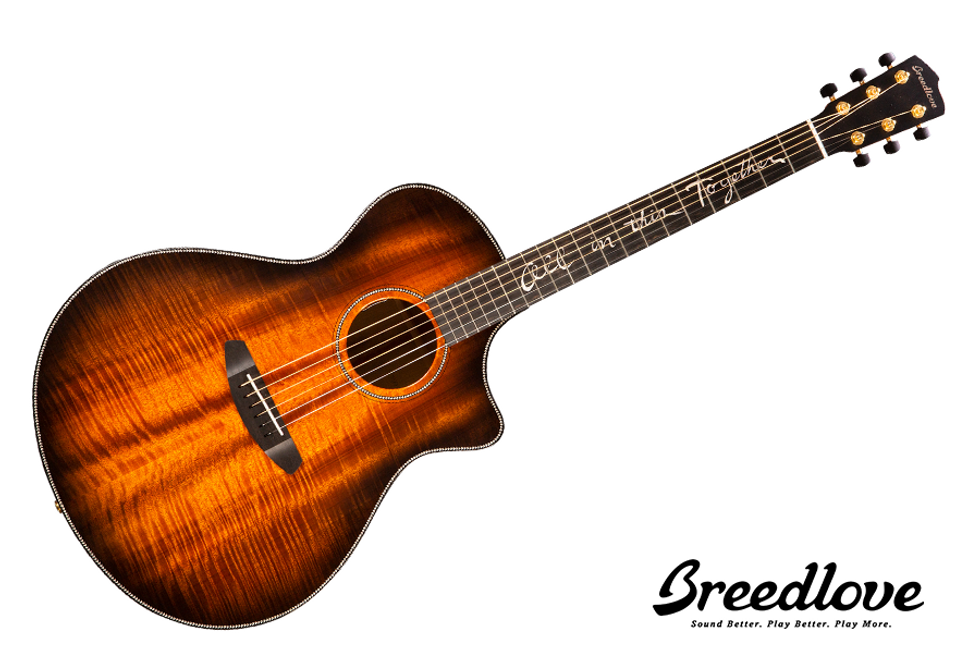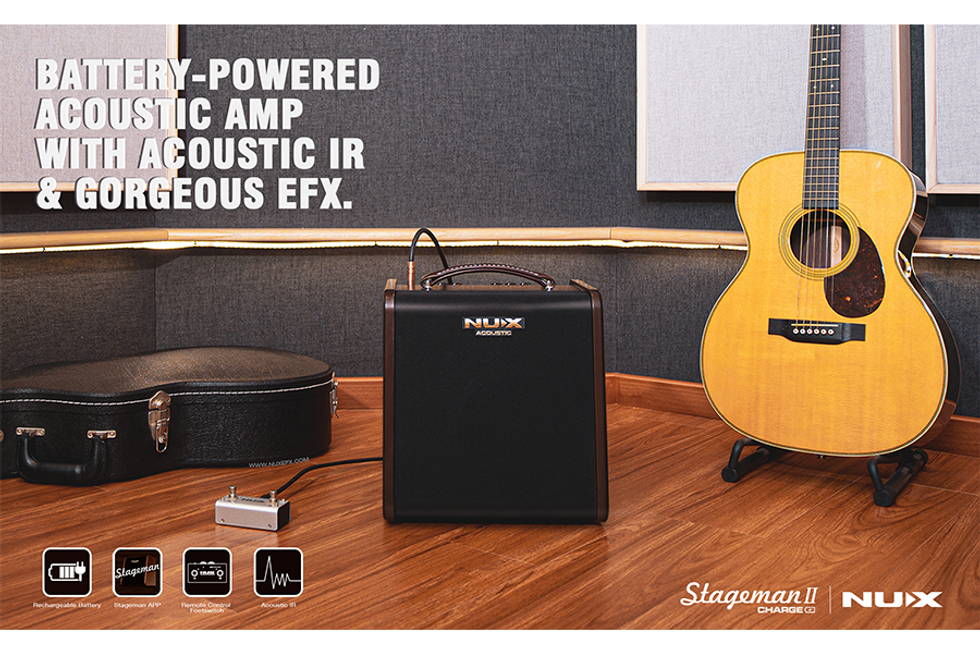 NUX Stageman II Battery-Powered Acoustic Guitar Amplifier features a pure analog preamp with NUX's iconic Core-Image post-effects. It has specific EQ scenes for finger-style as well as strum-style in channel 1, and you can engage built-in Acoustic IRs with a dedicated mobile APP. Acoustic IR is the new trend to make your acoustic sound as natural as micing. Stageman II keeps Drum & Loop, you can control by the original NUX NMP-2 foot-controller. And the built-in rechargeable battery can let you busk on the street for 4 hours.

Highlights:
- 80-watt rich warm sound acoustic amp with 6.5" premium speaker and 1" tweeter
- Rechargeable battery for 4.5 hours outdoor performing
- Built-in Acoustic Impulse Response
- 2 independent channels with routing adjustable post-effects
- Mobile APP for editing and control
- Drum & Loop (60s phrase loop)
- Bluetooth Audio Stream
Click here to learn more
Click here for audio clips
Click here for video
Click here to follow NUX on Instagram
NUX
Classy design extras, ultra-buttery playability, and sweet, growling pickups distinguish this excellent ES alternative.
Faultless construction. Very nice PAF-style tones. Exceptional playability. Beautiful visual presence and cool vibe. Comes with a hard case.
The extra 200 bucks you'll pay over the price of a more modest Epiphone ES-335 might be too much for practical players.
4.5
5
5
4
Whatever your opinion of Oasis—and they have a way of engendering opinions—there's little arguing that Noel Gallagher has an ear for a tune. And like many contemporary British indie guitarists and forebears like his hero, Johnny Marr, Gallagher also understands the romantic and iconographic power of a great tune played on a classic guitar—particularly as a means of asserting difference from the pop and hair metal tribes that came before.
Between a keen awareness of those cultural forces and Gallagher's not-even-kinda-subtle worship of the Beatles, it's little wonder he found his way to the Epiphone Riviera that inspired this signature model. Gallagher's original Riviera, which was a Japan-made 1980s model, is a very different guitar than the Beatles' hollowbody, P-90-fitted Epiphone Casinos, though. In fact, with its center-block, semi-hollow construction, PAF-inspired humbuckers, and Tune-o-matic bridge, it's much more like a Gibson ES-335.
Epiphone currently makes several very nice ES-style guitars, from their own ES-335 to the closely related Riviera and Sheraton. Most of those guitars, save for the B.B. King, Emily Wolfe, and Joe Bonamassa signature models, sell for $599 to $699, which begs the inquiry: What does this Noel Gallagher Riviera give you for 200 bucks extra that its cheaper stablemates do not? If you're a hardcore Oasis fan, that's a non-question. But even at $899, this guitar is a great value. It feels and plays like a more expensive instrument. The build quality is pretty close to faultless. It comes with a hardshell case. It growls, sings, and stings in classic style. And by amalgamating several elements from Casinos, vintage-style Rivieras, and Gibson ES instruments, the Noel Gallagher Riviera adds up to a unique twist on a classic profile.
An E for Elegance
I've longed for a Gibson ES-335 since … forever. They loomed large in images of some of my biggest heroes: Keith Richards on the back of the Get Yer Ya-Ya's Out! album, Roky Erickson, and Jorma Kaukonen to name just a few. Usually, an Epiphone Dot was the most affordable means of satisfying my 335 desires, and I've played a lot of them in shops and some that belong to friends. But I had weird luck with those Dots. When I found a good one, my interests seemed to be somewhere else. When I was feeling enthused, I could never find one that was quite right. But I feel like if I had ever come across an Epiphone 335-style as nice as the Noel Gallagher Riviera, I might have dropped the cash down on the spot—regardless of my current musical predilections. It's a very inviting and easy-to-hang-out-with kind of guitar.
If you haven't taken a break from your pedalboard for a while and need a taste of straight, mainline amp thrills, the Noel Gallagher Riviera is a satisfying means of getting there.
For starters, the Noel Gallagher Riviera feels next to effortless to play. Not everyone digs cradling a 16" body. And not everyone loves a 12" fretboard radius. But just about anyone else that touches this guitar is at risk to succumb to its smooth-playing charms. The action could fairly be called delicious, and the setup perfect, even after a cross-country journey.
The Noel Gallagher Riviera looks good, too. The wine-red finish and binding, aged to a biscuit-tan hue, look like a rather scrumptious meal. But the guitar also holds up to scrutiny at the detail level. I couldn't find a construction or finish miscue. If there is any possible complaint, it's that the finish might be a tad thick. All the same, I love looking at it. And though dogmatic Gibson players will probably scream heresy, I prefer the way the slim, florid hourglass headstock looks on this guitar compared to a Gibson. The white, curvaceous pickguard is also a pretty contrast to the wine finish, which I prefer to a Gibson ES-335's black guard.
Air and Cultured Muscle
If you haven't taken a break from your pedalboard for a while and need a taste of straight, mainline amp thrills, the Noel Gallagher Riviera is a satisfying means of getting there. The Alnico Classic Pro humbuckers, which aspire to a late-'50s, low-output PAF sound and feel, might lack some sense of the wide-screen, aerated texture you hear in the real thing or a top-flight replica, but they are a very nice facsimile. The top end zings and is neither too soft nor too bossy. And though the low end can be a touch woofy in some settings—a quality that applies to just about any PAF to a degree—it just as readily offers growling counterweight to the sweet treble tones. Like any PAF-profiled pickup, the Alnico Classic Pro is scooped in the midrange. In a great PAF, there's usually enough personality in the scooped mids to lend a little purr to the output. That edge is slightly blunted here. But on balance, this a very nice set of pickups for a guitar in this price range.
The pickups are also a beautiful match for the semi-hollow construction, which I always think feels a little more dimensional than a Les Paul. The bridge pickup and combined pickup settings in particular seem to benefit from the extra body resonance, which lends them size and firecracker energy. The neck pickup alone, meanwhile, feels and sounds a little extra smoky, vocal, and soft around the edges. Each of these settings, by the way, pair to thrilling effect with overdrive tones. But I particularly love how it matched up with Marshall-style and raspy ODs, where the extra midrange adds a sweet toughness.
The Verdict
The knock on the Noel Gallagher Riviera will almost certainly be that it's 200 extra bucks for what is, elementally, an Epiphone ES-335. But the little details—the parallelogram markers, the curvaceous, white Rivera pickguard, and the wine finish and aged binding, add up to a very pretty, distinctive, and unique twist on an ES. It's also a very classy alternative to a Les Paul if you want PAF sounds in a less common instrument. I might also argue that it's just a touch more versatile in some musical situations, thanks to the combination of airy resonance and growl. If you're a songwriter, you'll love how great it sounds nowhere near an amplifier. But this guitar is a joy to hear loud, alive, electrified, and unadulterated.
Epiphone Noel Gallagher Riviera Demo | First Look
Epiphone
Paul Gilbert will release an album celebrating the music of Dio on April 7th. Listen to "Holy Diver" now.
Guitar virtuoso Paul Gilbert, best known for his work in chart-topping hard rockers Mr. Big and Racer X – as well as numerous solo records – was in his car when he saw something that made his heart start beating faster in a moment of unexpected, unadulterated joy. This was not a high value item of interest or even particularly rare, simply a baseball cap with the word 'Dio' emblazoned across the front. Sometimes, even for the biggest of guitar legends, it's the little things that hit us in the most profound ways.

On his drive home, a plan was being formulated. Why not capture all of that raw energy and excitement on an album devoted to Ronnie James Dio's most celebrated tracks – spanning across his career from Rainbow to Black Sabbath and the singer's own solo endeavours? Gilbert is no stranger to instrumental music, but an entire album dedicated to replicating well established and world-famous vocal melodies on his trusty six-string genuinely felt like new territory. This was already shaping up to be a challenge that he would truly relish.
The Dio Album consists of 10 standout and career-defining tracks, from "Neon Knights" and "Long Live Rock 'N' Roll" to "Holy Diver" and "Man On The Silver Mountain". As well as analysing Ronnie James Dio's electrifying vocal melodies, Paul also enjoyed paying tribute to three incredibly talented guitar legends – Tony Iommi of Black Sabbath, Ritchie Blackmore of Rainbow and Vivian Campbell from the Dio band, who has been a member of British stadium rockers Def Leppard since 1992.
TRACK LIST

1. Neon Knights
2. Kill The King
3. Stand Up And Shout
4. Country Girl
5. Man On The Silver Mountain
6. Holy Diver
7. Heaven And Hell
8. Long Live Rock 'N' Roll
9. Lady Evil
10. Don't Talk To Strangers
11. Starstruck
12. The Last In Line
Paul Gilbert - Holy Diver (The Dio Album)
The silky smooth slide man may raise a few eyebrows with his gear—a hollow, steel-bodied baritone and .017s on a Jazzmaster—but every note and tone he plays sounds just right.
KingTone's The Duellist is currently Ariel Posen's most-used pedal. One side of the dual drive (the Bluesbreaker voicing) is always on. But there's another duality at play when Posen plugs in—the balance between songwriter and guitarist.
"These days, I like listening to songs and the story and the total package," Posen told PG back in 2019, when talking about his solo debut, How Long, after departing from his sideman slot for the Bros. Landreth. "Obviously, I'm known as a guitar player, but my music and the music I write is not guitar music. It's songs, and it goes back to the Beatles. I love songs, and I love story and melody and singing, and there was a lot of detail and attention put into the guitar sound and the playing and the parts—almost more than I've ever done."
And in 2021, he found himself equally expressing his yin-and-yang artistry by releasing two albums that represented both sides of his musicality. First, Headway continued the sultry sizzle of songwriting featured on How Long. Then he surprised everyone, especially guitarists, by dropping Mile End, which is a 6-string buffet of solo dishes with nothing but Ariel and his instrument of choice.
But what should fans expect when they see him perform live? "I just trust my gut. I can reach more people by playing songs, and I get moved more by a story and lyrics and harmony, so that's where I naturally go. The live show is a lot more guitar centric. If you want to hear me stretch out on some solos, come see a show. I want the record and the live show to be two separate things."
The afternoon ahead of Posen's headlining performance at Nashville's Basement East, the guitar-playing musical force invited PG's Chris Kies on stage for a robust chat about gear. The 30-minute conversation covers Posen's potent pair of moody blue bombshells—a hollow, metal-bodied Mule Resophonic and a Fender Custom Shop Jazzmaster—and why any Two-Rock is his go-to amp. He also shares his reasoning behind avoiding effects loops and volume pedals.
Brought to you by D'Addario XPND Pedalboard.
Blue the Mule III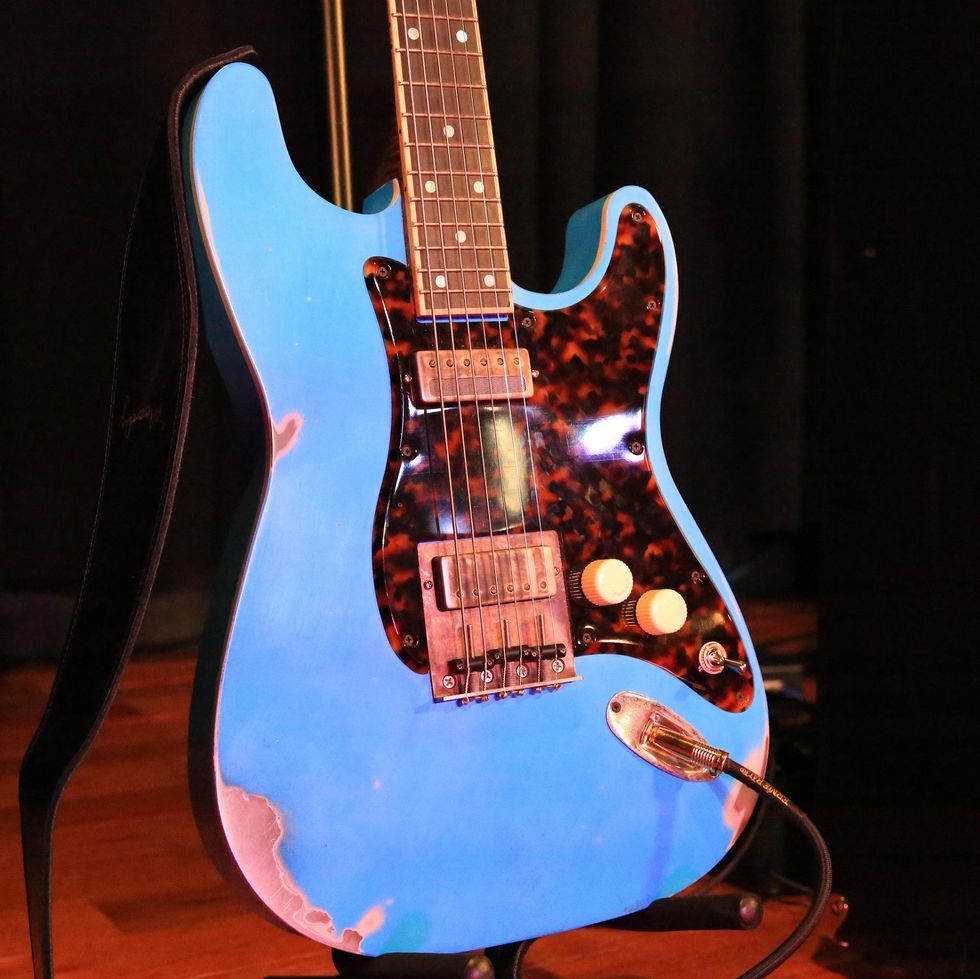 If you've spent any time with Ariel Posen's first solo record, How Long, you know that the ripping, raunchy slide solo packed within "Get You Back" is an aural high mark. As explained in a 2019 PG interview, Posen's pairing for that song were two cheapos: a $50 Teisco Del Rey into a Kay combo. However, when he took the pawnshop prize onstage, the magic was gone. "It wouldn't stay in tune and wouldn't stop feeding back—it was unbearable [laughs]."
Posen was familiar with Matt Eich of Mule Resophonic—who specializes in building metal-body resonators—so he approached the luthier to construct him a steel-bodied, Strat-style baritone. Eich was reluctant at first (he typically builds roundneck resos and T-style baritones), but after seeing a clip of Posen playing live, the partnership was started.
The above steel-bodied Strat-style guitar is Posen's third custom 25"-scale baritone. (On Mule Resophonic's website, it's affectionately named the "Posencaster.") The gold-foil-looking pickups are handwound by Eich, and are actually mini humbuckers. He employs a custom Stringjoy set (.017–.064 with a wound G) and typically tunes to B standard. The massive strings allow the shorter-scale baritone to maintain a regular-tension feel. And when he gigs, he tours light (usually with two guitars), so he'll use a capo to morph into D or E standard.
Moody Blue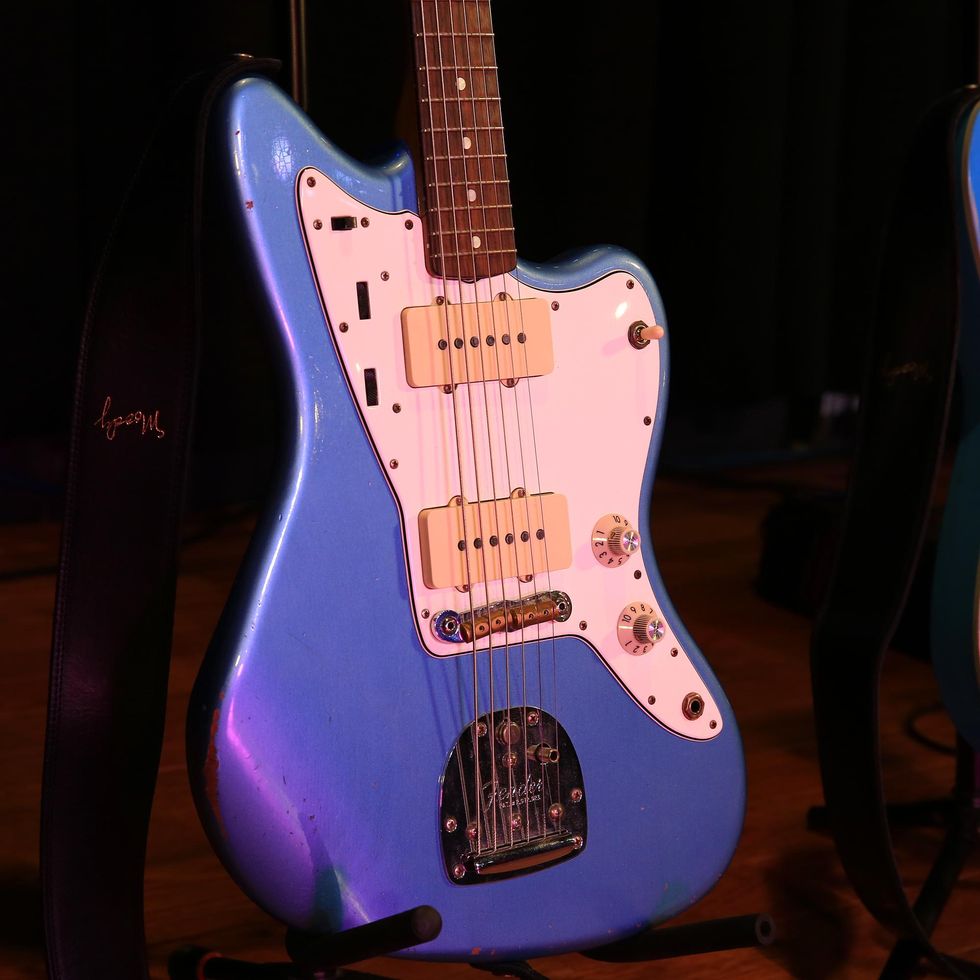 Another one that saw recording time for Headway and Mile End was the above Fender Custom Shop Masterbuilt '60s Jazzmaster, made by Carlos Lopez. To make it work better for him, he had the treble-bleed circuit removed, so that when the guitar's volume is lowered it actually gets warmer.
"Clean and Loud"
Last time we spoke with Posen, he plugged into a Two-Rock Classic Reverb Signature. It's typically his live amp. However, since this winter's U.S. run was a batch of fly dates, he packed light and rented backlines. Being in Music City, he didn't need to go too deep into his phone's contacts to find a guitar-playing friend that owned a Two-Rock. This Bloomfield Drive was loaned to Ariel by occasional PG contributor Corey Congilio. On the brand's consistent tone monsters, Posen said, "To be honest, put a blindfold on me and make one of Two-Rock's amps clean and loud—I don't care what one it is."
Stacked Speakers
The loaner vertical 2x12 cab was stocked with a pair of Two-Rock 12-65B speakers made by Warehouse Guitar Speakers.
Ariel Posen's Pedalboard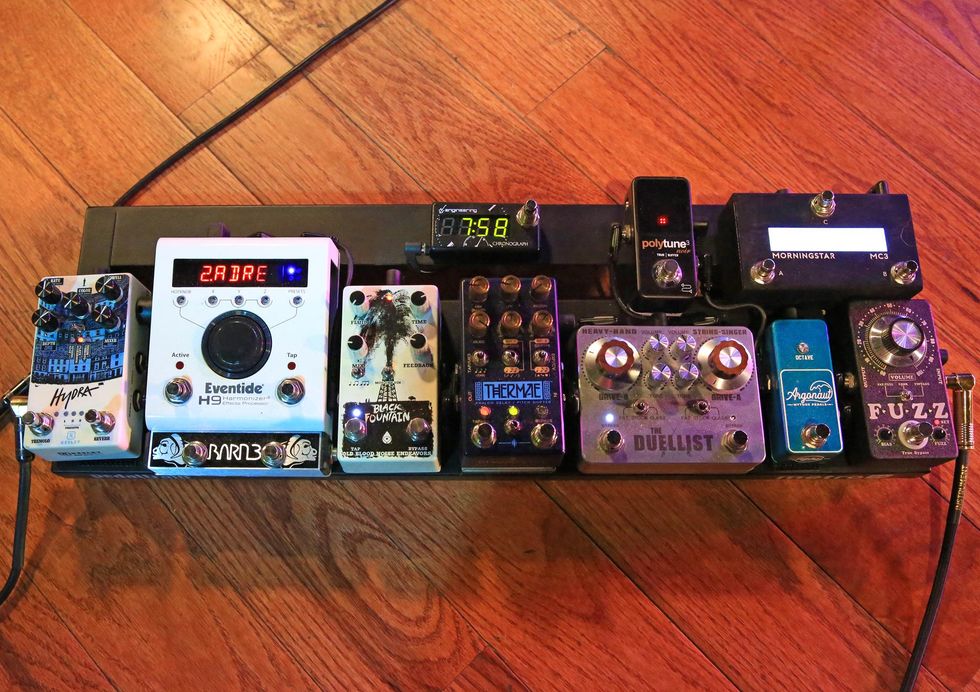 There are a handful of carryovers from Ariel's previous pedalboard that was featured in our 2021 tone talk: a TC Electronic PolyTune 3 Noir, a Morningstar MC3 MIDI Controller, an Eventide H9, a Mythos Pedals Argonaut Mini Octave Up, and a KingTone miniFUZZ Ge. His additions include a custom edition Keeley Hydra Stereo Reverb & Tremolo (featuring Headway artwork), an Old Blood Noise Endeavors Black Fountain oil can delay, Chase Bliss Audio Thermae Analog Delay and Pitch Shifter, and a KingTone The Duellist overdrive.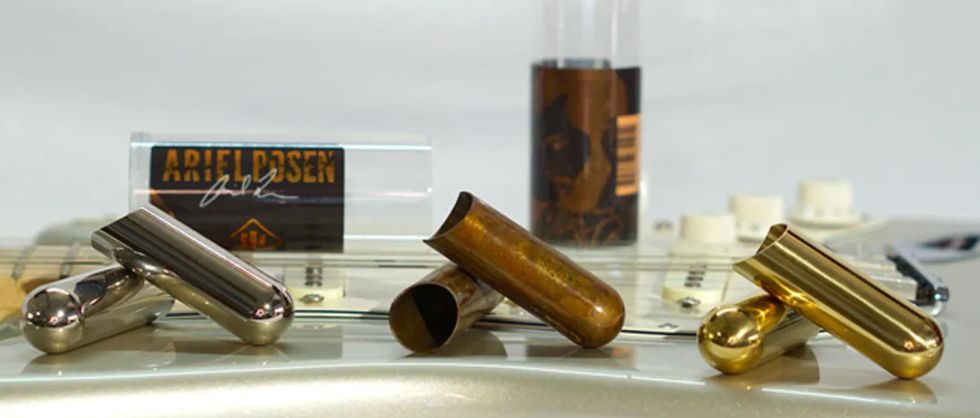 Another big piece of the tonal pie for Posen is his signature brass Rock Slide. He worked alongside Rock Slide's Danny Songhurst to develop his namesake slide that features a round-tip end that helps Posen avoid dead spots or unwanted scratching. While he prefers polished brass, you can see above that it's also available in a nickel-plated finish and an aged brass.