Acoustic Gear Finds June 2021
Don't miss the latest and greatest gear finds for your acoustic!
---
Cole Clark Guitars
The Cole Clark CCFL2ECRDBL Acoustic-Electric Guitar is designed for the guitarist who demands the highest standards in an instrument. The 2 Series FL Dreadnought guitar is the go-to choice for every player looking to have ultimate control of both the acoustic and plugged-in performance environments, with Cole Clark's signature 3-way pickup system and beautiful, sustainably-sourced, natural Redwood and Blackwood timbers.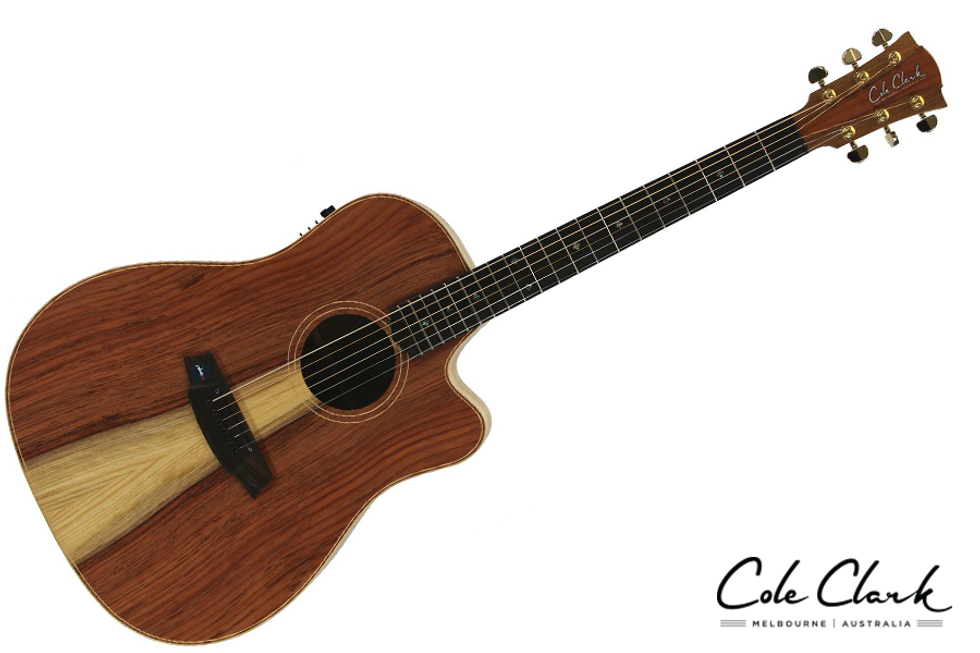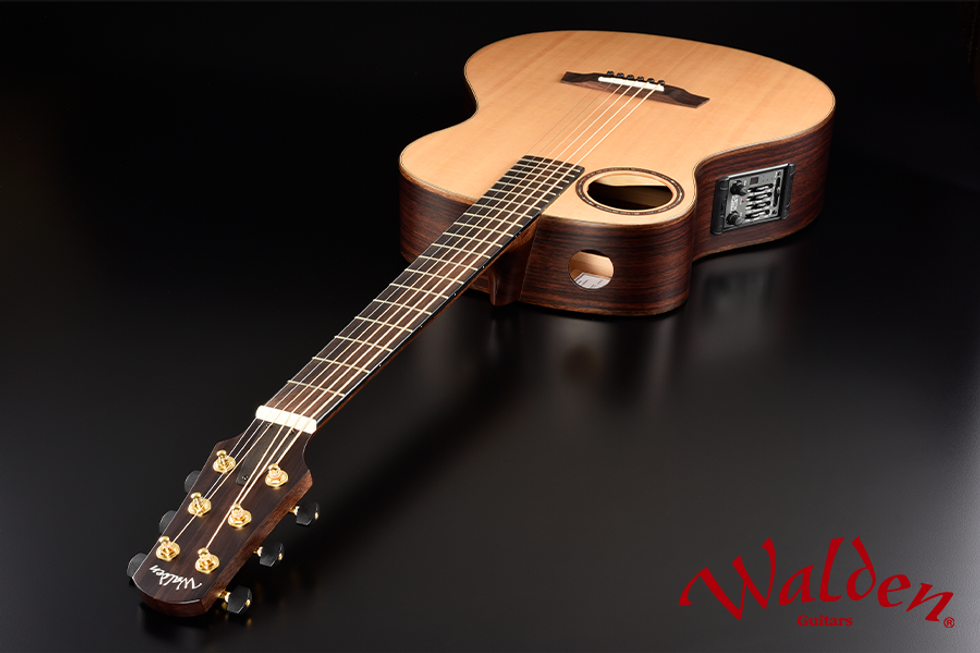 "I love this thing, I can't put it down. It's kind of like having a piano in your lap, you got all the low end for bass lines, and you got chords that you can strum on top, even alternating simple bass lines. There's all kinds of fun you can have with this thing!" ~ Sean Harkness, NYC

Typically tuned to B, the Baritone provides a clear low end response perfect for soloists, singer-songwriters, percussive finger-style players, or guitarists who crave a walking bass line while comping chords.

With its offset soundhole, side-port, and solid Sitka spruce top with innovative low-mass bracing, the Walden B1E sounds sonically excellent while incorporating the more comfortable Grand Auditorium body shape. A graphite reinforced Mahogany neck contribute to stability and its 27″ scale length and 1-13/16″ nut width contribute to the B1E Baritone's transparent playability.

Click here to watch videos
Click here for more information
Click here to follow Walden Guitars on Instagram
Walden Guitars
PRS
The PRS SE P20E is a parlor-sized acoustic with a big voice. Features include all-mahogany construction and PRS hybrid "X"/Classical bracing, which allows the top to freely vibrate, the SE P20E projects with even, bold tone. Its smaller size makes playing for hours fun and comfortable and allows for more convenient transport.
Plug in the Fishman GT1 pickup system, and it delivers dynamic, organic tone. This electronics system features an undersaddle pickup and soundhole mounted preamp with easy-to-access volume and tone controls, which essentially transforms what some may consider a "couch guitar" into a workhorse stage instrument.
Available in three satin finishes with herringbone rosettes and accents. Other high-quality features include a solid mahogany top, ebony fretboard and bridge, and bone nut and saddle. Gig bag included.
Click here to learn more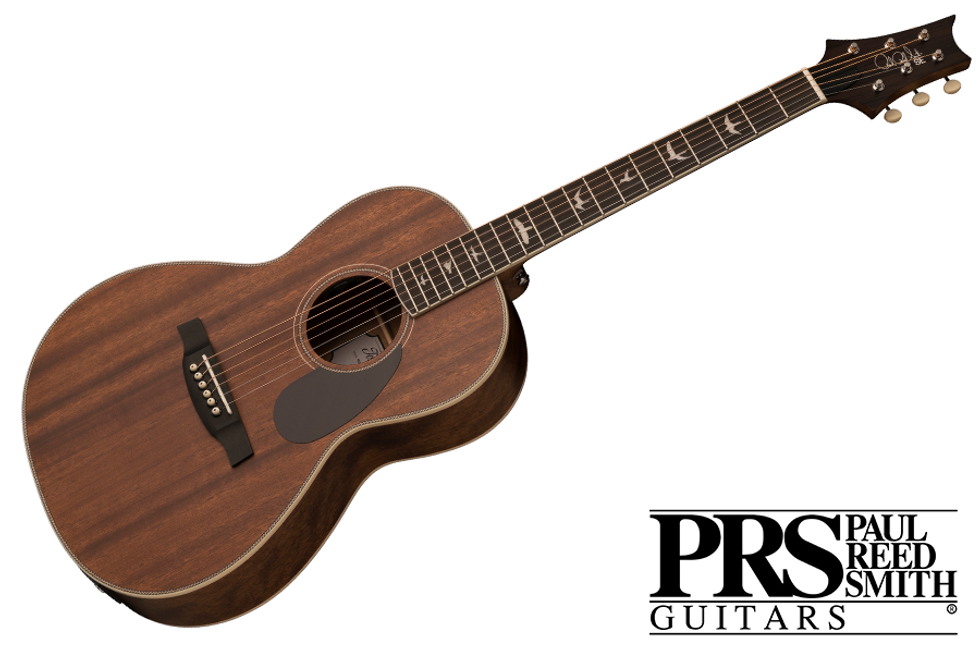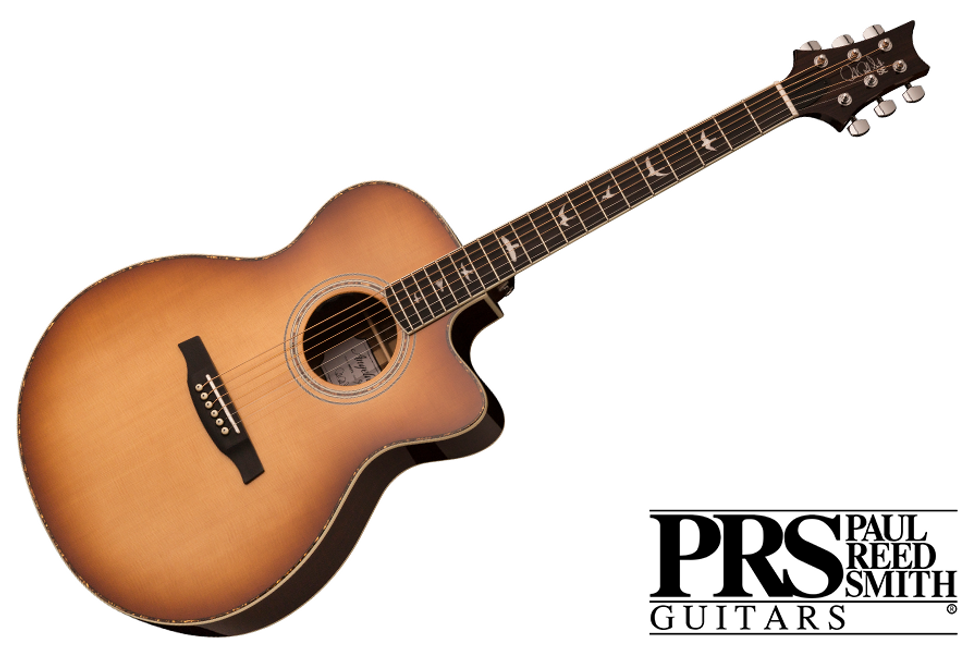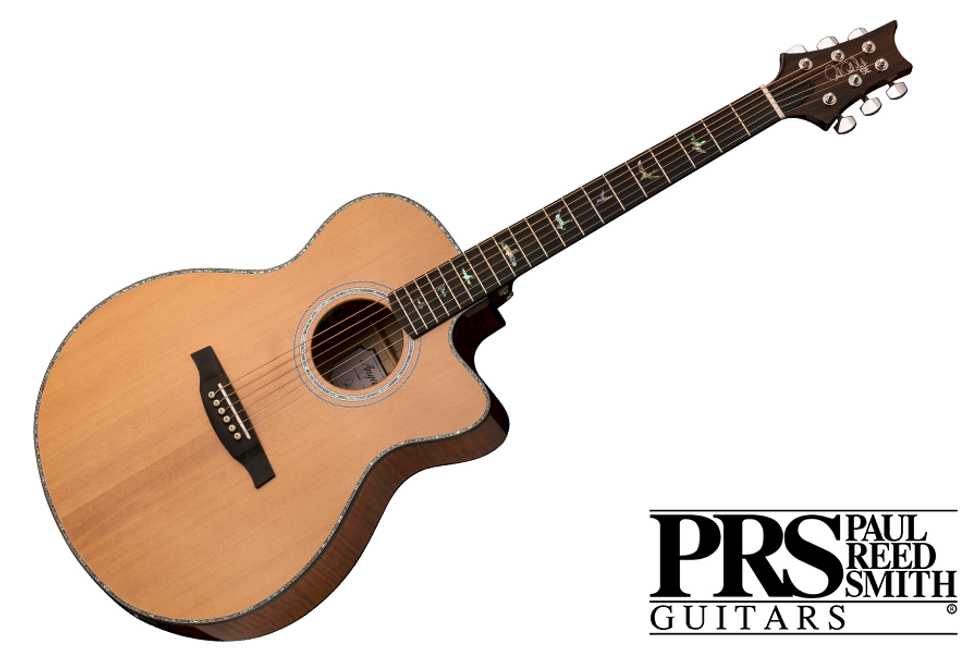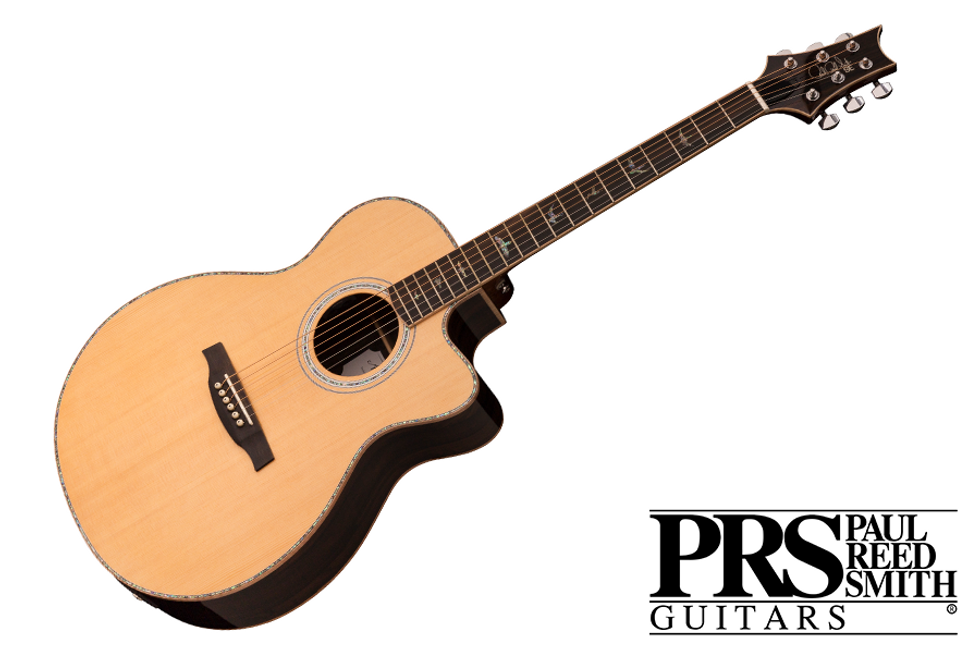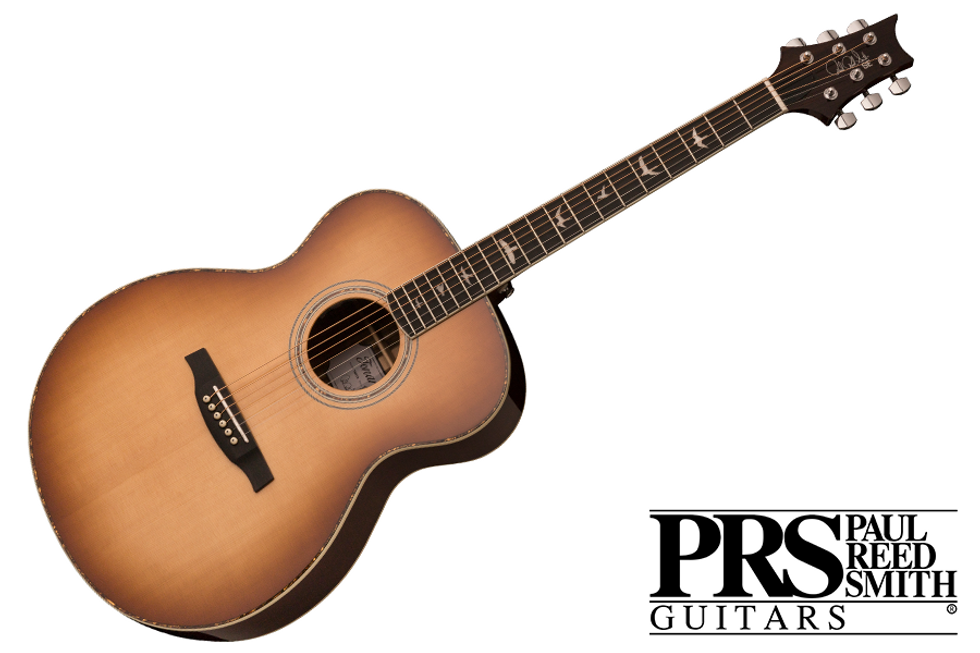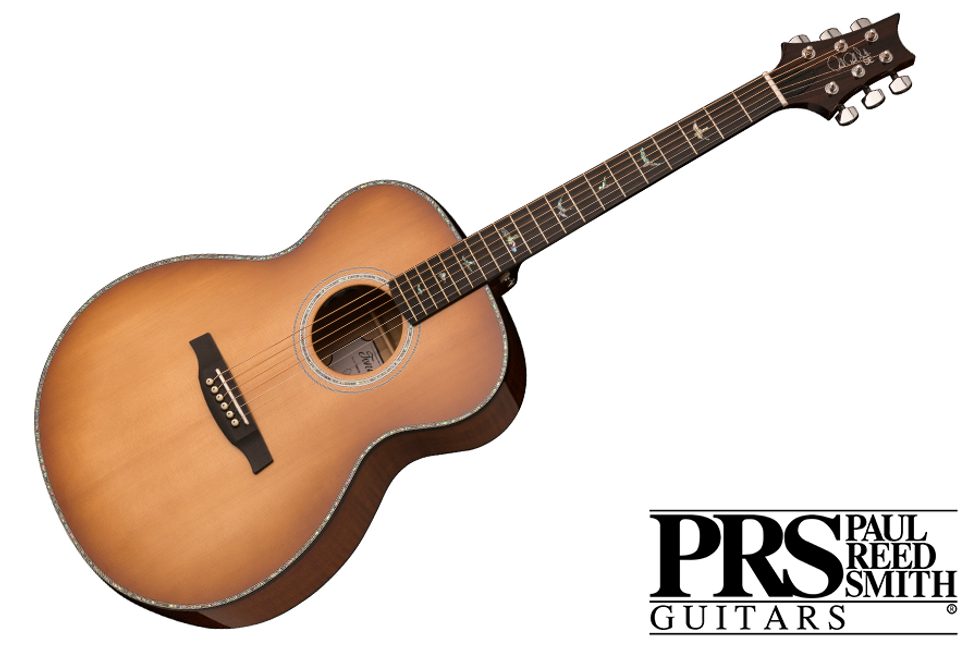 Tanglewood
Inspired by the guitars made in the 1930s, the Tanglewood Blackbird series evoke traditional values, yet offer the benefits a guitar manufactured in the modern era. These guitars feature hand-selected tone woods and a unique bracing pattern. The Blackbird Orchestra electro-acoustic guitar is carefully braced to environments, with Cole Clark's signature 3-way pickup system and beautiful, sustainably-sourced, natural Redwood and Blackwood timbers.
Click here to learn more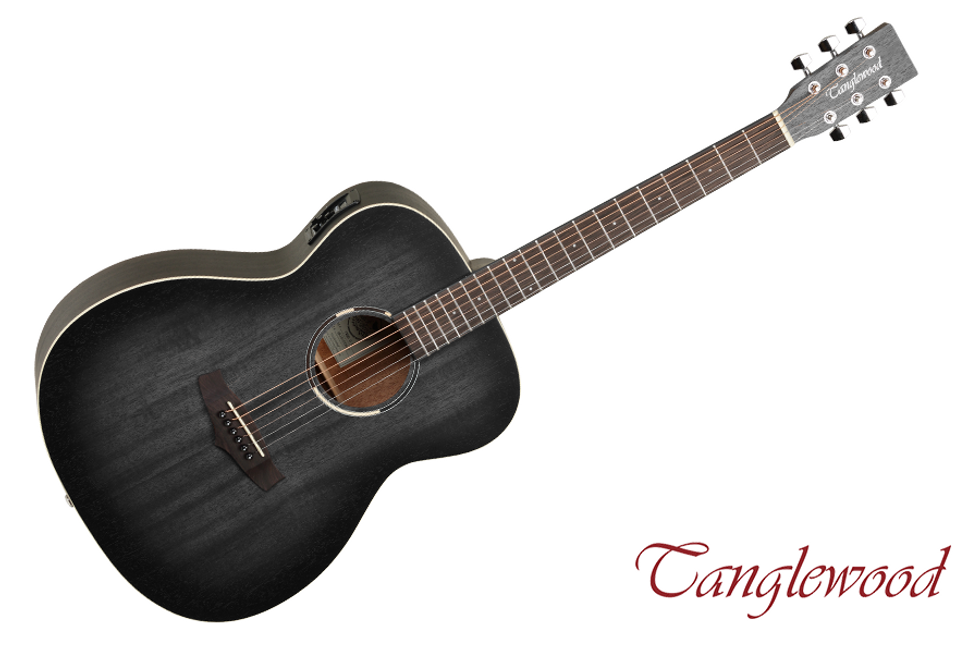 Taylor Guitars
Taylor's popular, compact GS Mini has brought countless hours of guitar-playing joy to musicians of all stripes, and the GS Mini-e Koa Plus takes the fun to a new level with elevated aesthetic details. Back and sides of layered Hawaiian koa pair with a solid koa top for a punchy, bold sound with surprising power and volume for a small-bodied guitar with a scale length of 23-½ inches, while the 1-11/16-inch nut width makes forming chords a breeze. A dusky edgeburst accentuates koa's natural grain and luster around the top, back and sides, while other notable features include nickel tuners, a three-ring rosette, and a genuine West African ebony fretboard. It includes onboard ES2 electronics and Taylor's new AeroCase®, a soft yet sturdy case with all the protection of a hardshell case at one-third the weight.
Click here to learn more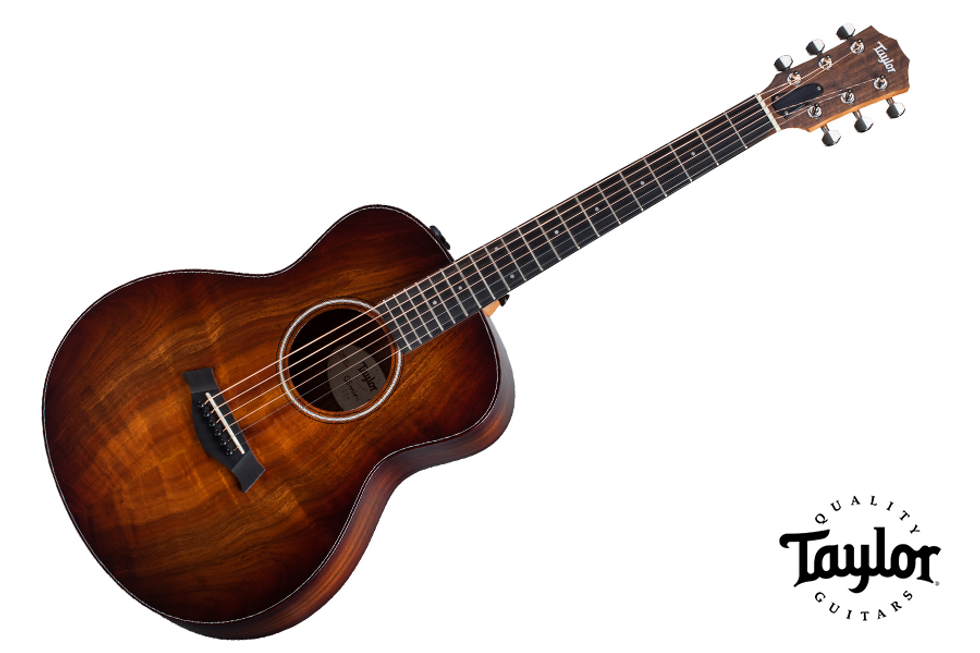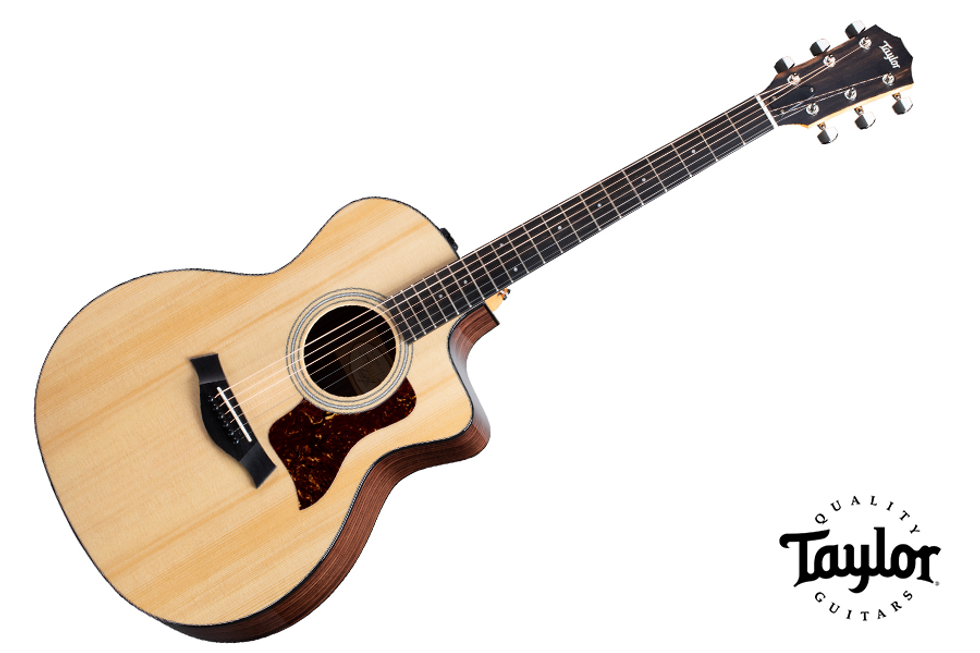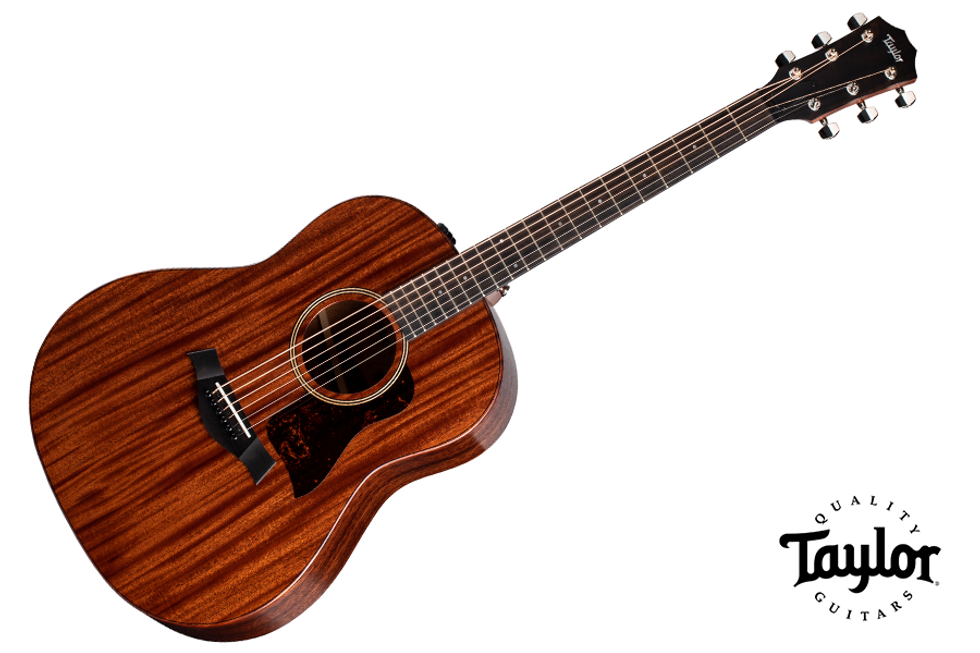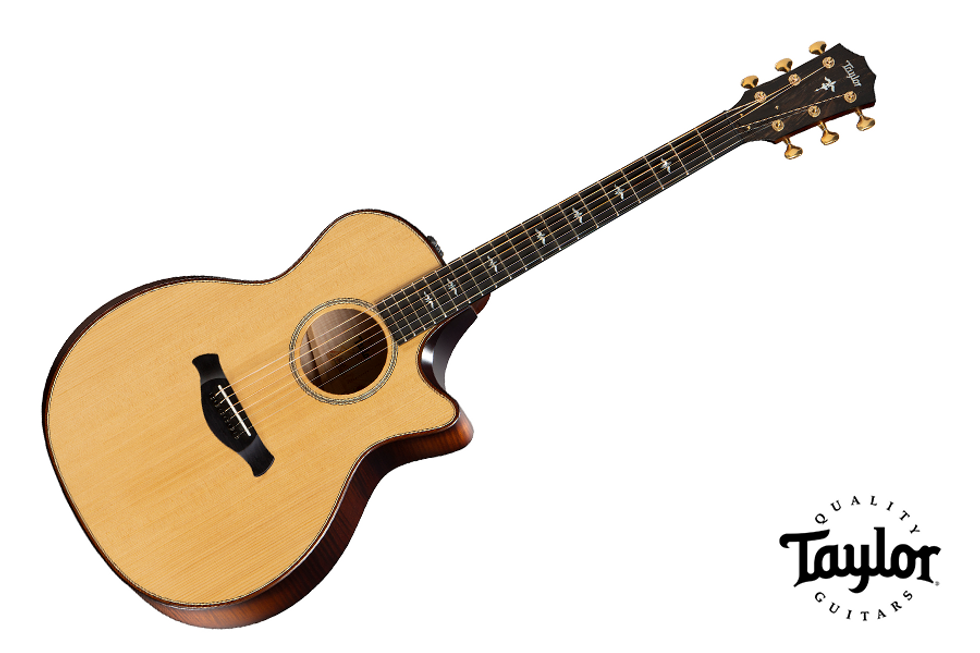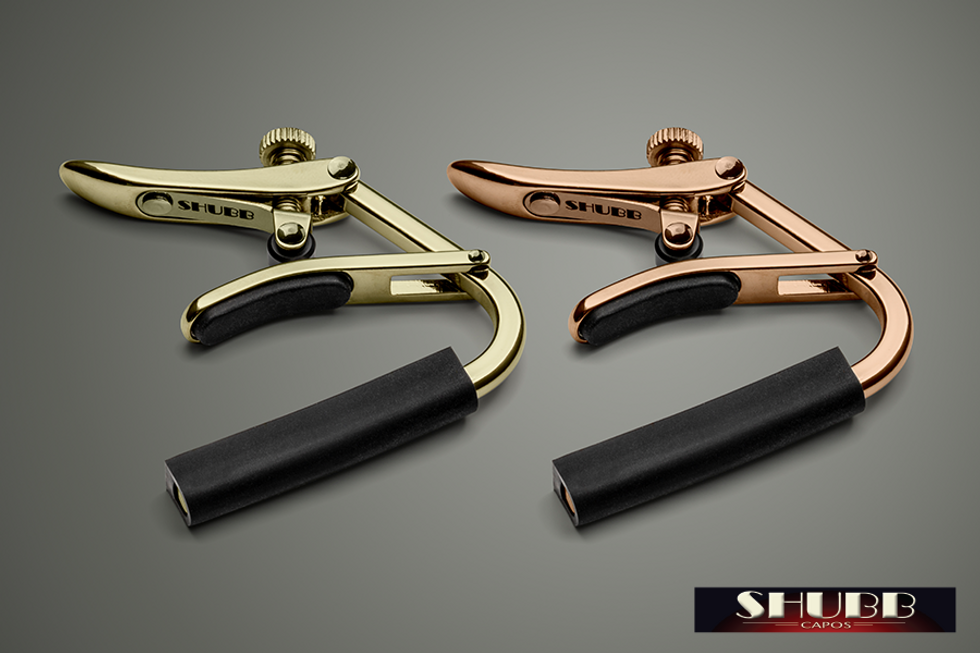 Adding to the company's line of premium capos, Shubb has introduced the new Capo Royale Series, featuring durable gold finishes that deliver long-lasting beauty.

Available in two lustrous finishes – Gold and Rose Gold – the Capo Royale Series brings a distinctive visual flair to Shubb's famed capo design, revered since 1980 for its ability to provide flawlessly clean fretting while keeping the instrument in tune.

For many years Shubb has received requests for a gold plated Shubb Capo. While gold is undeniably beautiful, it is not at all durable; it will wear off far too easily and quickly. It is also famously expensive. Now, Shubb has developed a high-tech technique for creating a gold-toned titanium finish. It possesses all the beauty of real gold, but is as durable as any metal finish in the world.

Click here to watch videos
Click here to learn more
Click here to follow Shubb on Facebook
Shubb Capos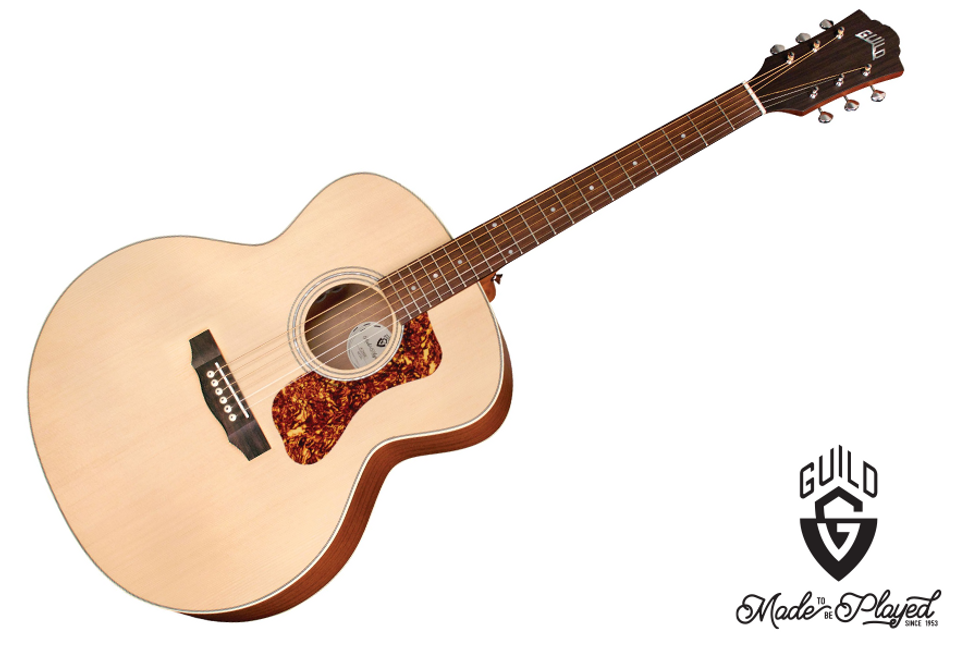 Guild's most affordable jumbo yet! The F-240E is a tone cannon at a player's price. Built with a solid spruce top, mahogany sides, and an arched mahogany back, the full-bodied and powerful voice of this Guild Jumbo provides guitarists with historically-Guild acoustic tone and voicing. Guild's signature arched back design allows for enhanced volume and projection, long sustain, and a lush, full sound. The F-240E features Guild's Fishman-designed AP-1 electronics, a pau ferro fingerboard and bridge, bone nut and saddle, mother-of-pearl rosette, period-correct tortoiseshell pickguard, and a satin polyurethane finish.

Click here to see videos
Click here to learn more
Click here to follow Guild Guitars on Instagram
Guild Guitars
Blackstar Amplification
The Blackstar ACOUSTIC:CORE 30 was designed to give singer/songwriters the ability to get a professional sound without any sound engineering expertise, then share it via live streaming or recording, or live performance. All in a compact easily portable combo with the option of battery power. This take-anywhere acoustic amp is designed for the way you play today: streaming, recording, practice or live.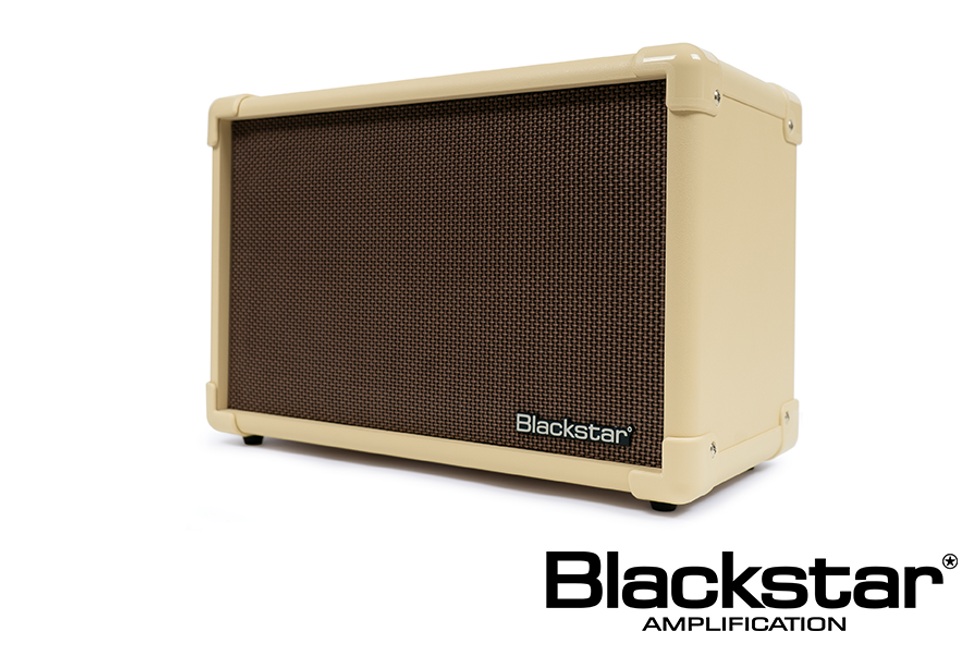 Santa Cruz Guitar Company
Santa Cruz Guitar Company has made it even easier to order the custom acoustic you've always wanted. They invite you to email them directly at scgc@santacruzguitar.com to be walked through the design process, where they will take the time needed to answer all your questions about models, tonewoods, structural options and aesthetics to ensure you will receive the heirloom acoustic that is right for you.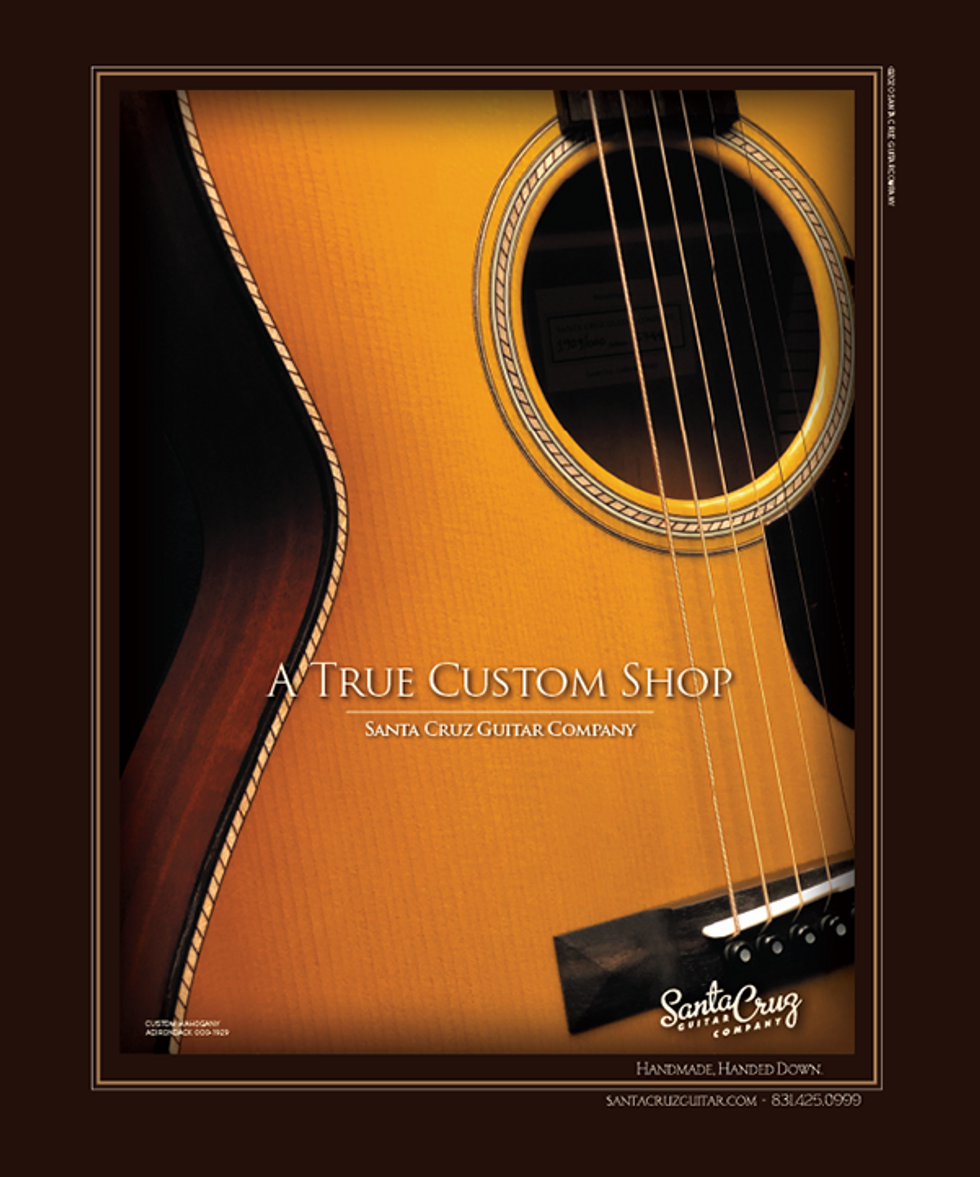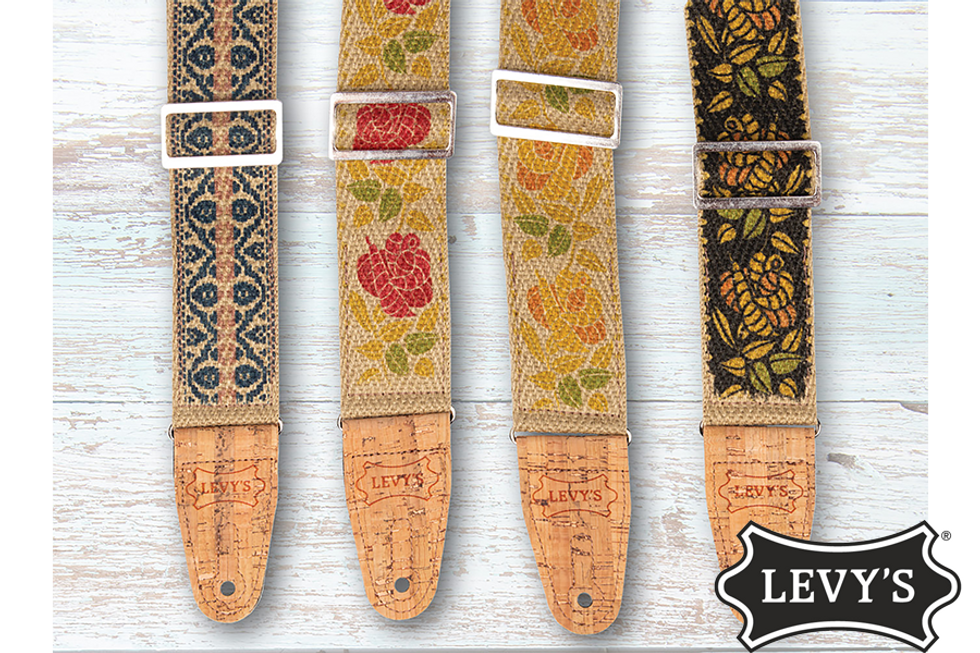 The New MH8P Series Vegan Hemp Series guitar straps by Levy's come in four new beautiful motifs and measure 2"/51mm in width. These organic straps are cruelty-free using sustainable materials and extend from 37"/940mm to 62"/1572mm via silver-colored tri-glide sliding adjustment. Natural hemp webbing and durable 2-ply cork ends safely support your instrument, along with pinhole stitching on both ends to prevent stretching. To address the issue of pick dropping encountered by almost every gigging guitarist, the MH8P Series comes equipped with a convenient 2.5"/64mm inside pocket to provide quick access to extra picks. Hand-crafted in Novia Scotia.

Click here to learn more
Click here to follow Levy's Leathers on Instagram
Levy's Leathers
LR Baggs
The product of nearly 3 years of intensive research and collaboration with a team of PhDs, LR Baggs is thrilled to introduce Voiceprint DI, the next breakthrough chapter in acoustic amplification. Voiceprint DI measures the acoustic response of your guitar by leveraging the processing power of your iPhone® to accurately capture your guitar's one-of-a-kind voice. A Voiceprint is created, transforming your pickup into the most authentic sound we have engineered in our 40+ years.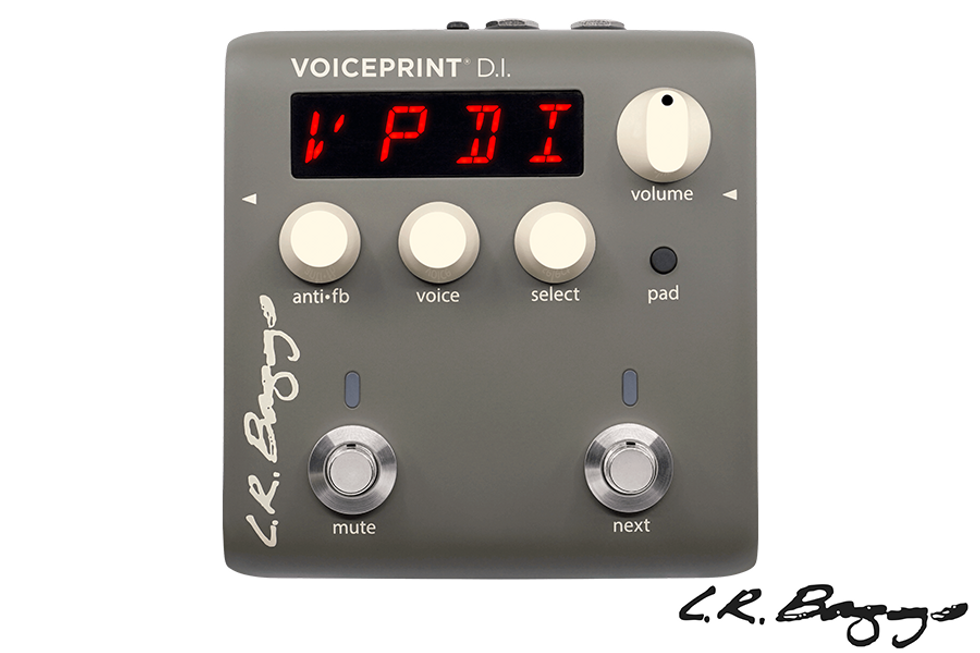 Henriksen Amplifiers
Raise your hand if you only own one guitar… that's what we thought. But do you need a different amplifier for each one? The Bud from Henriksen is no ordinary amplifier; it sounds just as amazing with your acoustic guitars as it does with your electric guitars, regardless of style. The Bud is just 13 lbs and 9"x9"x9" but packs 120 watts of power and a pro-grade feature set that you can truly gig with, record, teach, or just practice.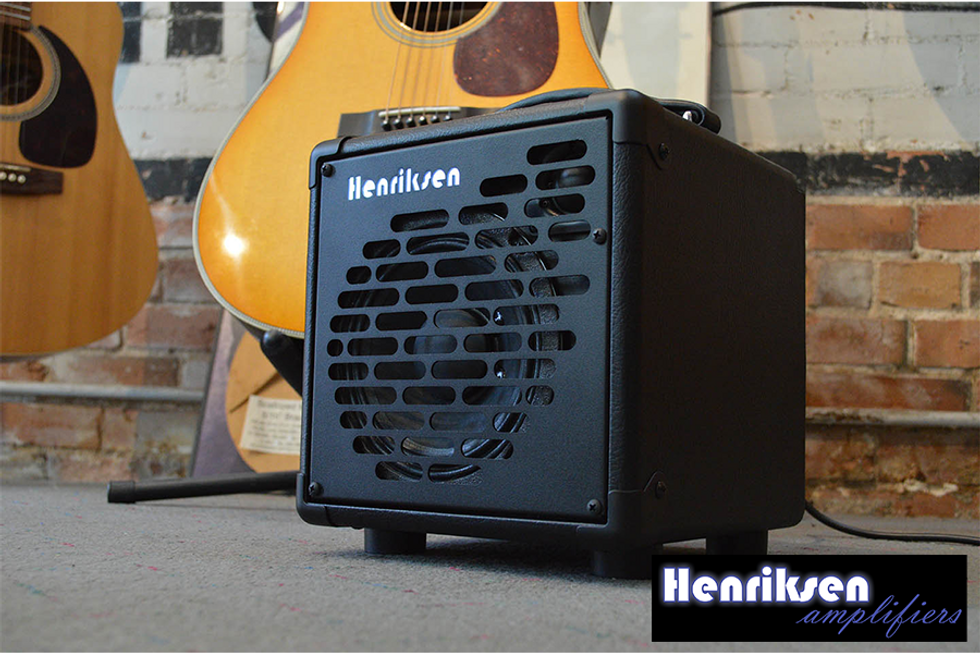 Breedlove Guitars
Powerful and responsive like a dreadnought, tonally the acoustic electric Breedlove Jeff Bridges' Signature Model emphasizes the unique qualities of myrtlewood, with a deep rosewood-like bass, the fundamental clarity of mahogany and the enchanting shimmer of koa. The Breedlove Jeff Bridges signature "All in this Together" project benefits Amazon Conservation Team, which works in partnership with indigenous colleagues to protect rainforests.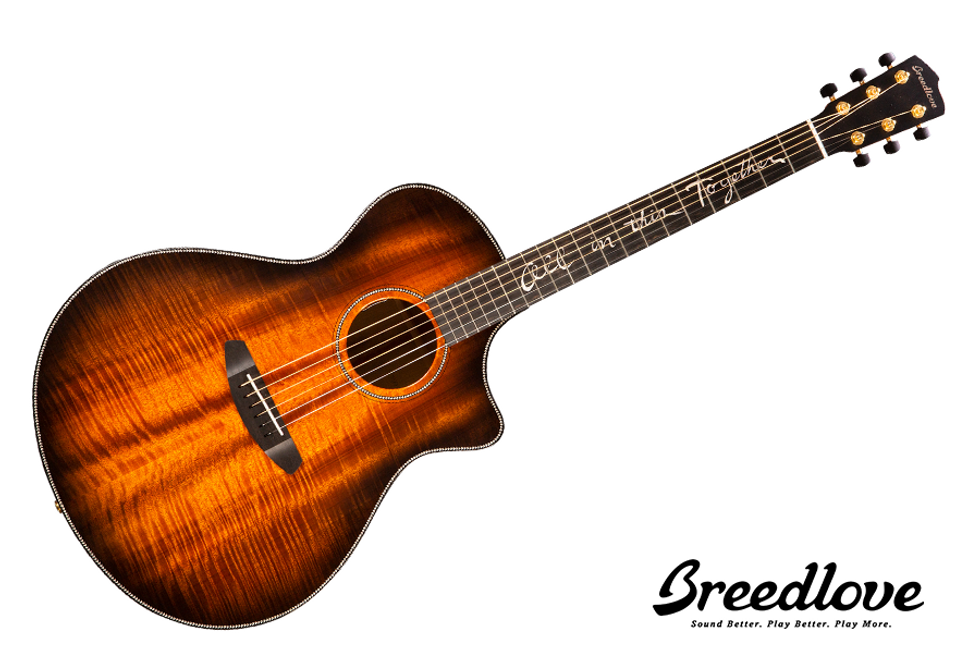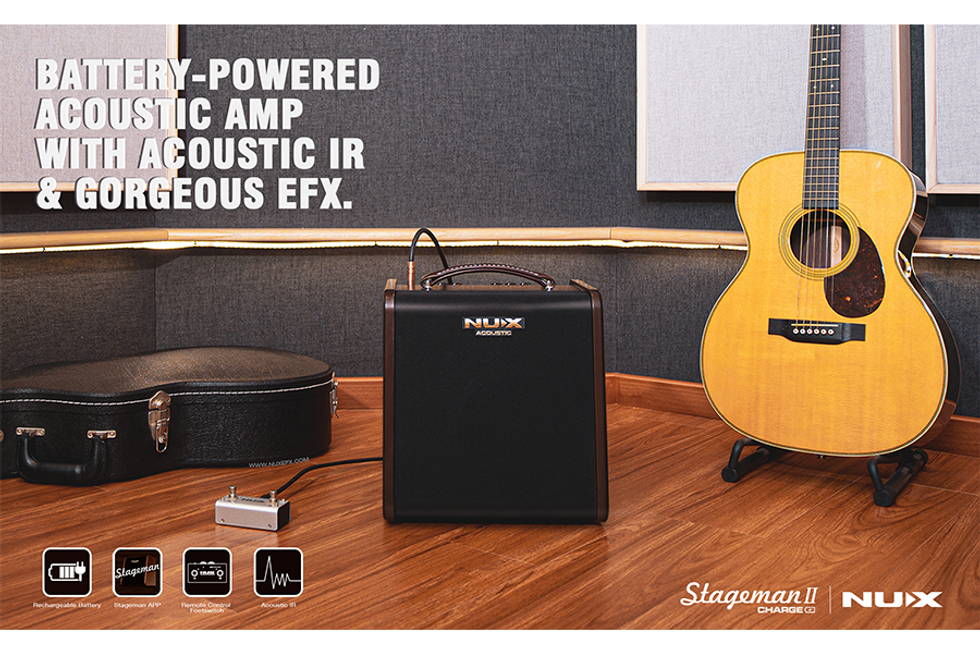 NUX Stageman II Battery-Powered Acoustic Guitar Amplifier features a pure analog preamp with NUX's iconic Core-Image post-effects. It has specific EQ scenes for finger-style as well as strum-style in channel 1, and you can engage built-in Acoustic IRs with a dedicated mobile APP. Acoustic IR is the new trend to make your acoustic sound as natural as micing. Stageman II keeps Drum & Loop, you can control by the original NUX NMP-2 foot-controller. And the built-in rechargeable battery can let you busk on the street for 4 hours.

Highlights:
- 80-watt rich warm sound acoustic amp with 6.5" premium speaker and 1" tweeter
- Rechargeable battery for 4.5 hours outdoor performing
- Built-in Acoustic Impulse Response
- 2 independent channels with routing adjustable post-effects
- Mobile APP for editing and control
- Drum & Loop (60s phrase loop)
- Bluetooth Audio Stream
Click here to learn more
Click here for audio clips
Click here for video
Click here to follow NUX on Instagram
NUX
Balancing a laundry list of tunes and a small human can give you new insights into making the most of your time.
Just like anything that is important to you, you need to have a plan in place to accomplish it. Last month, I had to learn approximately 60 songs in the span of less than three weeks for a three-part livestream series. It wasn't a situation where it would be appropriate for me to read charts off a music stand. I had to make a practice plan with my family in order to have the time and resources I would need to execute this rather monumental task. I want to take you step-by-step through my strategy for tackling those tunes. Hopefully you can find tips to help refine your approach—even if you don't have a newborn.
What if you don't have something pressing to force you into laser-focusing your practice habits? How do you manage your time without a deadline to hold you accountable?
If you're reading this article, you're a self-motivated person who wants to improve. Excellent. Give yourself goals that are achievable and quantifiable to stay motivated and track your progress. Rather than a goal like "Get better at soloing" select something like "Transcribe solo on [name a specific song]" as your first weekly goal. Then, build upon those goals by using that material to achieve another objective. Small steps add up to big changes and give you the focus you need to establish good practice habits.
Preproduction
Using this soloing goal as an example, find ways to practice outside of the practice room so you can maximize time with your instrument. If you're trying to cop a solo, learn it by heart before you sit down to play it. Sing along with it over and over again to the point where you can sing it without the recording. Here's an exercise to try: Record yourself playing the chord changes and then sing melodic ideas over it. You can do so much work in advance of heading to the woodshed. And if you're a busy person, preproduction is the key to success.
Lightning Round!
Turn off notifications on your phone. When you have precious little time, an errant tweet notification can derail the 30 minutes you have set aside. Jason Isbell has been responsible for nearly as much social media worm-holing as he has musical inspiration for me. Dude's a Twitter genius. You've been warned.
Organize your practice space. You don't want to be searching for stuff when you're under the gun. I have notebooks, Sharpies, pens, and pencils at the ready along with headphones and adaptors. Take this tip from Rachel Hoffman's home organization masterwork Unf*ck Your Habitat: "A Place for Everything and Everything in Its Place." If you have a place for everything, you're never looking for your stuff. And you also don't leave crap everywhere, thereby potentially annoying other people you need as allies.
Maximize good brain time. Is there a time of day that's better for your unique brain function to practice? Take advantage if you can! I'm a night owl so practicing after the baby is asleep works well for me, thankfully.
Sing! You can save yourself hours of time by singing along with parts you're trying to learn outside of your practice space. Do it while driving, while doing the dishes, while exercising, any opportunity you have to listen to music. This is how I learn all bass lines. If you can sing it, you can play it. When you sit down to learn it, you'll know it in your bones—literally. You will immediately hear when you make a mistake and be able to find the note you're looking for by singing the pitch you know you're supposed to hear. It's remarkable how well it works, especially for the students who say "But I can't sing!"
Do a little each day. Like exercise, a healthy diet, and meditation, practicing a smaller amount each day is more beneficial than one big cram session every now and then. Productivity timer cubes are super helpful as a means stay focused for small blocks of time. Even 15 highly concentrated minutes a day will pay dividends and create consistency in your practice and playing.
Take lessons. A teacher is a great way to stay accountable on your musical journey. An objective third party taking inventory of areas where you could improve and giving you homework is a surefire way to ensure you spend time with your instrument each week. Can't afford a ton of lessons? Make a commitment to learn a new technique by watching videos on the subject or treat yourself to a one-time or monthly evaluation by a musician you admire and have them map out some goals for you.
Include your loved ones. When something's important to you, you should share it and celebrate it with your loved ones. Music is the ultimate tool for shared celebration and finding ways to include your people in your practice endears them to your commitment, rather than viewing it as something that takes away from your time together.
My students always amaze me with how they get loved ones on board with their musical pursuits. One student's girlfriend loves karaoke, so he has committed to learning to play and sing a song for karaoke nights. She's excited for him to practice, knowing that they will spend special time together because of it. Another student has his wife help with interval training, playing intervals on the piano so he can guess what he's hearing. His wife loves to tease him about it, and they have a blast with it. Several of my students ask their friends and family what songs they'd like to hear. It's great fodder for learning new material and it gets the people you care about to be invested on a whole new level. And that rocks.
Now I'll consolidate all the info above into a real-world situation and share my practice plan for that 60-song, three-part livestream I mentioned…
Preproduction
I had to do as much prep work ahead of time as possible so I could capitalize on the time I would have to leave my baby with another willing and helpful adult. There are several steps I always take before I sit down to practice new songs. Here are the highlights:
Organize the Music and Listen
Listen to the music you're working on as much as possible. I listen while driving, pushing the baby in her stroller, in headphones next to her while she's napping, etc… Consolidate songs into a playlist in a medium that's easy to access while driving so you're not fumbling with your phone. You don't want some stuff in Dropbox, some stuff on YouTube, and some stuff in Spotify. Organizing your material upfront will save you lots of time later on.
Write Charts
I wrote my charts largely in the car in parking lots while running errands and while the baby was napping. (I write charts by ear and you can too! See my article on The Nashville Number System for more tips.) You can also ask for charts from fellow musicians on the gig (tactfully, please, and return the favor when someone asks you) or source them online if it's a cover gig.
Practice in Your Head
I know myself well enough to recognize when I truly know a song. I can visualize my hands on the fretboard while listening to it and if I get to a spot where the image doesn't come quickly, I know it'll need some attention. I then listen through the songs while reading the charts I wrote in those Nashville parking lots and highlight the trouble spots and anything else that surfaces as questionable.
Get the Setlist
If possible, get the setlist in advance. Then grab a couple pieces of hardy card stock paper and two different colored Sharpies. Write the songs in order in alternating, high contrast colors. This way your eye can find your notes quickly on the floor.
Now to execute a practice plan and juggle a small human…
I had 60 songs to learn that were divided over three 90-minute sets of roughly 20 songs each with about a week between each performance.
I focused on the shows in chronological order and spent all my time listening to those 20 songs, over and over for three or four days before touching an instrument.
My practice time was divided into two 90-minute sessions per day over the course of the two days before each show. One was in the morning when someone could watch the baby and one in the evening after she was asleep.
First Day Practice Sessions
I split the setlist in half and tackled 10 songs at the morning session and the remaining 10 at the evening session. Ninety minutes is about what I need to run 10 songs I've never played (but on which I have done proper preproduction). Some songs I'll only need to run once to get them under my hands, some might need a couple of run-throughs.
I play through each song, focusing on trouble spots, running those sections a few times.
I notate (usually with a highlighter or an asterisk) any trouble spots on my chart I didn't catch during the critical listening and charting pre-practice phase.
Second Day Practice Sessions
I redo the same approach, only this time I try not to look at my charts. As I play along, I take note when I find myself asking "How does that bridge go?" or "Am I in at the top of the song?" I write those notes down in Sharpie next to the song title on my setlist.
And now I present my setlist for the final livestream, which ended up being 16 songs in length. This is written using the Nashville Number System and is a peek into my process. Thanks to my husband and mother-in-law for working with me to make my practice time a reality and best of luck to all of you busy folks out there looking to get the most out of your precious time.
To quote the author Harvey Mackay:
Time is free, but it's priceless. You can't own it, but you can use it.
You can't keep it, but you can spend it. Once you've lost it, you can
never get it back.
Make the most of it, friends!
Ever wonder how a manufacturer and an artist collaborate on a signature model? Here's the story of the Keeley Super AT MOD Overdrive.
In the world of guitar gear, artist signature products are a time-honored tradition. When the chemistry works just right, they're as potent and attention-grabbing as a well-struck power chord.
But if you've ever wondered how an artist and manufacturer actually work together on a product, the new Keeley Electronics Super AT MOD overdrive provides a striking case study in the mind-meld process.

While the new Super AT MOD looks like a classic 3-knob overdrive, the mode toggle is the pedal's secret sauce, and the AT setting adds a particularly shimmering quality to the harmonically rich overdrive.
The versatile pedal is the latest creative partnership between ace guitarist Andy Timmons (known for his solo work and touring/recording with Danger Danger, Olivia Newton-John, Kip Winger, and many more) and Robert Keeley, a pioneer and leading presence in the realm of guitar effects.
In a collaboration spanning more than three years, Timmons and Keeley have become great friends, mutual provocateurs, and culinary kindred spirits. (More on that later.) They began working together in early 2020, when Timmons and Keeley teamed up on the wildly successful HALO dual echo pedal.
"We spent more than a year-and-a-half really fine-tuning that pedal," says Timmons. "It was a wonderful collaboration. We couldn't have imagined how it would resonate with so many people." Keeley adds with a laugh "I have found that my customers like what Andy's ears like. It resonates so much with our customers that the Halo has become 25 percent of our business. Andy's ears are really golden."
Buoyed by the HALO collaboration, in late 2022 the creative process resumed in a new direction: a signature overdrive. In conceiving the new Super AT MOD overdrive, Timmons knew exactly what he was looking for: a flexible, highly responsive overdrive that can beef up a guitar's tone but also offers an option to achieve high-end clarity and shimmer.
The initial inspiration for the Super AT MOD came from Timmons' love of a classic Keeley mod for the Boss BD-2. "The modded BD-2 goes from clean to mid-gain, and it's very responsive to touch," Timmons notes. "But I was always reaching for this crystalline, glassy gain with just a little bite. So, with the new pedal we have two modes: a 'phat mode' which alludes to Robert's original modded circuit, and then there's the AT 'modded modded' side."
Keeley Electronics Super AT Mod Overdrive - Video Demo Review with Robert Keeley and Andy Timmons
Sometimes Less Is More
Keeley took a different angle in designing the Super AT MOD. In contrast to his normal modus operandiof boosting certain frequencies, this pedal's "modded modded" AT Mode is based on a subtractive method for sculpting the pedal's tone.
"The original phat mod was designed to push up the bridge pickup of a Strat or Tele and give it a bit more girth," Keeley explains. "But Andy pointed out that if we carve away some of the frequencies, his guitar will stand out more. Andy was approaching this from the opposite direction, playing with a pickup that's much more akin to a humbucker, with a bigger dynamic range, so it doesn't need that push on the low- and mid-bass."
During the development and testing phase, Timmons relied primarily on his main guitar–his Ibanez ATZ100 signature model with three humbucking pickups–and his beloved Mesa/Boogie Lonestar 2x12 combo. But the final version of the pedal offers an expansive versatility that makes it a fine companion for just about any rig.

"I'm lucky to find these cohorts in tone. We enjoy the process and hopefully that comes through in the final product."
That flexibility is due, in large part, to the aforementioned tone-shaping method that Timmons encouraged Keeley to employ. "To me, the subtractive approach is a great way to arrive at a better tone," Keeley says. "You can take away some of the excess and it leaves you with something more natural. With that in mind, the AT mode changes the tone control and what it allows to pass through. It takes out some of the bass tones, so it clears up that range and makes humbuckers less bloated. We also added a little bit of sparkle—some high frequency response from letting the natural stuff go through.
"We also tried to get a more tube-like sound, with the diodes and asymmetrical clipping," Keeley adds. "The Super AT MOD gives Andy that nice chimey top end and that tube-amp-type growl and distortion because it uses JFET transistors. They're the closest thing we have to tubes."
Creativity and Camaraderie
The Timmons/Keeley partnership is a testament to technology—and to a friendship that blossomed during the long, sometimes grueling playing/listening sessions that punctuated the development process.
Timmons is based in McKinney, Texas, about a three-hour drive from Keeley headquarters in Oklahoma City, Oklahoma. That proximity allowed for frequent visits to the Keeley shop and made it easier for Timmons and the Keeley team to work together on the successive HALO and AT MOD prototypes. "You've really got to be able to be in a room together and feel what's happening," Timmons says. "Because we were all in the same room, we were able to go beyond what we had ever envisioned. That's the blessing of them being just a few hours away."
"The initial inspiration for the Super AT MOD came from Timmons' love of a classic Keeley mod for the Boss BD-2."
A key member of the creative team was Aaron Pierce, artist relations guru at Keeley Electronics. Pierce was deeply involved in the Timmons/Keeley collaboration right from the beginning, and he helped jump-start the process of designing the Super AT MOD.
"During the two years that we were working on the HALO," says Pierce, "we were always talking with Andy about what he was looking for in an overdrive. So, we were working on ideas for at least a few months before getting Andy back into the process. We had learned a lot about his preferences during the HALO development."
Timmons greatly appreciates what Pierce brought to the undertaking. "I can't stress enough: Aaron was really the third side in the triangle. It was so important to have his ears in the room. Even if I couldn't articulate to Robert what I was hearing, Aaron was able to do it, because he could hear it and put it into words in a way that Robert could act on. Aaron was the perfect translator between Robert's methodology and what I was going for."
The HALO design journey took two full years, but thankfully the AT MOD's development was relatively brisk—perhaps three or four months, and three visits from Timmons. On each visit, Keeley would offer hospitality by cooking for the crew. Keeley is well known among his friends as a fantastic cook.
"It took more than three sessions—probably about six meals together," Keeley says as all three burst into laughter. "The food really does stand out," adds Timmons. "We didn't lose any weight during the sessions."
Ultimately, the Super AT MOD benefited greatly from the spirit of friendship and shared passion. "I was able to be really demanding because they were willing to go down the path with me," says a grateful Timmons. "Their willingness to be open and do things differently was the key. I'm lucky to find these cohorts in tone. We enjoy the process and hopefully that comes through in the final product."
Lasting Impact for All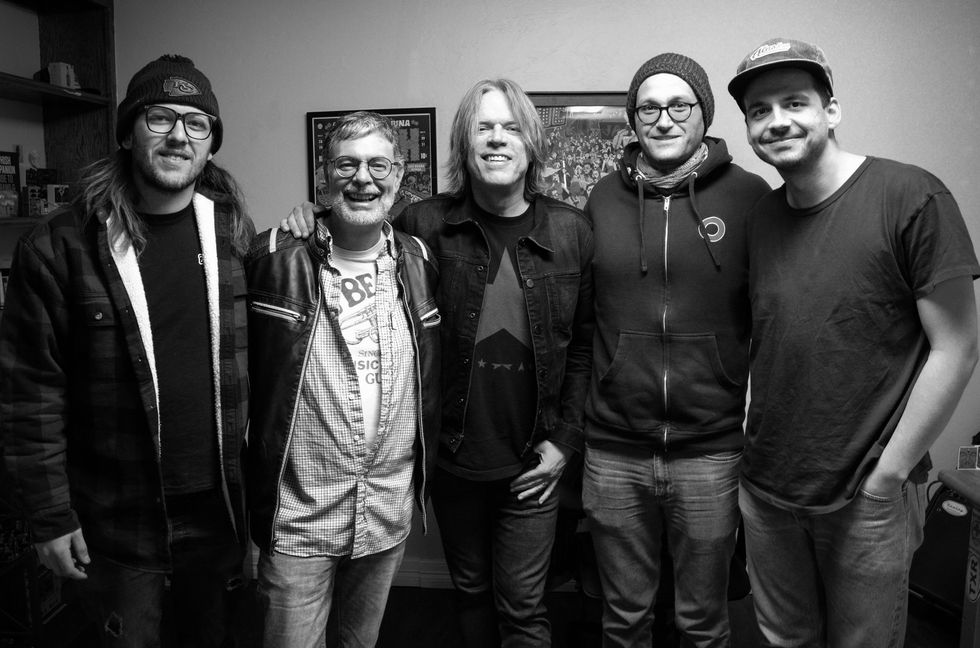 Just don't call them late for supper! The Keeley creative team assembles in Oklahoma City in February 2020 (left to right): Craighton Hale, Robert Keeley, Andy Timmons, Aaron Tackett, and Aaron Pierce.
Asked if the collaboration with Timmons has opened a new approach for future designs, Keeley answers emphatically: "Most certainly. I'm going to use the subtractive process and implement that design philosophy on future pedals. That's one of the reasons it's so rewarding working with Andy: developing more and more chops to get nuanced sounds."
Pierce agrees: "Working with Andy makes us better on the engineering front and the manufacturing front. Every time we collaborate with him it pushes us on our technology, and we discover things that we never would've found without him."
At the end of the process—and a bunch of great meals with the Keeley team—Timmons is thrilled with the results: the Super AT MOD overdrive delivers the tone and versatility he sought. "I haven't had a pedal feel like this before. It has such a natural thing about it. The dynamic range just coming from the fingers is incredible. It's the delicate, mild gain that I've been seeking for a long time. But if I want to crank it up, it has incredibly powerful full-on gain."
You can hear Timmons putting the pedal to great use on his brand-new series of singles under the title Bitter Suites: The Outlier Nocturne. Beginning with the first one, "Here Lies The Heart," the ongoing solo series features Timmons' playing in a spacious, dynamic setting, inspired by the Super AT MOD's tonal range. "That AT mode is what I needed. Since that pedal was created, I've gotten the next two tracks because this was the sound I was waiting for." Timmons attests.
To learn more about the Super AT MOD pedal and Keeley Electronics, visit robertkeeley.com.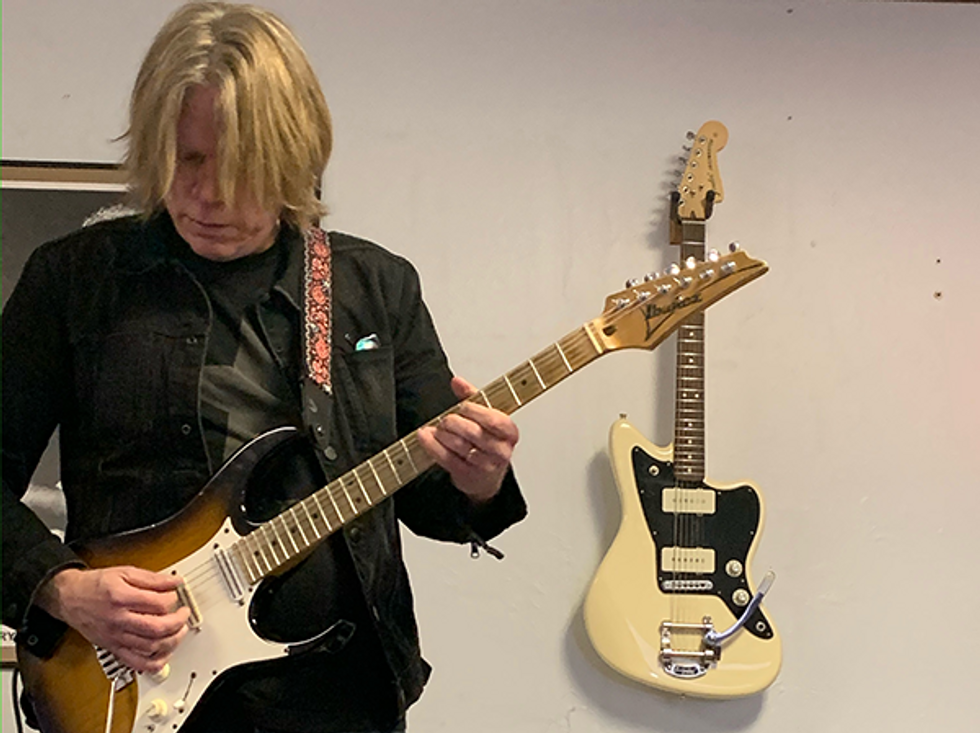 Timmons tests a prototype of the AT MOD with one of his Ibanez ATZ100 signature model guitars and a Mesa/Boogie Lonestar 2x12 combo at Keeley headquarters in Oklahoma City.
With a fixed bridge for increased sustain and tuning stability, the Session HT's are clean, classy, reliable and easy to play.
Godin worked to combine quality hardware with flawless manufacturing right here in Canada and you get the Godin Session HT. It's extremely thin finish offers enhanced tonal deflection, and its HSS pickup configuration gives you a multitude of tones to take on any style of music.

The Godin Session HT gets straight to the point and will take your playing to new levels of creativity and expression!
Specs:

Body : Canadian Laurentian Basswood
Neck : Hard Rock Maple
Fingerboard : Maple
Fingerboard Radius : 12" (304.8 mm)
Scale Length : 25.5" (647.7 mm)
Nut Width : 1.65" (41.91 mm)
Nut Type : Graphtech
Number of Frets : 22
Machine Head Ratio : 18:1
Neck Pickup : Godin GS-1 Single Coil Pickup
Middle Pickup : Godin GS-1 Single Coil Pickup
Bridge Pickup : Godin Custom Humbucker
Bridge : Hard Tail
Controls : 1x Volume, 1x Push-Pull Tone, 5-way Switch
Colours : Arctik Blue or Aztek Red
Finish : Semi Gloss
Case : Gig bag
US MSRP PRICE: $ 1269.00
US MAP PRICE: $ 1049.00
For more information, please visit godinguitars.com.